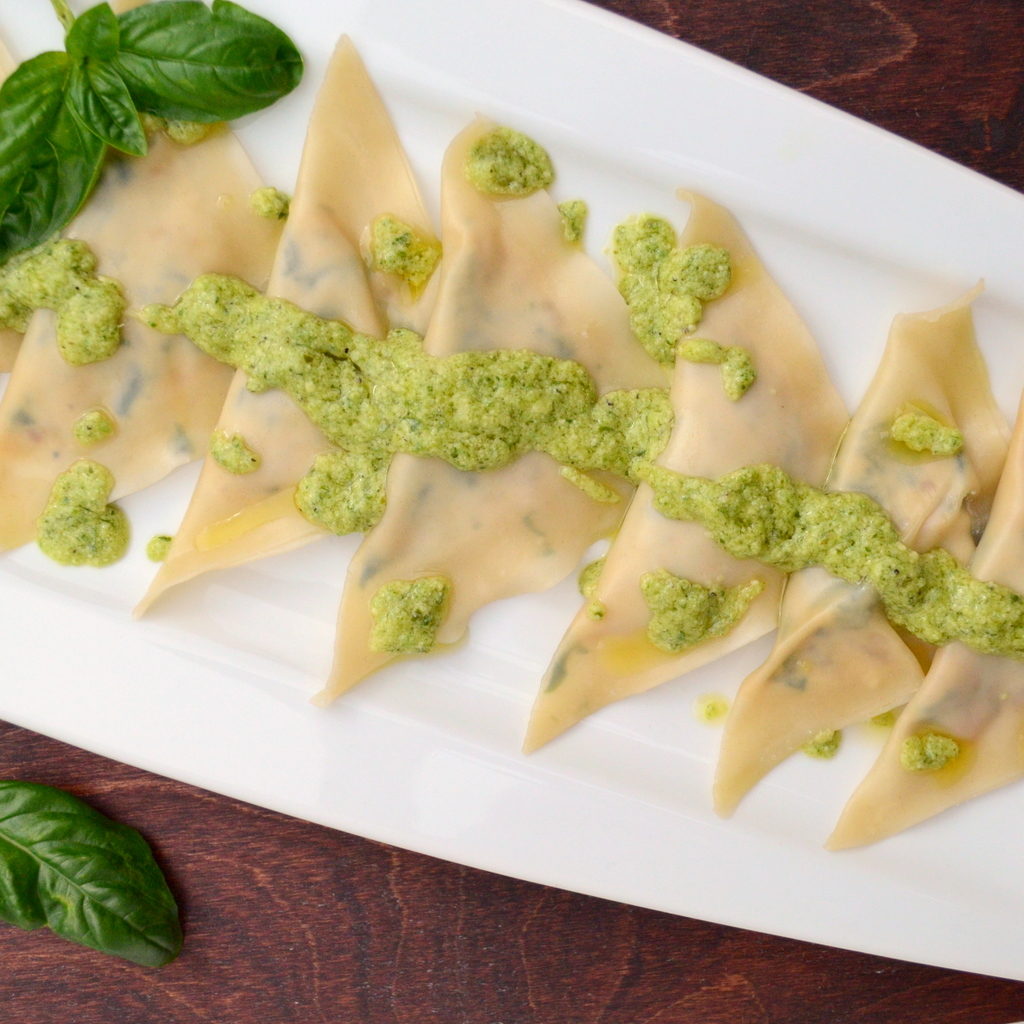 Ravioli often seem like daunting little pockets of delicious. Yes, they will be awesome to eat, but what they make up for in taste they cost in tediousness. Whether you throw all your cooking chips on the table and make the pasta from scratch or you opt for the slightly less intensive wonton wrappers, you're still looking at some repetitive pasta-filling movements. Unfortunately, I do not come bearing news of less tedious methods. I do, however, offer you a summer ravioli recipe so tasty that it will be worth all of that filling, folding, and sealing. I also offer this tip: a glass of wine poured right before you begin filling the ravioli can make the entire process a bit more enjoyable.
This ravioli is perfect for summer. A cool parmesan-basil oil is drizzled over warm pockets of pasta filled with caramelized onions, roasted peppers, spinach, and goat cheese. The coolness of the sauce helps keep the entire dish light and dainty and pairs nicely against the warmth of the pasta. The best part is that you can endure one hopefully-painless session of ravioli stuffing and freeze any uncooked ravioli to make at a later summer date. Now that's one pasta-filled silver lining if you ask me.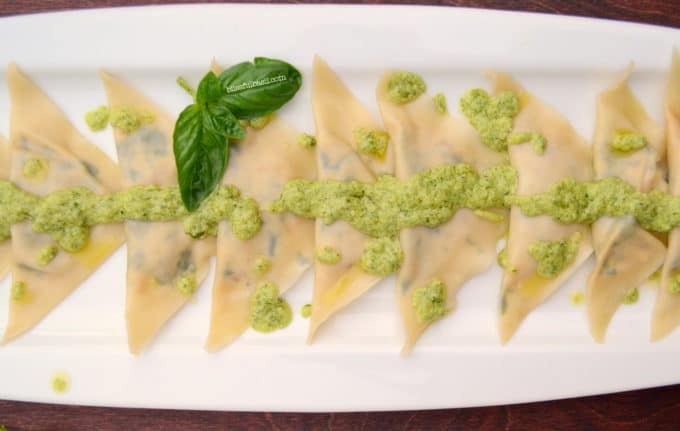 Yellow Pepper, Spinach + Goat Cheese Ravioli
Warm pockets of pasta are stuffed with red onion, roasted yellow peppers, spinach, and goat cheese and nestled under a cool parmesan-basil oil.
Ingredients
⅓ cup packed basil leaves
⅓ cup grated parmesan cheese
½ cup extra-virgin olive oil
2 tablespoons white balsamic vinegar
black pepper, to taste
60 wonton wrappers
1 yellow pepper
1 medium red onion, thinly sliced
4 cups fresh baby spinach
2 garlic cloves, minced
2 tablespoons olive oil
1 cup part-skim ricotta
4 ounces goat cheese
½ cup parmesan cheese
½ teaspoon salt
¼ teaspoon black pepper
water
Instructions
Begin by adding the first 5 ingredients to a food processor. Process until smooth and refrigerate for at least 30 minutes before serving.
Preheat oven to 500 degrees. Line a baking sheet with foil and place whole yellow pepper on top. Roast the pepper in the oven for 30-40 minutes or until the skin begins to pull away from the pepper. Remove from oven and cool. Once cool, remove the skin, stem, and seeds. Chop and set aside.
Heat 2 tablespoons olive oil in a large nonstick skillet over medium-high heat. Add the garlic and sliced onion and sauté until tender and beginning to caramelize (about 8-10 minutes). Add in the spinach and sauté until wilted. Remove pan from heat.
In a large mixing bowl, add in the ricotta, goat cheese, parmesan, salt and pepper. Stir to evenly mix. Add in the cooked yellow pepper, spinach, onion and garlic and mix.
Prepare a clean workspace to fill the ravioli. Begin filling the ravioli by taking one wonton wrapper at a time and adding a small dollop of filling to the middle being careful not to overfill. Dip finger in water and run along all four sides of the wonton wrapper. Fold over and press edges down to seal. Set filled ravioli aside. Repeat with all wonton wrappers.
Bring a large pot of water to a rapid boil. Add in as many of the ravioli as you want to cook. If you decide to cook the entire batch, cook half at a time. The ravioli will float to the top when ready (about 3-4 minutes). Remove ravioli with a slotted spoon and plate them as they cook.
Drizzle ravioli with parmesan-basil oil and serve immediately.