These vegan lentil pizza burgers are topped with zesty basil aioli and gooey cashew mozzarella. They're protein packed and super satisfying.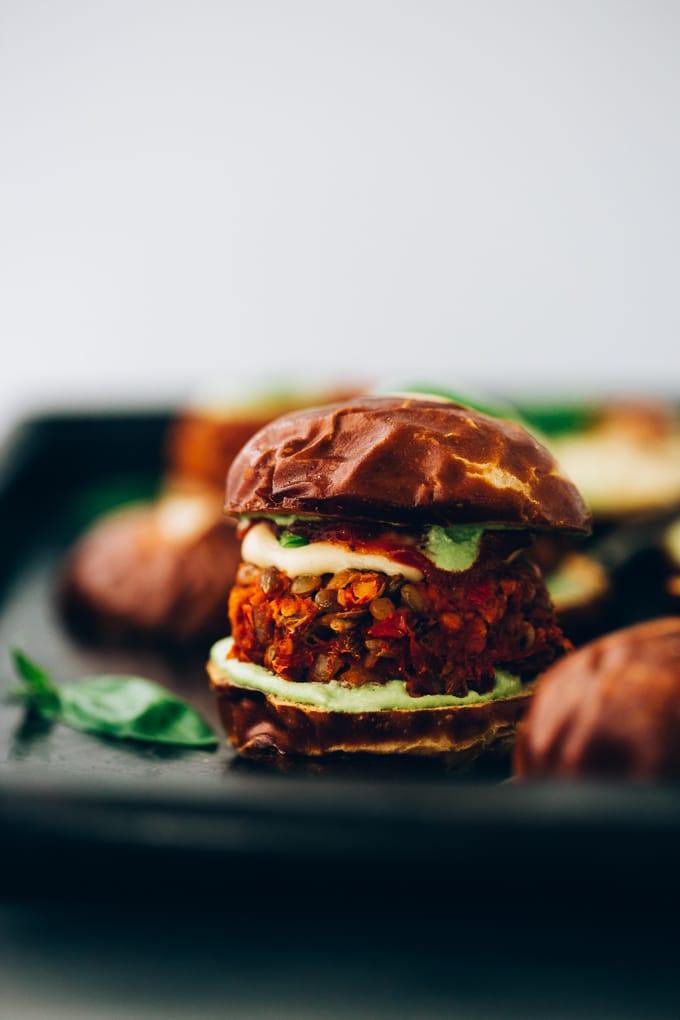 These vegan pizza burgers are the perfect melding of nourishing and comforting wrapped up in petite, bun-snuggled packages.
If you you've made the lentil sliders from my cookbook, you'll find the techniques in this recipe to be quite similar.
Those sliders are one of my favorites from the handhelds chapter (close runner-up to the shaved carrot reuben). They're hearty, meaty in a totally plant-y way, and super satisfying.
The recipe for the sliders in my book was inspired by a vegan/vegetarian hotspot in Chicago called Mana Food Bar. I fell in love with them when I was vegetarian and craved them like wild once I went vegan. Thus, they called out to me to be veganized and remixed.
During the development stage of the book, the recipe was one of the first my awesome volunteer recipe testers went wild about. I remember smiling and breathing a sigh of relief as the testing feedback rolled in.
It was on the heels of a week where I'd received mixed feedback for two out of three recipes (one of which I cut, the other of which I majorly overhauled), and so the surge of rave reviews was a massive vote of confidence to my sensitive heart.
If you think you've developed thick skin and want to put that hunch to the test, create with all your heart and then ask for the most honest, authentic feedback on what you've created. Humbling and sometimes a little painful. But so, so valuable and important to the end result.
The process taught me to separate myself from the work I was creating and helped me realize that no matter how much heart I put into my work, I was not actually my work. What a liberating and freeing realization.
Of course, these revelatory insights were most sincerely put to the test once public reviews for the book started rolling in after its release.
The great ones reassured and lifted. But all it takes is a few harsh apples to sour the bunch. It took me about a year to be (almost) totally ok with seeing a negative review.
For the first many months, every time I'd check Amazon or Good Reads, my heart would start pounding out of my chest. Thankfully, most of the negative reviews weren't about the recipes but merely about the font size in the book. Still hurts when it's your name on the cover. (For the record, I completely agree with that complaint. As the author though, I had very little say in the matter.)
One day after a good sob from a hurtful 2-star review that made me question why in the world I'd written the book at all, I called my brother Brad and asked for his wisdom. He's basically a teddy bear in human form but with a brutally and beautifully authentic edge. He tells it like it is without holding back. I needed his realness in that moment. And so I asked him what wisdom he could offer me to care a little less about what people think about the book.
His response:
"Ash, I know it hurts. But sometimes you just gotta say f*ck 'em and move on. If you're pleasing everyone, that's a problem. If you're p*ssing some people off, that's a win."
Just the smack of supportive realness I needed in that moment. From that point on, reviews, good or bad, had a whole lot less of an effect on me. I did me in that book, and I did it with all my heart. Not everyone will love or even like me or what I create, and I don't need them to.
I've gone off on a tangent here, but I suppose it's because I've noticed that so few authors talk about the sting-y-ness of the public review process. It's as if we're afraid that acknowledging the monster in the room will give the monster more power.
It's actually quite the opposite. Each time we bring thoughtful awareness to the sting-y stuff, it melts away a bit of its power over us.
It reminds us that as much as we love our work, our creations, our soul-projects, these physical manifestations of our ideas are not us.
And it's in realizing what we're not that we reclaim our power and align fully with the magic of what we are. Which is so, so, so much more than our work.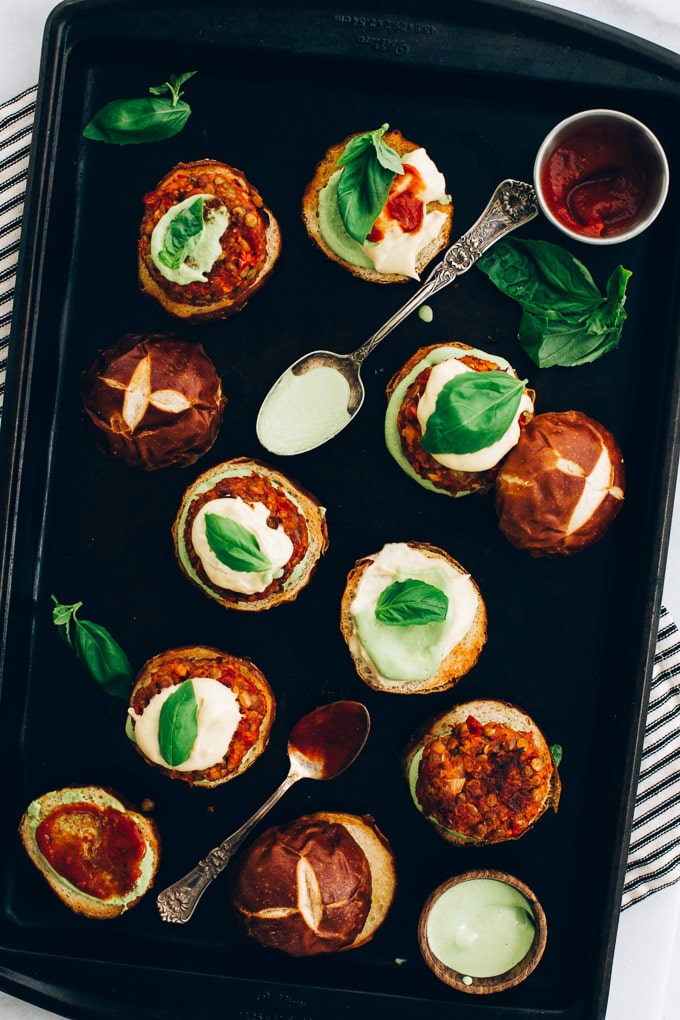 So these vegan lentil pizza burgers... let's chat about them.
They're made with a base of lentils (green or brown) and sunflower seeds. I've written the recipe to be all stovetop friendly, because not everyone has an instant pot (IP). But you can absolutely save time by using the IP to cook the lentils and sunflower seeds.
Just follow your usual IP instructions for cooking lentils, add a touch more water to ensure the sunflower seeds are submerged, and you're good to go.
Once the lentils and seeds are cooked, you'll mash about a third of the lentils.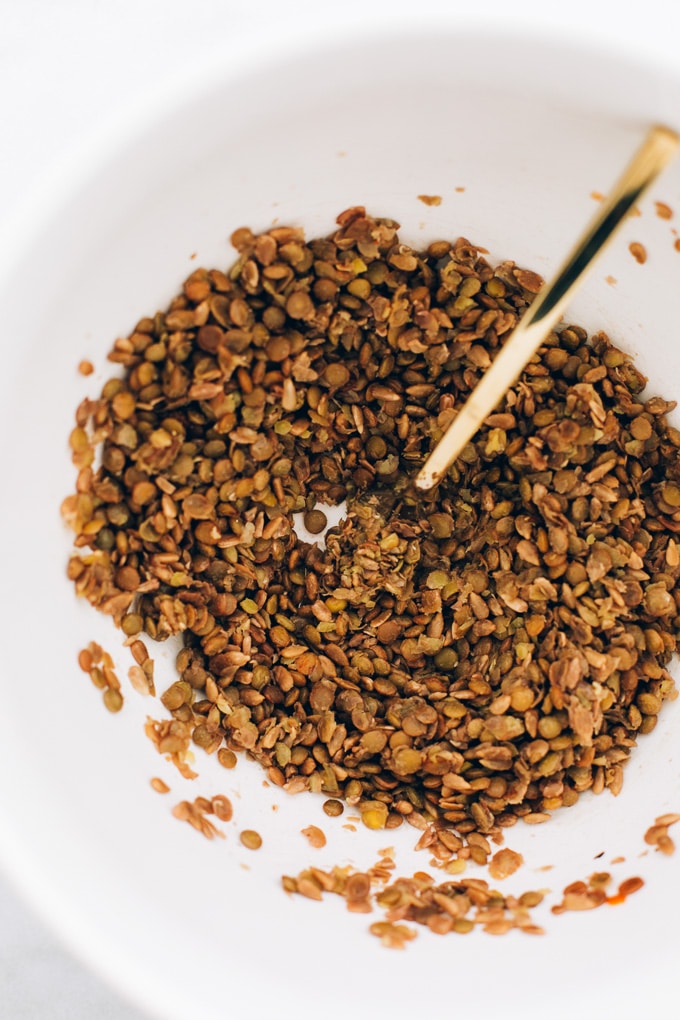 While the lentils cook, you'll whip up a pizza-y tasting concoction on the stove.
Sauté a bit of yellow onion with garlic, crushed tomatoes, sun-dried tomatoes, tomato paste, balsamic, and dried spices until it looks about like so...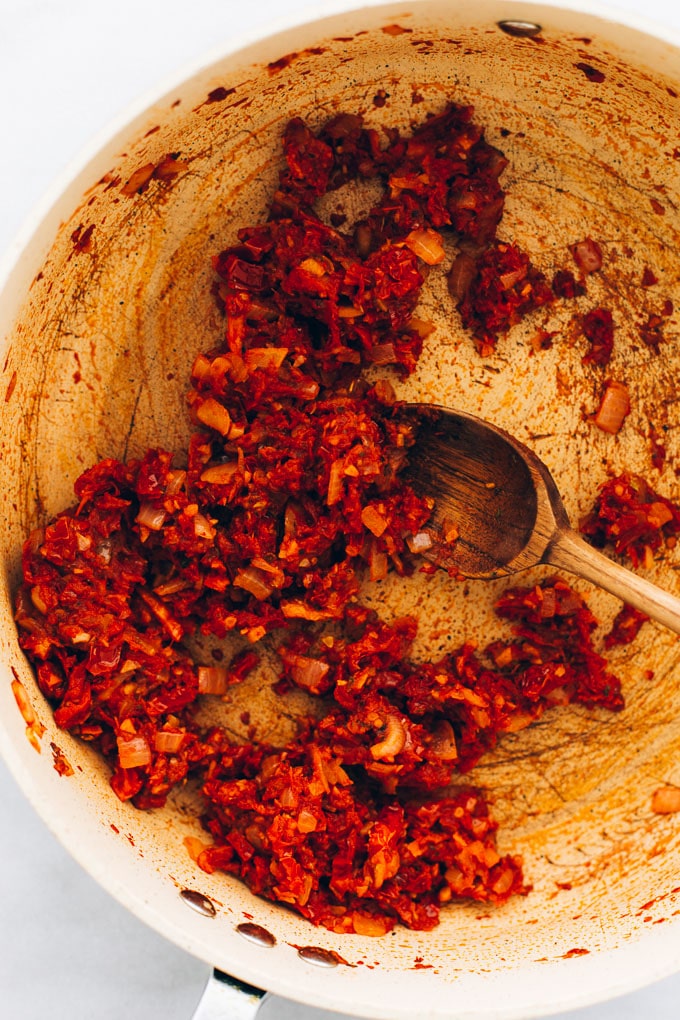 Add the tomato mixture to the lentil mixture along with a flax egg, oat flour, and rolled oats and mix, mix, mix until you have something that looks like this: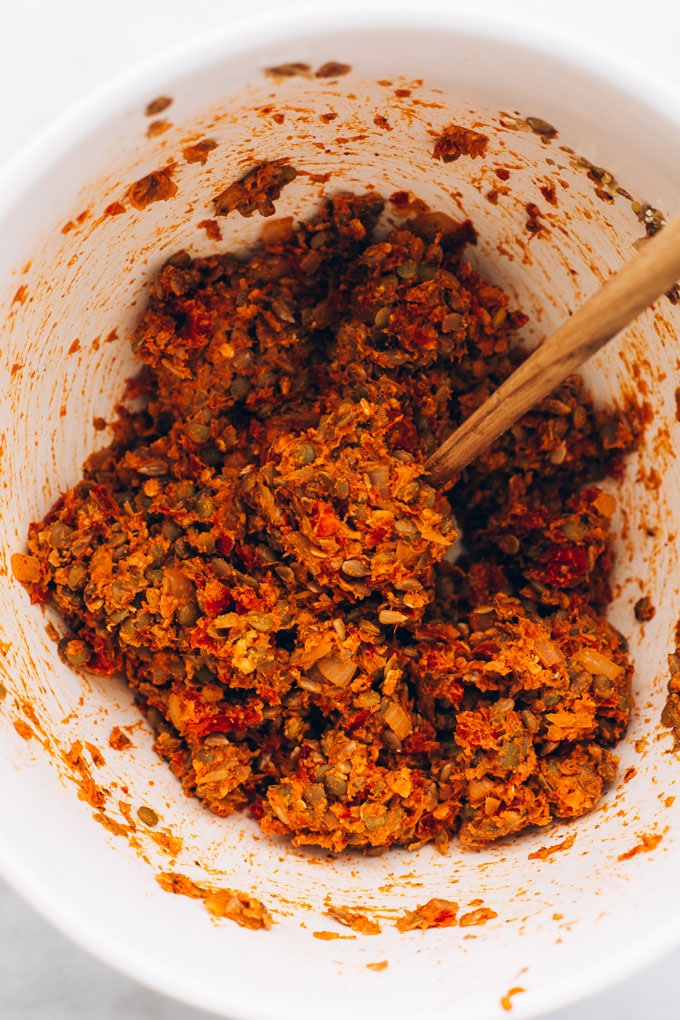 Form the mixture into small patties (we're going for about slider size here as they cook up best this way), and chill the patties in the fridge for about an hour to firm them.
FYI, you can chill the patties up to two days before cooking them. Keep this in mind for advanced prep to make day-of serving a breeze.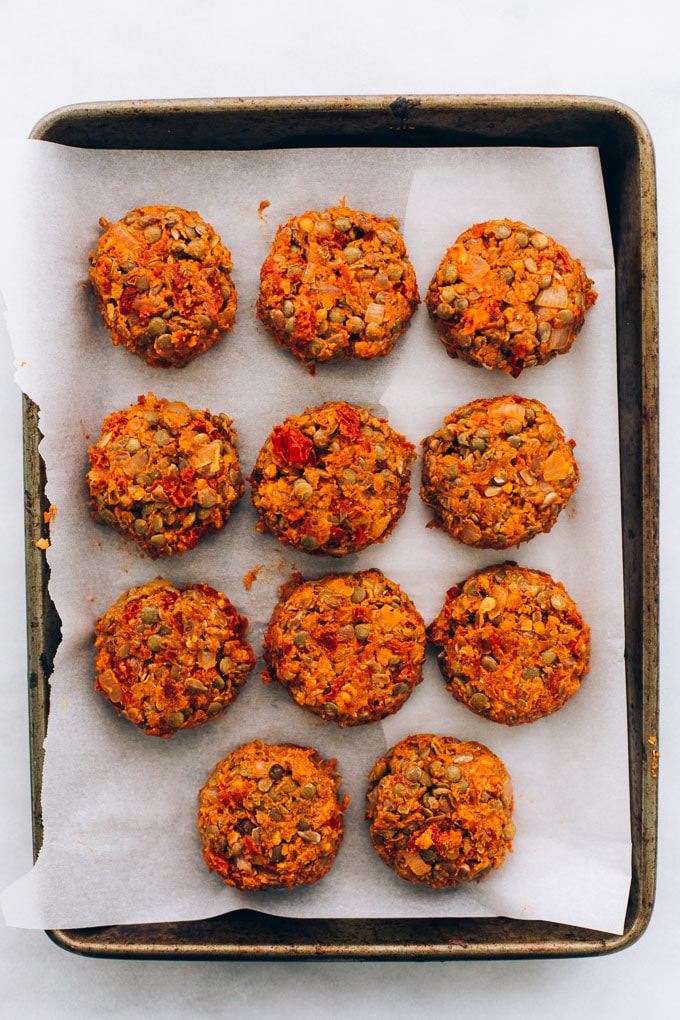 While the patties chill, you'll get to work on the basil aioli.
You have a few topping options for these mini burgers but the basil aioli is a non-negotiable in my book. It offers a lovely brightness and zesty tang that brings these earthy pizza burgers to life.
To make the aioli, you'll add the following to a blender on blend on high until smooth:
Raw cashews or hemp seeds.
Filtered water.
Basil.
Garlic.
Vinegar.
Salt.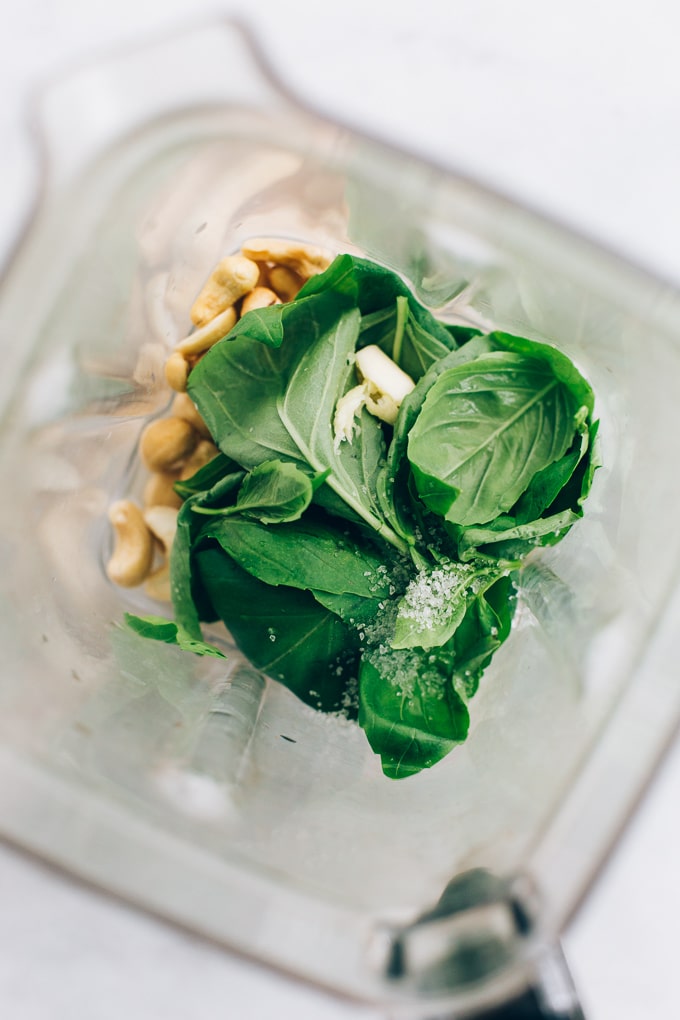 Chill the aioli until ready to serve.
If you're opting to also make the vegan cashew mozzarella (so good), you can go ahead and gather the ingredients, add them to a blender, and blend. Then, you'll heat and thicken into stretchy mozzarella just before assembling the burgers.
To cook the burgers, you'll pan-fry them in a bit of oil until golden-brown, slightly crunchy exteriors develop. I'm sure you could bake these (I'd guess 400F for 20 to 25ish minutes), but I highly recommend cooking them according to the recipe. Extra tasty this way.
Once the patties are ready, assemble your mini burgers and top to your heart's content.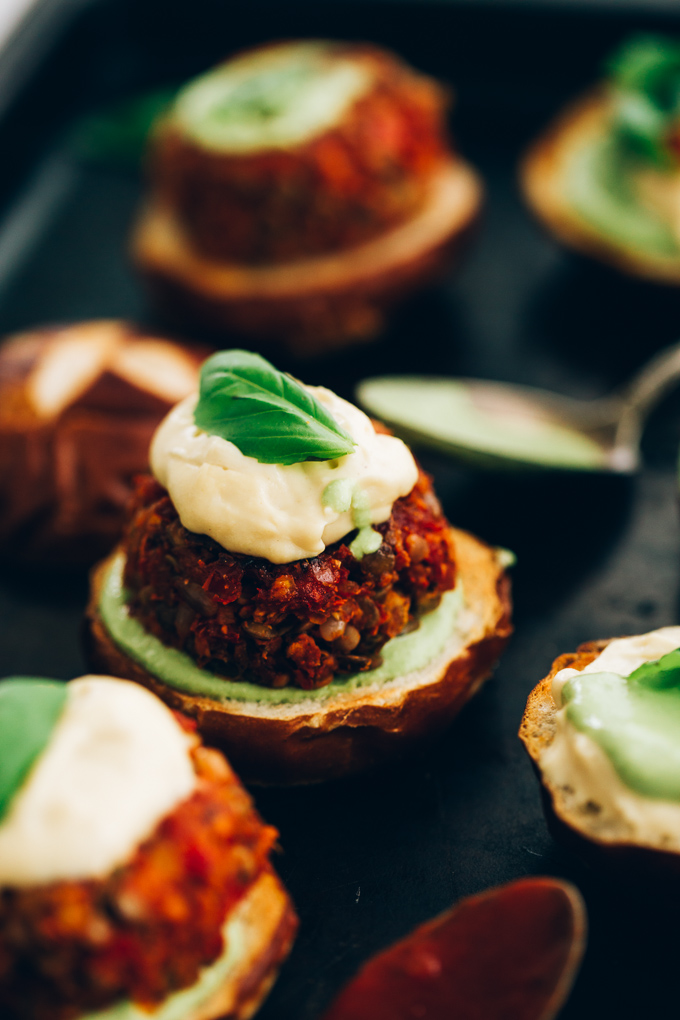 I hope you love these vegan lentil pizza burgers! 💗 If you make them, let me know! Leave a comment, rate the recipe, and don't forget to tag a photo #blissfulbasil on Instagram.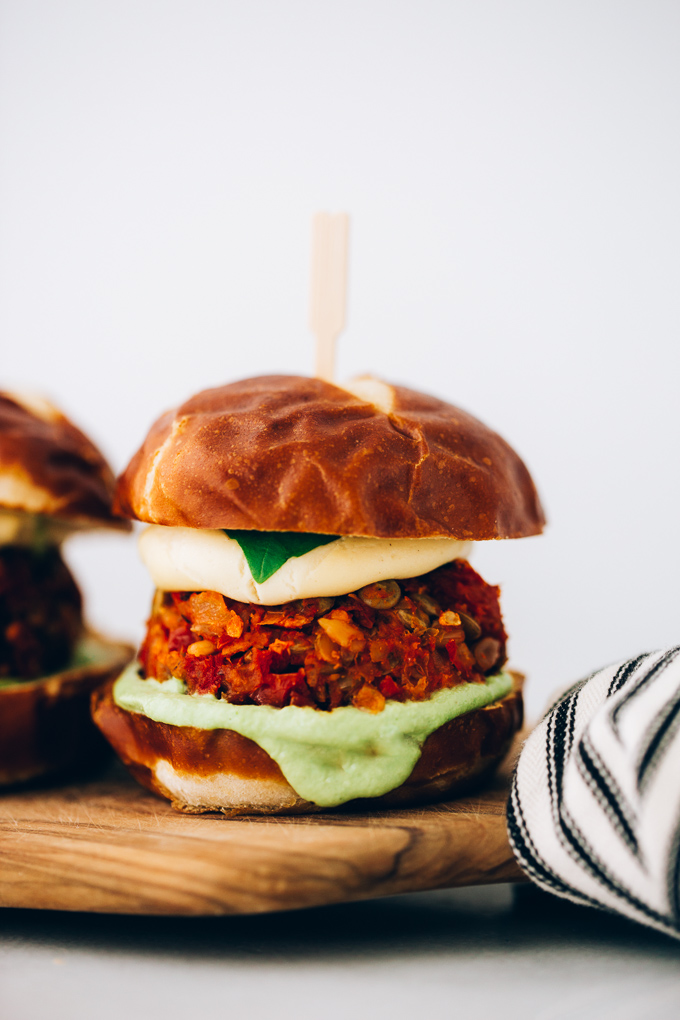 📖 Recipe
Vegan Lentil Pizza Burgers
These vegan lentil pizza burgers are topped with zesty basil aioli and gooey cashew mozzarella. They're protein packed and super satisfying. 
Servings
12
sliders/mini burgers
Ingredients
Vegan Lentil Pizza Burgers
½

cup

uncooked green lentils or brown lentils

¼

cup

raw sunflower seeds or pepitas

2 ½

cups

water

1

tablespoon

olive oil

⅔

cup

finely diced yellow onion

3

cloves

garlic, minced

¾

cup

crushed tomatoes

3

ounces

dry-packed, no-salt-added sun-dried tomatoes, thoroughly chopped

1

tablespoon

tomato paste

½

tablespoon

balsamic vinegar

½

teaspoon

dried oregano

½

teaspoon

dried basil

Pinch

crushed red pepper flakes (optional)

1

tablespoon

ground flaxseed

2

tablespoons

filtered water

½

cup

oat flour

¼

cup

quick cook oats*

1

teaspoon

sea salt, plus more to taste

2

tablespoons

high-heat oil (e.g., sunflower oil, expeller-pressed grapeseed oil, etc.), plus more if needed

12

gluten-free or regular slider buns, toasted or not
Instructions
Pick through and thoroughly rinse the lentils.

In a medium sauce pan, combine the lentils, sunflower seeds, and water over medium-high heat. Bring to a boil, reduce the heat, and simmer, uncovered, for 20 to 25 minutes, or until the lentils are tender but not mushy. Strain off any excess water but do not rinse. Transfer to a large, heat-safe mixing bowl, and use the back of a fork to coarsely mash about a third of the lentils. You still want them to have quite a bit of texture.

While the lentils and sunflower seeds cook, heat the olive oil over medium heat in a large sauté pan. Add the onion and garlic and sauté for 5 minutes or until translucent, stirring occasionally. Add the crushed tomatoes, sun-dried tomatoes, tomato paste, balsamic, oregano, basil, and red pepper flakes (if using). Cook for 5 to 8 minutes, or until most of the liquid has cooked off and out of the mixture, stirring occasionally. Remove from heat and let cool slightly.

Meanwhile, in a small bowl, whisk together the flaxseed and water. Let stand for 5 minutes to thicken.

Transfer the cooked tomato mixture to the mixing bowl with the lentils and sunflower seeds. Stir to combine. Add the flax egg, oat flour, rolled oats, and salt. Stir to combine. Taste and add more salt if desired.

Line a baking pan with parchment paper. Grease a ¼-cup measuring cup with a little bit of oil, and use it to scoop up ¼ cup of the slider mixture. Then, form into a 1-inch-thick patty, and place on baking pan. Repeat. I like to stop halfway through to rinse + re-oil the measuring cup and my hands. The recipe yields 10 to 12 patties.

Refrigerate the patties for 1 hour (or more) to set them before cooking.

While the patties are chilling, prepare the Basil Aioli—see recipe below. Refrigerate until ready to serve. Also, blend the ingredients for the Vegan Cashew Mozzarella (if using), but wait to heat/thicken until directed to do so below.

In a large skillet or sauté pan, heat the high-heat oil over medium-high until hot but not smoking. Add half of the slider patties to the pan, being careful not to crowd them. Cook for 3 minutes, or until golden brown, and then carefully flip over and cook for another 2 to 3 minutes or until golden brown. Transfer to a plate that has been lined with paper towels until ready to assemble. Repeat. You may need to add a bit more oil.

Heat/thicken the Vegan Cashew Mozzarella (if using) just before assembling.

To assemble the sliders, slice the buns in half, place a patty on top of each, dollop with the mozzarella (if using) and pizza sauce (if using), and drizzle with the aioli.
Notes
*You can turn old-fashioned oats into quick cook oats with a few blitzes around the food processor or blender. They should remember coarse panko breadcrumbs.
📖 Recipe
Vegan Basil Aioli
Zesty, tangy basil aioli made with cashews or hemp seeds and just a handful of other ingredients you're likely to have on hand.
Ingredients
½

cup

shelled hemp seeds or soaked raw cashews

⅓

cup

filtered water

⅓

cup

packed basil leaves

2

tablespoons

apple cider vinegar or white wine vinegar

2

garlic cloves

smashed and peeled, or to taste

½

teaspoon

sea salt or to taste
Instructions
Add all ingredients to a high-speed blender. Blend on high for 2 to 3 minutes, or until completely smooth.

Transfer to an airtight jar.

Refrigerate until ready to serve.