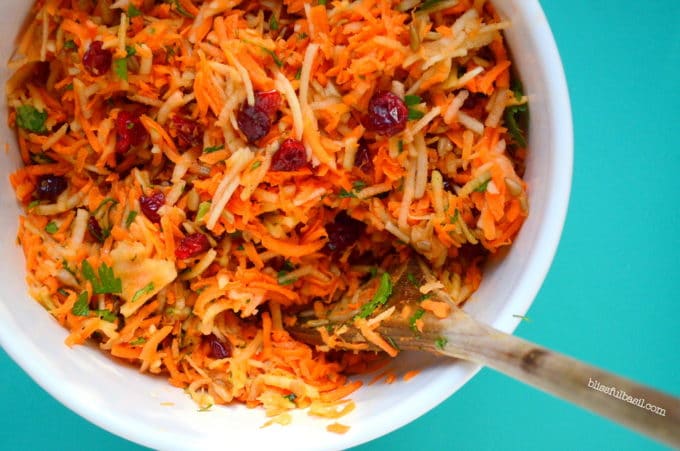 This carrot + apple slaw was inspired by the slaws we kept happening upon while in Ireland. They were fresh and clean and downright tasty; the perfect accompaniment to the fried food and chips we shamelessly indulged in on a regular basis.
I took the basics of the slaws we enjoyed in Ireland (i.e., apples and carrots) and threw in some other goodies to add curb appeal. The sunflower seeds and dried cranberries complement the textures within the slaw, while the cilantro and parsley add a clean layer of freshness to really make the flavors pop.
And the dressing... oh, the dressing. It's so good it gets its own paragraph. It's also light and clean; however, the way the sunflower and sesame oils balance with the sweetness and acidity of the cider vinegar and honey creates the most addictive flavor. Also a perk: sunflower oil is full of Vitamin E which boasts lots of nutritional benefits. This, combined with the fact that you're eating carrots and apples, should be enough to keep the doctor away.
Bowl by bowl, this slaw has quickly become my new favorite salad. I might have spilled some slaw on the counter during a photography mishap. I also might have eaten the slaw straight from the counter with my fingers. Some mysteries are better left unsolved.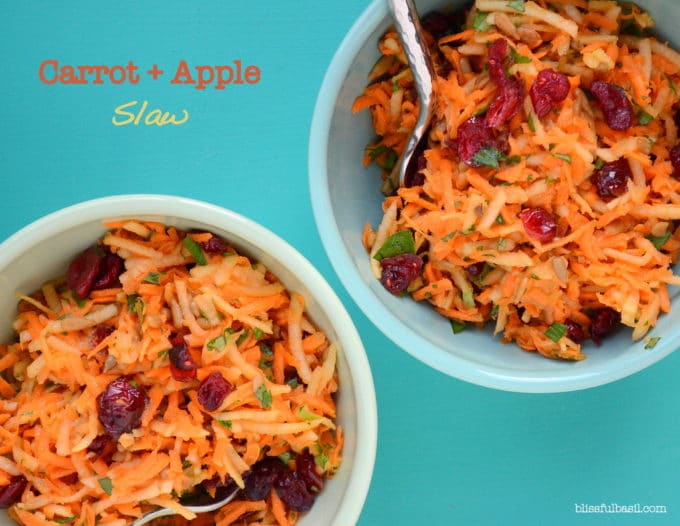 Carrot + Apple Slaw
Ingredients
2 pounds carrots, peeled and ends removed
2 pounds granny smith apples, peeled and cored
¾ cup roasted sunflower seeds
1 cup dried cherry-flavored or regular cranberries
¼ cup chopped fresh cilantro
¼ cup chopped fresh flat-leaf parsley
3 tablespoons apple cider vinegar
3 tablespoons sunflower oil
1 tablespoon toasted sesame oil
1 ½ tablespoons honey
½ teaspoon sea salt
¼ teaspoon black pepper
Instructions
Grate the carrots and apples using a grater or the grating attachment within a food processor. There is a lot to grate, so I recommend the food processor if you have the option.
Add the grated carrots and apples to a large mixing bowl. Add in the sunflower seeds, cranberries, cilantro, and parsley. Toss to distribute.
In a small bowl, whisk together the apple cider vinegar, sunflower oil, sesame oil, honey, sea salt, and pepper.
Pour dressing over the slaw and toss to coat.
Serve and enjoy.
Store leftovers in fridge for up to 2 days.