This green goddess revitalization bowl with herbed buckwheat, avocado & microgreens is just as satisfying as it is nourishing. Warm, herb-flecked buckwheat salad is paired with a creamy avocado salad. The buckwheat salad can be prepared a few days ahead of time. Just be sure to prepare the avocado salad just before serving for ultimate freshness.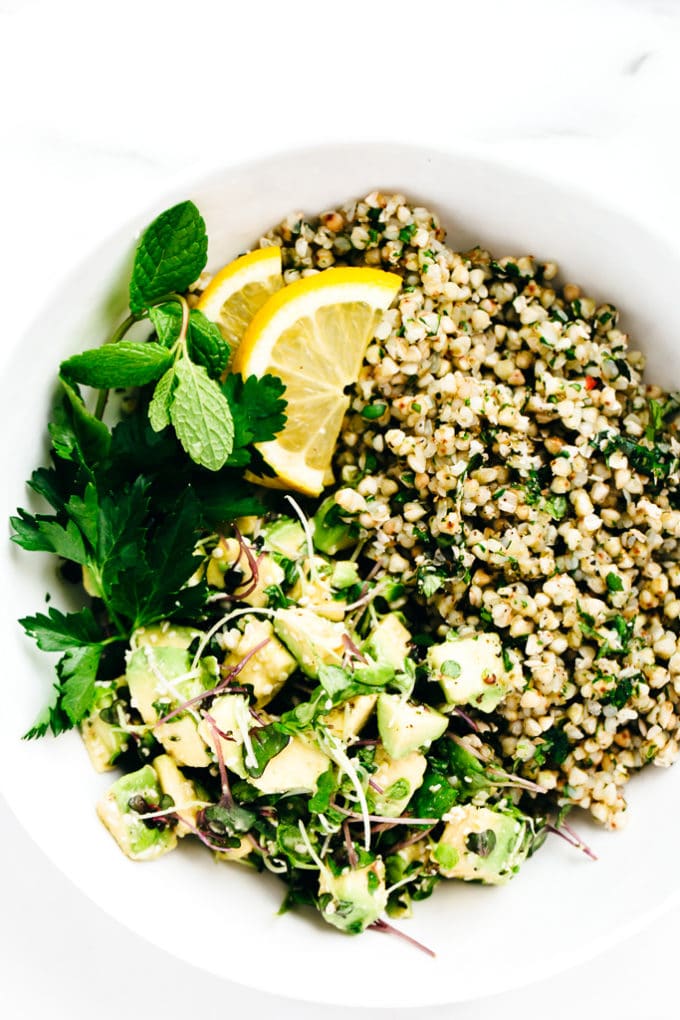 If my current state of being could be captured within a meal, it would be tucked within the confines of this power bowl. A tousled, carefree look with a centered heart and a zesty attitude.
Dan and I are fresh off a 10-day vacation, and I'm feeling more refreshed and renewed than I've felt in ages. We spent the bulk of our trip in Big Sur, California, hiking our way through the coastal mountains by day and cozying up in cabins (and even a yurt) by night.
If you haven't been to Big Sur yet, get there as soon as you can. You'll find yourself sandwiched between redwood-lined mountains and turquoise ocean waves with scenery that rivals Ireland's finest. And it's the perfect place if you're in need of an internet-free vacation (I was), because the satellite wifi signals are elusive at best. As one wise soul we encountered on our trip stated, "We call it 'spiritual wifi' because all you can do is hope and pray that it works. But if you came here for wifi, you've got bigger problems on your hands." Message taken.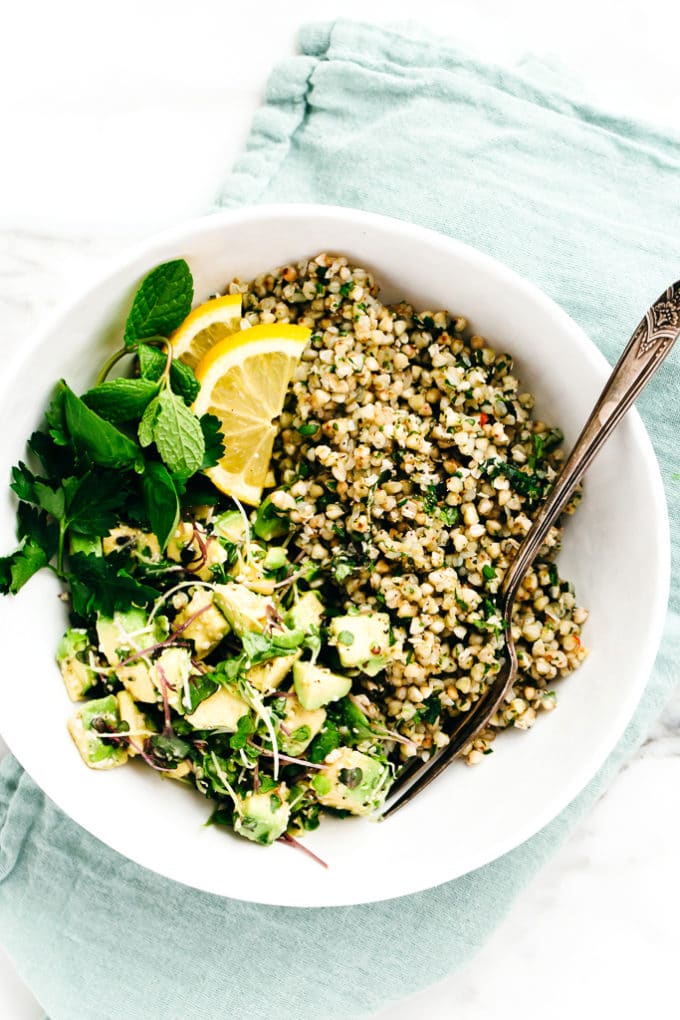 I originally planned to share this recipe with you last week, but between the "spiritual wifi" and a desire to fully embrace vacation mode, I decided to hold off until inspiration struck.
As vacation would have it, inspiration struck the second we hopped in the car to make our way back to the airport. So here I sit within the comfortable confines of our rental car, clacking away as Dan (kindly) drives us to SFO for our return flight home. His latest music mix is pumping through the car's speakers, and I occasionally break from writing to remind him of memories from the past week's adventures (e.g., falling into a bush when my legs gave out in the home stretch of a strenuous hike on Saturday, the sheer number of times we were startled by lizards popping out on the trails while we were hiking...).
And although our trip will officially be complete by the time this post goes up, I have a feeling we'll both be reaping the positive benefits of it for quite some time to come. Leading up to the trip, I was finding it all too easy to get caught up in not only my own everyday hustle but others' as well. Glancing left and right to see what others were doing or staring so far ahead down my own path that I couldn't appreciate what surrounded me in the moment. But being out in nature, breathing in the fresh air and soaking up the sights, made it (nearly) impossible to be anywhere but here (in the present).
On our very first day in Big Sur, we stopped to catch the sights of the coast and Bixby Creek Bridge. As we took in the view, we both noticed an older man carefully making his way down from the road to the lookout point. He waited patiently as people took photos before slowly stepping to the lookout clearing and taking in the view. As he looked around, his gratitude for what he was seeing was palpable. He didn't speak a word, but you could feel his appreciation. Neither of us had realized the other was affected by or even noticed this man until we got into the car about 10 minutes later, but it was so powerful that Dan and I had both become misty-eyed as we watched him.
We interpreted the experience as an important reminder to step outside the flurry of everyday thoughts and to be deeply grateful for what surrounds us in the moment, including the things that we often take for granted (e.g., strong legs and sturdy feet that can carry us up and down hiking trails, a warm bed to sleep in at night, etc.).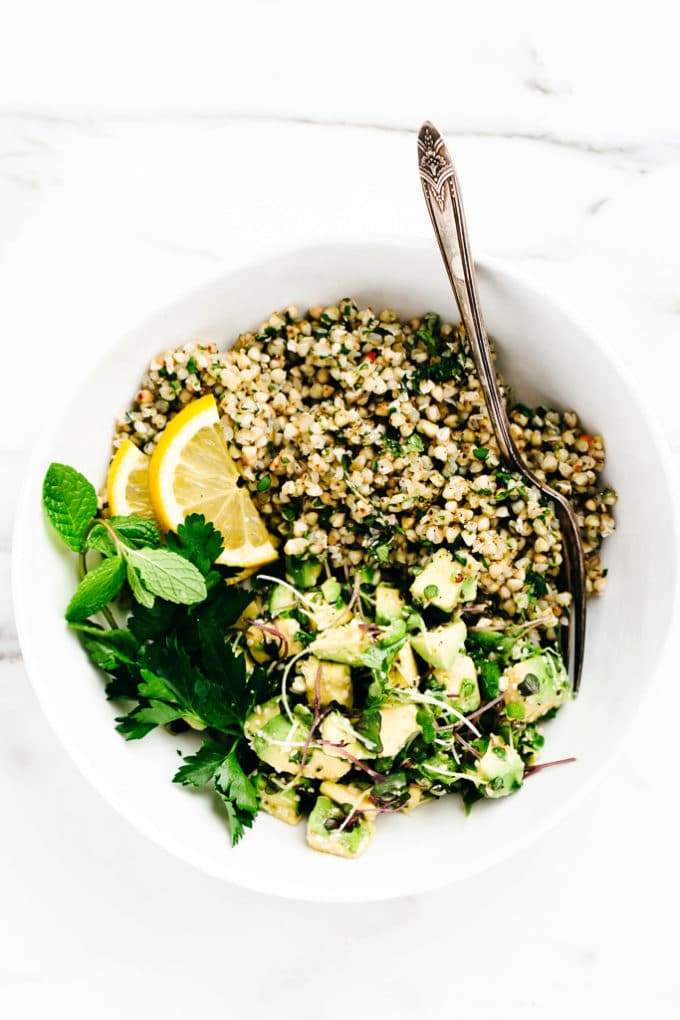 And so this recipe comes to you with lots of love and gratitude, much more than it would have if I had tried to rush or force this post last week just because that's what I believed I "should" do.
It's a simple recipe with lots of plant goodness and herbs to nourish from the inside out, making it the perfect option if you're in need of a little self-love and appreciation.
Two components make up this revitalizing power bowl:
1| A warm, herb-flecked buckwheat salad that's made by tossing together cooked buckwheat groats and lots of chopped basil, cilantro, parsley, mint, sea salt, and black pepper. I know the combination of these four herbs might seem a little odd (the thought certainly crossed my mind as I was writing the recipe), but it's surprisingly delicious. The recipe is written to go heavier on the basil and cilantro and much lighter on the parsley and mint, but adapt it to suit your tastes. If you're not a fan of cilantro, omit it. Mint lover? Add a bit more. Also, keep in mind that you want the herbs very finely chopped, so you'll actually need quite a bit more than you'd think to yield the amounts listed in the recipe.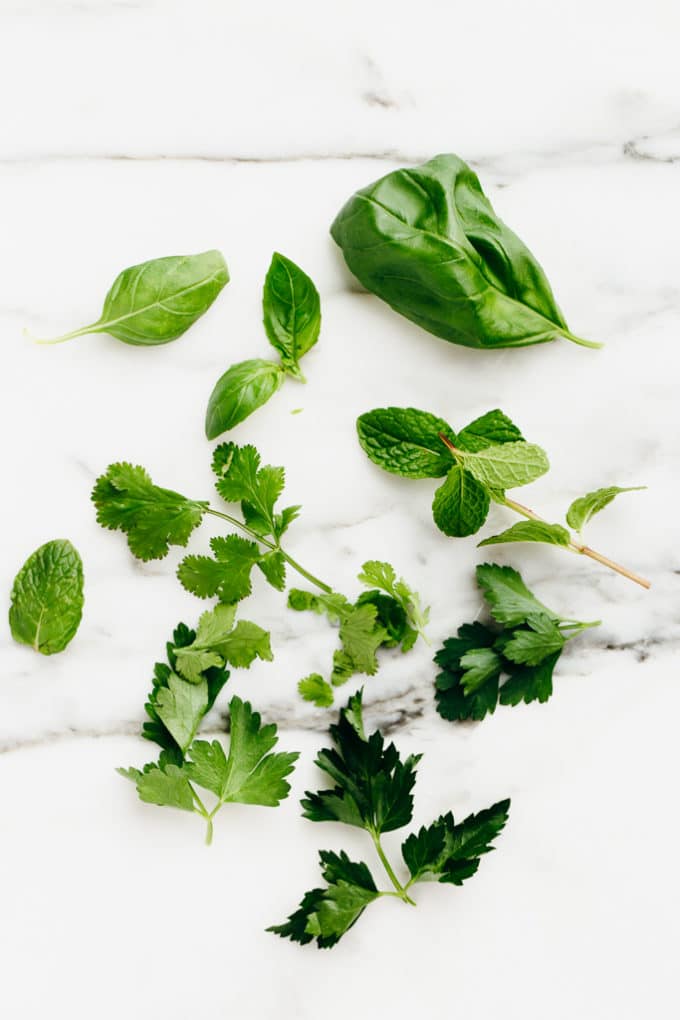 2| A delectable combination of creamy avocado, microgreens or sprouts, shelled hemp seeds, fresh lemon juice, and Bragg's Aminos or tamari. The richness of the avocado pops against the acidity of the fresh lemon juice and saltiness of the aminos, and the greens add a subtle peppery note.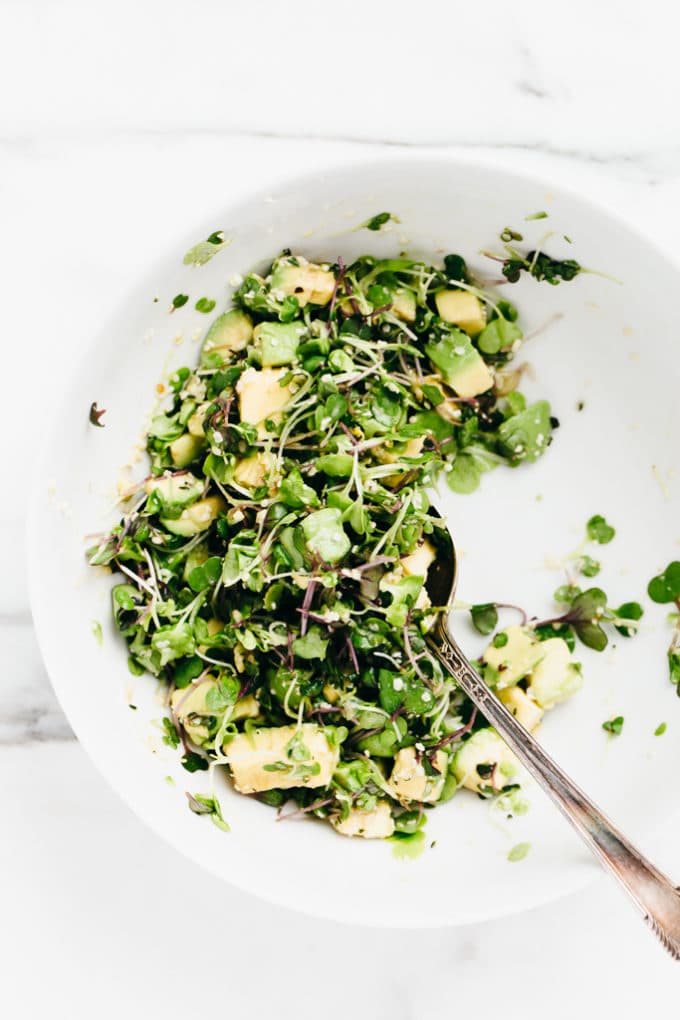 I love the way the avocado salad plays off the herbed buckwheat; it's an unexpected but unforgettable combination that is just as nourishing as it is flavorful. It might even inspire a bit of lunchtime gratitude. I hope you're having a beautiful start to this fresh, new week. ♥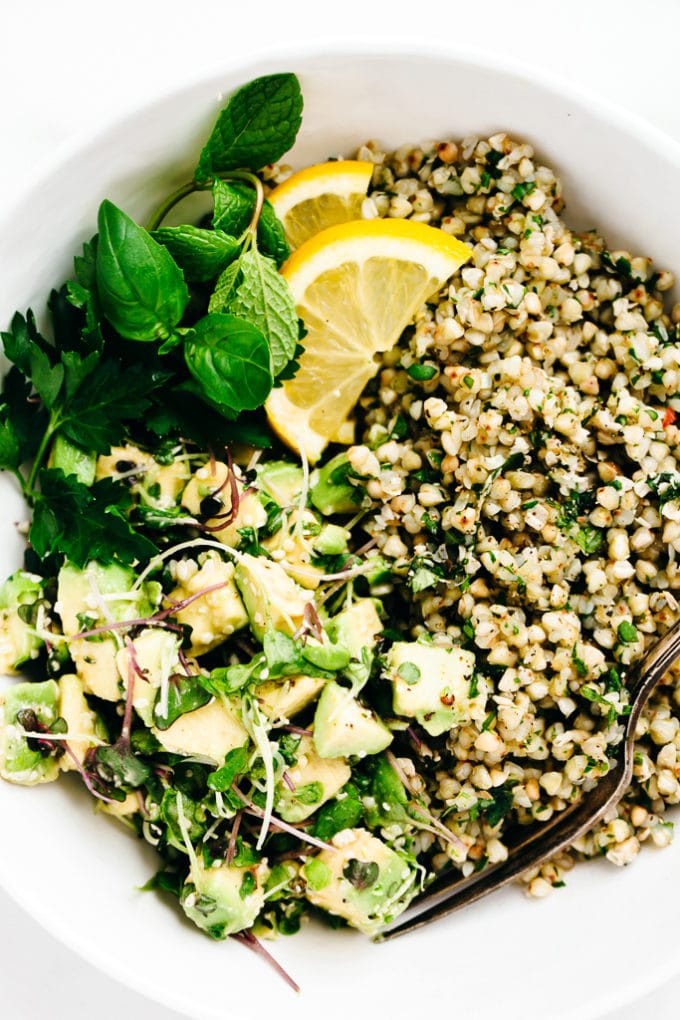 📖 Recipe
Green Goddess Revitalization Bowl with Herbed Buckwheat, Avocado & Microgreens
This green goddess bowl is just as revitalizing as it is satisfying. Warm, herb-flecked buckwheat salad is paired with a creamy avocado salad. The buckwheat salad can be prepared a few days ahead of time. Just be sure to prepare the avocado salad just before serving for ultimate freshness.
Ingredients
Herbed Buckwheat
1

cup

raw buckwheat groats

2

cups

boiling water

2

cups

filtered water

2

tablespoons

minced fresh cilantro leaves

2

tablespoons

minced fresh basil leaves

1

teaspoon

minced flat-leaf parsley leaves or to taste

½

teaspoon

minced fresh mint leaves or to taste

Sea salt, to taste (I usually add ½ teaspoon)

Freshly ground black pepper, to taste
Avocado-Sprout Salad
1

avocado, pitted, peeled, and diced

1

cup

(1.25 ounces) microgreens or sprouts

1

tablespoon

shelled hemp seeds

1

tablespoon

fresh lemon juice

½

to 1 teaspoon braggs aminos, tamari, or coconut aminos, to taste (I use ½ teaspoon of braggs, which is saltier than the other two)

Lemon slices, for serving (optional)
Instructions
For the Herbed Buckwheat
In a medium bowl, soak the buckwheat groats in the boiling water for 10 minutes. Strain and rinse the soaked buckwheat with cold water until the water runs clear. This breaks down and removes a gelatinous film on the buckwheat.

In a medium sauce pan, combine the rinsed buckwheat and filtered water. Bring to a boil, reduce heat, and simmer, uncovered, for 5 to 7 minutes or until tender. Strain off excess water, rinse the buckwheat with cold water until water runs clear, and press any excess water from the buckwheat. Fluff with a fork and transfer to a large mixing bowl. Add the cilantro, basil, parsley, and mint, and toss to coat. Generously season with sea salt and black pepper.
For the Avocado-Sprout Salad
In a medium mixing bowl, gently toss the avocado, microgreens, hemp seeds, lemon juice, and aminos or tamari until coated.
To Assemble
Divide the herbed buckwheat and avocado-sprout salad between bowls. Garnish with lemon slices for spritzing, if desired. Serve immediately.