It's been almost two years since I shared a recipe for crispy cauliflower tacos. To this day, it's one of my all-time favorite blog recipes, and it's high-ranking stats suggest that it's also one of yours. I love everything about those tacos—their bright, eye-popping colors, perfectly crisp cauliflower-slaw filling, and delightfully dreamy avocado cream. These crispy cauliflower power bowls with cilantro-lime rice have all the flavors of those beloved tacos plus a bit more oomph thanks to nutty brown rice.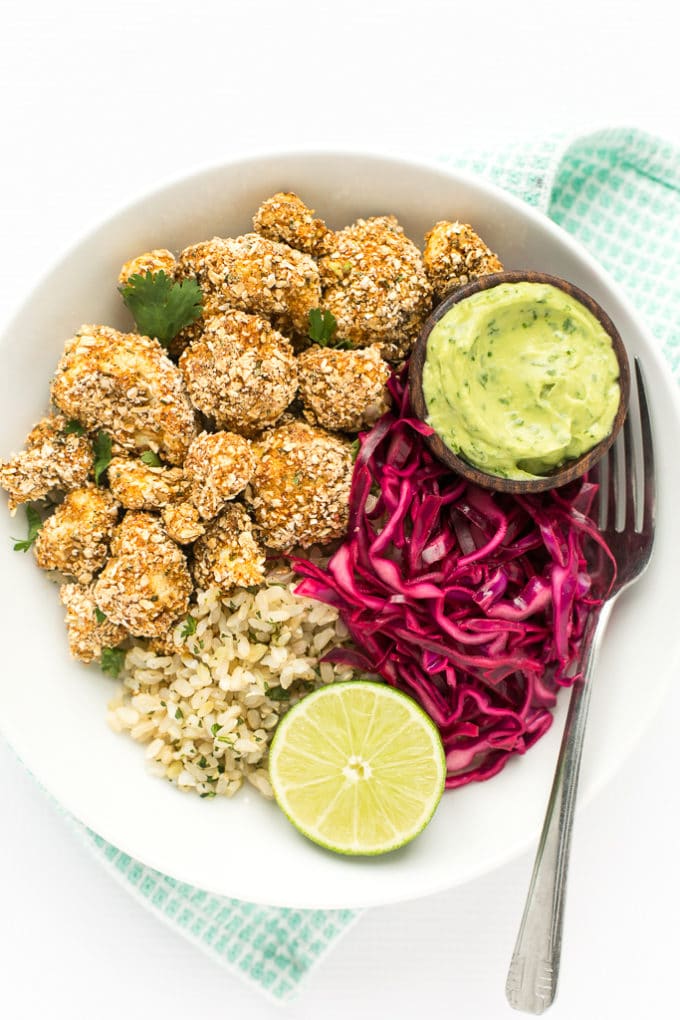 A few weeks back, I had an insatiable craving for those tacos and whipped up a last-minute batch for dinner. The other thing I love about those tacos? How simple they are to make and how quickly they come together.
Less than a week later, the craving struck again, so I made another batch, this time doubling the recipe in hopes of having plenty of leftovers. A few days later, as I was rushing out the door to work, I tossed the crispy cauliflower, slaw, some brown rice, an avocado, and a lime into my lunch bag (all in separate containers) before heading out the door.
I'm sure you know where this is going, but I ended mashing up the avocado with the lime and tossing the slaw and brown rice into the container with the cauliflower. What I had initially judged as being a haphazard, potentially crappy, I'm-running-late packed lunch turned out to be one of those special lunches that brightens an entire day. Ever had one of those? For me, the special lunches are usually the result of careful planning and allotting an extra 5 to 10 minutes in the morning. But in this case, running late and carelessly hurling things into my lunch bag led to unanticipated lunchtime bliss. I'll take it.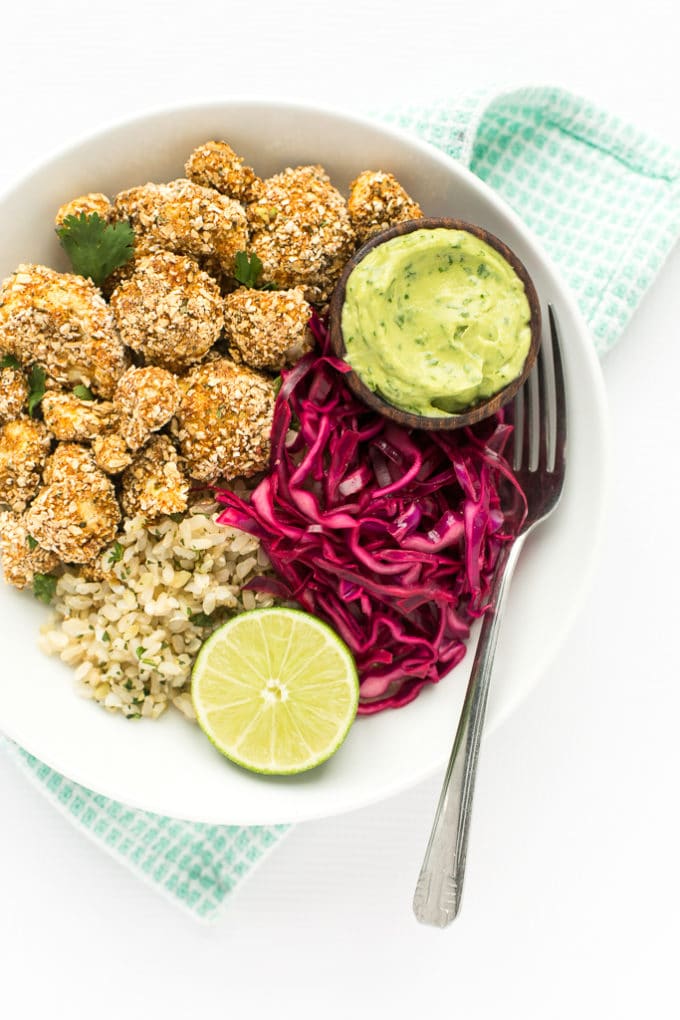 This power bowl is essentially a deconstructed version of those tacos - minus the corn tortillas + cilantro-lime brown rice + garlic in the avocado cream + adjusted ingredient amounts to make a bigger batch of cauliflower + updated methods because I'd like to think that my recipe writing skillz (yes, with a z) have improved over the last two years.
But let's not dwell on the logistics for too long, because we've got cauliflower to crisp and lunchtime bliss to seek. I hope you love this Crispy Cauliflower—Power Bowl Remix as much as I do! ♥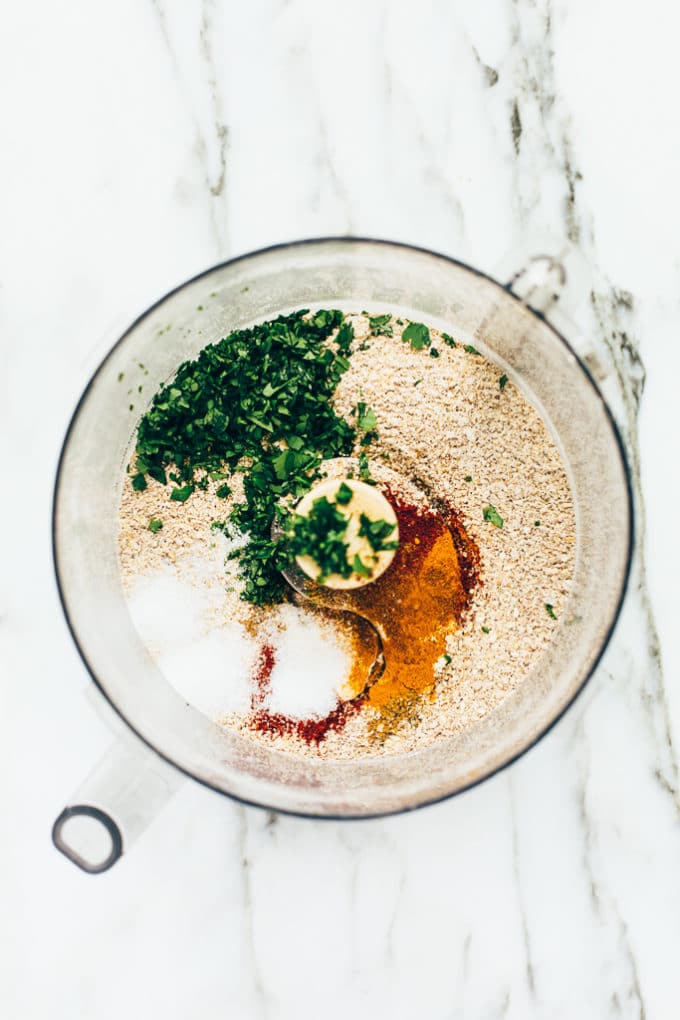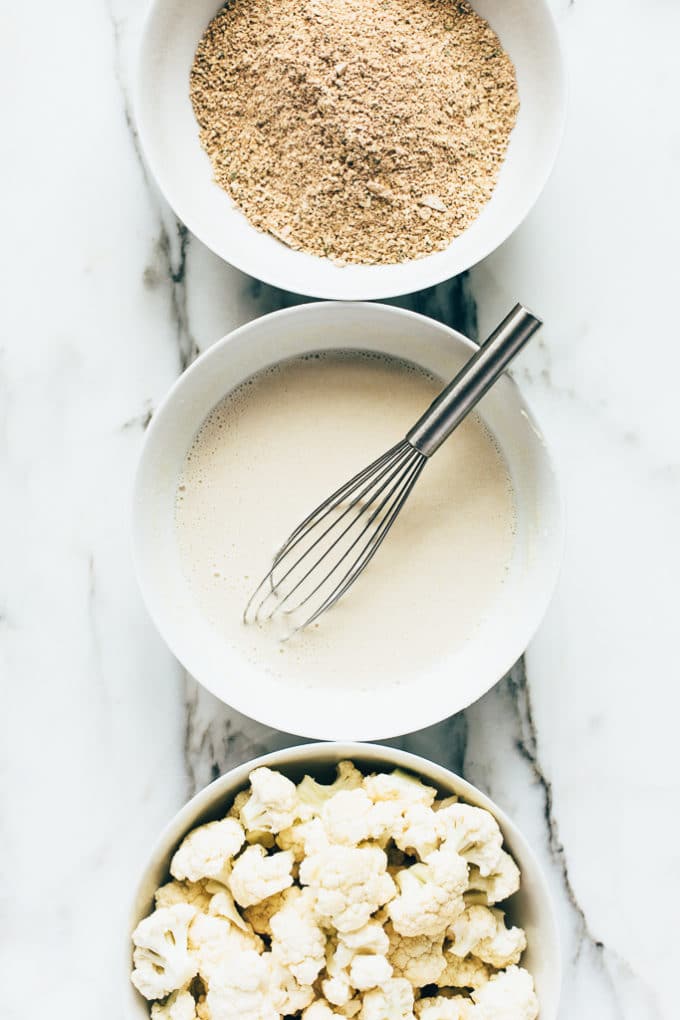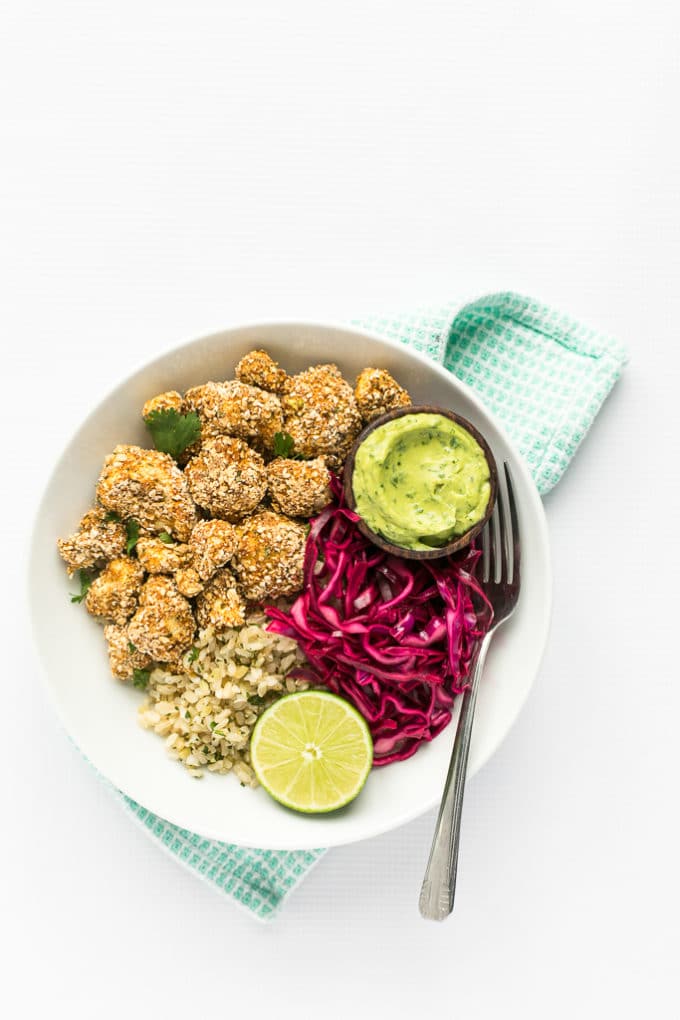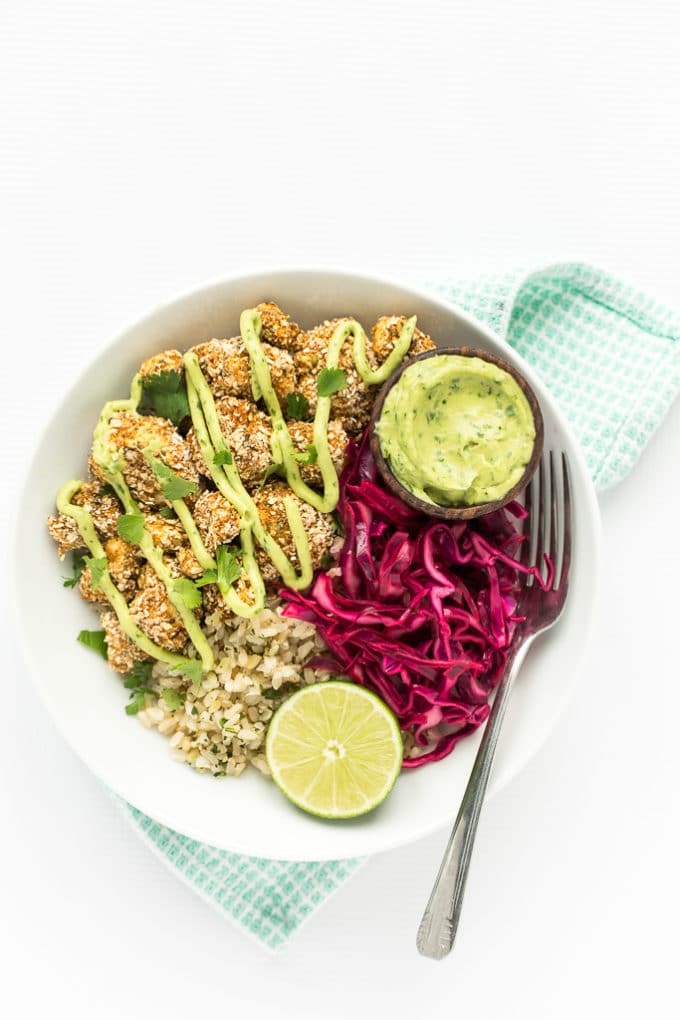 Crispy Cauliflower Power Bowls with Cilantro-Lime Brown Rice
Crispy, spice- and oat-crusted cauliflower is served over warm cilantro-lime brown rice. A side of tangy cabbage slaw and avocado crema round out the flavors in this fresh and satisfying power bowl.
Ingredients
Crispy Cauliflower
1

medium head of cauliflower (6" to 7" in diameter), cut into bite-size florets

1 ½

cups

gluten-free rolled oats

2

tablespoons

chopped fresh cilantro leaves, tough stems removed

1

tablespoon

chili powder

1 ½

teaspoons

smoked paprika

¾

teaspoon

cumin

½

teaspoon

garlic powder

¼

teaspoon

ground turmeric

(optional)

⅛

teaspoon

cayenne pepper

1 ½

teaspoons

fine grain sea salt

1

cup

plain, unsweetened almond milk

⅔

cup

brown rice flour

1

tablespoon

fresh lime juice
Purple Cabbage Slaw
2

cups

thinly sliced purple cabbage

¼

cup

fresh lime juice

1

tablespoon

apple cider vinegar

½

tablespoon

pure maple syrup

¼

teaspoon

fine grain sea salt
Cilantro-Lime Brown Rice
4

cups

cooked brown rice

2

tablespoons

chopped fresh cilantro leaves, tough stems removed

2

tablespoons

fresh lime juice

½

teaspoon

sea salt or to taste
Avocado-Cilantro Cream
1

ripe avocado, pitted and peeled

¼

cup

fresh cilantro leaves, tough stems removed

2

tablespoons

fresh lime juice

1

garlic clove, roughly minced

¼

teaspoon

fine grain sea salt
For Serving
1

lime, cut in wedges (optional)
Instructions
To Make the Crispy Cauliflower
Preheat the oven to 400F. Line a large baking sheet with parchment paper.

Add the rolled oats to a food processor. Process for 20 seconds or until a coarse meal forms. You don't want the oats to be a fine flour, but rather a texture similar to panko bread crumbs. Then, add the cilantro, chili powder, paprika, cumin, garlic powder, turmeric, cayenne pepper, and sea salt. Pulse 10 to 15 times to chop and incorporate. Transfer to a large, shallow bowl or baking dish.

In a medium mixing bowl, whisk together the the almond milk, brown rice flour, and lime juice until smooth.

Create an assembly line by lining up the cauliflower florets, almond milk mixture, oat mixture, and lined baking pan.

Place a small handful of cauliflower florets into the almond milk batter, toss to coat, shake off excess batter, and transfer to the oat mixture. Toss until the florets are thoroughly coated and transfer to the lined baking sheet. Repeat.

Bake the coated cauliflower florets for 25 to 28 minutes or until crisp and golden, tossing at the 15-minute mark.

Remove from oven and let cool slightly.
To Make the Cabbage Slaw
While the cauliflower is baking, make the cabbage slaw by adding the purple cabbage, lime juice, apple cider vinegar, maple syrup, and sea salt to a small bowl. Toss to coat and let rest, tossing occasionally.
To Make the Cilantro-Lime Brown Rice
In a large mixing bowl, combine the cooked brown rice, cilantro, lime juice, and sea salt.
To Make the Avocado-Cilantro Cream
Add the avocado, lime juice, cilantro, garlic, and sea salt to a food processor. Process for 3 minutes or until smooth and cream. The texture should resemble mayo.

You can either dollop the cream into the bowls with a spoon, or transfer it to a ziploc bag, snip off a corner, and pipe it over the cauliflower.
To Assemble
Spoon about a cup of the brown rice into each bowl, top with the crispy cauliflower and cabbage slaw, and pipe or dollop on the avocado-cilantro cream. Serve with lime wedges for spritzing, if desired.