Carrot + Apple Slaw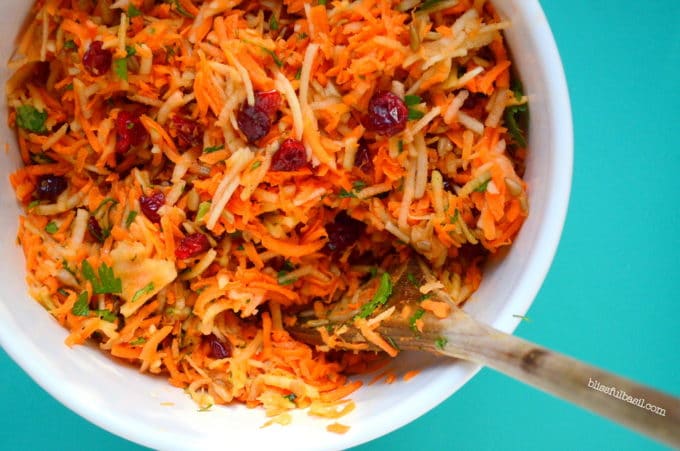 2 pounds carrots, peeled and ends removed
2 pounds granny smith apples, peeled and cored
3/4 cup roasted sunflower seeds
1 cup dried cherry-flavored or regular cranberries
1/4 cup chopped fresh cilantro
1/4 cup chopped fresh flat-leaf parsley
3 tablespoons apple cider vinegar
3 tablespoons sunflower oil
1 tablespoon toasted sesame oil
1 1/2 tablespoons honey
1/2 teaspoon sea salt
1/4 teaspoon black pepper
Grate the carrots and apples using a grater or the grating attachment within a food processor. There is a lot to grate, so I recommend the food processor if you have the option.
Add the grated carrots and apples to a large mixing bowl. Add in the sunflower seeds, cranberries, cilantro, and parsley. Toss to distribute.
In a small bowl, whisk together the apple cider vinegar, sunflower oil, sesame oil, honey, sea salt, and pepper.
Pour dressing over the slaw and toss to coat.
Serve and enjoy.
Store leftovers in fridge for up to 2 days.