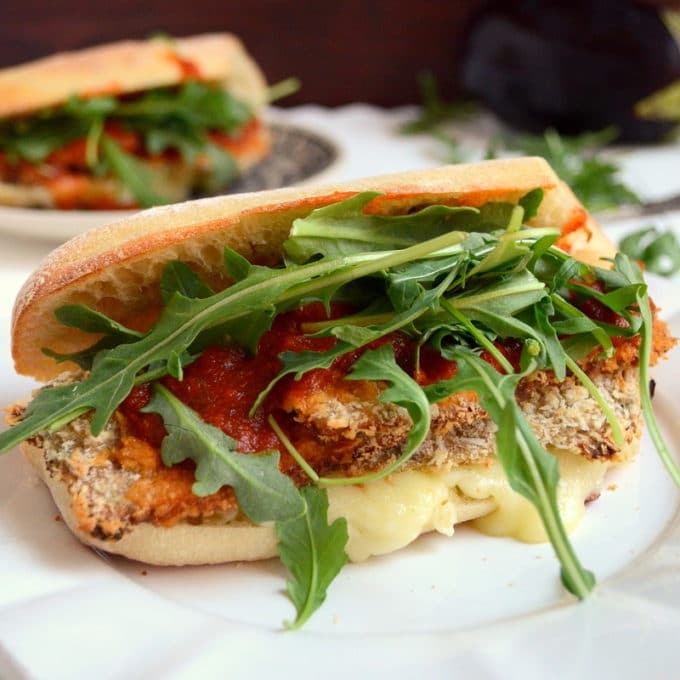 You might not be able to judge a book by its cover, but you can certainly judge a recipe by the silence it creates while being enjoyed. I give you exhibit A above: a baked eggplant marinara sandwich I made for dinner the other night. Dan was nearly silent the entire time he ate it and when I asked him what he thought of it he responded, "It's so good that I can't even talk while I eat it." Odd compliment but I'll certainly take it.
This sandwich is eggplant parmesan's handheld child, and I love it. Panko-coated eggplant is baked to tender perfection, cocooned between toasted bread, and laid to rest beneath melted mozzarella, marinara, and peppery arugula. The combination is dangerous in a I-could-probably-eat-three-of-these kind of way. This sandwich is hearty and satisfying, yet won't leave you feeling overstuffed. It's the perfect meal for Meatless Mondays, a Friday night in, or for that dinner party when you just want everyone to shut up and eat.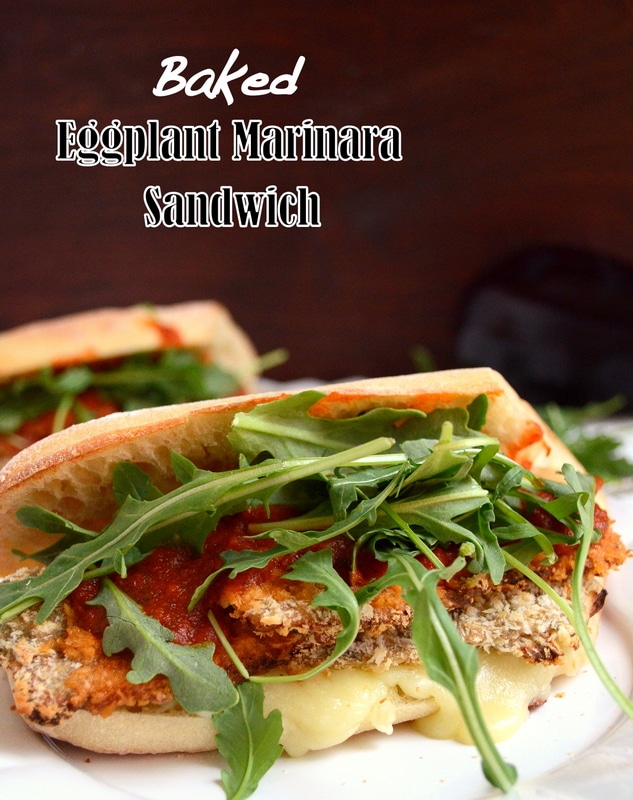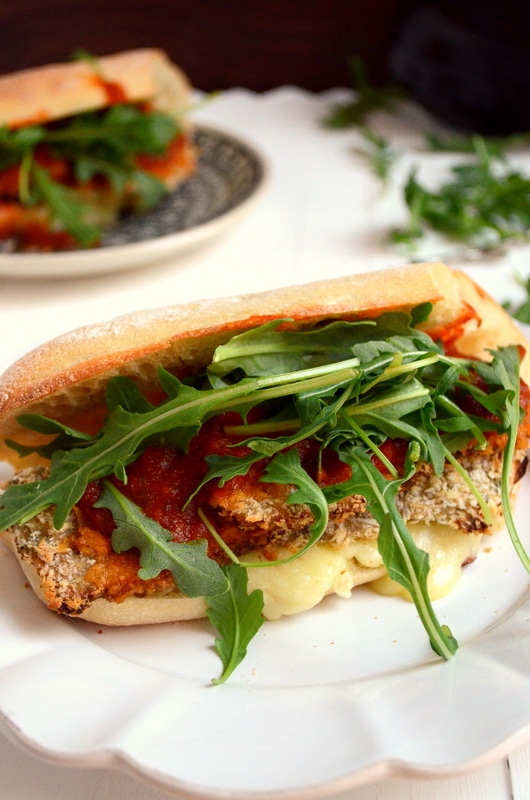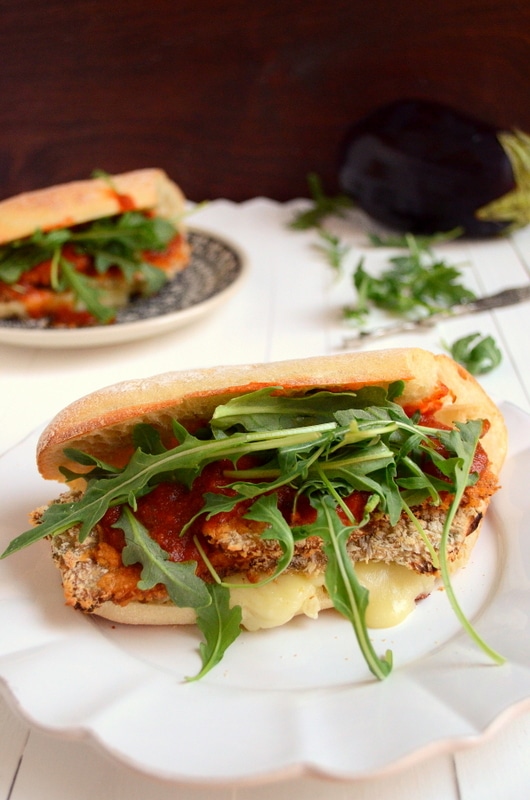 Baked Eggplant Marinara Sandwich
Tender baked eggplant is nestled between toasted bread, marinara, arugula and mozzarella.
Ingredients
1 medium eggplant, peeled and thinly sliced longways (¼-inch thick)
salt
1 ¼ cup plain almond milk
¾ cup whole wheat flour
1 tablespoon dried parsley
1 tablespoon dried basil
¼ teaspoon crushed red pepper
½ teaspoon garlic salt
1 tablespoon apple cider vinegar
2 cups panko breadcrumbs
8 ounces sliced or shredded part-skim mozzarella cheese
1 french bread loaf, cut into four pieces
1 cup marinara sauce
1 cup arugula
Instructions
Preheat oven to 425 degrees fahrenheit.
Spread eggplant slices out onto a large baking sheet. Sprinkle liberally with salt (about ¼ teaspoon or so per slice). Let stand for 30 minutes (you'll start to see the eggplant sweat). Rinse eggplant slices thoroughly and pat dry.
While the eggplant sweats, whisk together the almond milk, whole wheat flour, parsley, basil, crushed red pepper, garlic salt, and apple cider vinegar in a medium bowl.
Pour panko breadcrumbs into a large bowl.
Take one eggplant piece at a time and dip it into the almond milk coating and then into the panko breadcrumbs, being sure to coat both sides evenly. Place on a lightly-greased baking sheet. Repeat with all eggplant slices.
Bake eggplant slices in oven for 8 minutes. Turn slices over and bake for another 8 minutes.
While eggplant bakes, slice your french bread rolls along one side making sure to leave one side attached. Fill each of the rolls with 2 ounces of mozzarella, drop on a baking sheet, and pop into oven with eggplant for 4-5 minutes or until cheese melts.
Remove bread and eggplant from oven and begin assembling the sandwiches. Open the french bread and layer 3 pieces of baked eggplant within it. Top with ¼ cup marinara and a small handful of arugula. Serve immediately.
To reheat the eggplant to make sandwiches at a later time, heat oven to 425 degrees and bake for 5 minutes on each side to crisp the panko up again.