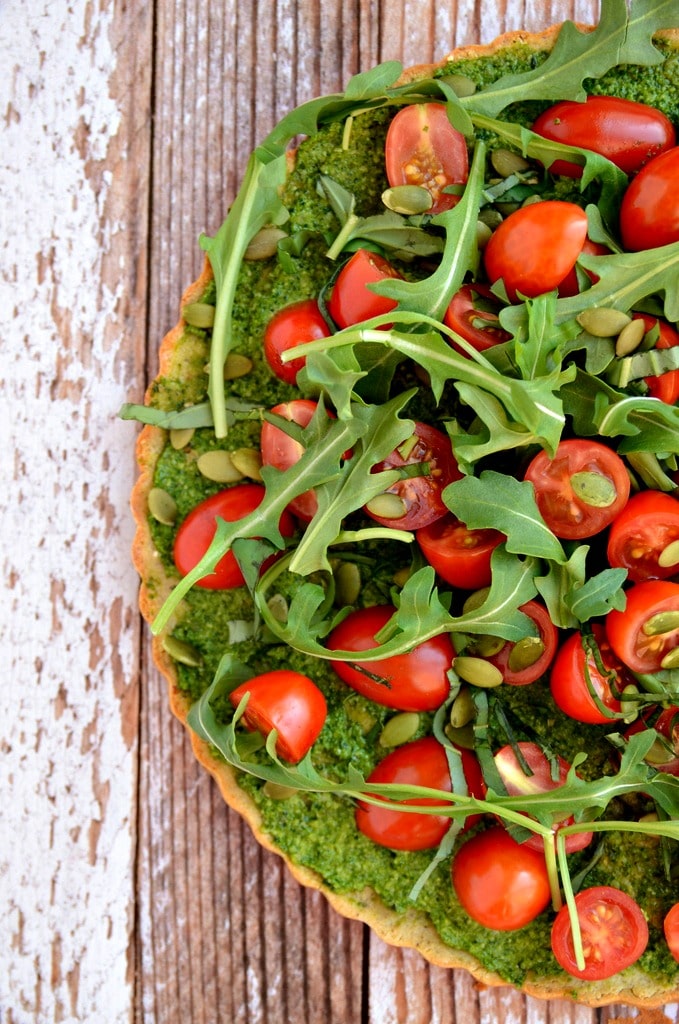 Happy Valentine's Day! I hope your day is spent doing something you love with someone you love. Rather than doing another red and pink dessert recipe, I decided to take this heart-filled-holiday opportunity to post something that will not only make your heart happy but also make your heart healthy. As promised, this pizza provides the perfect opportunity to make excellent use of the Superseed Pesto recipe I posted on Monday.
This vegan + gluten-free pizza's crust is created by blending soaked quinoa with a variety of spices. When I first heard about the quinoa pizza crust trend, I was a little reluctant to give it a whirl. If it sounds too good to be true, it probably is, right? However, this is one of those times when the cliché just doesn't ring true. Thank goodness.
The result is a study yet tender pizza crust that humbly and happily supports any toppings you decide to toss in its direction. The quinoa adds a protein-packed punch and renders the entire pizza a gluten-free-carb-lover's dream. You could honestly top this pizza with any and, let's be honest, ALL of your favorite pizza ingredients, but if you're looking for some inspiration, I highly recommend this pesto, arugula, cherry tomato, and pepita combination. It's that perfect balance of refreshing/light/bright + hearty/filling/satisfying. De.lec.ta.ble
I hope you all have a fun-filled weekend! Dan and I are heading to Santa Barbara to soak up some sun and take in some fresh California food + wine this weekend, so I'll be sure to fill you in on our adventures when we return. However, if you are itching to keep up-to-date with the adventures as they happen, be sure to follow me on Instagram at @blissfulbasil. I'd love to connect with you all!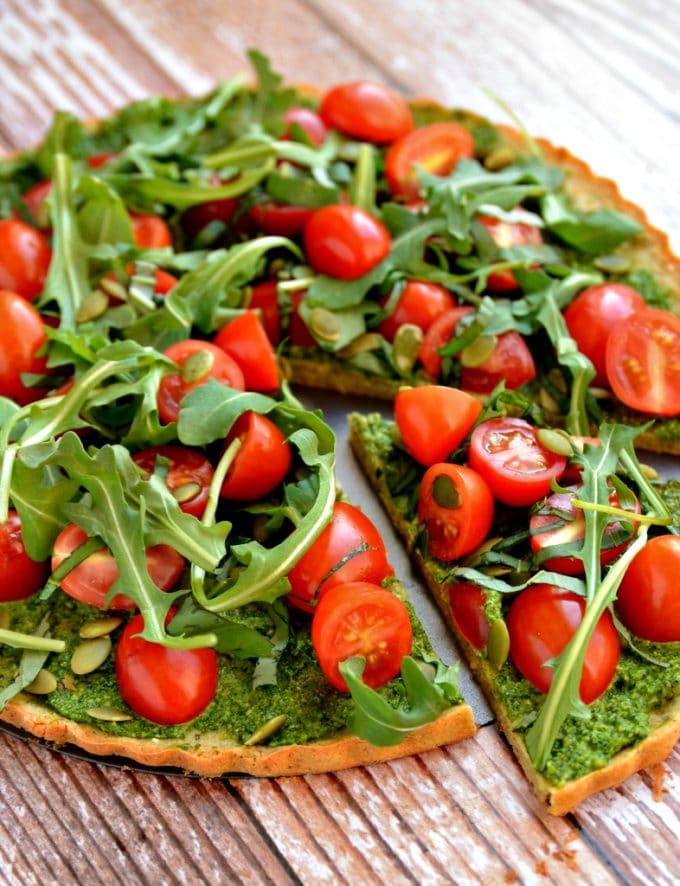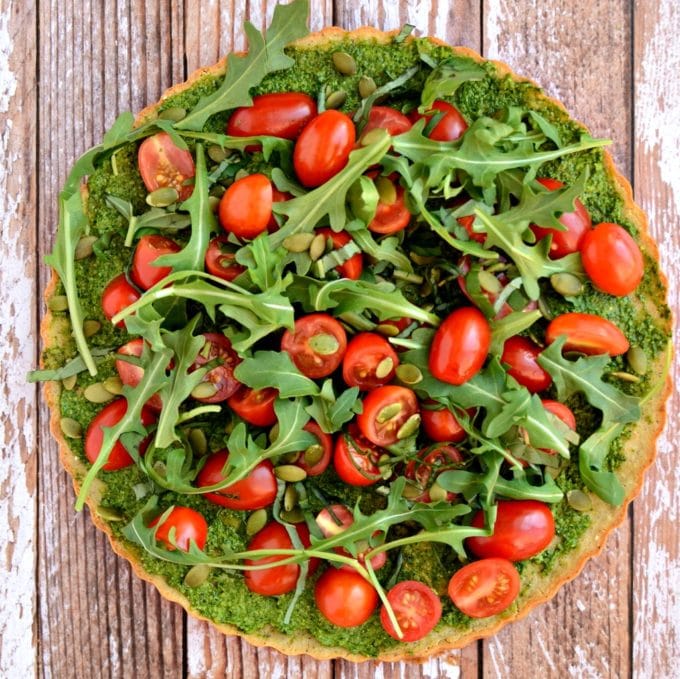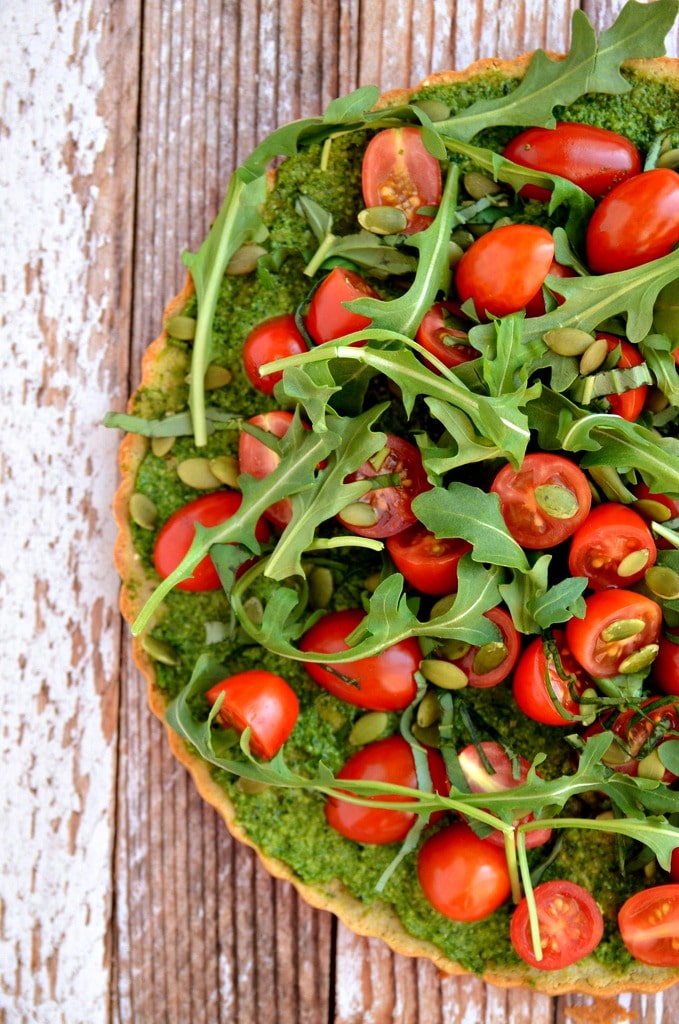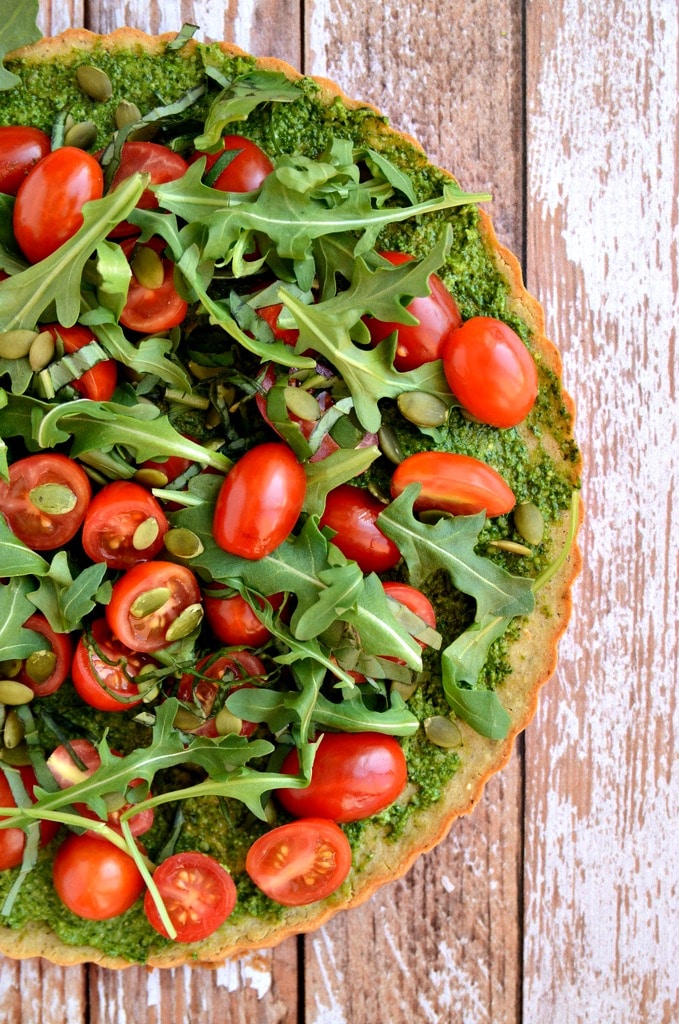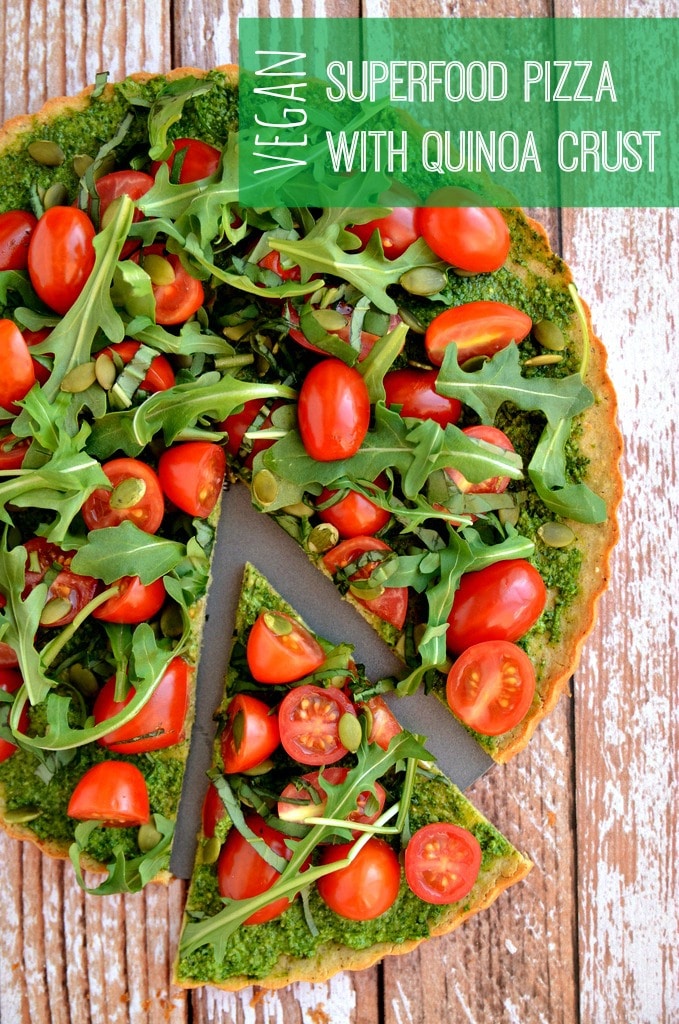 Clean + Green Superfood Pizza
A quinoa crust pizza is topped with superseed pesto, arugula, cherry tomatoes, and pepitas. This pizza is clean, packed with flavor, and pretty to look at.
Ingredients
1 cup white quinoa
2 ⅛ cups water, divided
1 tablespoon olive oil
1 tablespoon white wine vinegar
1 tablespoon fresh lemon juice
1 garlic clove
1 tablespoon nutritional yeast
1 teaspoon dried basil
1 teaspoon dried oregano
½ teaspoon salt
black pepper, to taste
½ cup superseed pesto (see post from February 10, 2014)
1 cup cherry tomatoes, halved
1 cup arugula
2 tablespoons raw pepitas
small handful fresh basil, chopped
Instructions
Soak quinoa in two cups water for 8 hours or overnight.
Drain and rinse the soaked quinoa.
Preheat oven to 425 degrees Fahrenheit.
Add the quinoa, 2 tablespoons water, olive oil, white wine vinegar, lemon juice, garlic, nutritional yeast, dried basil, dried oregano, salt, and pepper to a food processor. Process until mixture is smooth and resembles a thick batter (approximately 2-4 minutes).
Pour batter into a well-greased, 10-inch tart pan. Bake for 18-20 minutes or until golden and set.
Let cool for 10 minutes.
Pop crust out of pan and spread pesto evenly across the crust. Top with tomatoes, pepitas, arugula, and basil.
Cut and serve immediately.