Clean + Green Superfood Pizza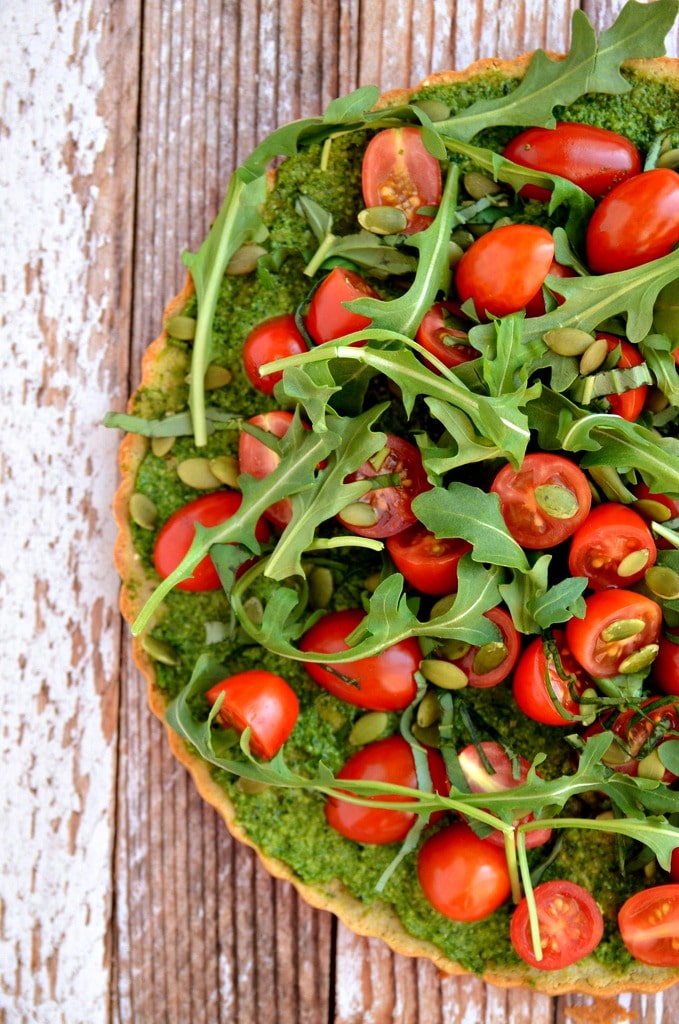 1 cup white quinoa
2 1/8 cups water, divided
1 tablespoon olive oil
1 tablespoon white wine vinegar
1 tablespoon fresh lemon juice
1 garlic clove
1 tablespoon nutritional yeast
1 teaspoon dried basil
1 teaspoon dried oregano
1/2 teaspoon salt
black pepper, to taste
1/2 cup superseed pesto (see post from February 10, 2014)
1 cup cherry tomatoes, halved
1 cup arugula
2 tablespoons raw pepitas
small handful fresh basil, chopped
Soak quinoa in two cups water for 8 hours or overnight.
Drain and rinse the soaked quinoa.
Preheat oven to 425 degrees Fahrenheit.
Add the quinoa, 2 tablespoons water, olive oil, white wine vinegar, lemon juice, garlic, nutritional yeast, dried basil, dried oregano, salt, and pepper to a food processor. Process until mixture is smooth and resembles a thick batter (approximately 2-4 minutes).
Pour batter into a well-greased, 10-inch tart pan. Bake for 18-20 minutes or until golden and set.
Let cool for 10 minutes.
Pop crust out of pan and spread pesto evenly across the crust. Top with tomatoes, pepitas, arugula, and basil.
Cut and serve immediately.
Recipe by
Blissful Basil
at https://www.blissfulbasil.com/vegan-gluten-free-superfood-pizza-with-quinoa-crust/