Have I ever told you the story about the time I singed off some of my hair while cooking? Probably not because it just happened on Monday.  In this blog post I hinted at the variety of life things, both wonderful and frustrating, occurring all at once, but I don't think I had fully processed my feelings around any of it until Monday.
Monday was one of those days when it seems like everything keeps going wrong, and somehow I developed this irritable, woe-is-me attitude that only seemed to pull more blah-ness (totally legit word right there) into my day. Somewhere in the midst of our kitchen being torn apart due to water damage from a leaky roof, our granite counters and cabinets sitting in the middle of our living room, unexpected complications uncovered during the repairs, and the whirring of three of the loudest fans I've ever encountered, I lost it. The normally happy, "everything happens for a reason" attitude I have towards life momentarily dissipated, and I felt nothing but overwhelmed.
By the time I finally got into the functional corner of our kitchen around 8:45 that night, I wanted nothing more than to let my worries be lost in a moment of cooking. To take in the sound of olive oil crackling over the stove, the sight of zucchini noodles billowing out of a spiralizer, and the scent of garlic turning golden in a pan. That last hope turned out to be the demise of a small portion of my hair because as I leaned over the pan to take in that garlicky goodness, I forgot that I hadn't pulled my hair back as I usually do while cooking. Thus our "power burner" — yes, it actually says this on our stove — got the best of my freshly-trimmed fringe. Fortunately, the flame only claimed about a half inch of a small chunk of hair; however, the smell of burning hair < the smell of simmering garlic. Cooking therapy fail.
Although yesterday initially brought much of the same frustration and not-so-lovely attitude, I decided that approach was leading me nowhere positive, so I willed myself into a late afternoon workout and meditation session. It's amazing what a little movement and deep breathing can do for the soul and the mind. It refreshed my perspective on the situation (i.e., water damage and a kitchen in disarray are incredibly minor life issues, and I have an abundance of things to be 110% thankful for), and I decided to roll with the water-damage punches and take whatever tricky stuff comes my way as an opportunity to learn, grow, and change.
Plus, when the going gets tough, there are always small glimmers of hope that can nudge us back to the positive side, even if just for a moment. Sometimes, there are even glimmers of delicious hope like this Caramel Banana Cream Parfait…
This berry and coconut whip parfait  that I posted back in July turned out to be such a hit that I figured it was worth creating a remix. For this variation, coconut cream is whipped with super-ripe bananas, a dash of pure maple syrup, and vanilla extract; and the combination becomes an undeniably-addictive banana cream. Then, the banana cream is layered with this 5-minute vegan caramel, banana slices, and walnuts to create a parfait that is easy on the eyes and satisfying to the soul. This is currently my absolute favorite dessert, and I can't get enough of it. It's simple, wholesome, and packed with the most amazing caramel-banana flavors.
Also, because Dan encouraged me not to let Sound Bites fall to the wayside in the midst of all this life stuff, here is a new tune for you. I seem to be attracted to songs with a contradictory juxtaposition between lyrics and overall sound, and this tune undoubtedly emanates that quality. The lyrics, albeit a bit dark, are overpowered by the feel-good beat and the positive melody carried throughout the song. Let's all hold on tight and let any circumstantial complications vanish within the positivity of life's powerful beat.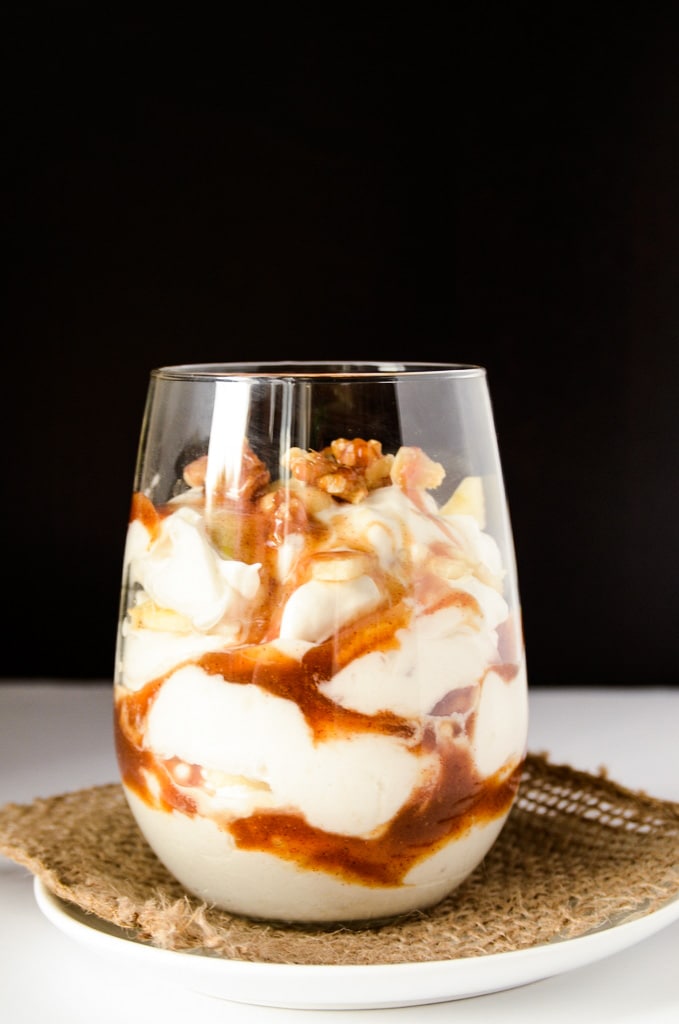 Vegan Caramel Banana Cream Parfait
Author:
Ashley Melillo | Blissful Basil
Ingredients
3 very ripe bananas, divided
1 tablespoon pure maple syrup
1 teaspoon vanilla extract
1 1/2 cups coconut cream*
1/2 cup 5-Minute Vegan Caramel
optional: walnuts
Instructions
Add 1 1/2 bananas, maple syrup, and vanilla extract to a mixing bowl. Beat on high with a hand or stand mixer for 1 minute. Add in the coconut cream and continue beating for 2-3 minutes or until smooth and fluffy.
Slice the other 1 1/2 bananas.
In 4 glasses, layer the banana cream, the banana slices, and the caramel. Repeat 2-3 times, garnish with walnuts, and serve or refrigerate until ready to serve.
Notes
*If you can't find coconut cream, purchase 1 to 2 cans of full-fat coconut milk, remove the lids, and let the cans sit overnight in your refrigerator. Then, scoop off the thick cream at the top of the cans, excluding the watery liquid at the bottom. Save the coconut water to add into smoothies later!