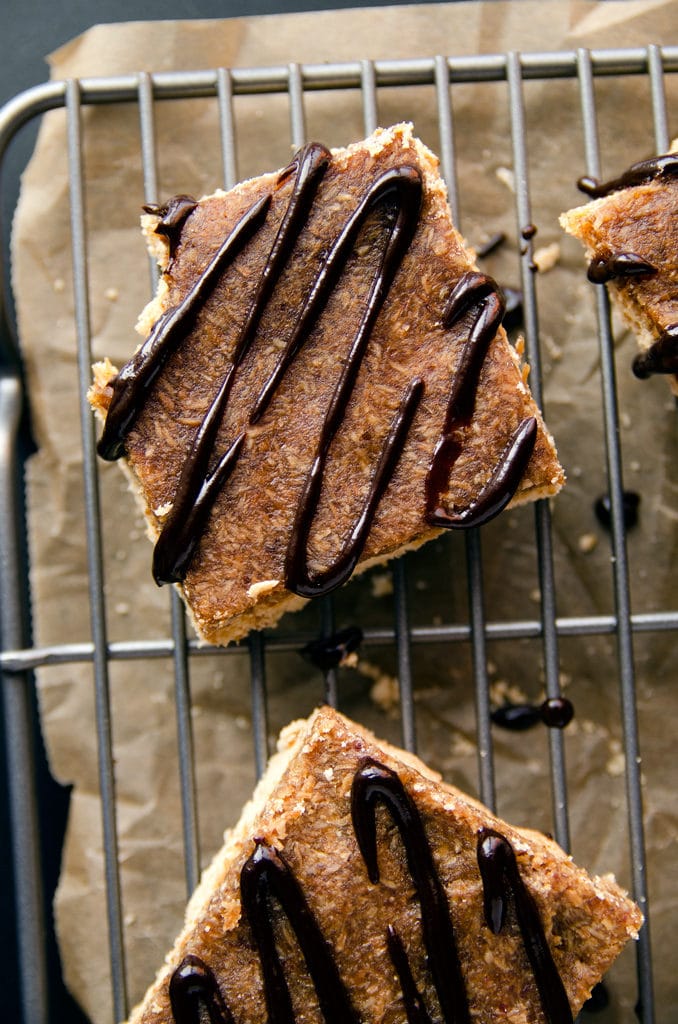 This recipe is a combination of this and this. Two decadent desserts coming together to create a fusion between the best of both sweets. The flavors and look of these bars miiight just remind you of a certain cookie that comes in a purple box and is sold by enthusiastic little ladies donned in green.
Crispy shortbread is thickly-slathered with coconut-caramel and drizzled with a glossy homemade chocolate. The result is a bar with a shortbread snap, sink-your-teeth-in gooey caramel and coconut layer, and just enough chocolate to keep things balanced.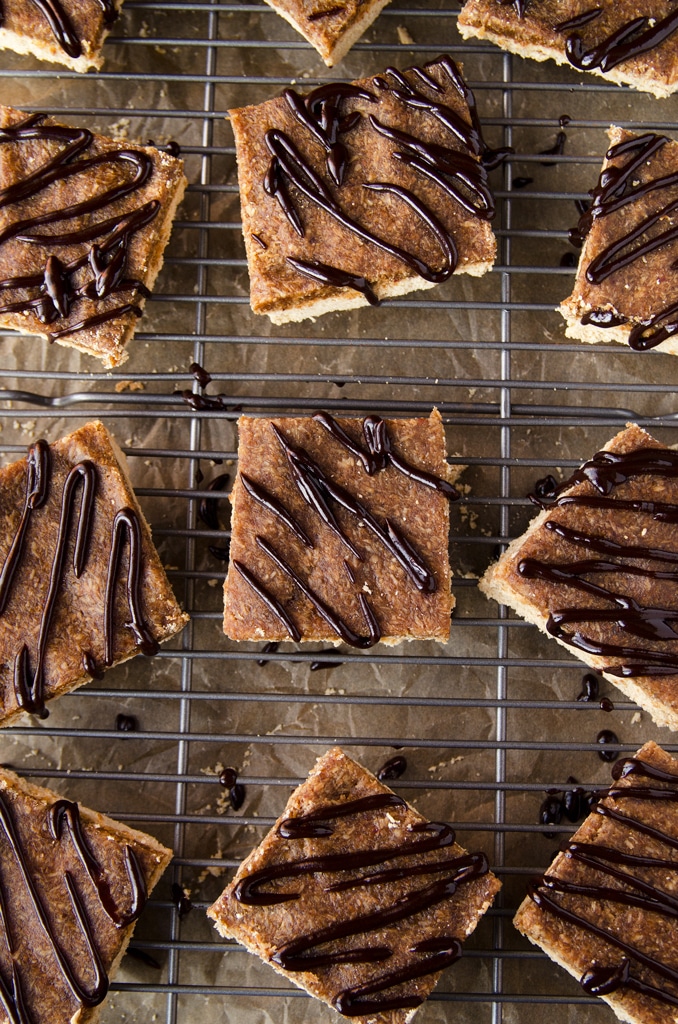 To make these bars, you'll start by making the gluten-free shortbread dough by combining ground oats, coconut flour, coconut oil, maple syrup, and vanilla extract. Grease a tart pan, smooth out the dough, and bake for 12-15 minutes. While the shortbread is baking, you'll toast a pan of shredded coconut alongside it in the oven. The coconut should be crisp and a rich golden-brown color to maximize its flavor potential.
To make the caramel, you'll add pitted dates, coconut oil, almond butter (or sunflower butter), vanilla, and sea salt to a food processor. Process for a few minutes or until you have a thick, sticky caramel. Stir in the toasted coconut and spread on top of the shortbread layer.
The last step is making a quick homemade chocolate from raw cacao butter. Raw cacao butter, also known as "cocoa butter", is the cold-pressed oil from cacao beans, and it's a necessary part of making true homemade chocolate. You'll melt and whisk together cacao butter, cacao powder and pure maple syrup over a double-boiler until a rich, glossy chocolate develops. However, if you can't find cacao butter or want to cut down on time, simply melt together dark chocolate and a little bit of coconut oil. I like to transfer the chocolate into a heat-safe pastry bag and pipe it over the bars, but it can also be drizzled on top with a spoon.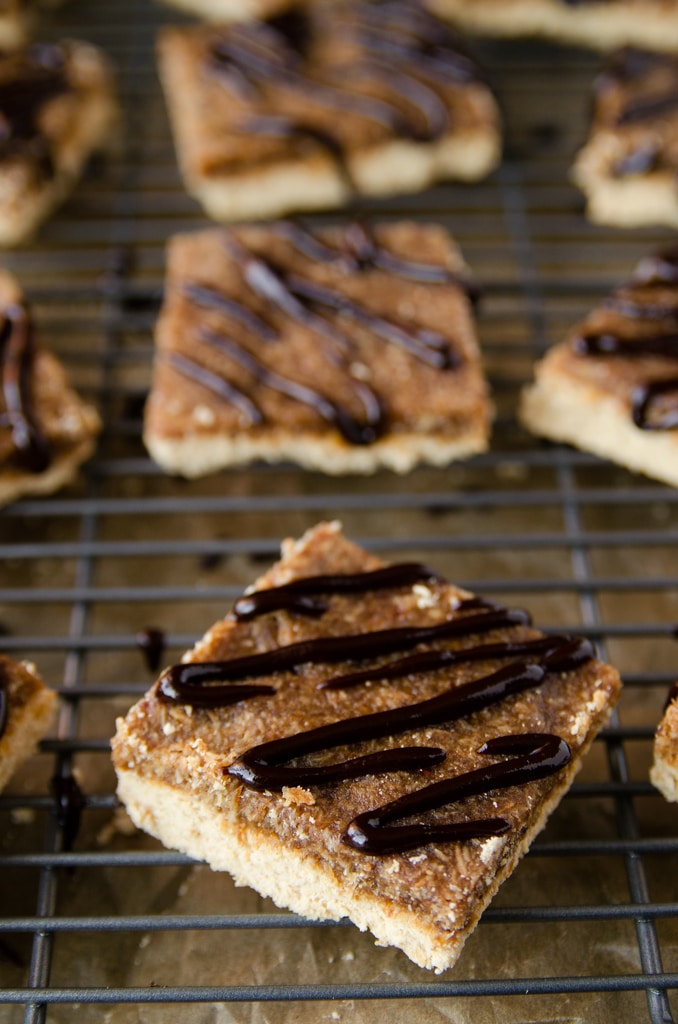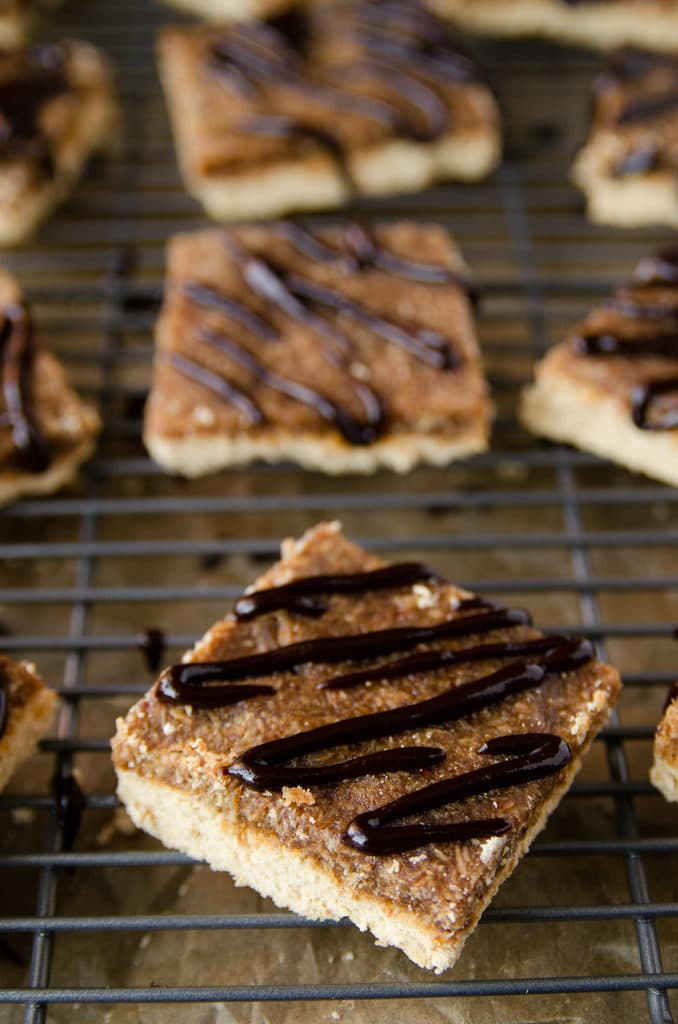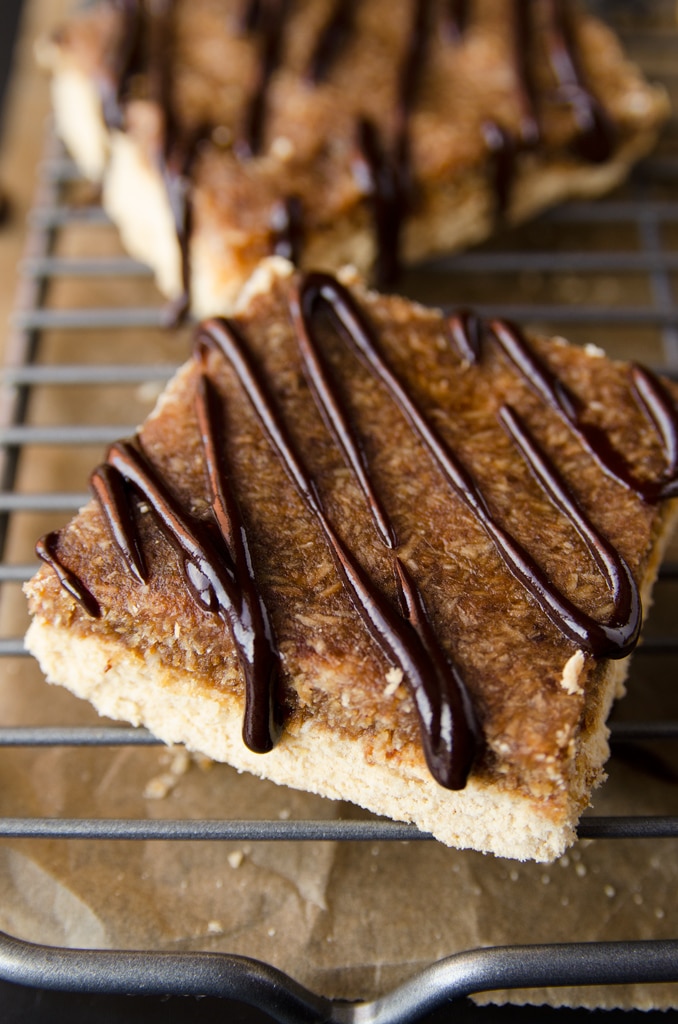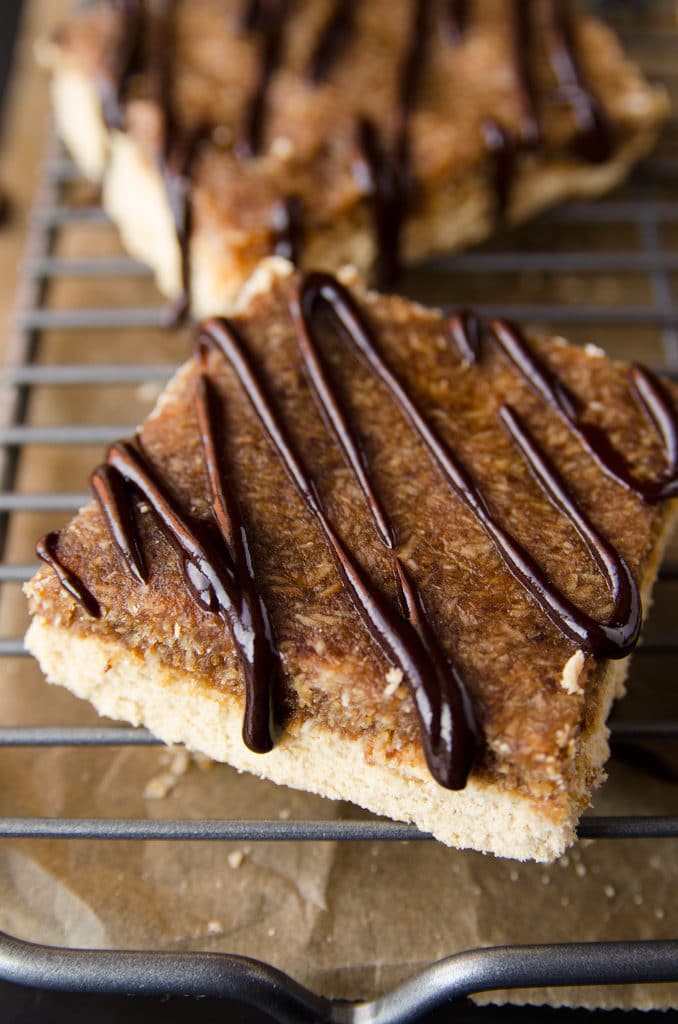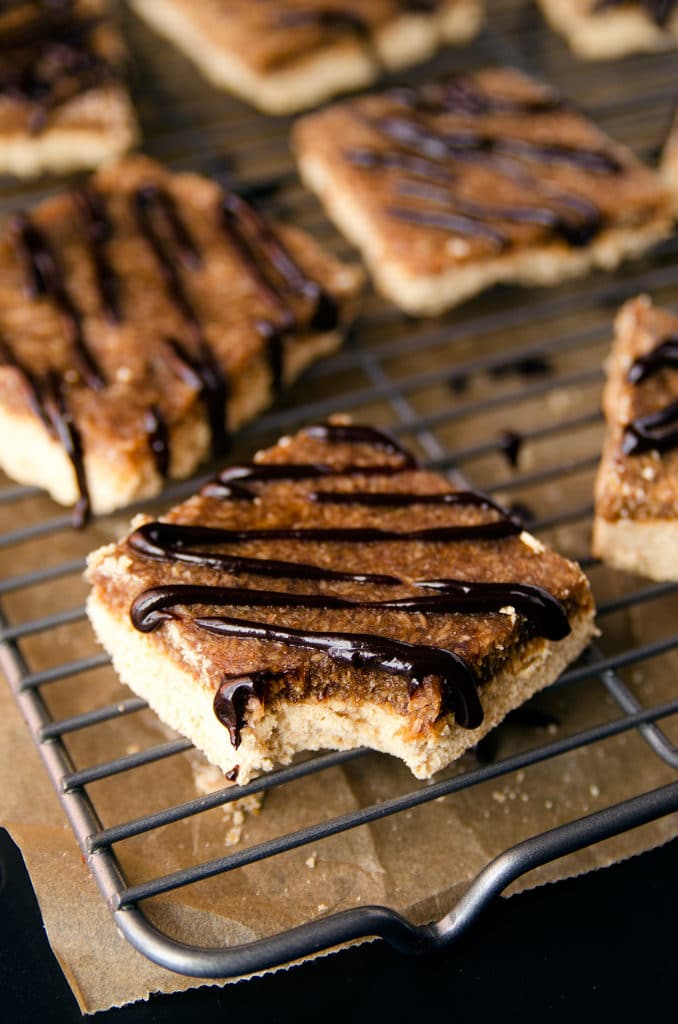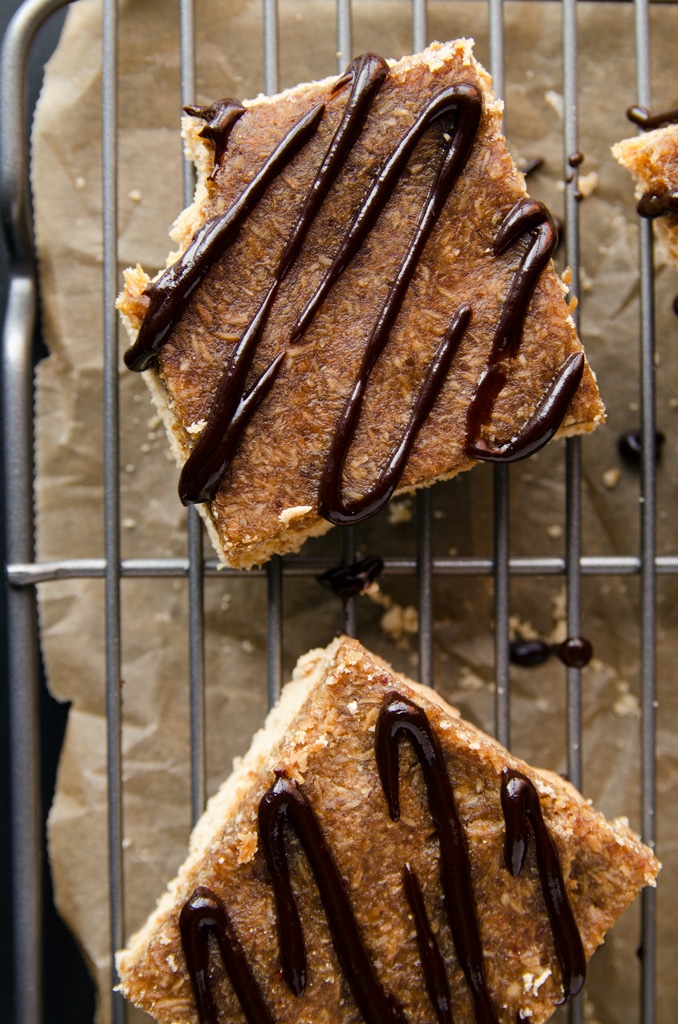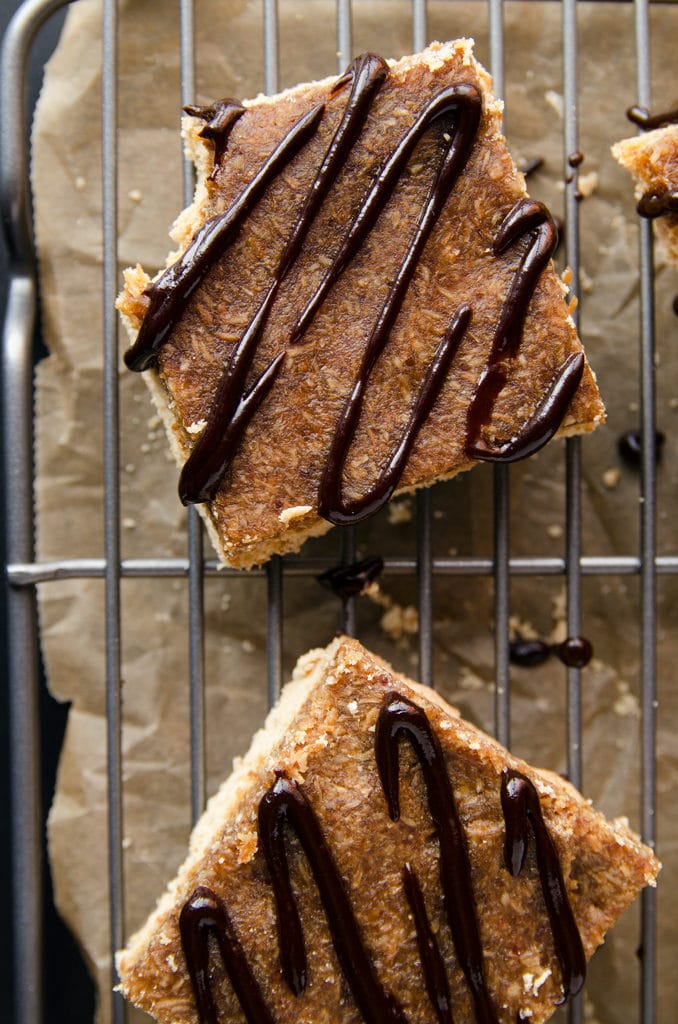 📖 Recipe
Toasted Coconut, Caramel & Chocolate Shortbread Bars
A crisp shortbread crust is slathered with a blend of thick date caramel and toasted coconut. The final touch is a glossy drizzle of homemade chocolate.
Ingredients
For the Shortbread Crust
2

cups

rolled oats

½

cup

+ 2 tablespoons coconut flour

½

cup

melted coconut oil (measured after being melted)

½

cup

pure maple syrup

2

teaspoons

pure vanilla extract
For the Toasted Coconut and Caramel Layer
2

cups

shredded coconut (I use unsweetened)

2

cups

pitted and packed medjool dates (about 22 dates -- soft and wet)

2

tablespoons

coconut oil

1

tablespoon

creamy almond butter*

2

teaspoon

vanilla extract

¼

teaspoon

sea salt
For the Chocolate Drizzle
1

ounce

raw cacao/cocoa butter (about 1 ½ tabespoons)**

3

tablespoon

raw cacao powder

2

tablespoon

pure maple syrup
Instructions
To Make the Shortbread Crust
Preheat oven to 350 degrees Fahrenheit.

Add the rolled oats to a food processor and process for 3-4 minutes or until a fine flour is formed.

Add the oat flour, coconut flour, coconut oil, maple syrup, and vanilla extract to a large mixing bowl. Gently mix with a spatula until incorporated.

Grease a 9x13 rectangular tart pan with coconut oil. Transfer the crust mixture to the pan. Using your hands, press the mixture evenly into the pan. Use a fork to poke 8-10 holes in the crust to allow it to vent as it bakes. Transfer the pan to the oven and bake for 12-15 minutes or until just beginning to turn golden. Remove from oven and let cool completely.
For the Toasted Coconut and Caramel Layer
Spread the shredded coconut out over a baking pan. Bake, alongside the shortbread crust, at 350F for 8-12 minutes or until golden brown, stirring every few minutes.

While the coconut and shortbread are baking, add the pitted medjool dates, coconut oil, almond butter, vanilla, and sea salt to a food processor. Process for 3-4 minutes or until a thick caramel develops.

Transfer the caramel to a mixing bowl, and stir in the toasted coconut until incorporated. This isn't the easiest thing to stir, so bring your muscles and patience to the table.

Once the shortbread is completely cool, carefully spread the coconut-caramel over the top. I find it's easiest to use my hands to press the caramel into place.

Slice into bars of desired size.
To Make the Chocolate Drizzle
Add cacao butter, cacao powder, and maple syrup to a double boiler and heat over medium-low. Whisk together until melted and a smooth, creamy chocolate comes together. Let cool slightly.

If you have a heat-safe pastry bag, transfer the chocolate into the bag with a fine piping tip attached. Pipe the chocolate over each bar. If you don't have a heat-safe pastry bag, simply use a spoon to drizzle the chocolate over top. Let cool or refrigerate to set chocolate.
Notes
*For a nut-free version, use sunflower seed butter.
**If you prefer to skip the trouble of making a homemade chocolate, simply melt ½ cup dark chocolate along with a teaspoon or two of coconut oil, and drizzle the mixture over top.