Happy Thursday! I hope you're all having a wonderful week. I'm currently en route to Colorado for the family vacation I mentioned last week. We're road tripping out to Colorado, so we'll be spending tonight and tomorrow night in South Dakota before making the final portion of the drive into Colorado on Saturday. For the next week or so, I'll be posting from the mountainous comforts of Steamboat Springs and will be sure to mix in some scenic shots from our adventures.
To make up for only two posts this week, I've included two recipes in today's post: herbed cashew cheese + spicy tomato jam. Both are equally delicious and can hold their own; however, they pair so well together that it made perfect sense to photograph and post them at the same time.
The spicy tomato jam is one of a few recipes that I created for The Chalkboard. If you have an extra minute, you can checkout the recipes here. It's made with just a handful of ingredients and is so full of flavor. It's sweet, tangy, and slightly spicy and pairs well with everything from burgers to fries.
The herbed cashew cheese was something that I had been thinking about making for quite some time but kept backing out because it seemed complicated and fussy. However, I decided to give it a whirl a few weeks back and was thrilled with how easy it was to make. No fussy complications in this vegan cheese, just pure, creamy, flavor-packed, plant-based goodness.
I took the extra step of wrapping the cashew cheese in cheesecloth and refrigerating it overnight to pull out any excess water; however, you can skip that step completely if you need yo' cheese now. The texture will be more like ricotta rather than a thick, spreadable cheese but it is just as flavorful. As someone who used to eat cheese every day, it was the food I was the saddest about giving up, because I believed that vegan "cheese" would never compare to the real thing; however, there are wonderful alternatives, and I haven't missed dairy-based cheeses at all <– believe me, those are crazy words for me to type, speak, whisper, or even think, but they're true. Whatever you want to call it (e.g., "cheese," cheeze, cheez), vegan cheese can be just as good as the real thing.
If you're able to make the cheese and tomato jam at the same time (I strongly encourage it), then your serving options are endless. Slather the cheese and jam on toasty french bread, dollop it on a flavorful vegetable sandwich, or toss it into a salad with arugula and roasted vegetables. The flavors pair well with so many things, and together, the cheese and jam have this awesome savory/sweet/spicy balance that brings a smile to my face.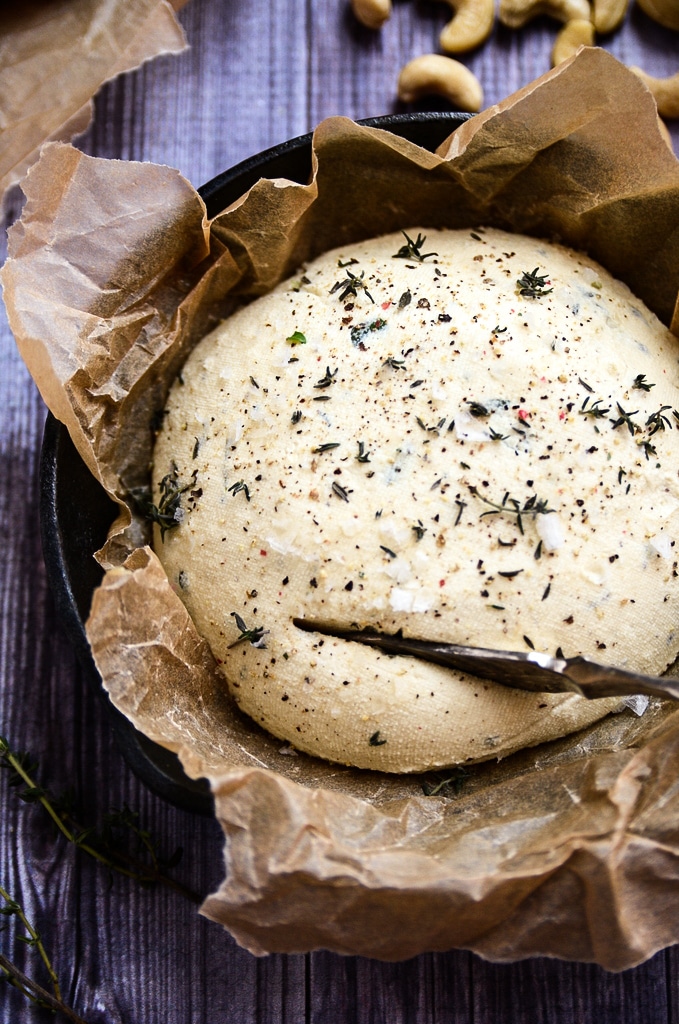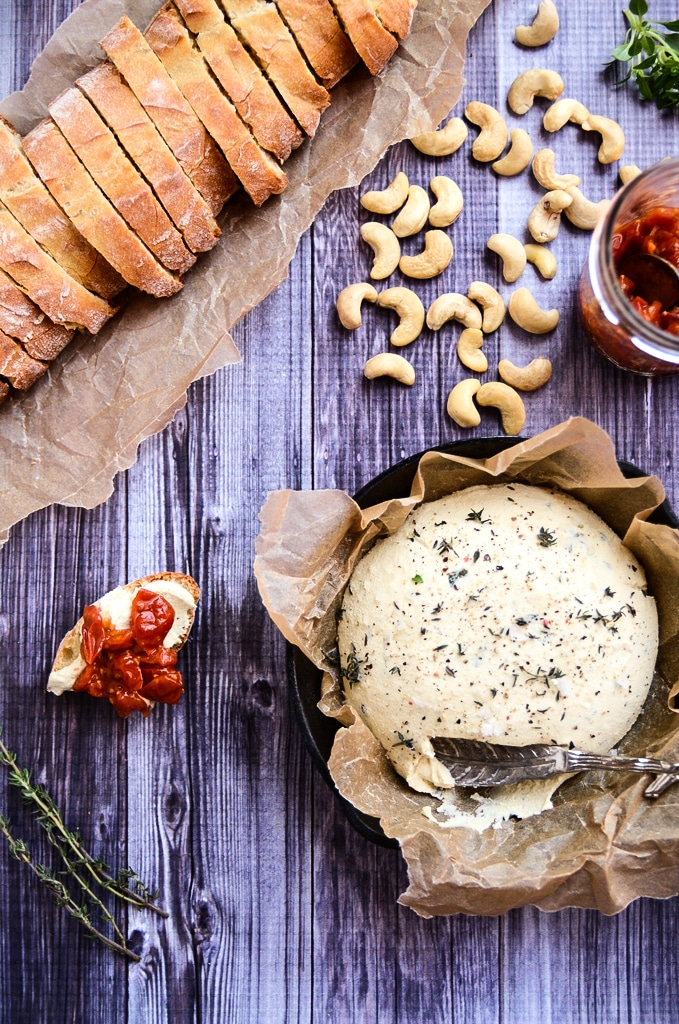 Herbed Cashew Cheese
Author:
Ashley Melillo | Blissful Basil
Recipe type:
Cheese, Appetizer
Ingredients
1 cup raw cashews
water
2 tablespoons nutritional yeast
2 tablespoons fresh lemon juice
2 tablespoons water
1 teaspoon white wine vinegar
1 garlic clove, minced
1/2 teaspoon sea salt
black pepper, to taste
1/2 tablespoon chopped fresh basil
1/2 teaspoon chopped fresh oregano
1/4 teaspoon chopped fresh thyme
For Garnishing
malden sea salt or other large flake sea salt
black pepper
chopped basil, thyme, oregano
Instructions
Soak the raw cashews in about 2 cups of water for at least 4 hours (I soaked mine overnight).
Drain the cashews completely and add them to a food processor along with the nutritional yeast, lemon juice, 2 tablespoons of water, white wine vinegar, garlic, sea salt, and black pepper. Process for 3-4 minutes or until you have a very smooth cream.
Transfer the cashew cream to a bowl and stir in the chopped basil, oregano, and thyme.
You can either enjoy the cheese as is or line a small colander with tightly-woven cheesecloth, pour the cashew cheese into the cheesecloth, fold the cheesecloth over top, and place the colander over a medium-size bowl so that it is suspended. Then, refrigerate overnight.
Once refrigerated, unwrap the cashew cheese, transfer it to a serving platter, and garnish with sea salt, black pepper, and chopped herbs.
Refrigerate leftovers.
Spicy Tomato Jam
Author:
Ashley Melillo | Blissful Basil
Recipe type:
Condiment, Jam, Sauce
Ingredients
4 cups halved grape tomatoes
¼ cup pure maple syrup
¼ teaspoon sea salt
1 ½ teaspoons ground cumin
1 teaspoon minced fresh ginger
2 garlic cloves, minced
½ teaspoon crushed red pepper flakes
Instructions
Add the tomatoes and maple syrup to a medium sauce pan on the stove.
Turn heat on medium-low and cook for five minutes.
Add in the sea salt, cumin, fresh ginger, garlic, and crushed red pepper flakes. Stir. Bring the mixture to a boil. Reduce heat, cover, and simmer for 40-45 minutes, stirring every 5-10 minutes.
Let cool and transfer the tomato jam to a jar or container.
You can serve the tomato jam as is or, if you're looking for a ketchup alternative, pulse it a few times in your blender.