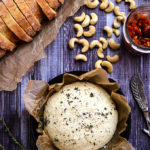 Print Recipe
Herbed Cashew Cheese
This herbed vegan cashew cheese & spicy tomato jam will make you forget all about the "real" thing. A rich and creamy cashew cheese is sprinkled with chopped herbs and paired with a sweet-n-spicy homemade tomato jam. Serve this vegan delight alongside baguette slices, crackers, or even fresh veggies!
For Garnishing
Malden sea salt or other large flake sea salt

Freshly ground black pepper

Chopped basil, thyme, oregano, etc.
Soak the raw cashews in about 2 cups of water for at least 4 hours (I soaked mine overnight).

Drain the cashews completely and add them to a food processor along with the nutritional yeast, lemon juice, 2 tablespoons of water, white wine vinegar, garlic, sea salt, and black pepper. Process for 3-4 minutes or until you have a very smooth cream.

Transfer the cashew cream to a bowl and stir in the chopped basil, oregano, and thyme.

You can either enjoy the cheese as is or line a small colander with tightly-woven cheesecloth, pour the cashew cheese into the cheesecloth, fold the cheesecloth over top, and place the colander over a medium-size bowl so that it is suspended. Then, refrigerate overnight.

Once refrigerated, unwrap the cashew cheese, transfer it to a serving platter, and garnish with sea salt, black pepper, and chopped herbs.

Refrigerate leftovers.