This vegan Nutella granola is a crunchy, clustery, chocolaty breakfast dream come true. The recipe relies on a secret ingredient to create perfectly crunchy granola that can be broken into massive granola bar hunks, medium clusters, or small, sprinkle-worthy nibbles. Keep reading to find out my trick to making perfect granola!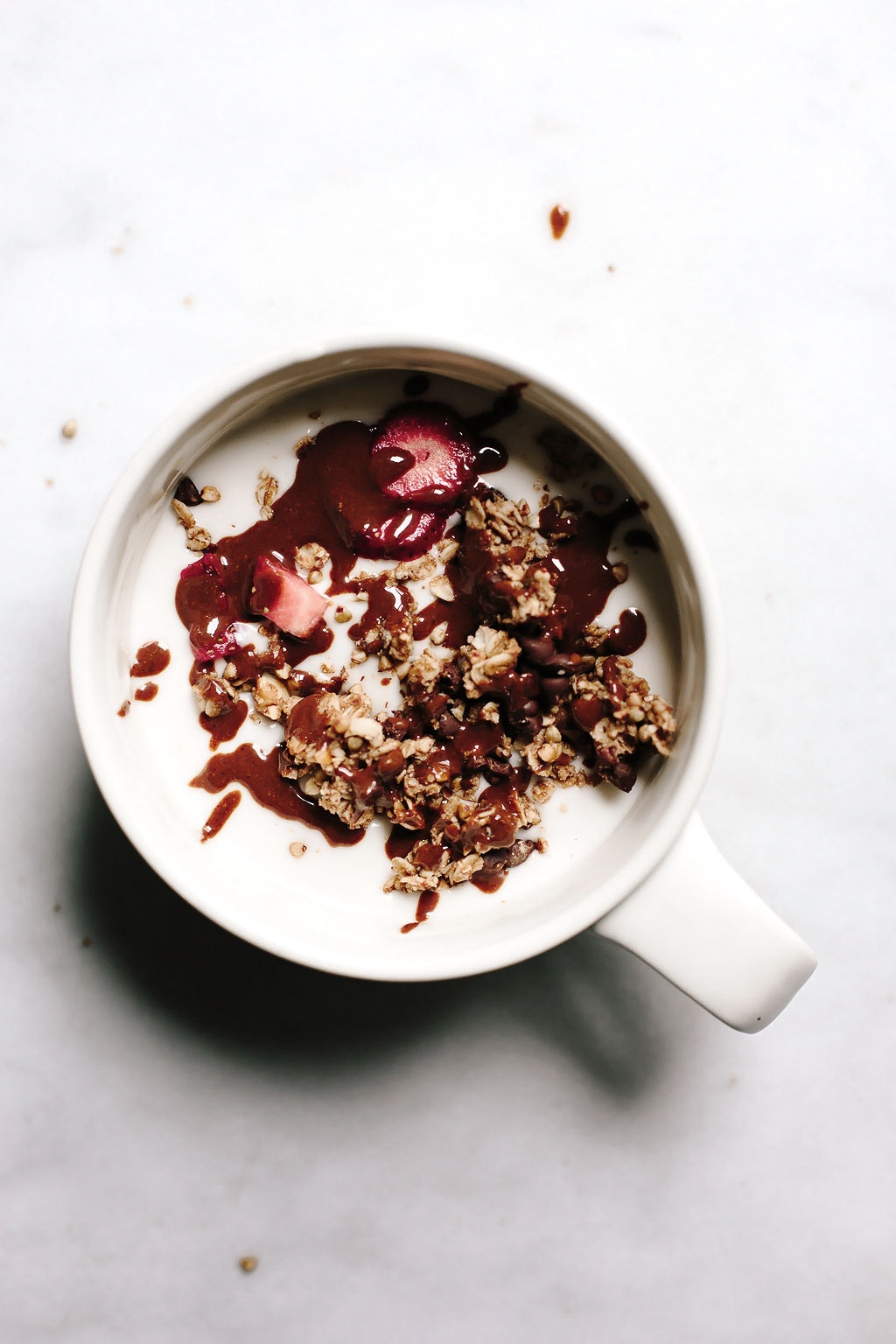 FLASH BACK. 💫✨
It was summer 2015. I was in the throes of testing and photographing recipes for my book. And I was on a quest to create the perfect vegan granola clusters.
Of course, perfection of the granola variety is subjective, but here's a list of the descriptive targets I aimed to hit:
* The granola couldn't be at all soggy. It needed to be crunchy and crisp but not hard or tooth-breaking.
* It needed to be cluster-y in a flexible, break-as-you-please sort of way. Meaning, I wanted each recipe maker to be able to choose their cluster size. With this in mind, the granola binding needed to be strong enough to hold it together for those who desired massive, granola-bar-sized hunks but again, not so strong as to elicit a shellac-coated vibe.
* It needed to taste delicious. The kind of granola you nibble as you head out of the kitchen on the way back to your desk, and then—huh, that's strange—find yourself back in the kitchen noshing on "just one more cluster".
* It needed to be as un-fussy as possible. No complicated techniques or ingredients.
I spent lots of time conducting granola research before drafting test recipes and working out kinks in the kitchen.
I learned that one of the most common tricks to create crunchy, cluster-y granola is to add egg whites to the binding liquid. It serves to both bind and crisp and can even offer a snazzy sheen to the humble snack.
But of course, egg whites aren't vegan.
Thankfully, this granola research period coincided with the beginning of the aquafaba craze.
For those who don't know, aquafaba is the liquid that surrounds canned beans, most notably chickpeas. To most people's surprise, it's an excellent substitute for egg whites.
Although hesitant about the idea of introducing bean juice into my sacred granola space, I figured it was worth a shot.
It took many trials and several weeks, but I eventually landed on a granola recipe that ticked all of the above targets. That recipe—an oatmeal raisin granola—went into my book and has earned the praise of many.
This vegan Nutella granola uses similar ratios and techniques (and yes, bean juice) to create clusters that are crisp but not too hard, customizable in size, super tasty, and pretty darn un-fussy.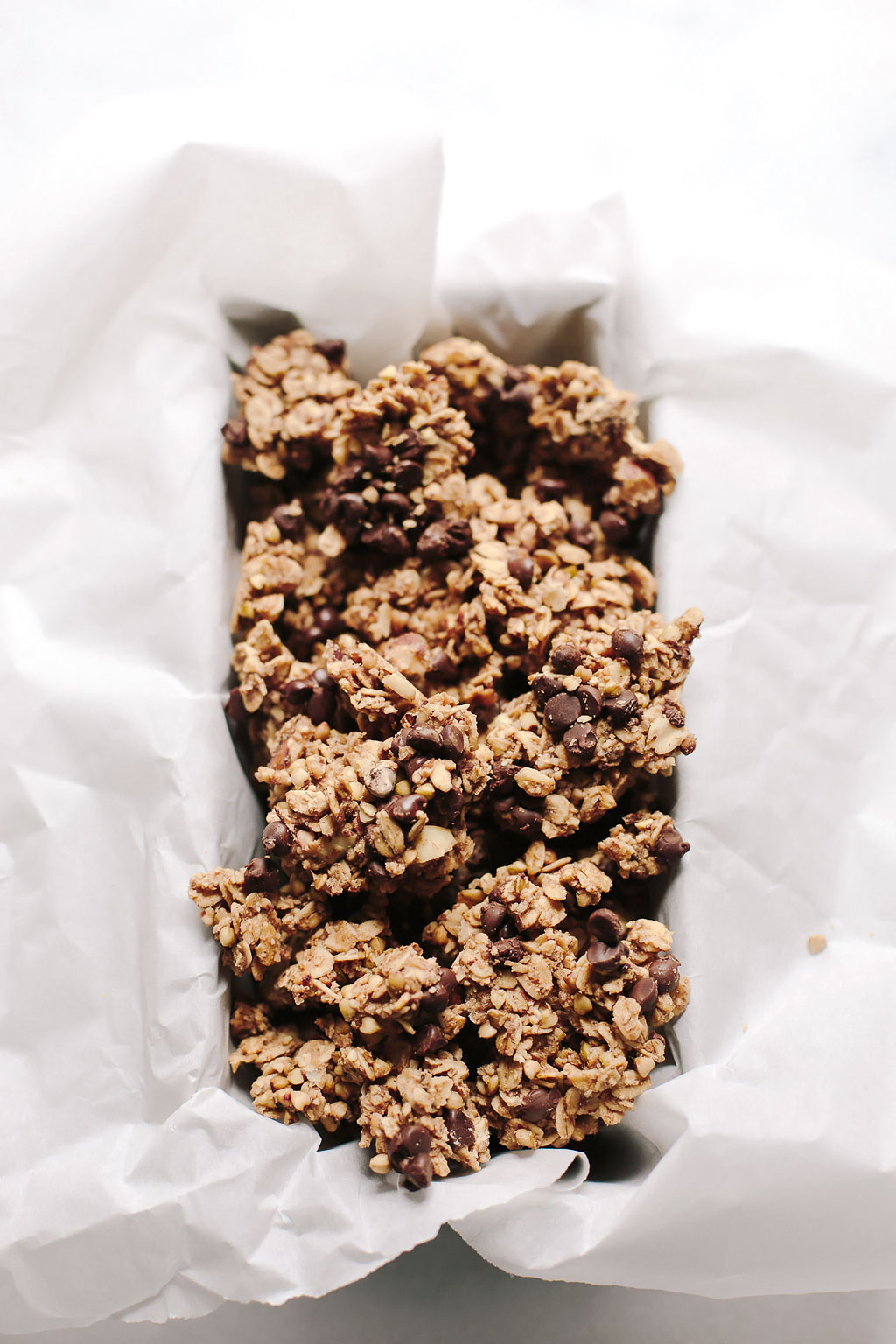 To make it, you'll first get the dry ingredients in order.
Grind a small amount of oats and hazelnuts into a coarse meal like so...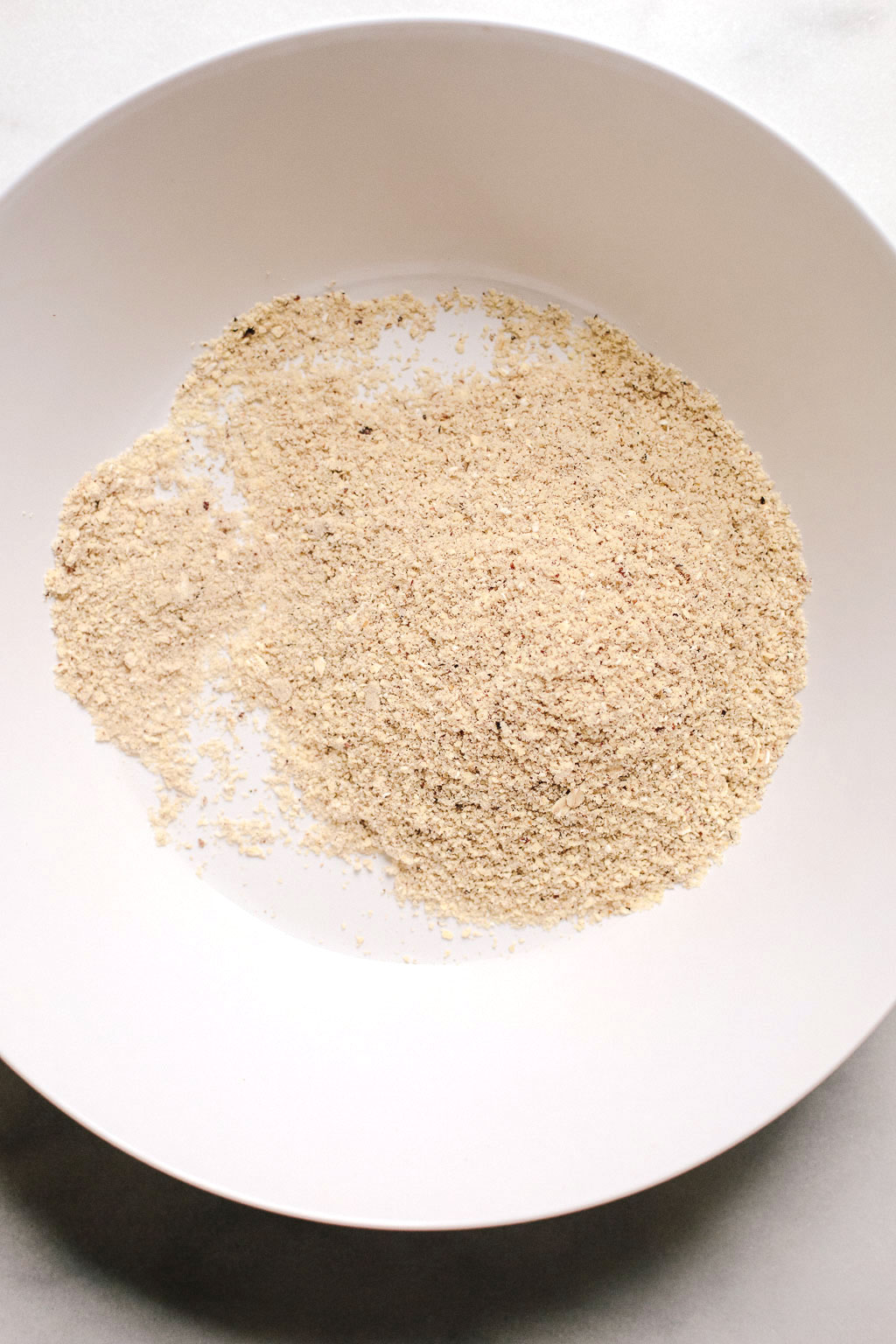 Grinding some of the dry ingredients into a meal helps bind the granola into crunchy clusters (along with the assistance of the aquafaba, of course).
Keep in mind that this is a scenario where you can have too much of a good thing. Adding too much "meal" to the granola mixture will result in hard, difficult-to-break clusters. Been there, tested that. Stick to the recipe as written, and you'll be good.
Next, add the following to the bowl with the meal:
Whole old-fashioned rolled oats.
Chopped hazelnuts.
Buckwheat groats (or sunflower seeds for an easier-to-find option).
Coconut sugar or cane sugar.
Give it all a good stir.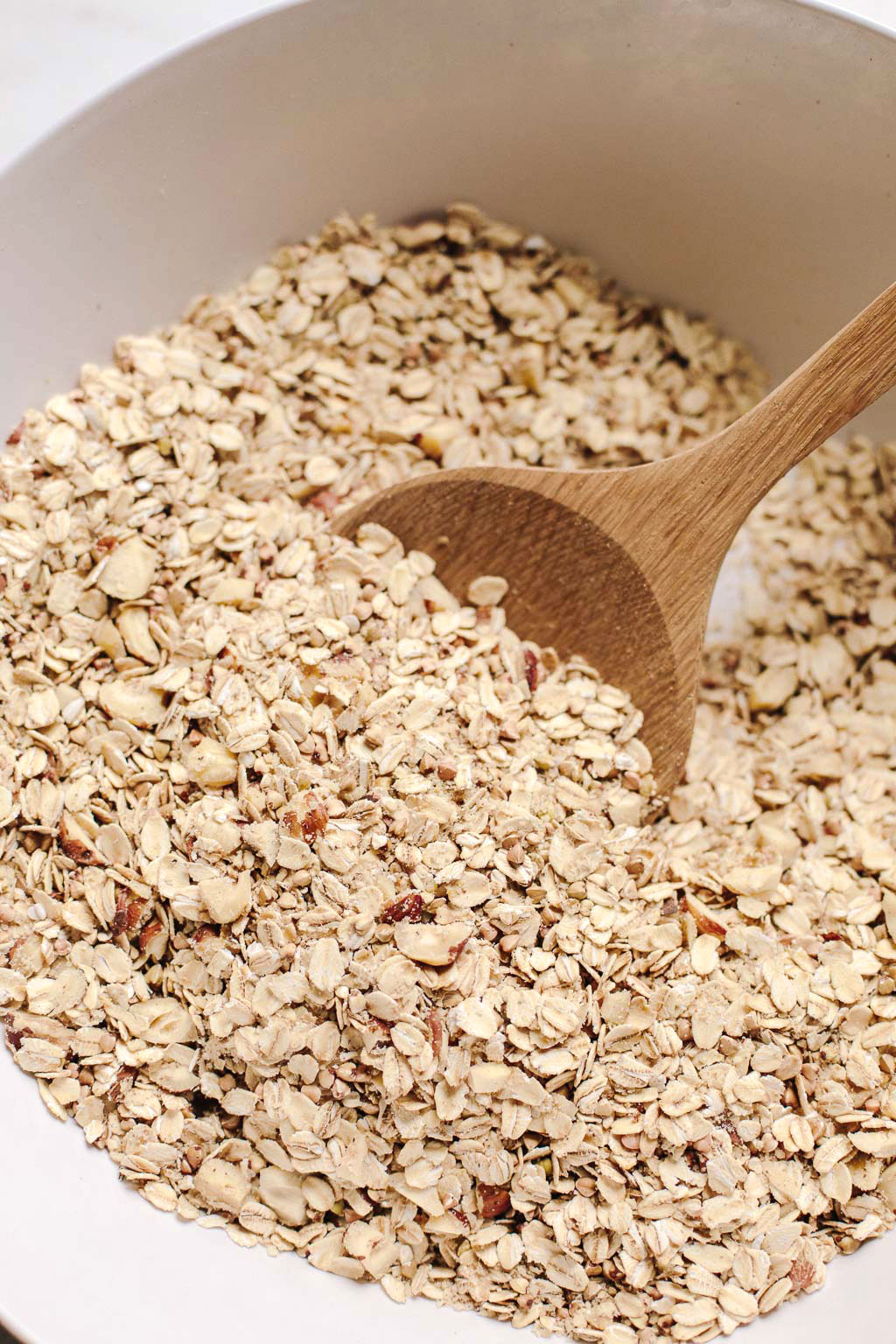 Then, whisk together the wet ingredients—vegan Nutella, coconut oil, maple syrup, aquafaba, vanilla extract, sea salt—and pour it over top.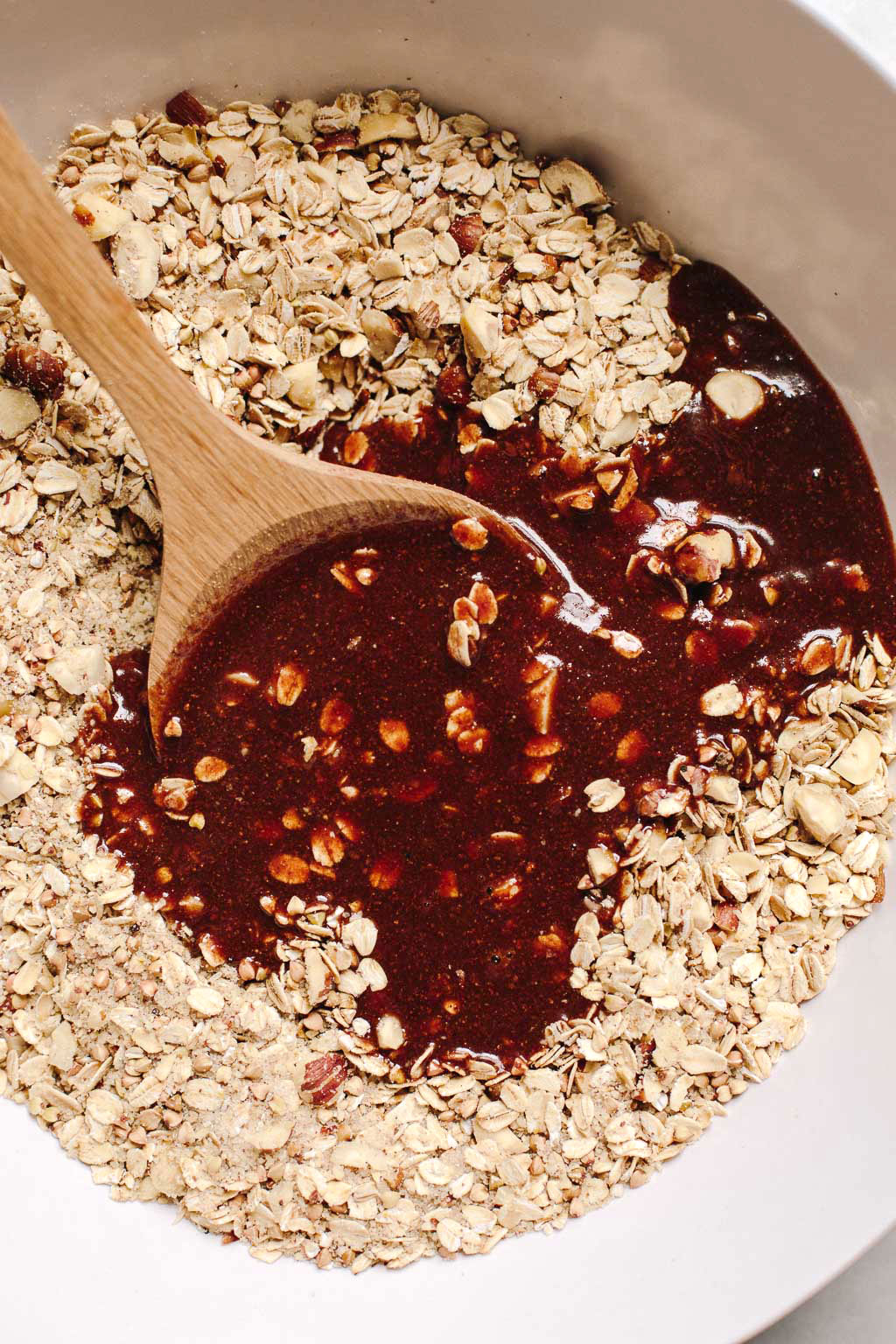 Stir, stir, stir until every last bit is evenly coated in that sweet, chocolaty, nutty liquid.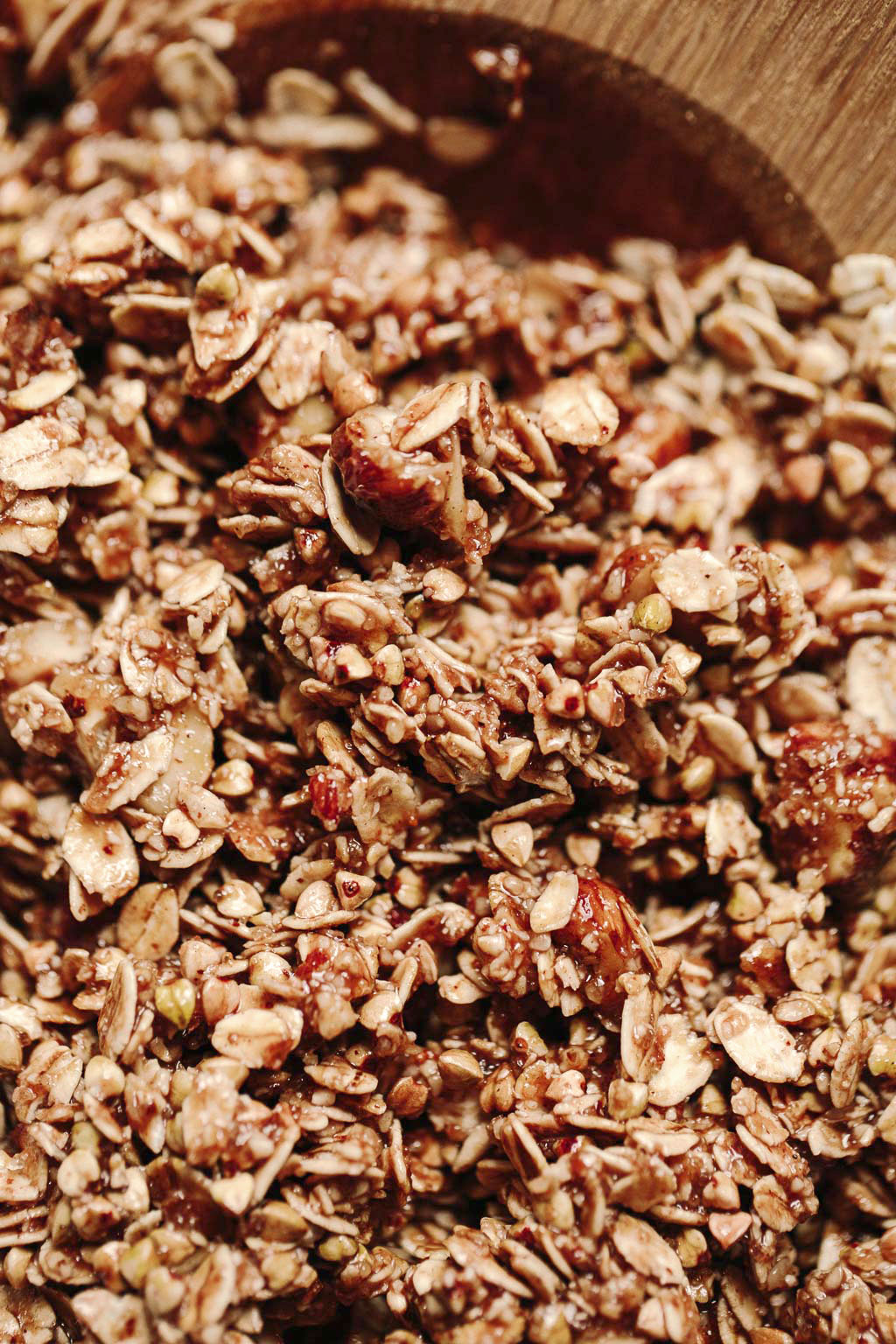 Once your granola is coated (and your biceps toned from all that stirring), dump it into a heap on a parchment-lined pan.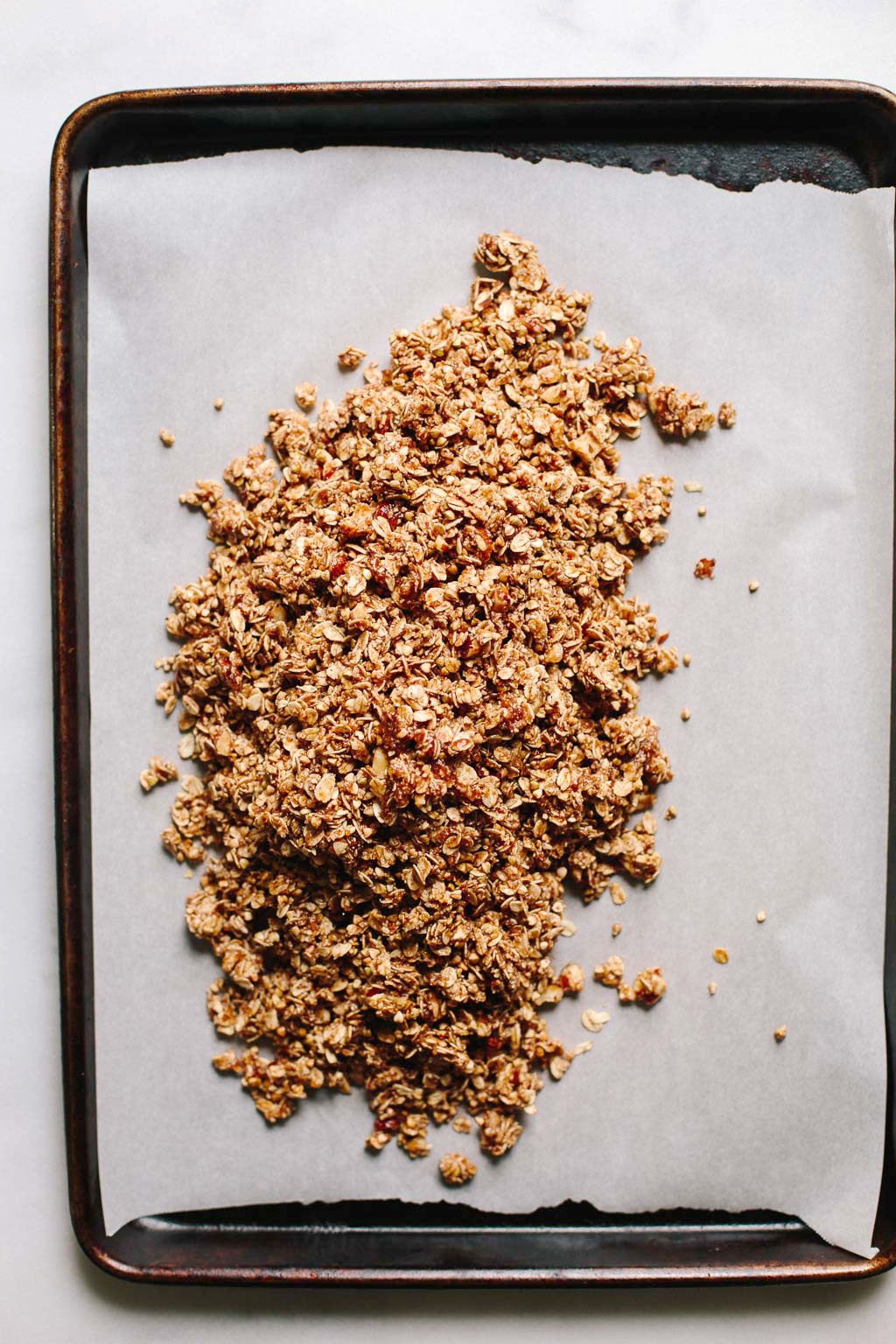 Use a spatula to spread the granola into an even layer across the pan.
It's totally ok if there are some gaps or "holes" in your spread out granola.
If you keep them towards the center of the pan, your granola will bake a touch faster and more evenly, too (since the center bit typically bakes slower).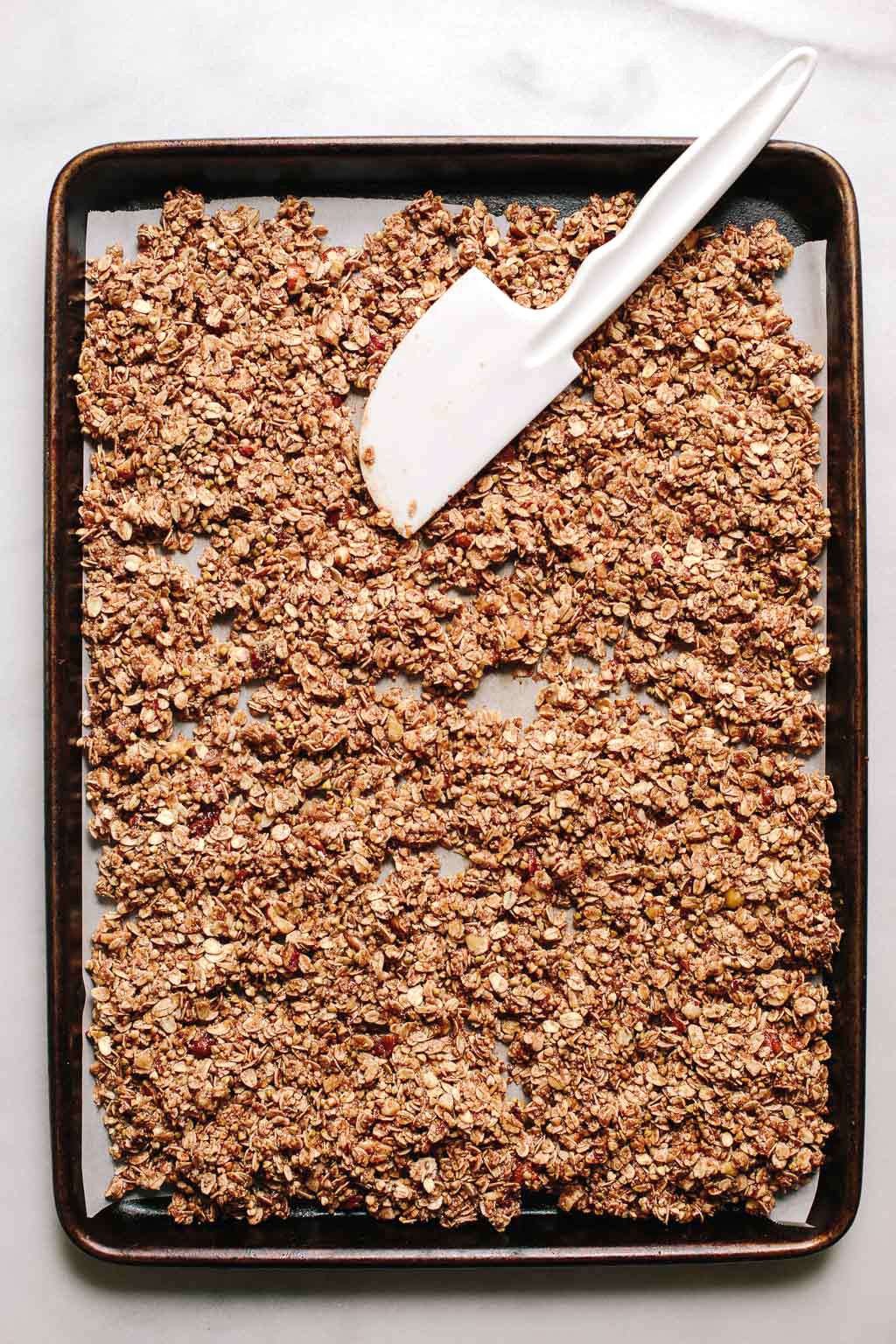 Bake the granola at a slow 'n' steady 275F for about 25 minutes.
Then, the fun part.
Sprinkle the top of the warm granola with a generous heap of mini chocolate chips.
Pop it back in the oven and bake for another 10+ minutes, or until it's golden and smells toasty.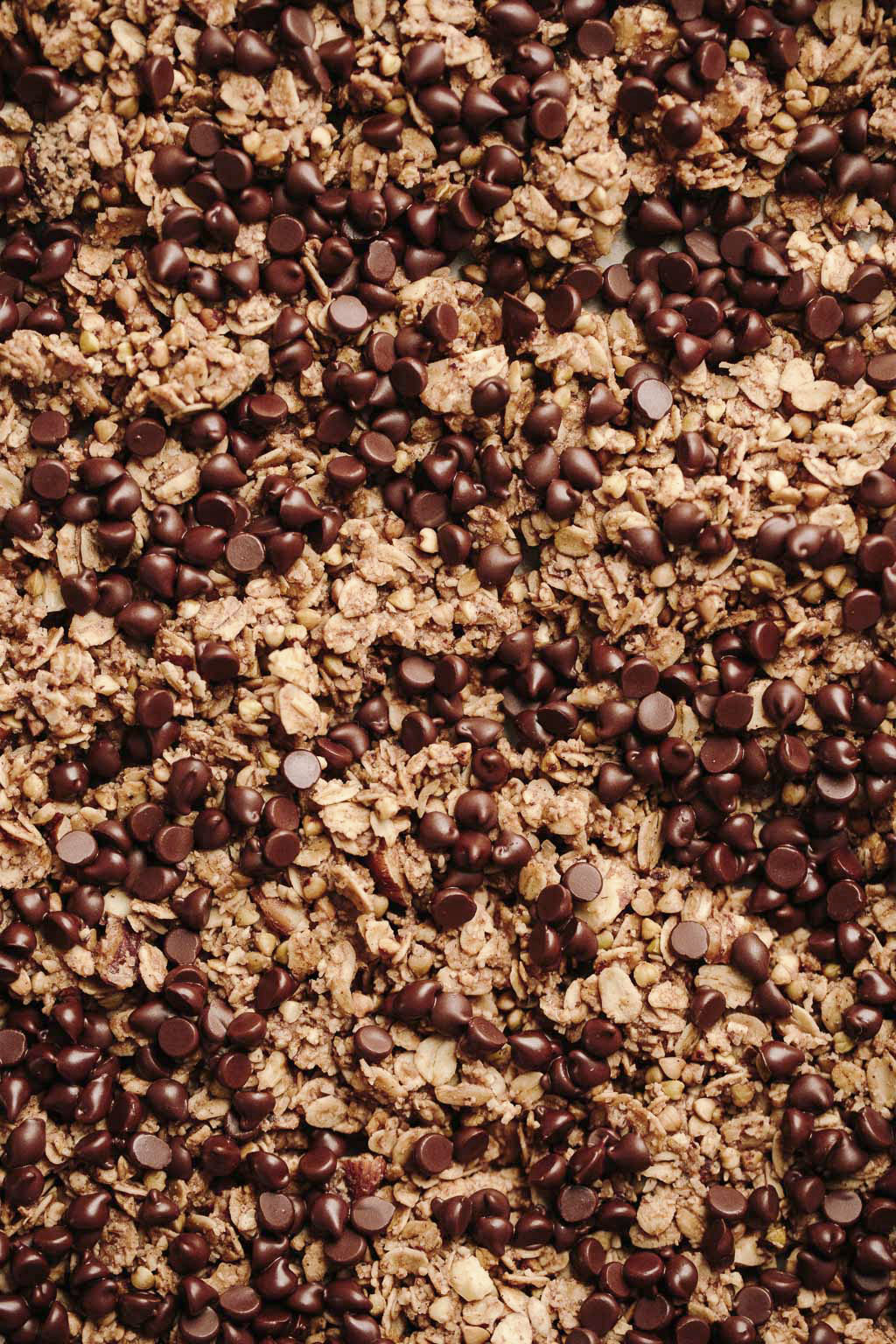 Here's the tricky part about granola: You can't assess doneness based on touch.
It will always feel a tiny bit "soggy" when it's actually perfectly baked. This is because it continues to crisp and firm as it cools.
If you bake it until it's totally crisp, it'll also be totally burnt. Which means you need to assess doneness based on time, color, and scent.
Do that, and you'll be rewarded with yummy, nutty, chocolaty, nutella-y granola clusters.
Eat them all on their own, pour a little milk over top for a cereal vibe, or crush them up and sprinkle them over yogurt with a drizzle of Nutella. Your choice.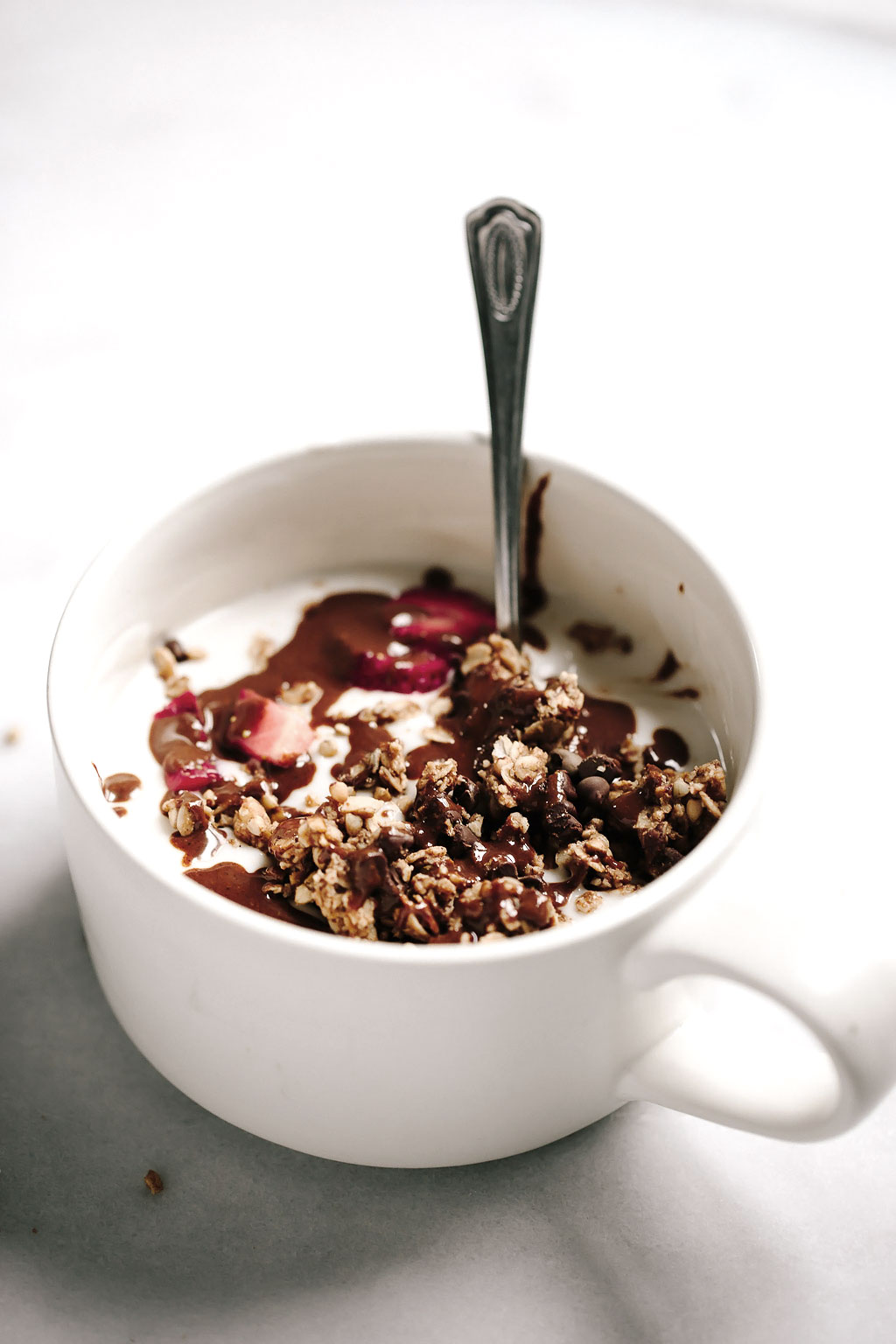 If you make this vegan Nutella granola, let me know! Leave a comment, rate it, and don't forget to tag a photo #blissfulbasil on Instagram.
📖 Recipe
Vegan Nutella Granola
This vegan Nutella granola is a crunchy, clustery, chocolaty breakfast dream come true. This recipe relies on a secret ingredient to create perfectly crunchy granola that can be broken into massive granola bar hunks, medium clusters, or small, sprinkle-worthy nibbles.
Servings
15
⅓-cup servings
Ingredients
Dry Ingredients
2 ⅓

cups

rolled oats, divided

1

cup

raw hazelnuts, divided

¾

cup

raw buckwheat groats (or raw shelled sunflower seeds)

¼

cup

coconut sugar or raw cane sugar

¾

cup

mini dairy-free chocolate chips
Wet Ingredients
⅓

cup

Homemade Vegan Nutella

¼

cup

virgin coconut oil, melted

¼

cup

pure maple syrup

2

tablespoons

aquafaba (i.e., chickpea or white bean liquid, see note*)

2

teaspoons

pure vanilla extract

¼

teaspoon

fine-grain sea salt
Instructions
Preheat the oven to 275F and line a large baking tray with parchment paper.

Add ⅓ of the rolled oats and ½ cup of the hazelnuts to a food processor and process for 1 minute, or until the texture resembles a coarse flour.

Transfer the hazelnut-oat flour to a large mixing bowl and add the remaining 2 cups of rolled oats. Chop the remaining ½ cup hazelnuts, and add them to the bowl along with the buckwheat groats and sugar. (DON'T add the chocolate chips yet). Use a large wooden spoon to mix.

In a small mixing bowl, whisk together the wet ingredients until emulsified. Pour over the dry ingredients and get stirring. It might seem like there isn't enough liquid to coat the granola, but I promise there is plenty! It just requires a bit of muscle and stirring.

Once every bit of the granola is evenly coated, turn it out onto the lined baking tray and use the back of a spoon or spatula to spread it into a ¾-inch-thick layer across the pan. Depending on the size of your pan, you might have some gaps or holes in the layer—this is fine, just make sure any gaps are towards the middle of the pan. Since the middle bakes slower, doing this will ensure extra even crisping.

Bake for 25 minutes. Then, sprinkle the chocolate chips evenly over top of the granola, rotate the pan, and bake another 10 to 16 minutes. The granola is ready when it's wafting a toasted scent, the top is a very light golden-brown, and it feels firm but not yet crisp to the touch. Note: Granola is tricky because it doesn't become crisp and crunchy until it's had a chance to cool, so rely on look and scent more than touch or you'll end up with burnt granola clusters.

Once the granola is ready, remove the pan from the oven and place it on an oven-safe cooling rack. Placing the pan on a cooling rack allows air to circulate beneath and around it to efficiently cool and crisp the granola.

Allow the granola to cool completely on the pan until it's not even the slightest bit warm to the touch. If you start moving it around or try to break it into clusters while it's still warm, it could crumble into regular granola. I recommend a minimum 45 minutes of cool time at room temperature, but try to hold out for 1 hour if you can.

Once the granola is completely cool, break it into clusters of desired size.

Store the granola in airtight glass jars or containers to maintain its crunch.
Notes
*How to procure aquafaba: Open a can of chickpeas or white beans and measure out 2 tablespoons of the liquid that surrounds the beans. The leftover beans can be used to make hummus!