These vegan gluten-free s'mores bars are a sweet summer dream. Gooey dark chocolate and chewy marshmallows are sandwiched between layers of sweet graham cracker cookie crust. These s'mores cookie bars take the classic campfire treat to portable new heights!
July has been filled with friendly vacations and precious family time. Between a friend trip to Bend, Oregon and a family trip to Galena, Illinois, it's been a month of cherished downtime and sweet summer laughter.
The trip to Galena was something we'd been planning since our family trip to Colorado three years ago. Nine of us made the 2–3 hour drive from Chicago(ish) to Galena for several days of relaxation, chit-chat, nightly board games, s'mores, ghost tours, wine tastings (wine-tasting-watching for me), and a boating day on the Mississippi. Nearly all the aforementioned activities were checked off the list as we paved our way through nearly a week of vacation…
…except for s'mores.
We had set aside one night in particular for a bonfire and planned to toast up some s'mores, but a wicked thunderstorm rolled in and rained downpoured on our parade.
And when I say "downpoured," I'm talking sideways rains, greenish-black skies, wild lightening, thunder claps that'll make a calm person leap into the air… the works. Unless we wanted to roast marshmallows via lightening strike or over the uneven warmth of the electric stove in the vacation rental kitchen, there was simply no way to make s'mores happen that evening.
However, have you heard what happens when you mention s'mores to a pregnant lady?
She. can't. stop. thinking. about. s'mores.
Like ever.
Or at least not until she has one some.
Thus, in honor of our s'mores free vacation, I bring you vegan gluten-free s'mores bars. Let's give it up for that nasty summer storm for making this recipe happen…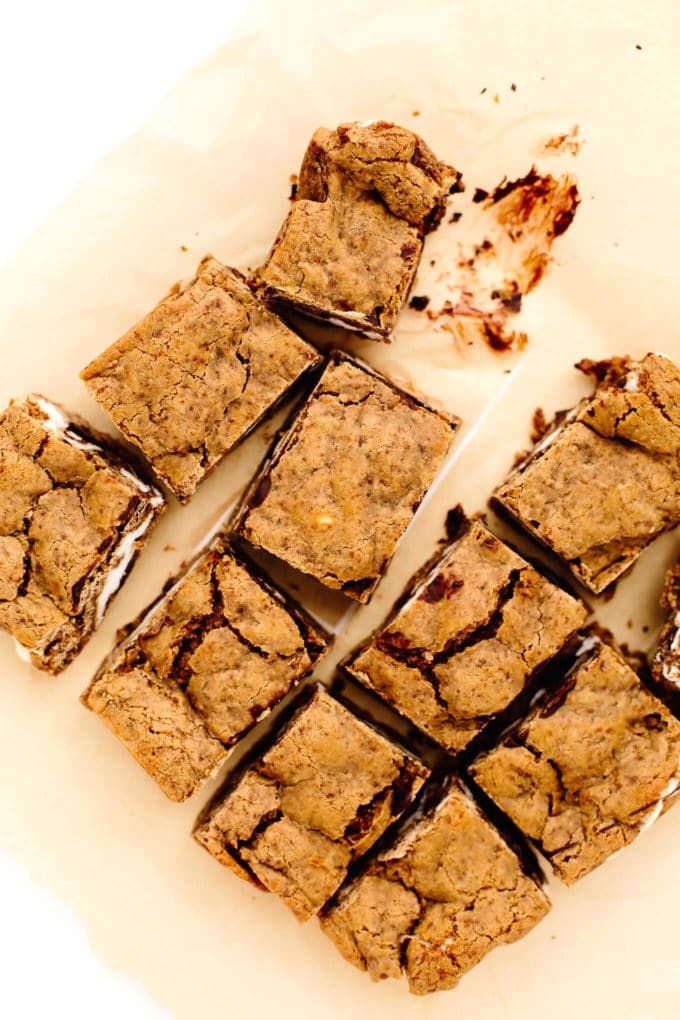 These s'mores bars will make you forget all about the "real" thing.
In this delightfully portable twist on the campfire classic…
Graham crackers are replaced by two soft, tender layers of graham cracker cookie crust.
A rectangle of Hershey's is replaced by two entire bars of whichever non-dairy dark chocolate your heart desires.
Standard marshmallows are replaced by gelatin-free vegan marshmallows.
To assemble the goodness, a layer of graham cracker cookie dough is packed into a square pan. Then, it's topped with those two delectable bars of dark chocolate. The chocolate is topped with heaps and heaps of vegan marshmallows. And the final touch? Another layer of graham cracker cookie dough.
Give it all a gentle pat 'n' press. Then, pop that beaut in the oven and bake for a speedy 20 minutes.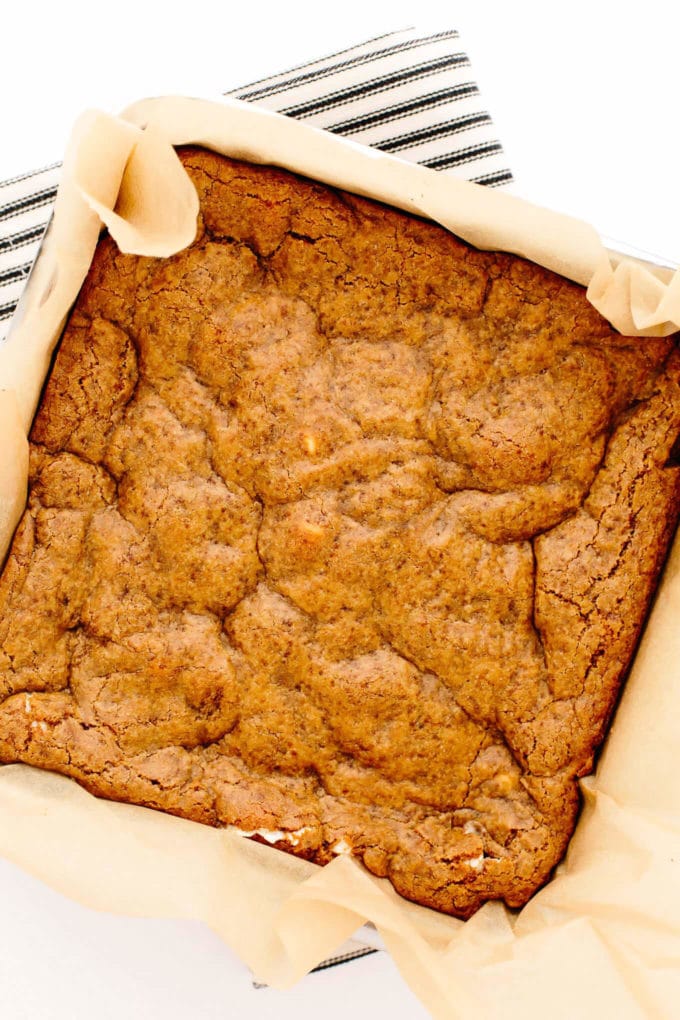 Now, for the only bummer part of these vegan gluten-free s'mores bars: the wait/cool time.
While it's mighty tempting to slice right into this pan of s'mores dreaminess straight out of the oven, trust me when I say you'll want to wait until it's completely cool. Unless, of course, you've got a thing for hot, gooey, sticky messes.
I recommend letting it cool at room temperature for about 45 minutes and then transferring the pan to the refrigerator or freezer to expedite the cooling process.
Once the bar is completely cool: Slice, slice, slice. Savor, savor, savor.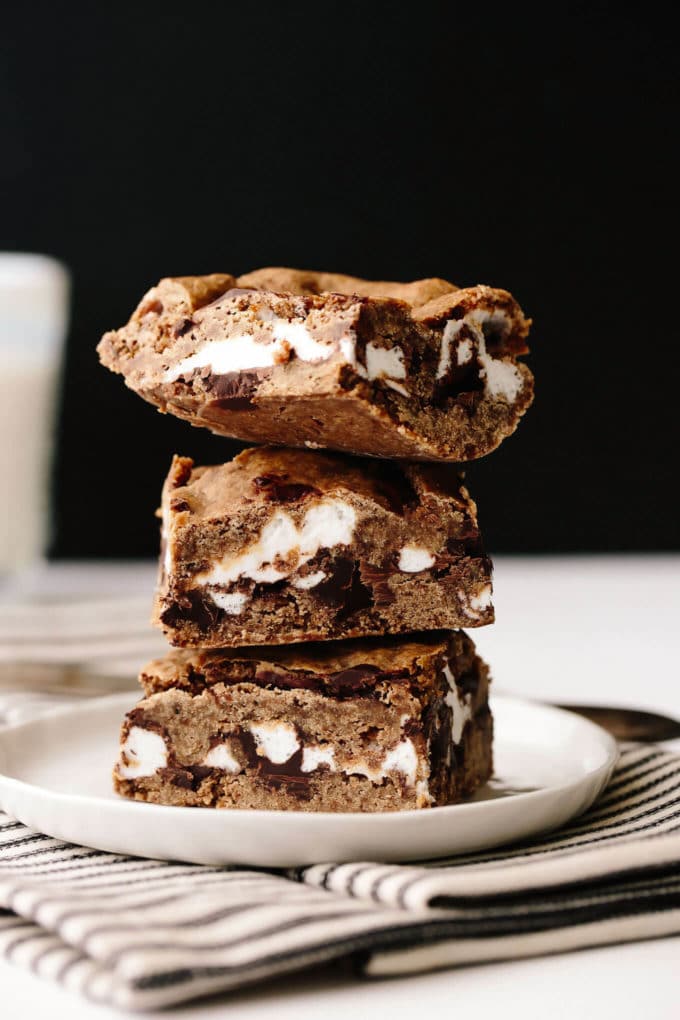 These vegan gluten-free s'mores cookie bars are nothing short of amazing.
Are they the healthiest treats ever to grace this blog? Umm, no. Are they some of the richest and most delightful? YES. 1000% yes.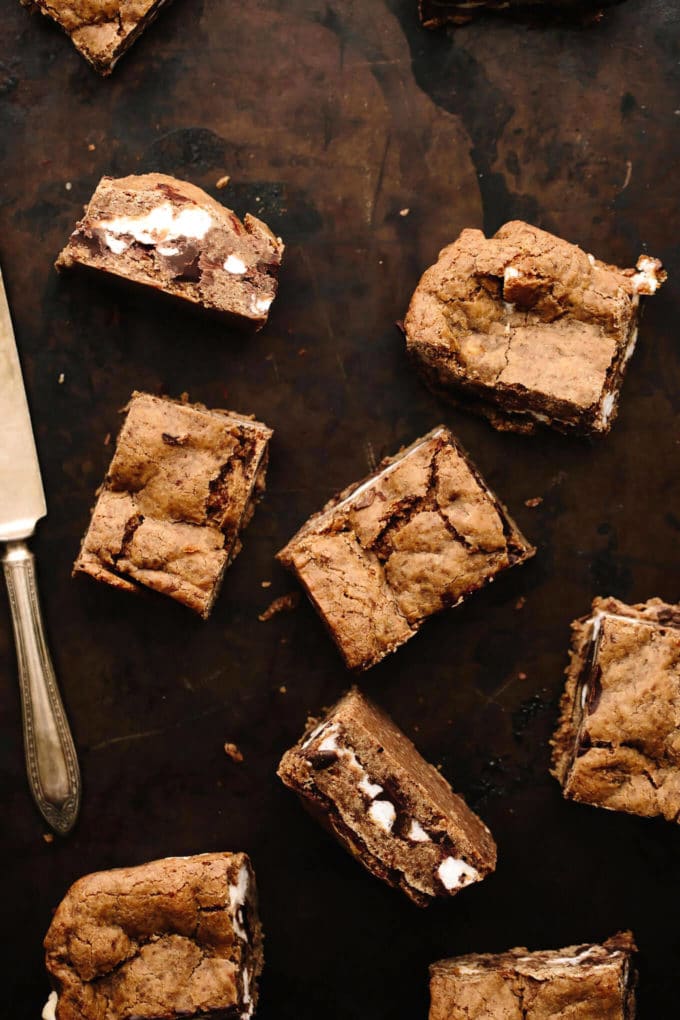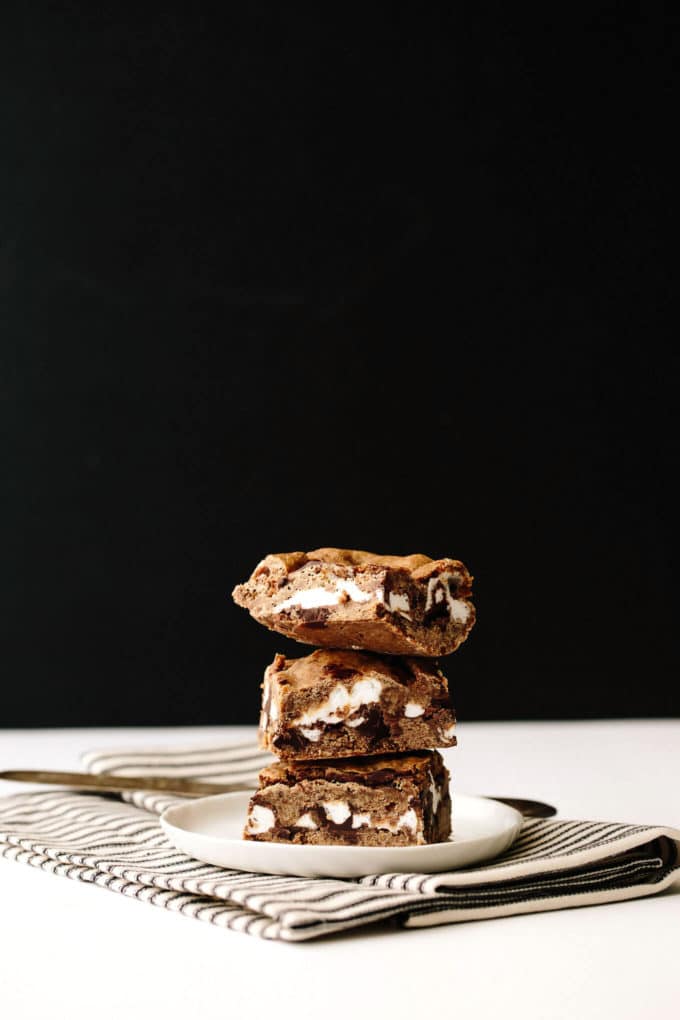 Vegan Gluten-Free S'mores Bars
These vegan gluten-free s'mores bars are a sweet summer dream. Gooey dark chocolate and chewy marshmallows are sandwiched by layers of sweet graham cracker cookie crust. These s'mores cookie bars take the classic campfire treat to portable new heights!
Ingredients
1 1/2

cups

coconut sugar

1/2

cup

virgin coconut oil, at room temperature*

1 1/2

teaspoons

pure vanilla extract

2 3/4

cups

oat flour

2 1/4

teaspoons

aluminum-free baking powder

1/2

teaspoon

fine-grain sea salt

3

tablespoons

filtered water

2 (3.5-ounce)

bars

non-dairy dark chocolate

1 1/2

cups

vegan mini marshmallows
Instructions
Preheat the oven to 350F. Line an 8 x 8-inch square pan with parchment paper.

In a stand mixer fitted with the paddle attachment, beat together the coconut sugar, coconut oil, and vanilla on high speed for 1 minute.

In a medium mixing bowl, whisk together the oat flour, baking powder, and sea salt. Place within reach of the mixer.

With the mixer off, add the water to the coconut sugar mixture and start beating while slowly adding the oat flour mixture. Beat for 30 seconds, or until the dough pulls together into large, moist mounds as it moves around the mixing bowl. When you first add the dry ingredients, the dough may be dry and crumbly; however, just keep beating on high—the finished dough will look and feel similar to Play-Doh. If the dough is still dry and crumbly after beating for 30 seconds, add more filtered water, 1 tablespoon at a time, and continue beating until it pulls together.

Divide the dough in half. Press half of the dough into the bottom of the lined pan. Then, grasp the edges of the parchment paper and lift out pressed dough. Set aside.

Line the pan with a fresh sheet of parchment paper. Press the remaining dough evenly into the bottom of the pan. Top with the chocolate bars, breaking or chopping into pieces if needed to evenly cover the surface. Then, top with the mini marshmallows, evenly spreading them over the surface of the chocolate. Finally, very carefully top with the reserved cookie dough layer, removing the parchment paper and then gently pressing and compacting on top of the marshmallow layer.

Bake for 18 to 22 minutes, or until the top layer of dough is golden brown and just beginning to show soft cracks across the surface. Cool completely**.

Once completely cool, slice into bars*** and serve.

Store in an airtight container at room temperature for up to 3 days or in the refrigerator for up to 1 week.
Notes
*Gives the bars a slight coconutty flavor. If you're opposed to that, feel free to substitute refined coconut oil for virgin coconut oil.
**I recommend cooling the bars at room temperature for 45 minutes and then transferring to the refrigerator or freezer to expedite cooling. Do not attempt to cut and serve the bars until they're completely cool (read: the chocolate has set firmly again) unless you don't mind a gooey, sticky, chocolaty mess.
***These bars are quite rich, so for practical serving purposes (as opposed to lavish food photography purposes), I like to slice them into 24 mini bars instead of larger rectangles.