These vegan crockpot carnitas are made by slow simmering hearts of palm, onions, jalapeños, garlic, spices, and fresh orange juice until tender. Simply toss everything into a slow cooker, turn it on low heat, and get on with your day. By the time you return to your crockpot, the hearts of palm will be fall-apart tender and your kitchen will be filled with the savory, smoky scent of vegan carnitas.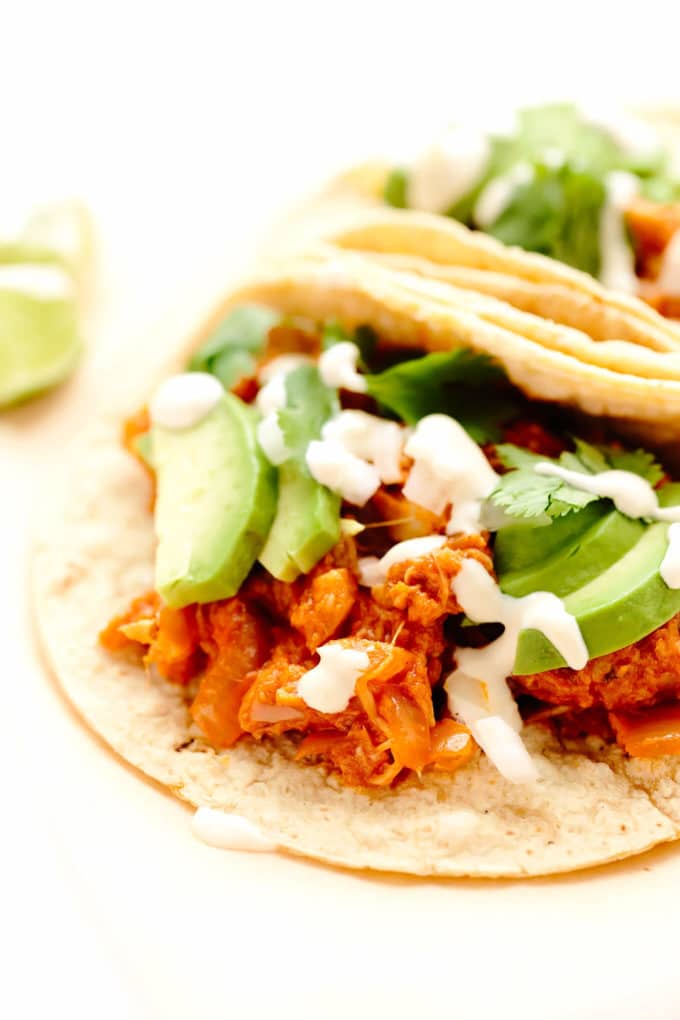 Carnitas quite literally means "little meats". The beloved Mexican dish, which originated in the state of Michoacán, is made by braising or slowly simmering pork in oil or lard until tender.
In the most traditional cooking method, pork is placed in a copper pot (to evenly disperse the heat); covered in oil; seasoned with salt, cumin, oregano, marjoram, thyme, bay leaf, and crushed garlic; and then slowly cooked for several hours until fall-apart tender. The meat is then used as filling in tamales, tacos, tortas, and burritos.
Having just celebrated seven years of meat-free living, it's been a lonnng time since I've consumed or made carnitas, but I decided to try my hand at creating a vegan version.
While jackfruit works great as a vegan substitute for pork, it can be a bit tricky for those living outside of major cities to procure, and I wanted to come up with a recipe that was as easy and accessible as possible.
Thankfully, hearts of palm are much easier to find and also work great as a meat-free pork substitute. (If you own a copy of my cookbook, then perhaps you've made the Pulled Hearts of Palm Tamales with Chipotle Cream + Pineapple Pico de Gallo on p. 239 and can vouch for this fact.)
So, here you have it. Vegan hearts of palm carnitas made in a crockpot...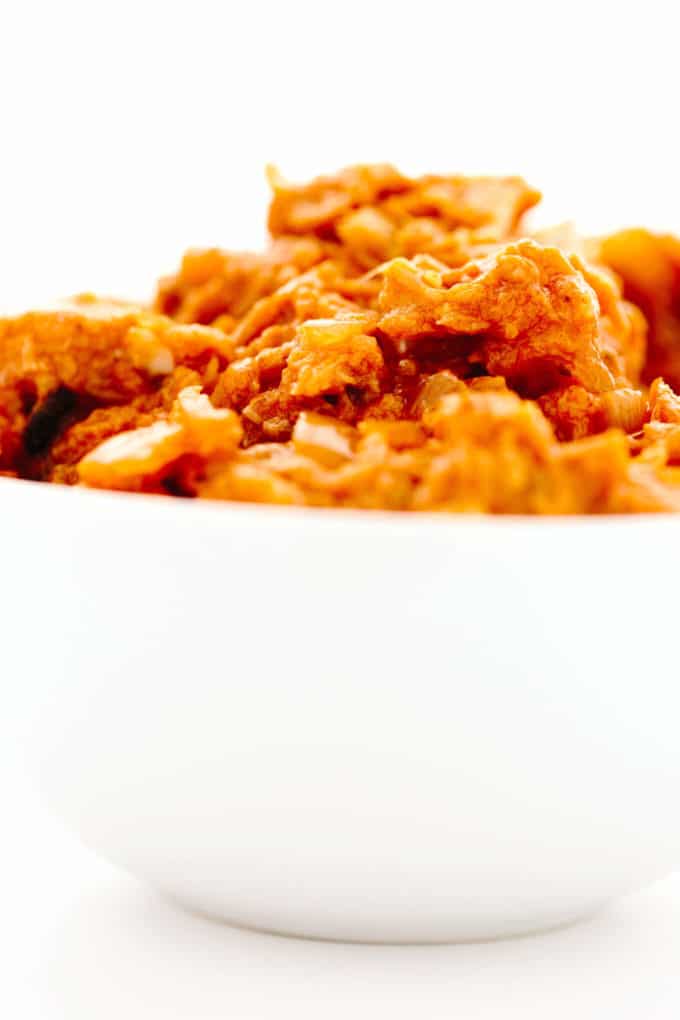 Obviously, using hearts of palm results in a texture that is different than (read: much softer and less chewy) the tender-yet-crispy quality of classic pork carnitas, but it's the closest thing I've tasted to the traditional version since going meat-free.
This vegan carnitas is richly spiced, tangy, and satisfying, and it's perfect tucked into warm corn tortillas and outfitted with toppings.
Best part? These vegan crockpot carnitas are made in three simple steps:
1) Add everything to a crockpot or slow cooker. And by everything, I mean: hearts of palm, diced onion, minced jalapeño and garlic, smoked paprika, teensy bit of coconut sugar, dried oregano, ground cumin, sea salt, black pepper, and fresh orange juice.
2) Turn your slow cooker on low, and cook for four hours, or until the hearts of palm are fall-apart tender.
3) Use two forks to shred the hearts of palm like so...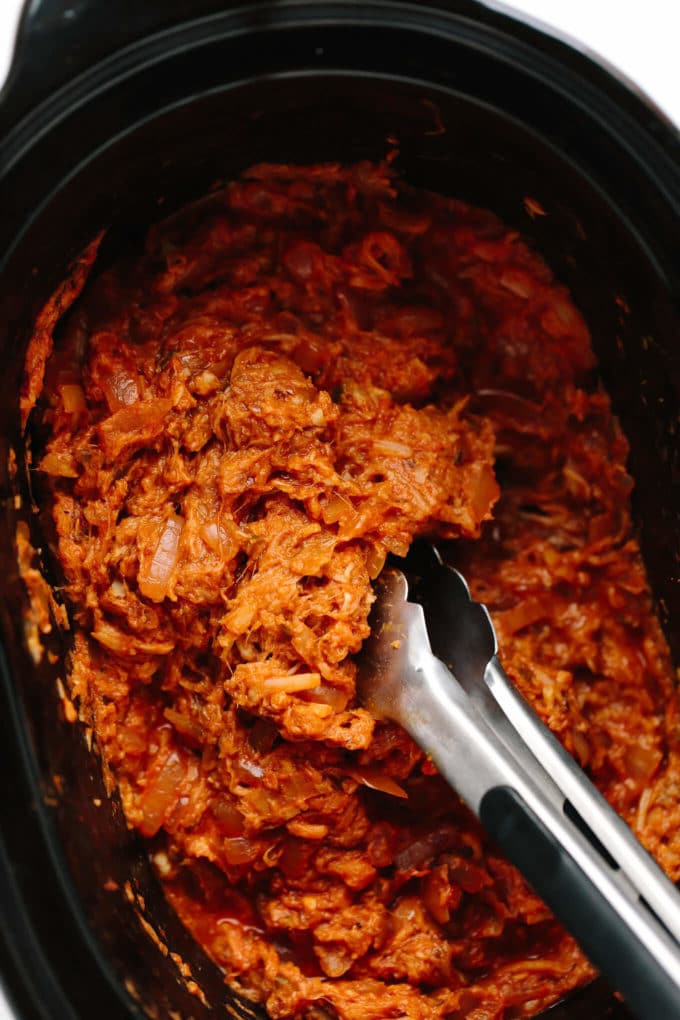 Serve your vegan carnitas tucked into tacos, tamales, burritos, etc.
I recommend spooning a bit into warm corn tortillas and topping with sliced avocado, diced onion, cilantro, and a drizzle of cashew sour cream.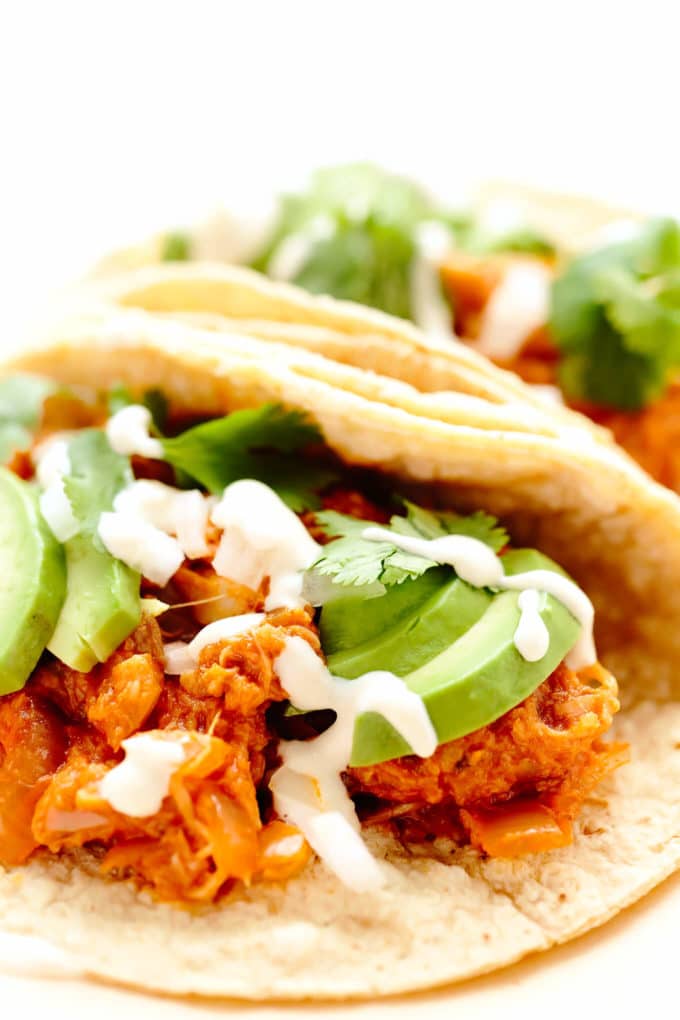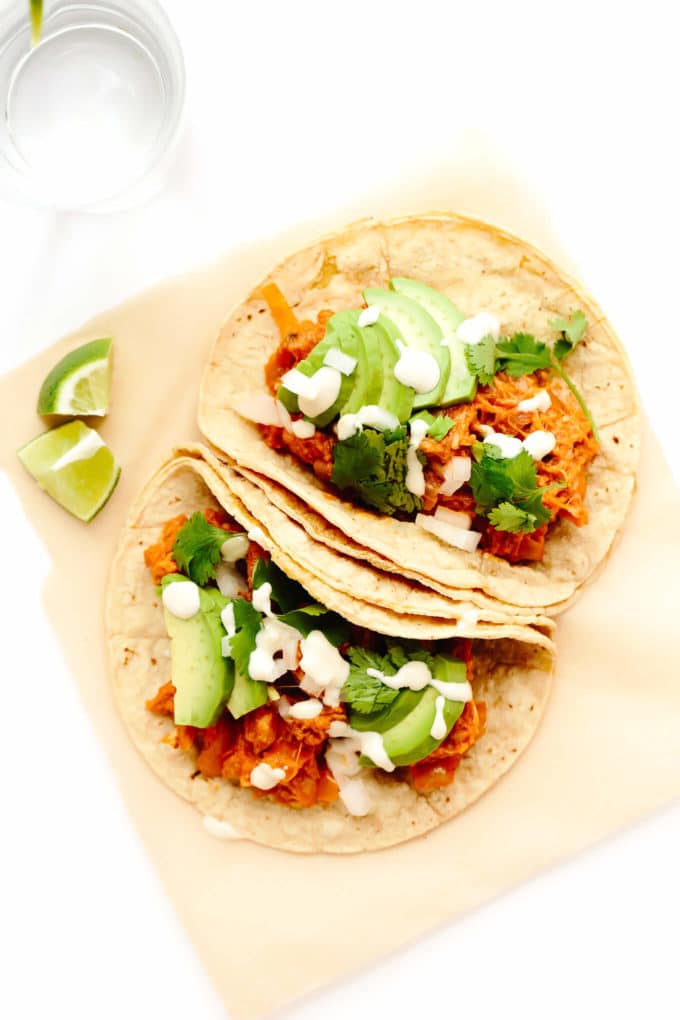 📖 Recipe
Vegan Crockpot Carnitas
Ingredients
Hearts of Palm Crockpot Carnitas
3 (14-ounce)

cans

hearts of palm, drained and rinsed

2

tablespoons

olive oil

2

tablespoons

smoked paprika

1

tablespoon

coconut sugar

2

teaspoons

dried oregano

1

teaspoon

ground cumin

1 ½ to 2

teaspoons

sea salt or to taste

¼

teaspoon

freshly ground black pepper

1

large white onion, diced

3

cloves

garlic, minced

1

jalapeño, stemmed, seeded, and minced

Juice of 1 to 2 small naval oranges (or ¼ to ½ cup orange juice, depending on desired level of tanginess)
For Serving (Optional)
Corn tortillas, warmed

Cashew sour cream or store-bought vegan sour cream

Diced white onion

Cilantro leaves

Sliced firm-ripe avocado
Instructions
For the Hearts of Palm Crockpot Carnitas
Add the hearts of palm to a slow cooker (with the heat off). Drizzle with the olive oil. Then, sprinkle with the smoked paprika, coconut sugar, oregano, cumin, sea salt, and black pepper, and thoroughly toss to coat.

Add the onion, garlic, jalapeño, and orange juice to the crockpot, and gently stir to combine.

Cook on low for 4 hours, or until the hearts of palm are fall-apart tender and can be easily shredded.

Turn off the slow cooker and use two forks to thoroughly shred the hearts of palm. Taste and adjust seasonings, adding more sea salt and black pepper if desired.
To Serve
I recommend serving the carnitas tucked into warm corn tortillas and topped with a bit of cashew sour cream, diced onion, sliced avocado, and fresh cilantro.

Refrigerate leftovers in an airtight container for up to 5 days.