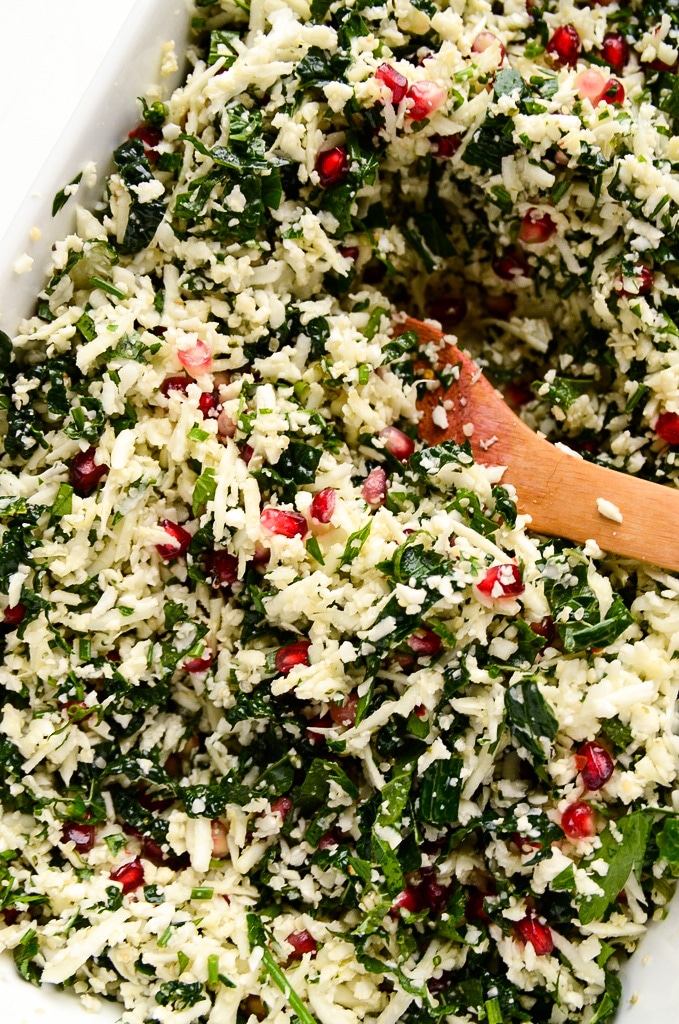 I hope you all had a wonderful Thanksgiving celebration!
If you're looking for a dish to detox and reset without sacrificing festive flare and flavor, I've got just the thing for you. This detox salad is decked in holiday colors and packed with a team of detoxifying agents. Check 'em out: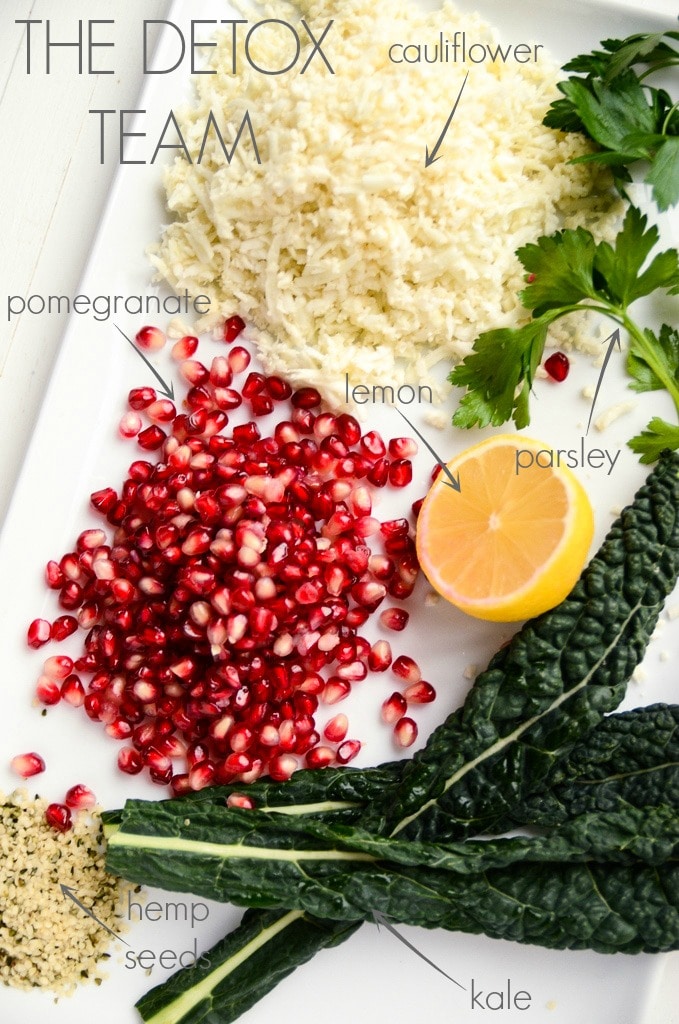 Cauliflower | A cruciferous veggie packed with phytochemicals called glucosinolates. As these phytochemicals work their way through our intestines, they break down into compounds that regulate our bodies' detoxification enzymes.
Lemon | Ranked highest on the list of alkalizing foods -- a contradiction to their pucker-inducing acidity -- lemons take on a powerful alkalizing role in our bodies. Lemon juice also works wonders for our digestive systems and encourages our livers to release toxins.
Parsley | A potent herb packed with vitamins A, B, C, and K, minerals, and iron. Parsley is a natural diuretic, so it encourages our bodies to release unnecessary fluids without depleting our potassium stores. Beyond its bloat-battling properties, parsley helps balance blood sugar levels, fights inflammation, and protects our blood vessels.
Pomegranate | Packed with the powerful antioxidant, anthocyanin, pomegranate seeds offer all sorts of potent health benefits. Plus, they taste delicious and look like rubies. Edible rubies, that is.
Kale | Another cruciferous veggie packed with two awesome antioxidants: carotenoids and flavanoids. Research has shown that kale helps regulate detox at a genetic level. Powerful green stuff.
Hemp Seeds | Filled with chlorophyll, the perfect ratio of essential fatty acids, and liver-stimulating Cysteine and Methionine, hemp seeds push toxins along to places (e.g., skin, intestines, and kidneys) that are equipped to release them from our bodies.
Apple Cider Vinegar | Although not pictured in The Detox Team lineup, ACV is a potent detoxifying agent. Considered to be the only alkalizing vinegar, ACV aids in digestion, kills bad bacteria, and scrubs our intestines. Plus, a little bit goes a long way in terms of detoxification.
This salad combines all of the above and more to create a tasty and effective detox powerhouse meal. Perfect to reboot our systems during the downtime between holidays.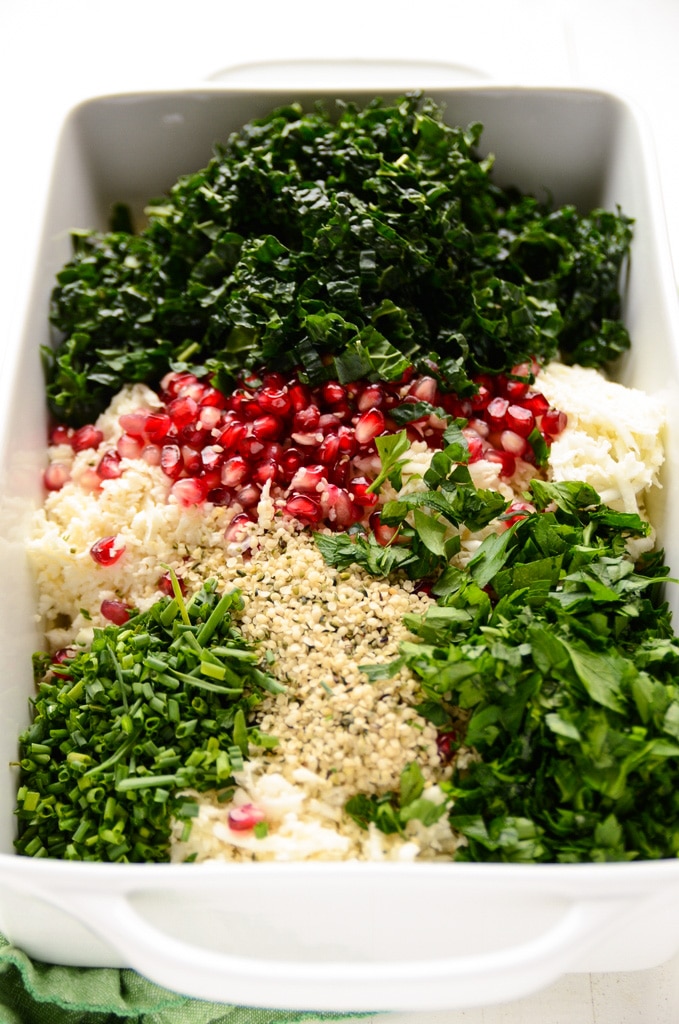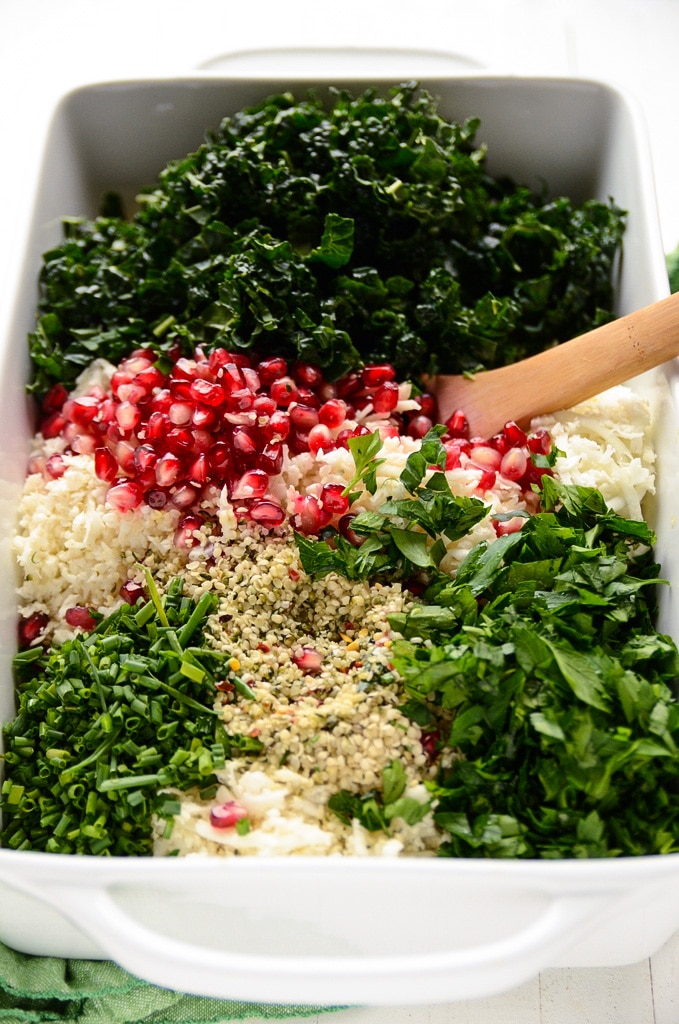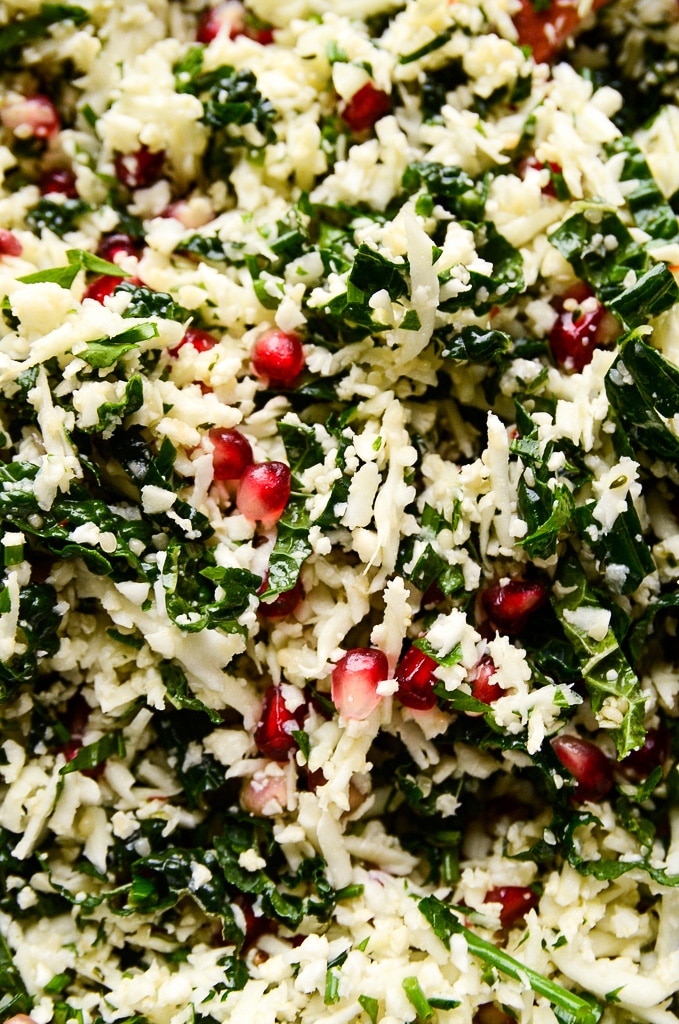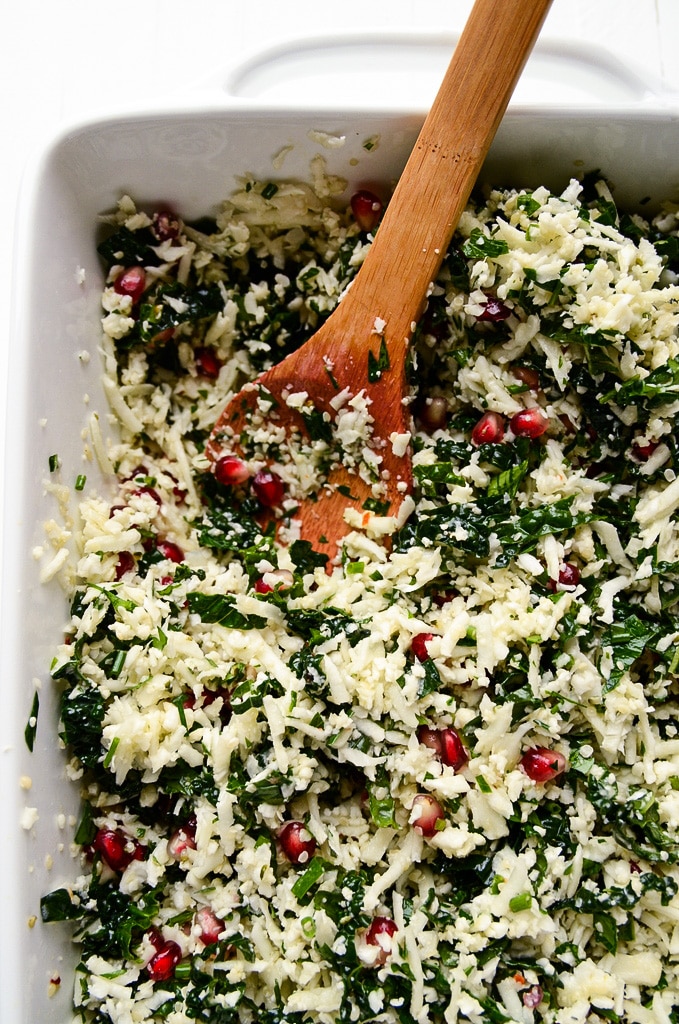 📖 Recipe
The Festive Detox Salad with Cauliflower, Kale & Pomegranate
This festive detox salad is brimming with nourishing, detoxifying ingredients, including kale, lemon juice, cauliflower, parsley, apple cider vinegar, and hemp seeds.
Ingredients
For the Salad
1

medium head of cauliflower, cut into florets

2

cups

chopped lacinato (dino) kale

1

cup

pomegranate seeds

1

cup

parsley, finely chopped

⅓

cup

chopped chives

¼

cup

hemp seeds
For the Dressing
¼

cup

apple cider vinegar

2

tablespoons

fresh lemon juice

2

tablespoons

olive oil or hemp oil

1

teaspoon

pure maple syrup

¼

teaspoon

sea salt

optional: pinch of chili flakes
Instructions
Begin by grating the cauliflower florets by hand or in a food processor with a grater attachment.

Add the grated cauliflower, kale, pomegranate seeds, parsley, chives, and hemp seeds to a large bowl.

Add the apple cider vinegar, lemon juice, oil, maple syrup, sea salt, and chili flakes to a small bowl and whisk together.

Pour the dressing over the salad, taste, and adjust seasoning.*

Serve.

Refrigerate leftovers.
Notes
*I often double the dressing recipe, but it's also good with the amount notated. If you like more flavor/dressing, I recommend doubling it.