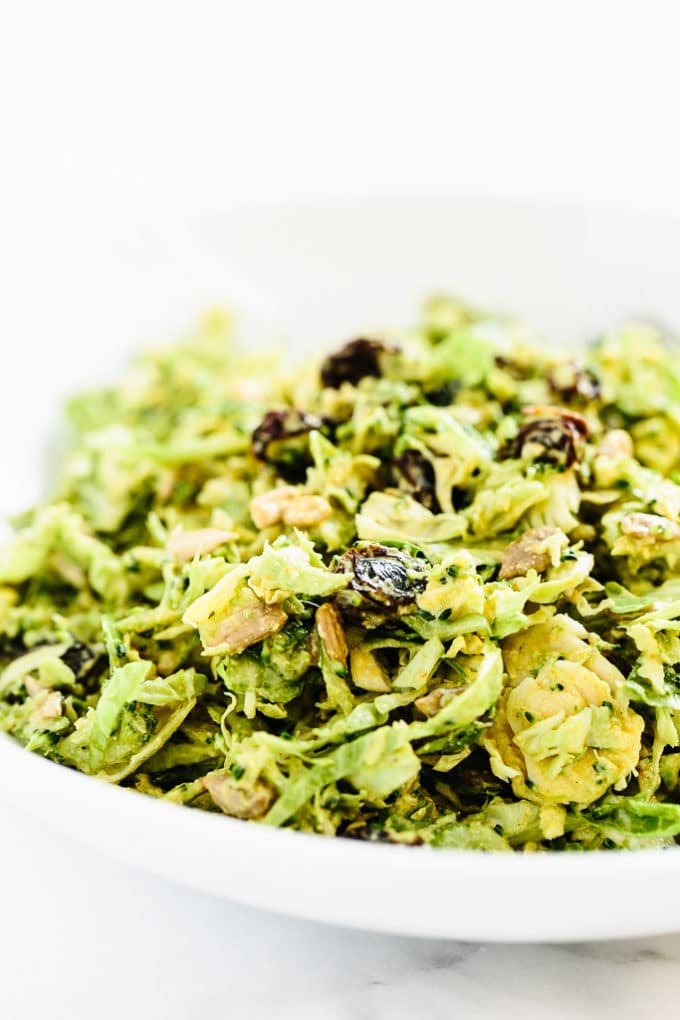 Super Bowl Monday like whoa.
If a barrelful of salty potato chips, small pile of vegan cookies, and heaps of hummus, guacamole, and salsa made their way into your belly yesterday, then you and I are probably kindred spirits. And you and I are probably also feeling a little sluggish and worn down today.
So if you're in need of a lighter, fresher, greener meal landscape to rebound from the fun, I've got your back (and my own back, too).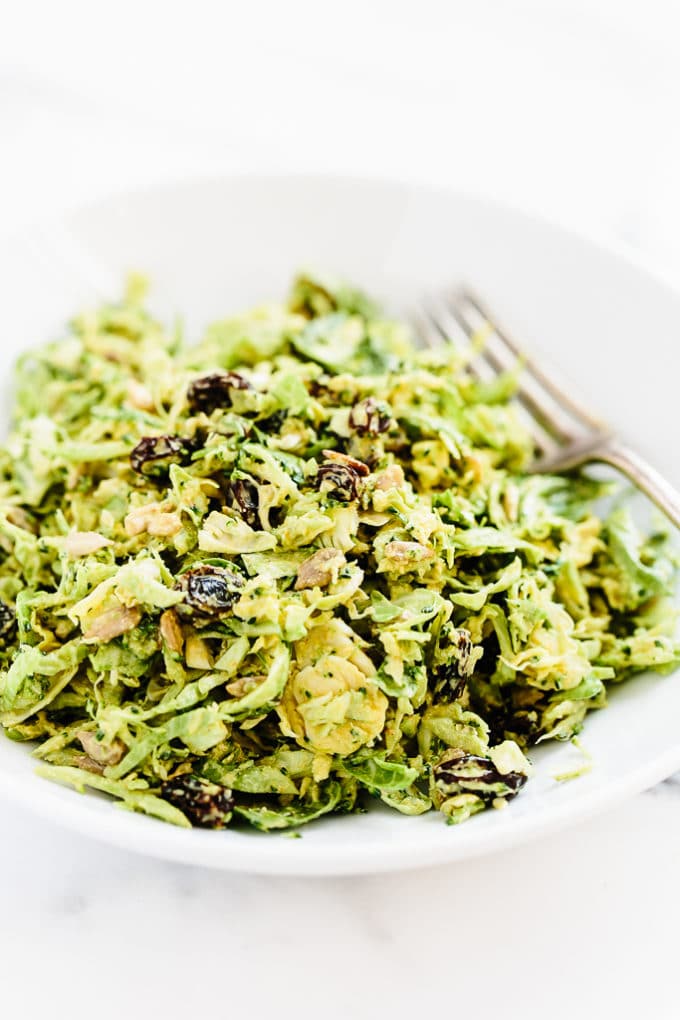 Cruciferous green veggies for days.
Cruciferous vegetables, such as broccoli and Brussels sprouts, are often hailed for their wide-ranging health benefits¹, including:
1| Detoxification support. Cruciferous veggies are highly regarded for their ability to balance Phase I liver detoxification with Phase II detoxification. Given that the end product of Phase I detoxification is sometimes more dangerous than the initial toxin itself, it's important to support Phase II detoxification (i.e., conjugation) to ensure that oxidized chemicals are adequately processed and escorted out of our bodies.²
2| Potential role in cancer prevention. Cruciferous veggies are believed to both balance and support the delicate interconnections between the body's detoxification, antioxidant, and inflammatory systems. Combined dysfunction across these three systems is believed to be "a hallmark of increased cancer risk,"¹ so foods that support functionality and harmony within these systems are believed to play a unique role in cancer prevention.
3| Digestion friendly. Cruciferous veggies are touted for their high concentration of fiber, offering nearly half the daily value of dietary fiber in a mere 100 calorie serving. They also contain compounds that help protect our stomach lining against mischievous bacteria.¹
4| Vitamins and minerals to boot! I'm talking Vitamin A; Vitamin B1, B2, B3, B5, and B6; Vitamin C, Vitamin K, Iron, Magnesium, Potassium, Zinc, and Manganese.
The general consensus is that cruciferous veggies have an overall positive effect within our bodies; however, as with anything and everything, we're unique individuals with unique needs and bodies, so if you have doubts or concerns (e.g., goitrogens' effect on thyroid function), check with your doctor.
Alright, now that we have the basics squared away, let's take a look at this recipe, shall we?
The base for the salad is made of shredded brussels sprouts, grated broccoli, raisins or dried currants, and raw sunflower seeds.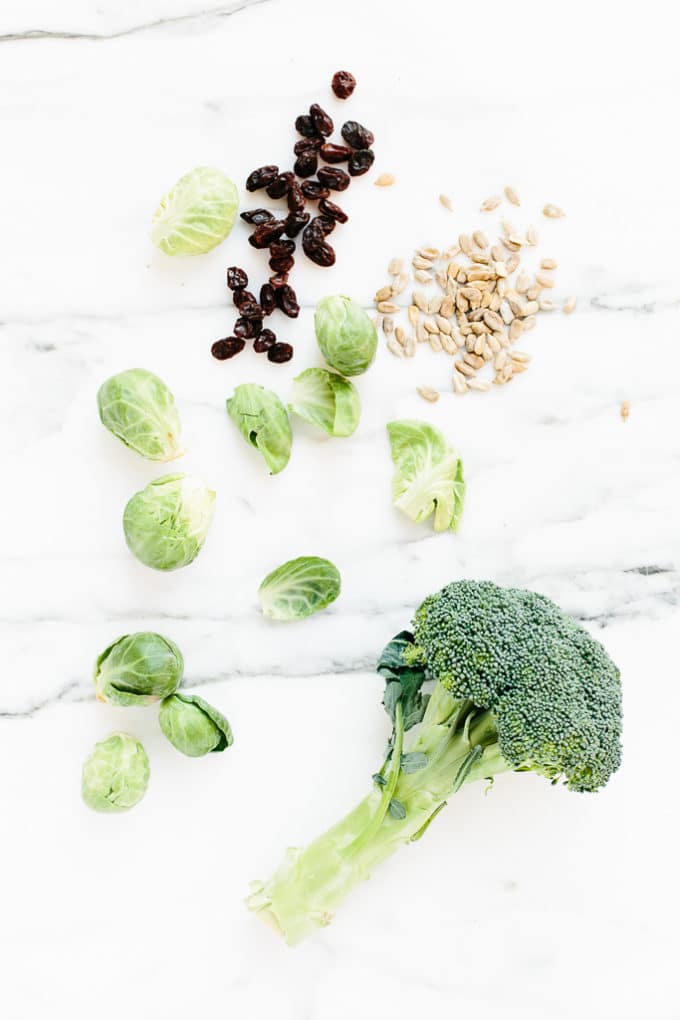 Once the brussels sprouts and broccoli have been sliced, diced, and shredded, you'll have a choice to make:
1| You can keep the salad raw, and transfer everything straight to a serving bowl. This keeps the salad fresh and crunchy and is a great option if you don't mind the bite of raw broccoli and brussels sprouts.
2| You can lightly pan cook or steam the veggies to soften their pungent bite. Just be careful not to overcook them or the texture will fall flat.
Once you have everything in a serving bowl, you'll whip up a sweet, tangy, and subtly spiced creamy cashew curry dressing. I first shared this dressing in this dressing recipe back in the fall, and it's one of my all-time favorites. It's made by blending together soaked raw cashews, filtered water, apple cider vinegar, fresh lemon juice, curry powder, pure maple syrup, and sea salt until silky smooth.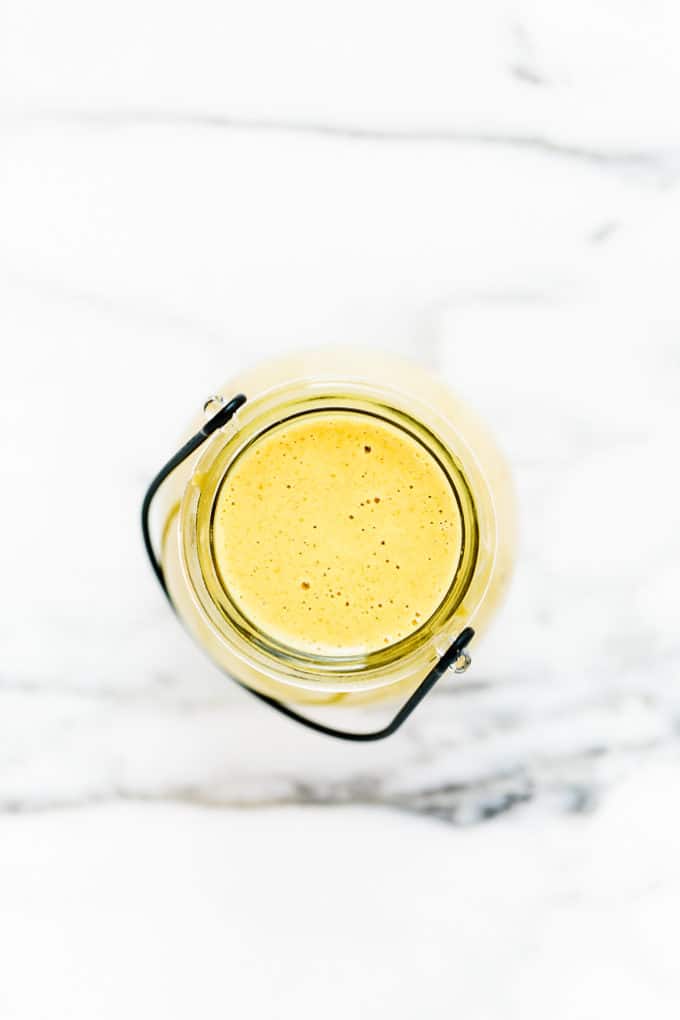 I love that pretty pale yellow hue.
Once the dressing is ready, pour it over the salad, and toss to coat. I like to prepare this salad in advance and refrigerate it for a few hours to let the flavors meld together. Plus, the acidity in the dressing naturally softens and wilts the vegetables.
The creamy, tangy dressing is balanced by sweetness of the dried fruit, the savoriness of the sunflower seeds, and the fresh crunch of the vegetables.
And let's not forget where this conversation started way back up there ↑. Again, I'm no expert, but I'm quite confident that this salad with detox the weekend and the Mondays right out of you.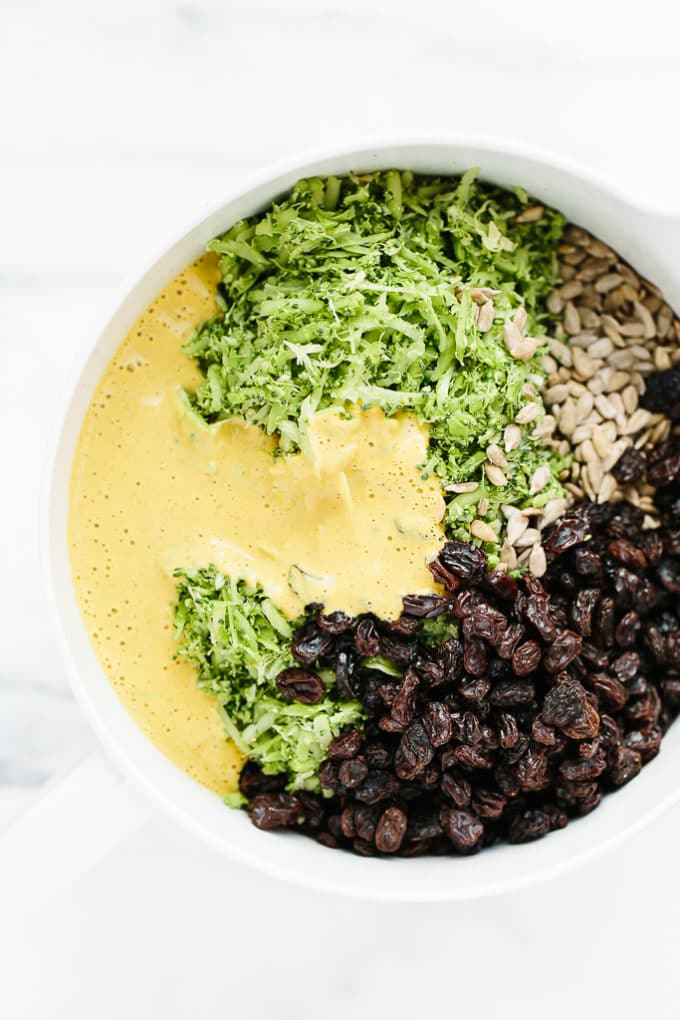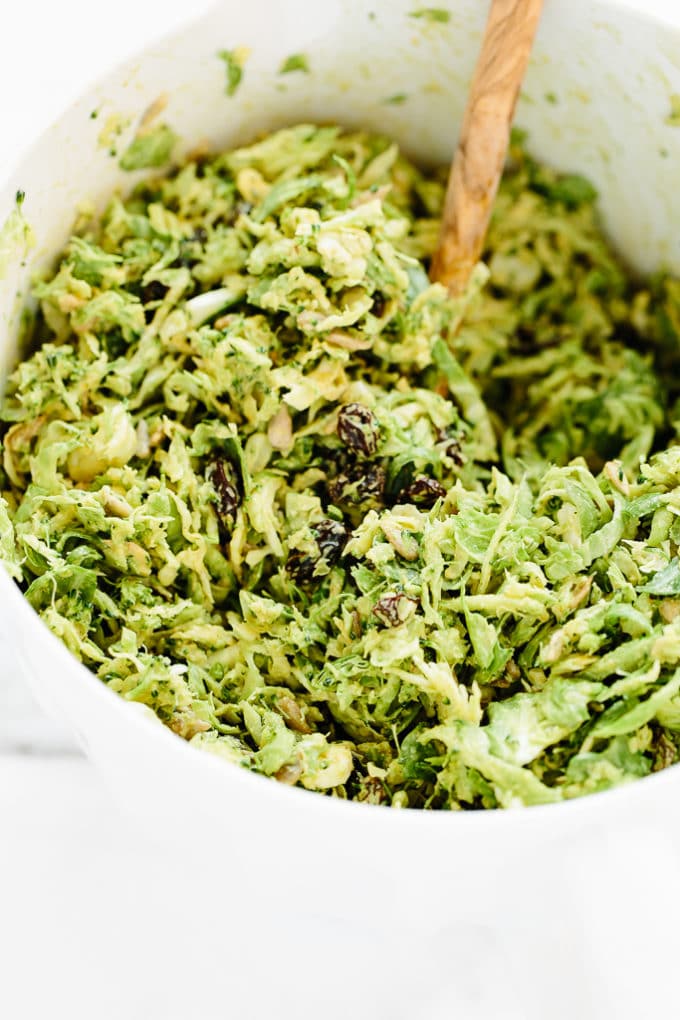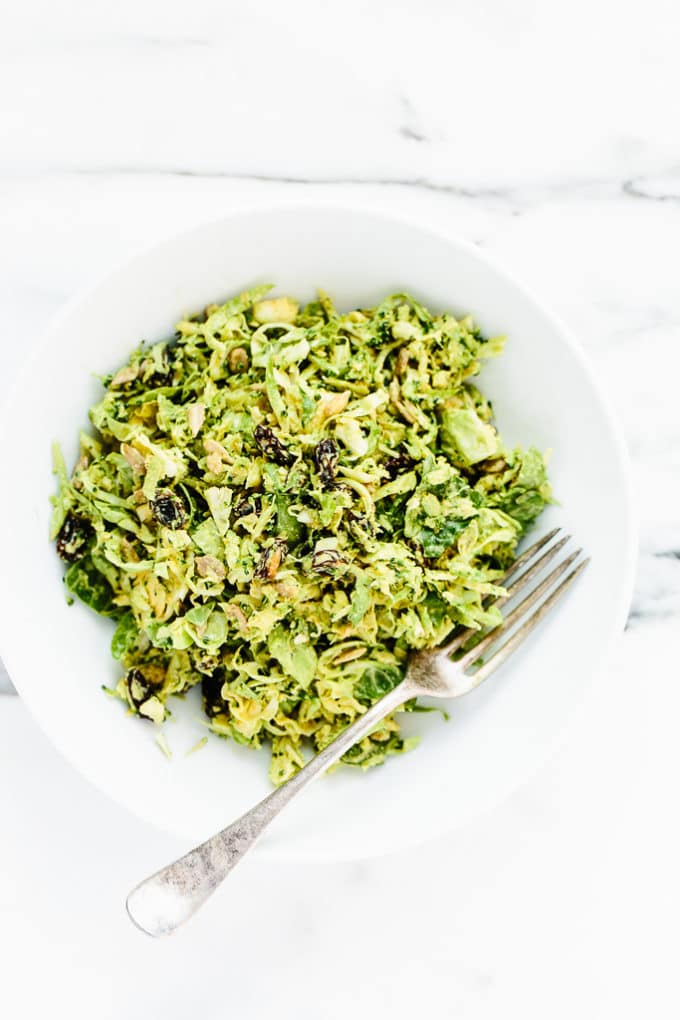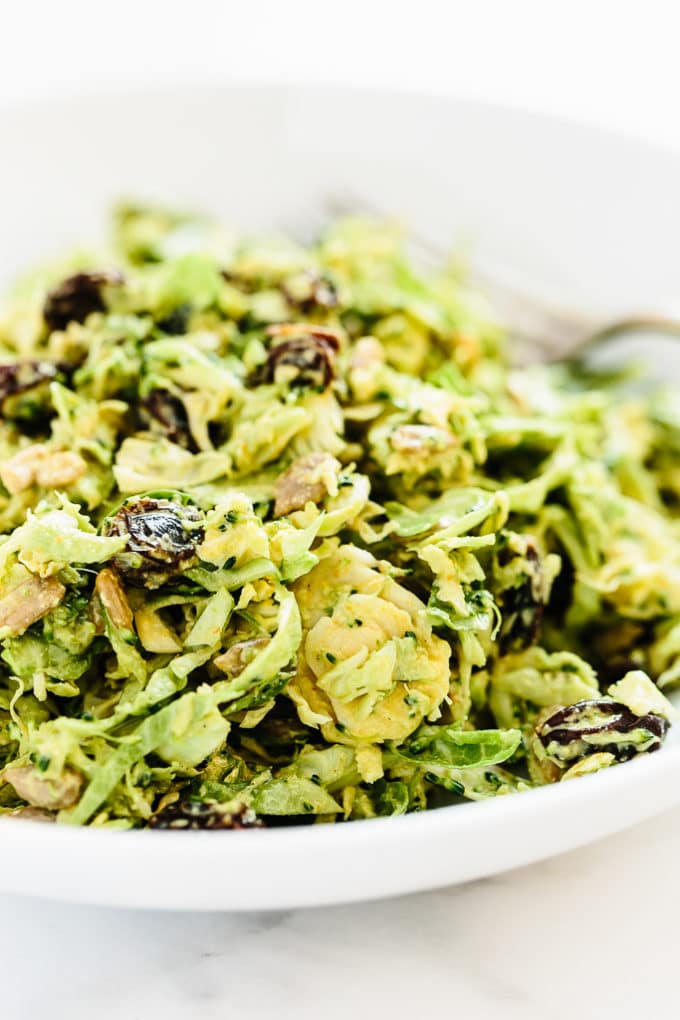 📖 Recipe
Broccoli & Brussels Sprout Detox Slaw with Creamy Curry Dressing
Finely shredded cruciferous veggies and chewy raisins are tossed in a creamy cashew curry sauce making for a slaw that is just as detoxifying as it is delicious. This slaw makes an excellent side to a heartier main and can also be enjoyed all on its own for a light and detoxifying meal.
Ingredients
Broccoli + Brussels Sprout Slaw
2

small heads of broccoli, ends trimmed and sliced into florets and tender stems

1

pound

Brussels sprouts, ends trimmed

1

cup

raisins or dried currants

½

cup

raw shelled sunflower seeds
Creamy Curry Cashew Dressing
¾

cup

cashews, soaked in boiling water for 10 minutes to soften and drained

¾

cup

filtered water

3

tablespoons

apple cider vinegar

1 ½

tablespoons

fresh lemon juice

1

tablespoon

curry powder

2 ½

teaspoons

pure maple syrup

¾

teaspoon

sea salt
Instructions
If you have a food processor with grater and slicing attachments, you'll definitely want to use it to expedite the slicing and shredding process. If you don't, you use a mandolin to shred the Brussels sprouts or very thinly slice them by hand; and use a box grated to grate the broccoli florets and tender parts of the stems.

If you're using a food processor, set it up with the grater attachment and run the broccoli florets and tender stems through to thoroughly grate. Then, affix the slicing attachment and run the Brussels sprouts through to shred.

Transfer the grated broccoli and shredded Brussels sprouts to a large serving bowl or see note* for cooked option. Add the dried fruit and sunflower seeds.

Then, make the creamy curry cashew dressing by adding the soaked cashews, water, apple cider vinegar, lemon juice, curry powder, maple syrup, and sea salt sea salt to a high-speed blender. Blend on high until completely smooth. Taste and adjust seasonings.

Pour the dressing over the slaw and toss to thoroughly coat. Refrigerate until ready to serve.
Notes
*Optional to reduce cruciferous taste: sauté the shredded Brussels sprouts and broccoli in a large pan over medium-high heat for 5 to 7 minutes or until tender. Alternatively, you can lightly steam them in a steamer or steamer basket. Then, transfer to a serving bowl and add the dried fruit and sunflower seeds. Pour the dressing over top and toss to coat.
¹Information retrieved from The World's Healthiest Foods
²Information retrieved from The Leaf Lady