This quick cucumber noodle salad with tahini-lime dressing is a meal I tossed together on a whim around 7pm this past Wednesday after spending 10+ hours in the kitchen. I had no intentions of sharing it on the blog, but it ended up looking so pretty and colorful that I decided to snap a few photos with my proper camera in case it ended up tasting good enough to share (note/my apologies: I didn't realize that I had crossed the chopsticks -- a symbol of denial -- until I was editing the photos the following day). And it absolutely did.
It's quick | Requiring just 15 minutes total, give or take a few depending on the deftness of your chopping and spiralizing skills.
It's crunchy | Chopped romaine is topped with a heaping pile of crisp cucumber noodles, julienned carrots, and sliced radishes. Plus, a few tablespoons of seeds are sprinkled on top for extra crunch.
It's fun to eat | Big bites of cucumber noodles that have been mingling with a creamy tahini-lime dressing. Yes, again and again, bite after bite.
It's vibrant and packed with vitamins and minerals | Just look at it...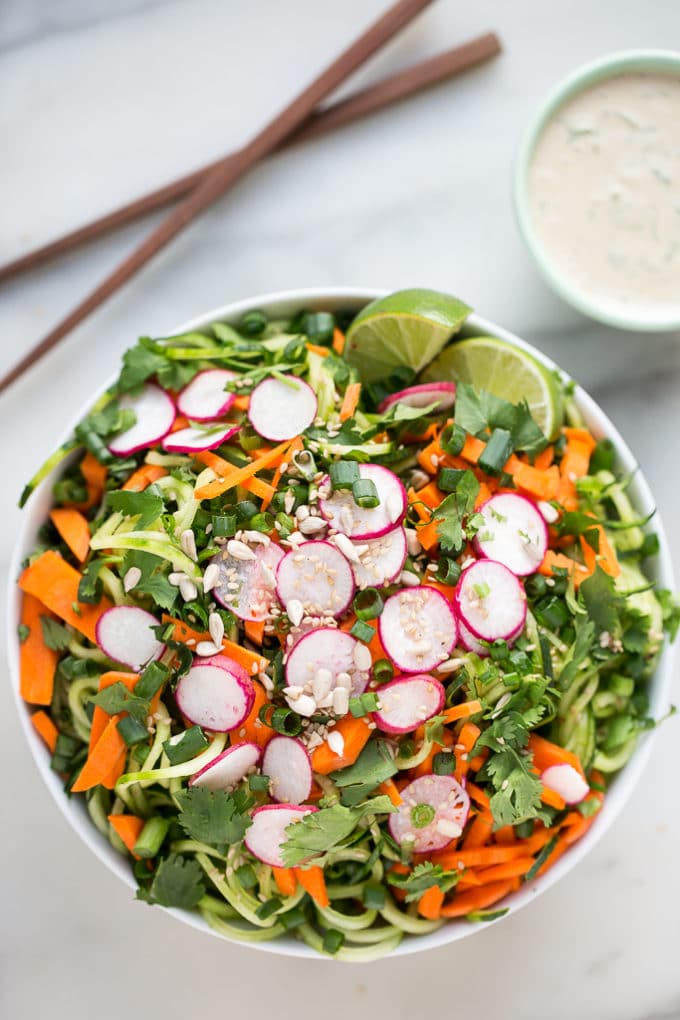 If you go on volume alone, you'll think this salad makes way more than two servings, but trust me on this one.
After I snapped these photos, I promptly dumped this beaut of a salad into a large mixing bowl to accommodate my dressing slathering and then plopped on the couch, large metal mixing bowl in one hand and fork in the other. Dan promptly shot me a look and inquired, "Whoa, you got enough salad there? $5 says you won't finish it." An empty bowl and $5 bill exchange later, I was perfectly satisfied and deciding what I wanted for dessert (because there's always room for dessert).
Moral of the story: using cucumber noodles as the main ingredient in this salad means this is the one instance in which your stomach will be bigger than your eyes. Load up a big bowl, drizzle on that dressing, and get crunching.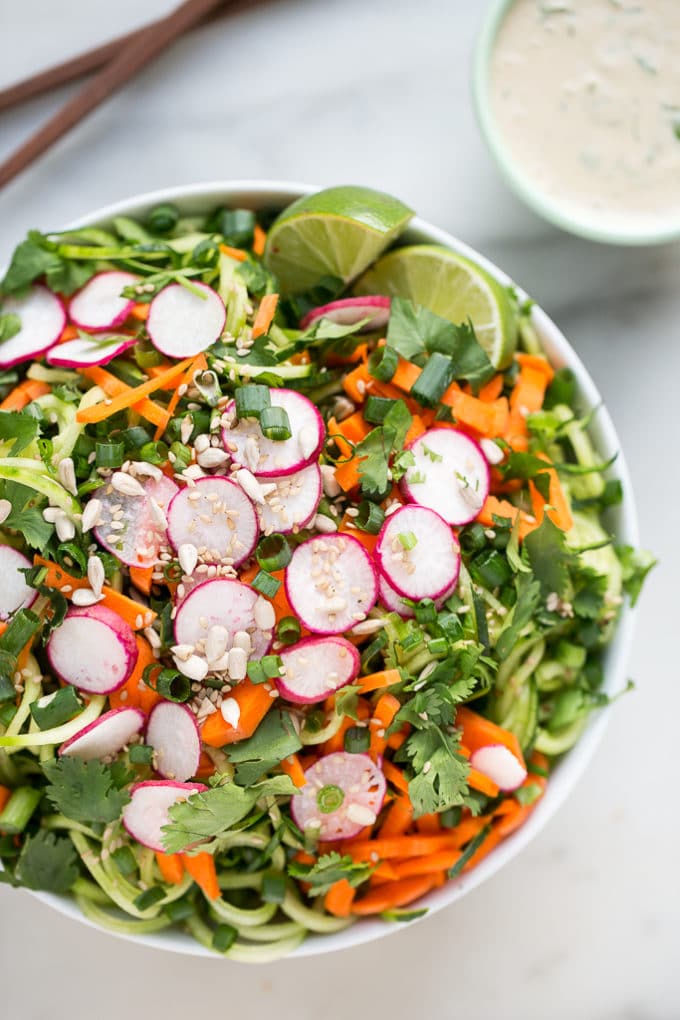 📖 Recipe
Quick Cucumber Noodle Salad with Creamy Tahini-Lime Dressing
Cooling cucumber noodles and hydrating veggies are tossed in a creamy tahini-lime dressing.
Ingredients
Cucumber Noodle Salad
1

small head romaine, chopped

2

large hothouse (English) cucumbers, spiralized

1

medium carrot, peeled and julienned

4

radishes, thinly sliced

3

scallions, thinly sliced

¼

cup

chopped cilantro

2

tablespoons

raw sunflower seeds

1

tablespoon

sesame seeds
Creamy Tahini-Lime Dressing*
3

tablespoons

tahini

½ to 1

tablespoons

reduced-sodium tamari or soy sauce

Juice of ½ to 1 lime

1 to 2

teaspoons

pure maple syrup

1

teaspoon

toasted sesame oil

1

garlic clove, minced

1

scallion, thinly sliced (optional)

2

tablespoons

chopped cilantro

1 to 4

tablespoons

filtered water, as needed to thin
Instructions
Divide the romaine between two large bowls. Top with the cucumber noodles, carrots, radishes, scallions, cilantro, and seeds.

For the dressing: whisk together the tahini, tamari (to taste), lime juice, maple syrup, sesame oil, garlic, scallion (if using), and cilantro in a small bowl. If needed, add in the water, one tablespoon at a time, to thin the dressing. Adjust seasoning, adding more tamari or lime juice if needed.
Notes
*The creamy tahini-ginger dressing from this salad can also be used: https://www.blissfulbasil.com/2014/06/25/colorful-jicama-noodle-salad-with-creamy-tahini-ginger-dressing-vegan/