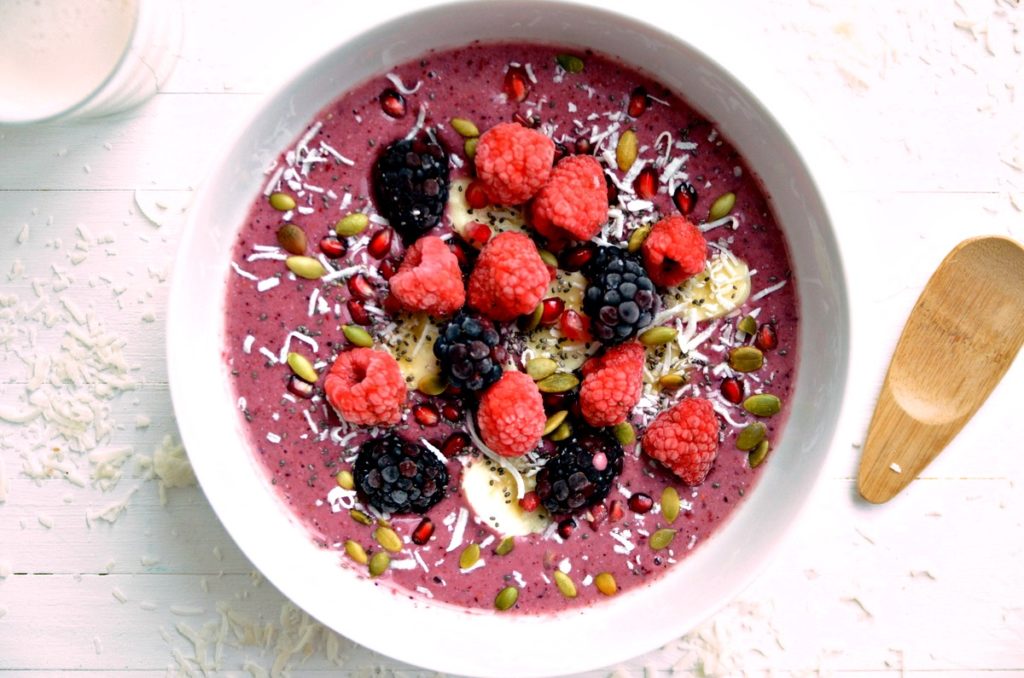 Good things come in white bowls sprinkled with pepitas, pomegranate seeds, coconut flakes, chia seeds, and fresh berries. At least good breakfast things do.
I hope your Friday is bringing you lovely, happy things. I'm extra thankful today that my cold/flu bug seems to have said its final goodbyes to my body. Even after returning to work I was feeling lethargic and just *blah* but I think the spring in my step is finally back in action.
During the considerable amount of downtime I had over the weekend and week, I watched two documentaries that had been sitting in our Netflix queue for quite a while. One of them, Fat, Sick and Nearly Dead, was a re-watch because I loved it so much the first time and the other one, The Gerson Miracle, was one I kept forgetting about. Both pertain to the utilization of freshly-juiced fruits and vegetables to cure diseases. Sounds nuts, but don't knock 'em until you've watched 'em. They're fascinating, inspiring, and almost-unbelievable documentaries. I recommend starting with Fat, Sick and Nearly Dead as you're able to follow one man's journey from extremely sick to very healthy in a 60-day time span. Pretty interesting stuff. So interesting, in fact, that my second watch convinced me to finally invest in a quality juicer.
I'm just getting into this whole juicing thing, but I find it super fun to shove the fruit into the juicer and watch the pulp launch one way while the juice shoots the other way. It's the simple things. The first juice I made was probably about a 6 out of 10 on a flavor rating scale. I combined lemons, oranges, apples, kale, and carrots. It was quite tart and a very interesting shade of green. If you have a tasty juice combination, please comment or message me with it. I'm looking for any and all suggestions and pinning juice recipes on Pinterest like whoa.
I digress. Back to this bowl that's full of and topped with good things. This smoothie bowl is super simple, absolutely delicious, and packed with antioxidants and immune-boosting ingredients. Frozen cherries and bananas are blended with almond milk and hemp seeds and topped with all sorts of amazingness. This bowl is the perfect breakfast or midday snack to enjoy when you need an extra kick of energy or for those times when you just feel like eating something extremely tasty, which I certainly hope is always.
Antioxidant Smoothie Bowl
A cherry and banana smoothie is poured into a bowl and topped with antioxidant-rich garnishes. Tasty, energizing, and pretty. What more can you want from a smoothie?
Ingredients
1 frozen banana
½ cup frozen cherries or frozen berries
1 tablespoon hemp seeds
½ cup almond milk
½ fresh banana, sliced
fresh raspberries
fresh blackberries
1 teaspoon chia seeds
1 tablespoon pepitas
1 tablespoon coconut flakes
¼ cup pomegranate seeds
Instructions
Add frozen banana, cherries, hemp seeds, and almond milk to a blender. Blend until smooth and pour into a bowl.
Top smoothie with sliced bananas, raspberries, blackberries, chia seeds, pepitas, coconut flakes, and pomegranate seeds.