Did you know that sweet potatoes are just as versatile as they are nutritious? In this round-up of 14 genius vegan ways to eat sweet potatoes you'll find a creative collection of recipes—from pizza crust to one-ingredient caramel sauce—that prove that this root veggie's talents extend far beyond its vitamin-packed reputation!
1. Crackers + Crostini
Hey! Did you know that sweet potatoes make an excellent substitute for baguette and an awesome replacement for flour? Well, they do!
Sweet Potato Crostini with Cheese, Pear + Thyme
Roasted sweet potato rounds take the place of baguette slices in this grain- and gluten-free twist on crostini. Get the recipe.
Sweet Potato Flax Crackers
These gluten-free, grain-free, and vegan sweet potato crackers pack a whopping 7 grams of fiber per serving! Get the recipe.
2. Toast
Move over sprouted grain bread, there's a new nourishing and slather-worthy slice in town...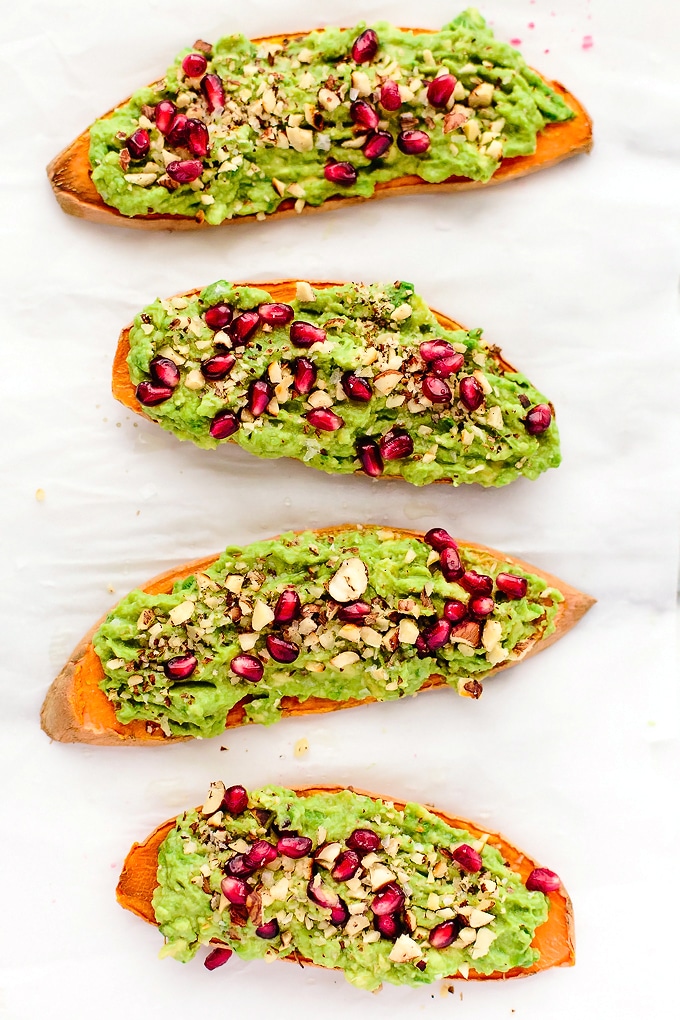 Festive Avocado Pomegranate Sweet Potato Toast
Toasted slices of sweet potato take the place of bread in this colorful twist on avocado toast! Get the recipe.
3. (N)ice Cream + Ice Cream
Who needs dairy when sweet potatoes do such an excellent job of churning out rich, sweet, and creamy goodness?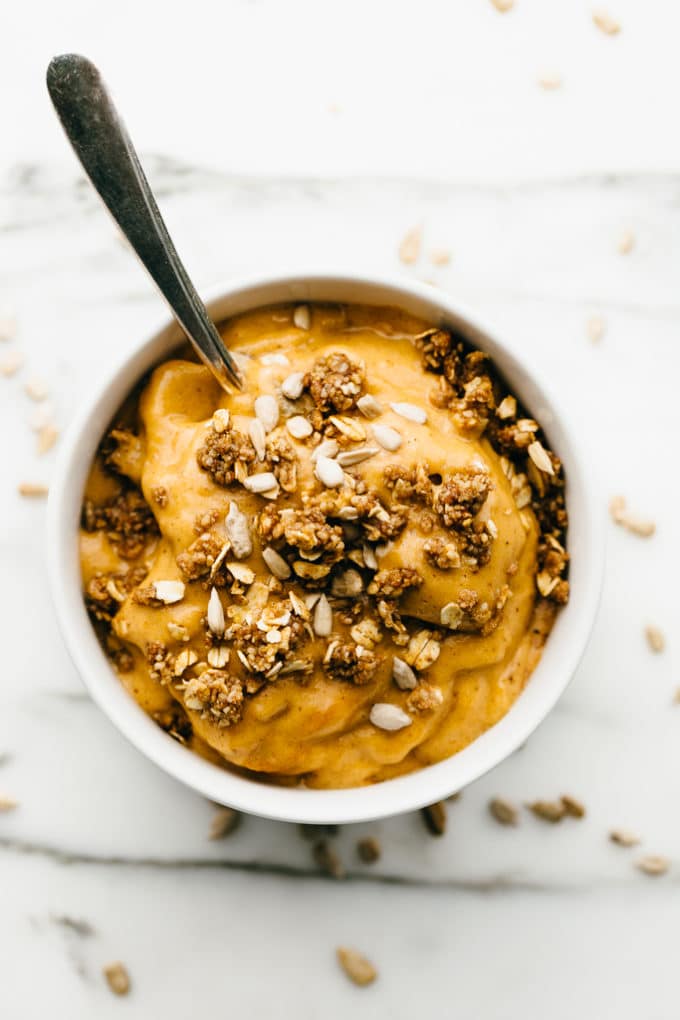 Sweet Potato Breakfast Nice Cream with Cinnamon Sunflower Crumble
Puréed sweet potato and frozen bananas are whirled to cool, creamy nice cream perfection and topped with a sweet-n-savory cinnamon-sunflower crumble topping. Get the recipe.
Coconut + Purple Sweet Potato Ice Cream
The smoothest, creamiest vegan ice cream made with purple sweet potatoes and coconut milk. Get the recipe.
4-Ingredient Vegan Chocolate Ice Cream
You will be amazed at how rich and creamy this vegan chocolate ice cream tastes AND how simple it is to make! It tastes JUST like dairy milk chocolate ice cream (and there isn't a banana in sight)! The secret ingredient? Sweet potatoes! Get the recipe.
4. Noodles + Gnocchi
Pasta? Forget about it. Try swapping out boring old spaghetti for colorful sweet potato noodles. Russet potatoes feeling a bit bland in your gnocchi? Why not mix things up and make pillowy pasta with sweet potatoes instead?
Sweet Potato Noodles with Garlic + Kale
Sweet potatoes are spiralized into noodles, sautéed with garlic and kale, and then dolloped with pesto in this veggie-packed pasta. Get the recipe.
3-Ingredient Sweet Potato Gnocchi
These vegan, gluten-free gnocchi are made with just three simple ingredients, sweet potatoes being one of them! Get the recipe.
5. Pizza Crust
Pssst. Did you know you can up the nutritional ante of your pizza by using a base of steamed sweet potatoes to make the crust?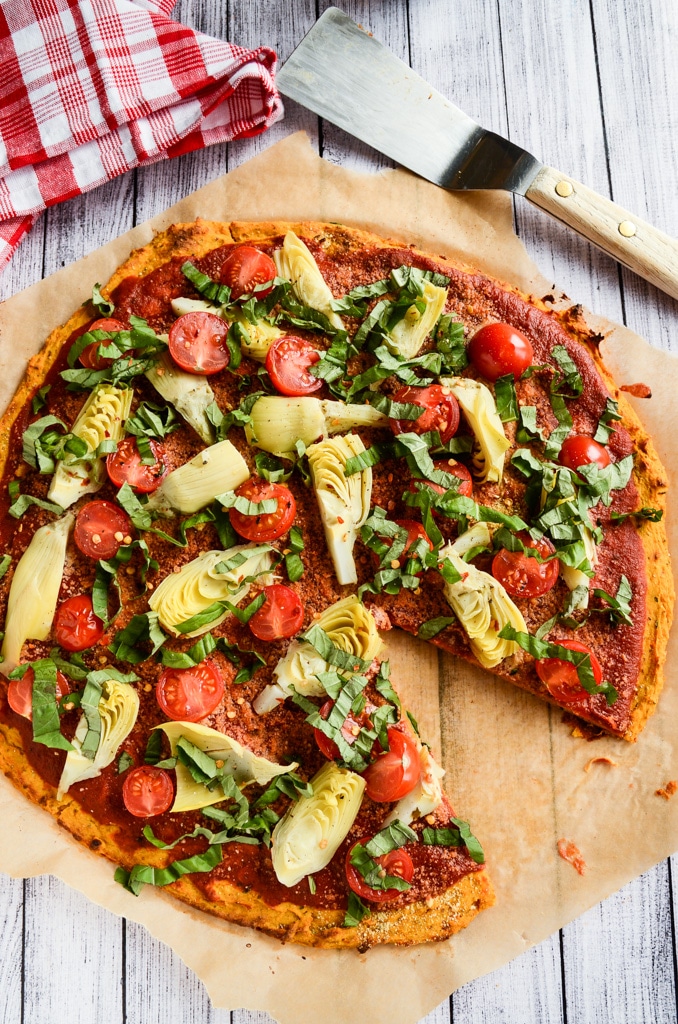 Sweet Potato Pizza Crust
Steamed sweet potatoes are mixed with oat flour, a bit of almond meal, a chia egg, olive oil, apple cider vinegar, and a zesty array of spices in this gluten-free take on a classic pizza crust! Get the recipe.
6. Bread
Add a punch of vitamin A, vitamin C, manganese, and copper to your freshly baked bread by substituting steamed sweet potatoes for some of the liquid.
Vegan Sweet Potato Cinnamon Swirl Bread
Thanks to steamed sweet potatoes, this bread has a gooey, doughy interior reminiscent of the most delectable cinnamon rolls and offers far more nutritional oomph! Get the recipe.
Vegan Gluten-Free Sweet Potato Flatbread
A simple, subtly sweet flatbread so soft and flexible you would never guess that it's free from both gluten and oil. But it really, truly is, and it's all thanks to sweet potatoes! Get the recipe.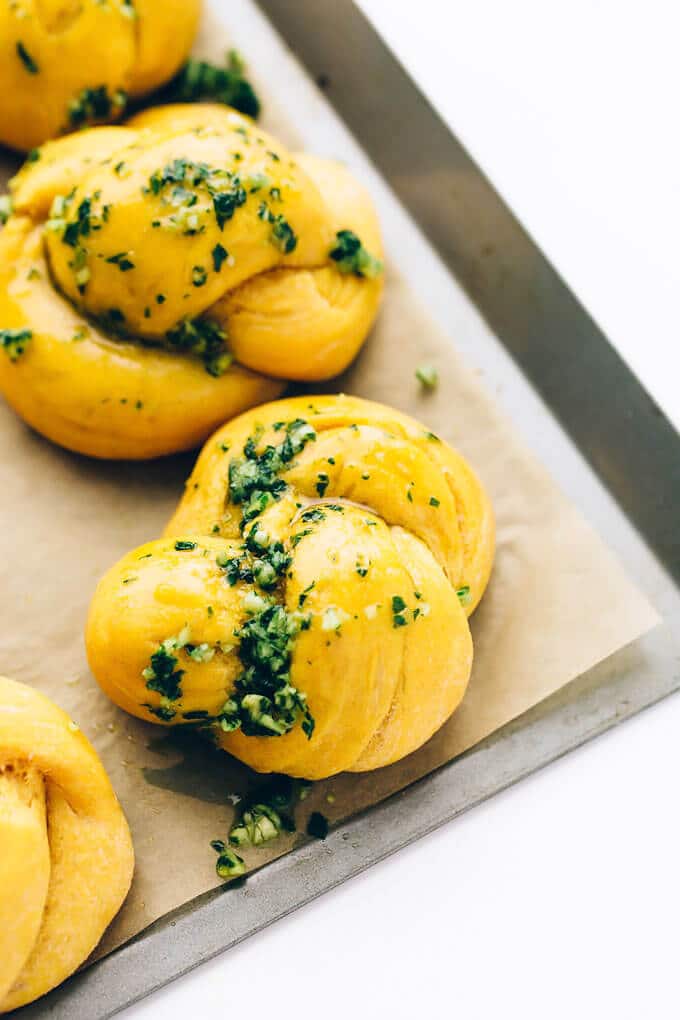 Vegan Sweet Potato Spelt Garlic Knots
These golden-hued, garlicky knots bake up soft and pillowy thanks to a base of steamed sweet potatoes. Get the recipe.
7. Pudding + Mousse
Thanks to sweet potatoes, there's no need for gelatin, heavy whipping cream, or eggs in these dreamy desserts!
Vegan Spiced Sweet Potato Pie Pudding
Bananas, avocado, and sweet potato purée are the base in this ultra decadent, plant-powered vegan pudding. Get the recipe.
Low-Fat Chocolate Mousse Cake
This rich and chocolaty dessert is made predominantly with a base of... you guessed it: sweet potatoes! Get the recipe.
8. Caramel
Did you know that you can make totally sweet, drizzle-worthy caramel with just one ingredient (i.e., sweet potatoes)? Yes, it's true!
One-Ingredient Sweet Potato Caramel
With just sweet potatoes and a pinch of sea salt, you can have yourself a batch of dreamy caramel sauce. Get the recipe.
9. Fudge
Who needs butter when sweet potatoes can make fudge?
Vegan Toffee Sweet Potato Fudge
Classic toffee fudge gets a vegan twist by substituting the traditionally used butter with sweet potatoes, cocoa butter, and coconut butter. Get the recipe.
10. Burgers + Sandwiches
Move over beef, move over pork, there's a new sandwich centerpiece in town.
Smoky Sweet Potato + Black Bean Burgers
These smoky, flavorful burgers are made with a blend of sweet potatoes and black beans. Not only are they vegan, they're gluten-free, grain-free, and low fat, too. Get the recipe.
Smoky Sweet Potato Bánh Mì
Smokey sweet potato contrasted with a briny, pickled crunch from carrots and radishes, plus spicy jalapeño, salty peanuts, cilantro and a fresh squeeze of lime. And don't forget about a smear of salty miso mayo—too good! Get the recipe.
11. Frosting
There's no need for butter and processed powdered sugar when you can make rich, creamy frosting with sweet potatoes!
Low-Fat Vegan Vanilla Frosting
This unconventionally delicious icing is made with just 4 healthy ingredients, sweet potatoes being one of them! Get the recipe.
12. Muffins, Scones + Biscuits
Eggs? Butter? Who needs 'em? Sweet potatoes keep these muffins, scones, and biscuits moist and delicious.
Deliciously Healthy Sweet Potato Muffins
These comforting muffins are brimming with feel-good ingredients, including sweet potatoes, teff flour, oats, and almond flour. Get the recipe.
Sweet Potato Scones with Cardamom Glaze
These scones bake up with a slightly crunchy exterior, yet are still perfectly fluffy and soft inside thanks to sweet potato purée. Get the recipe.
Sweet Potato Biscuits
These fluffy and buttery vegan sweet potato biscuits are destined to become a staple in your home. Get the recipe.
13. Brownies + Blondies
I'm telling you, there's no need for eggs when sweet potatoes are around!
Sweet Potato Brownies
These brownies are so rich and chocolaty you'd never guess they were packed with nourishing sweet potatoes! Substitute pure maple syrup for the honey to keep these beauties vegan. Get the recipe.
Grain-Free Sweet Potato Blondies
The fudgy texture of a brownie and the sweet vanilla flavor of cake combine to create the perfect cinnamon-spiced, sweet-potato-packed blondies! Get the recipe.
14. Soup, Stew + Chili
Looking for a plant-powered way to cozy up this fall? Look no further than sweet potatoes.
Roasted Sweet Potato & Bell Pepper Soup
Roasted sweet potatoes and bell peppers are blended to smooth, silky perfection in this golden-hued soup. Get the recipe.
Black Lentil, Sweet Potato + Kale Chili with Kabocha Biscuits
This chili is plentiful, warming, and substantial all thanks to sweet potatoes. Get the recipe.