Below you'll find a variety of festive vegan 4th of July recipes. These recipes are fit for a long-weekend celebration. From appetizers to desserts, pick your favorites from each course and mix 'n' match to your heart's content!
Appetizers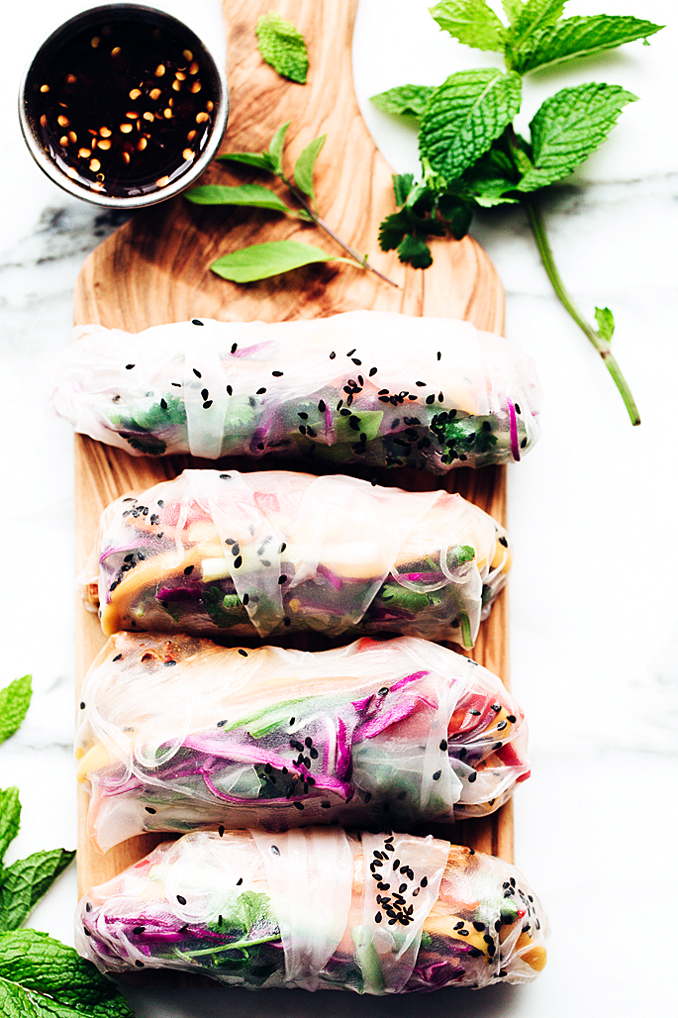 These vegan rainbow summer rolls with Chile-Garlic Tofu are bursting with flavor, texture, and color. Spicy chile-garlic tofu, glass noodles, and oodles of rainbow hued fruits, veggies, and other goodies are tucked into soft rice paper wrappers. Think crisp purple cabbage, juicy mango, crunchy red bell pepper, zesty scallions, vibrant carrots, cooling cucumber, fresh herbs, and nutty black sesame seeds (if you please). Best yet? They're served alongside a sweet chile-garlic sauce for the ultimate dip-'n'-crunch experience.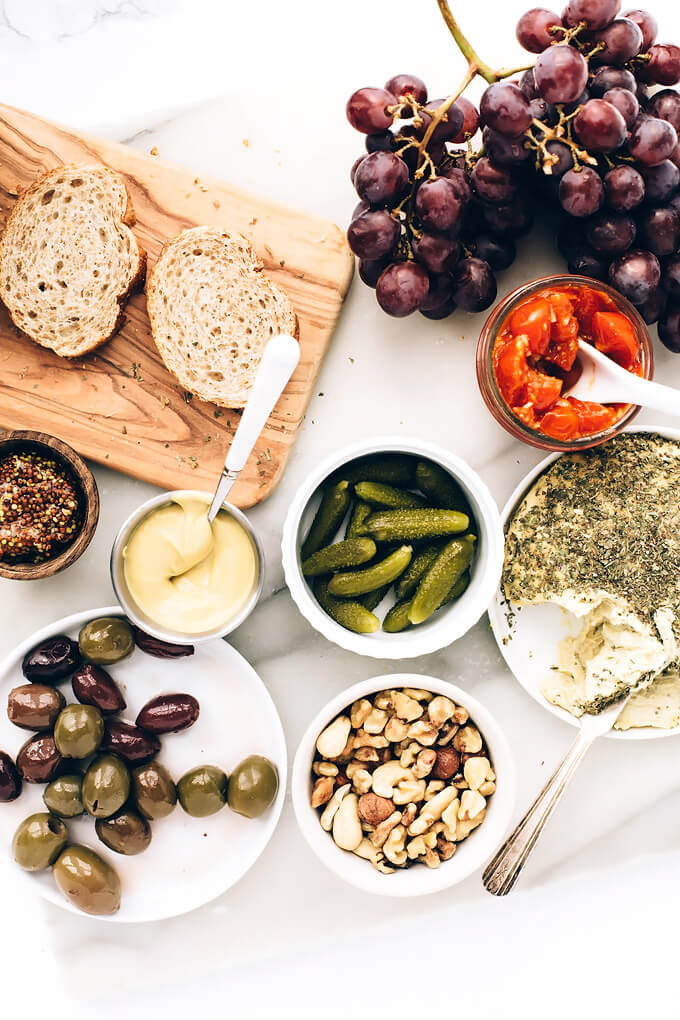 This epic vegan cheese platter proves that plant-based cheese can be every bit as luxurious and satisfying as the "real" thing. Multigrain baguette slices, herbed vegan cashew cheese, spicy tomato jam, juicy grapes, salty olives, heart-healthy nuts, tangy cornichons, and zesty dijon mustard create a plant-based cheese spread that will wow vegan and non-vegan partygoers alike.
Salads + Sides
 
This easy vegan Italian pasta salad is packed with veggies. Think juicy cherry tomatoes, salty black olives and sun-dried tomatoes, silky roasted red peppers, tangy marinated artichokes, fine threads of crisp red onion, and just a touch of fresh herbs for a pop of green goodness. A hearty, gluten-free fusilli serves as the perfect base, mingling with the veggies and a zesty Italian vinaigrette in the best of ways. The finishing touch? Plentiful sprinkles of salty vegan parmesan. Whether you're vegan, vegetarian, or a meat-lover through and through, this easy vegan Italian pasta salad is bound to find a special place in your heart as well as your lineup of long weekend must-haves.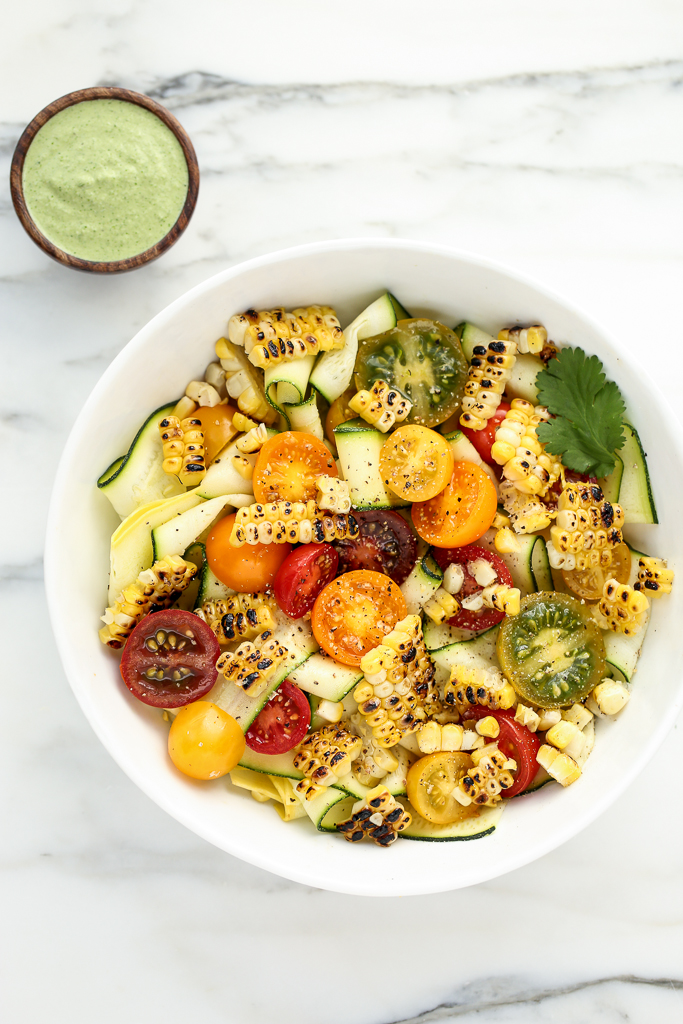 This summer squash ribbon salad with grilled sweet corn, heirloom cherry tomatoes & cilantro-pepita dressing requires just 15 to 20 minutes to throw together, making it a fantastic long-weekend crowd-pleaser.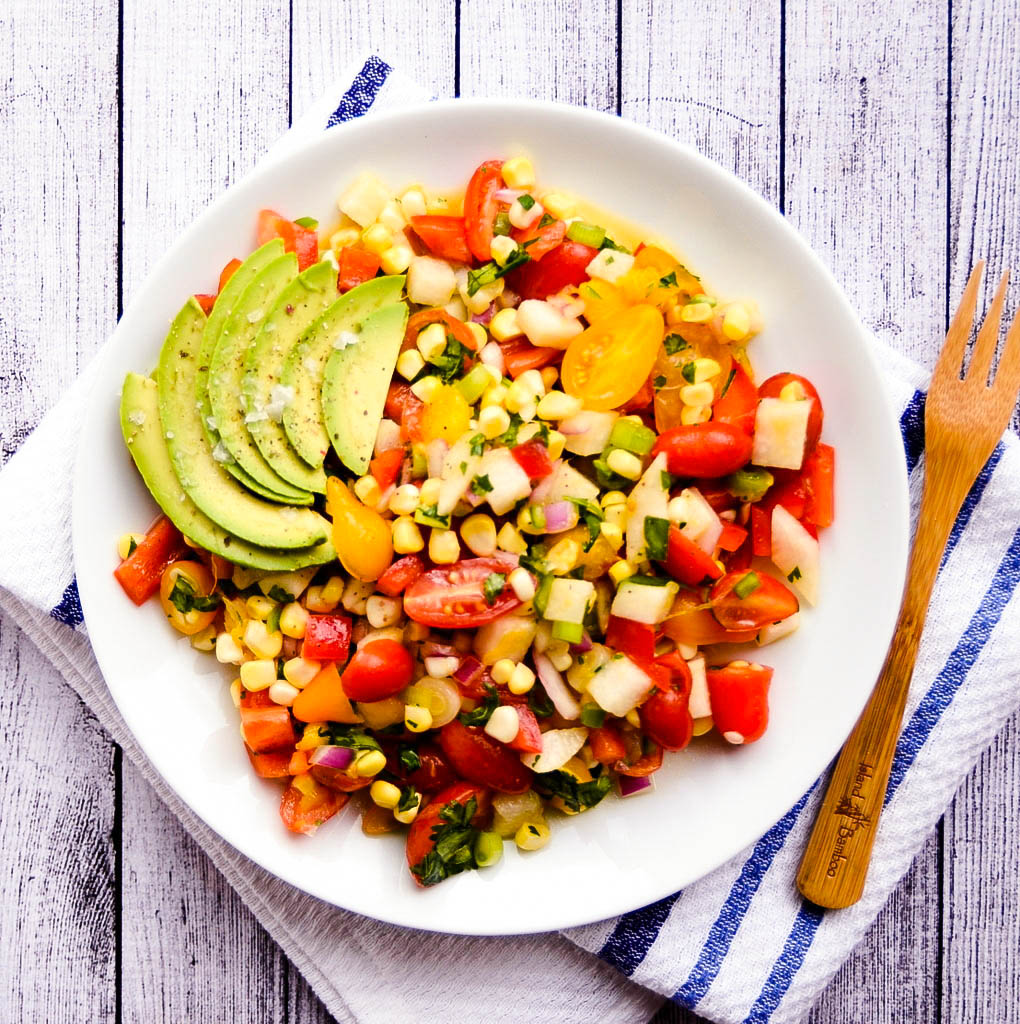 This vegan ceviche is made by combining grape tomatoes, fresh corn, jicama, red pepper, mango, red onion, and scallions. The vegetables (and fruit) soak for 2-3 hours in a citrus vinaigrette that's made by combining lime juice, orange juice, cilantro, serrano peppers, olive oil, and salt. As it marinates, the mixture becomes infused with the flavors of the vinaigrette. The result is a salad that looks like confetti and tastes like summer. The jicama adds this amazing crunch and the mango adds just a touch of sweetness to balance the citrus. This is the perfect side dish to any veggie burgers you might be cooking up in honor of the upcoming festivities.
Entrées + Mains
 
These smoky vegan BBQ beet burgers are savory, hearty, protein-packed, satisfying, and offer a kick of slow-warming heat. Heaps of spices, minced chipotle peppers, and a generous pour of barbecue sauce send these burgers into blissed-out barbecue territory. These already irresistible beet patties are taken to swoon-worthy levels when they're tucked into pillowy buns and topped with a generous mound of caramelized onions.
These vegan BBQ Cauliflower Tacos with Pineapple Salsa are brimming with savory + sweet summer flavors! Cauliflower florets are roasted, tossed in a flavorful combination of spices, and simmered in barbecue sauce until tender. Then, they're tucked into warm corn tortillas with homemade pineapple salsa, a few sprigs of cilantro, and a spritz of fresh lime juice. The smokiness of the spiced BBQ cauliflower complements the sweetness of the fresh pineapple salsa, yielding an irresistibly summery combination that satisfies.
This grilled vegan BBQ jackfruit pizza with hemp seed cheddar was designed with summer in mind. Grilled pizza is topped with BBQ pulled jackfruit, tangy hemp seed cheddar cheese, zesty hemp seed ranch, red onions, and fresh cilantro.
Hearty veggie burgers are slathered with barbecue sauce and topped with tangy kimchi in these festive burgers.
These burgers are the perfect grill-worthy main. Portobello mushrooms are marinated in a zippy mixture of balsamic vinegar, tahini, olive oil, shallots, garlic, and chives for a solid 30 minutes (or more if it suits your fancy). Then, they're grilled until tender, nestled between crusty toasted bread, and topped with caramelized onions + a heaping dollop of vegan blue cheese.
Desserts
Raw graham cracker crust + rich, creamy, and decadent cheesecake filling + jammy berry swirls = this no-bake vegan strawberry & blueberry swirl cheesecake.
This vegan strawberry ice cream with berry swirl is a sweet, no-churn delight. A combination of dates and nut butter are the secrets to making a no-churn vegan ice cream that is delectably smooth and creamy.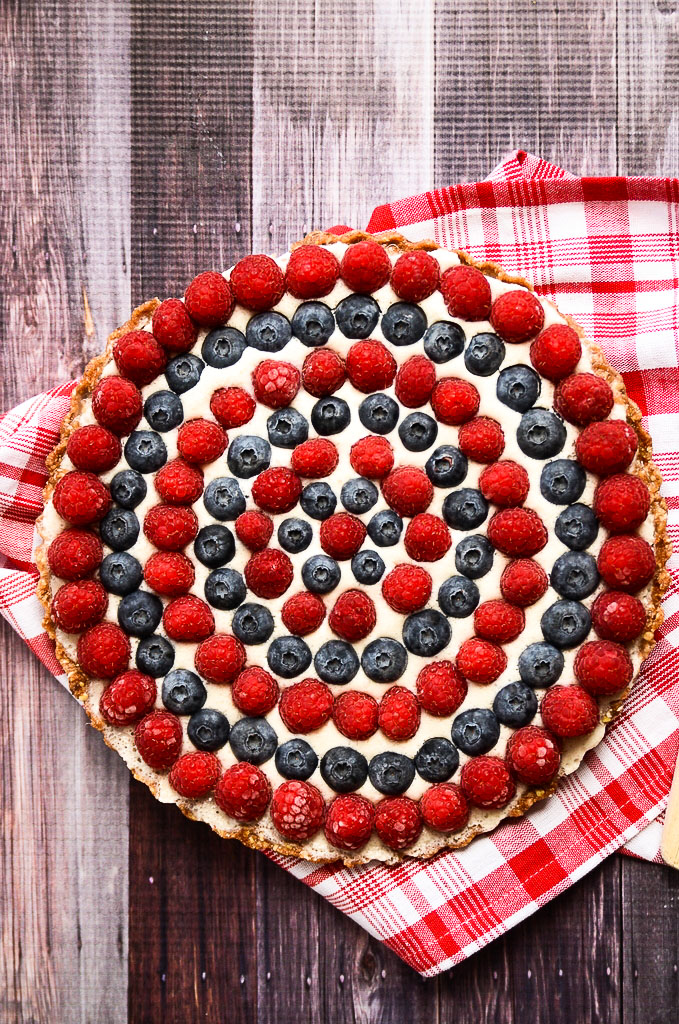 This vegan festive raspberry & blueberry tart is brimming with sweet summer flavors and a grand red, white, and blue color scheme. The crust in this raw tart is made with just four simple ingredients: medjool dates, raw almond, buckwheat groats, and ground cardamom. The mixture is pulsed in a food processor, pressed into a tart pan, and chilled. Once the crust has set, it gets filled with fluffy coconut whipped cream and juicy berries!
This vegan dreamy berry parfait with coconut whipped cream, caramel & raw granola clusters is the perfect summer dessert. Cherries, blueberries, strawberries, and raspberries are nestled amid layers of coconut whipped cream, caramel, and cinnamon-almond granola clusters. The berries add color and a bright, summery flavor while the caramel, coconut whipped cream, and granola clusters add sweetness and depth. This parfait is the perfect way to showcase all of those juicy summer berries!