I think I've hinted at this before, but my family loves traditions. We have all sorts of traditions for all sorts of occasions, and these celebratory guidelines have sprinkled my memories with happiness throughout my life. My two very favorite traditions involve birthdays and Christmas.
Growing up, birthday mornings always began with a 5:30am wake-up call. The wake-up call consisted of the non-birthday gals and guys singing a giggle-filled round of Happy Birthday to the birthday person and offering him/her a small gift (e.g., for my 15th birthday I received the Spirit album by Jewel... my hands are small I know...) and a favorite pastry garnished with one candle. I looked forward to this nugget of celebration more than I looked forward to any other aspect of my birthday. Something about being woken up with a song and glimpsing a glowing birthday candle through sleepy eyes really tugs at the heart. My birthday pastry choices matured through the years as I did, with my earlier birthdays being welcomed in with a piece of Swedish Flop Cake, my middle years defined by vanilla long john donuts, and my young adult birthdays frequented by puffy popovers filled with butter and strawberry jam.
Although birthday morning traditions have shifted a bit since becoming an adult and fleeing the nest, Christmas morning traditions look much like they did 30 years ago. My mom is usually one of the first to rise but leisurely lingers with a book in hand and tea on her nightstand until the rest of the family is up and at the house. My step dad is next and begins the day much like my mom does, although he might squeeze in a quick run if he's up for it. I'm typically the next one up and make just enough noise to rouse Dan from his slumber. Then, my brother arrives, gifts in-hand. Once we're all awake and gathered, we pop a batch of cinnamon rolls into the oven (note: they've been meticulously shaped into a Christmas tree and dotted with ornaments cherries). Then, we settle into the living room and one-by-one, we open our stockings. My mom has always taken exceptional care in picking out the most perfect trinkets, knickknacks, and treats for each of us, so our stockings tend to be a treasure trove of thoughtfulness and love.
With one of my very favorite traditions centering around stockings, I figured it was about time I put together a stocking stuffer guide to share with you. Although this is a round-up of vegan-friendly gifts, I tried to pick healthy treats and goodies that everyone can appreciate. Without further ado, here it is...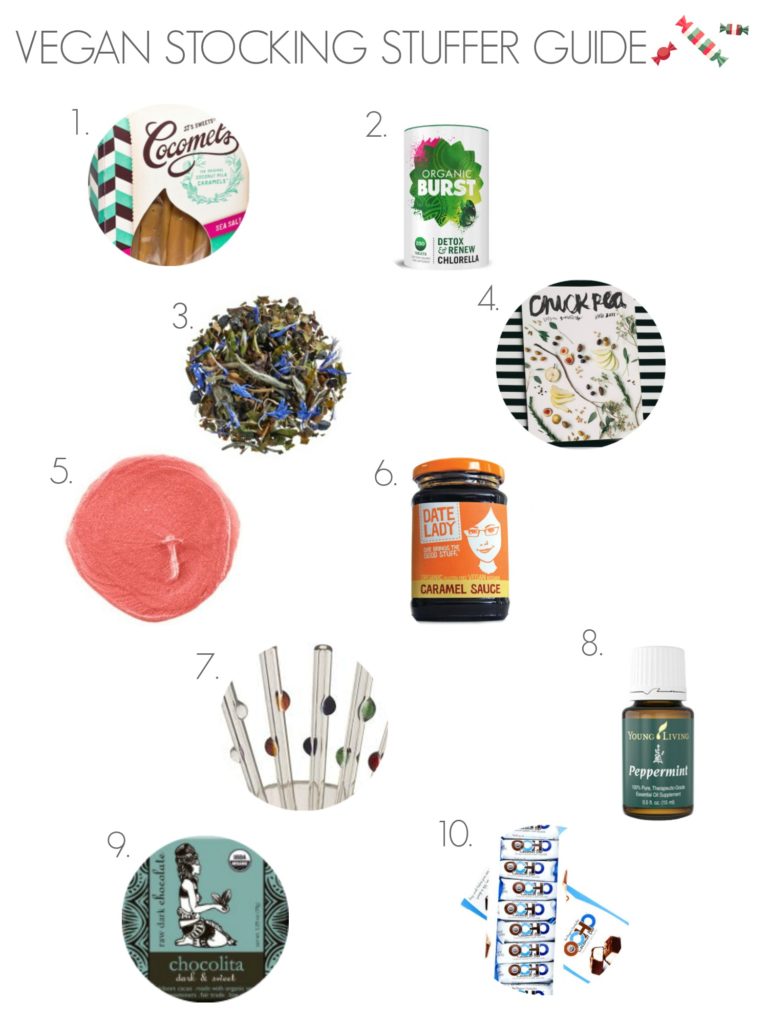 1. JJ's Sweets Cocomels | These sweet, chewy caramels are made from coconut milk. I've spent hours mulling over which of the four flavors -- original, vanilla, sea salt, espresso -- is my favorite, but it feels wrong to pick a favorite when each of them is so. darn. delectable. Hypothetically, if I were forced to choose, I'd probably go with Sea Salt. Something about that savory-sweet combo gets me good. Oh yes, and be sure to scroll down to the bottom of this post because JJ's Sweets is generously giving away all four flavors to one lucky reader!
2. Organic Burst Powders | If you follow me on Instagram, you might have noticed that I mention Organic Burst nearly every time I post a photo of a smoothie. That's because I'm obsessed with their superfood powders, especially Chlorella, Spirulina, Baobab, Maca, and Wheatgrass. They are high-quality and offer a nutritional boost to anything from smoothies to baked goods.
3. Oh She Glows Tea Shoppe | Angela Liddon of the amazing blog, Oh She Glows, has created a line-up of flavor-packed, certified organic teas. I have yet to try them, but I have my heart set on a few (mom: hint, hint).
4. Chickpea Magazine | Chickpea is a quarterly magazine that showcases a collection of favorite vegan things (e.g., stories, people, recipes, etc.) from around the globe. It's ad-free and contains 100% vegan content while embracing the plant-based choices of each and every person. Plus, the design is swanky and chic. Love.
5. Au Naturale Lip Gloss | These vegan, gmo-free, bpa-free, and dye/color-additive free lip glosses boast vivid hues and a silky-smooth texture. As a lip gloss lover, it's nice to know that what I'm putting on my lips is free from harsh chemicals and cruelty.
6. Date Lady Caramel Sauce | This plant-based caramel sauce is made with just three ingredients: dates, natural caramel flavor, and sea salt. Eat it right off the spoon or drizzle it on coconut ice cream. Yum.
7. GlassDharma Straws | These glass straws are free from chemicals, environmentally-friendly, and have a lifetime warranty. They come in different lengths and thicknesses to suite a variety of juice- and smoothie-drinking needs.
8. Young Living Essential Oils | My mother-in-law introduced me to Young Living's products over a year ago, and I've been using the Peppermint oil and Lavender oil on a daily basis ever since. I dab the lavender oil on my temples and nose at night to relax, and I rub the peppermint oil between my palms each morning and inhale the minty freshness to perk up my energy. All of their oils are fantastic, but these are my two favorites.
9. Chocolita Raw Chocolate | Rich, raw-vegan chocolate bars that come in a wide array of enticing flavors. I've got my eyes set on the Blueberry Lotus Raw White, Nib Chocolate Chip Raw White, Cherry Almond Raw Chocolate, and Dark & Sweet Raw Chocolate. If you can't make up your mind, you can always go with the variety pack.
10. OCHO Coconut Bar | To me, this looks and tastes like a vegan version of a Mounds bar, and that makes me happy. Dark chocolate nestles a creamy coconut filling within its rich embrace. Make. it. stop.
JJ's Sweets Cocomels Giveaway
One winner will receive the four flagship flavors (i.e., Original, Vanilla, Sea Salt, and Espresso) of JJ's Sweets' Cocomels. For a chance to win, simply enter the giveaway using the Rafflecopter widget below and comment on this post between December 8th and December 19th. Please note: this giveaway is open to US residents only.