Sweet. Drizzle-able. Pumpkin-infused. Quick. Spiced. Lick-the-jar-clean delicious.
This 5-Minute Vegan Pumpkin Spice Caramel is the fall-outfitted sister of this (aka My Happiest Kitchen Accident/Miracle). If you haven't tried that one yet, please do your taste buds a favor and make that too. It requires just 5 minutes + 5 plant-based ingredients and yields a rich and buttery caramel. I've made it a countless number of times, and it's a recipe I rely on to open people's hearts to the deliciousness of vegan desserts. Try it drizzled over berries with coconut whipped cream (e.g., this recipe). Perfection.
The base for this cool-weather remix is the same as the original: pure maple syrup, natural almond butter (any nut or seed butter will do), virgin coconut oil, pure vanilla extract, and a pinch of sea salt. To make way for a bit of pumpkin puree, pumpkin pie spice, and everything nice, the almond butter is scaled back a touch. If you can't find pumpkin pie spice, a blend of ground cinnamon, ginger, cardamom (optional), nutmeg, and allspice will do the trick too.
To make it, you'll toss those 7 ingredients into a pan and whisk them together over medium-low heat for 3 minutes or until you have a glossy caramel sauce. That's it. No candy thermometer nor anxious monitoring of it and no slaving away over the stove. Just 5 minutes, 7 ingredients.
You can use this caramel warm off the stove or allow it to settle down to room temperature and thicken a bit more. When refrigerated, it takes on a scoop-able texture but can easily be warmed back to it's drizzle-worthy state.
I hope you enjoy this fall-infused variation as much as I do!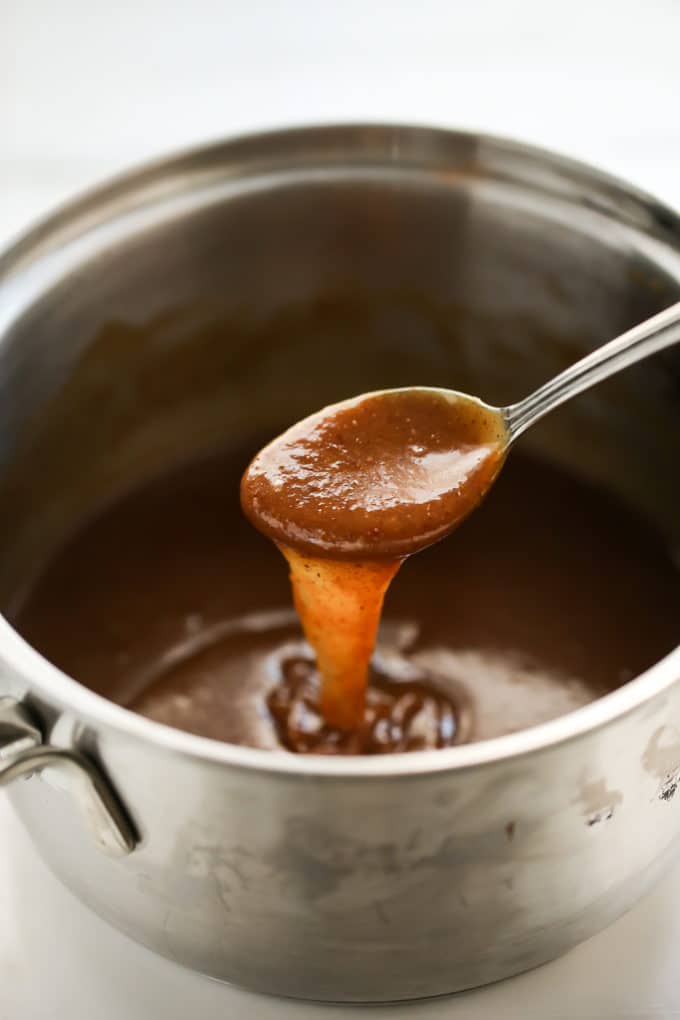 5-Minute Vegan Pumpkin Spice Caramel Sauce
Author:
Ashley Melillo | Blissful Basil
Recipe type:
Sauce, Caramel, Dessert
Serves:
approximately 1 1/3 cups
Ingredients
1/2 cup pure maple syrup
1/3 cup natural creamy almond butter
1/3 cup virgin coconut oil
3 tablespoons unsweetened pumpkin puree
2 teaspoons pure vanilla extract
1 to 2 teaspoons pumpkin pie spice (depending on how much you want to flavor the caramel)
1/4 teaspoon sea salt
Instructions
In a small sauce pan, vigorously whisk together the pure maple syrup, almond butter, coconut oil, pumpkin puree, vanilla, pumpkin pie spice, and sea salt over medium-low heat until smooth, glossy, and slightly thickened (approximately 3 minutes). Remove from heat and enjoy as is or let cool to thicken.
Enjoy over ice cream, apples, or all on its own.
Refrigerate leftovers. As the caramel cools, it becomes even thicker. Reheat in a sauce pan or enjoy as is.