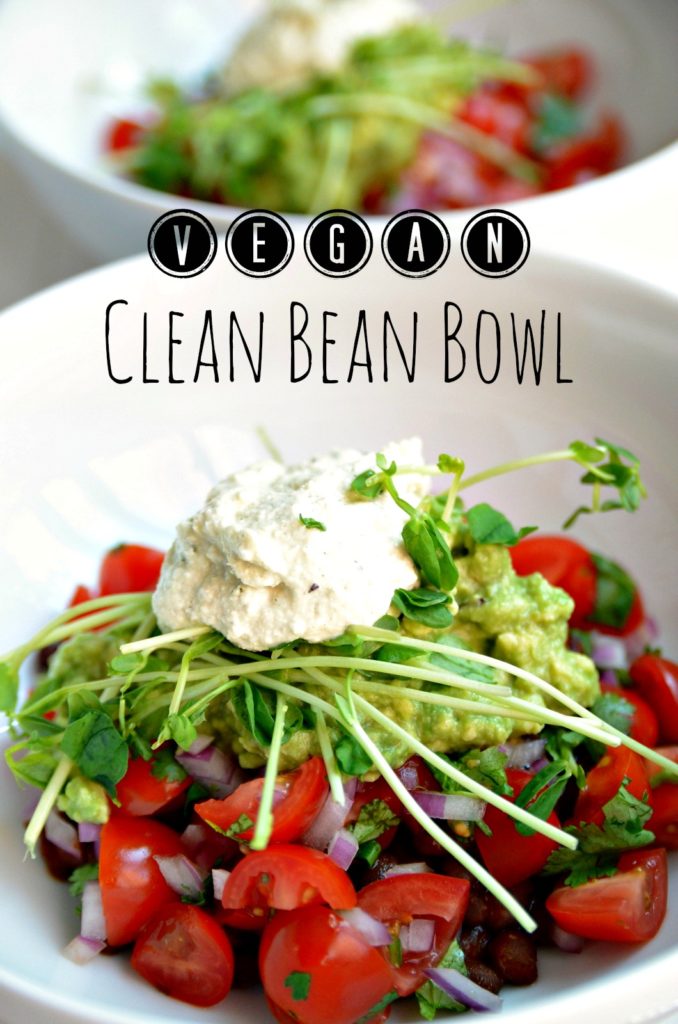 This bean bowl is clean, green, and ready to be devoured. Coming off last week's juice cleanse, I had some serious veggie cravings. Really, any food that I could chew sounded appealing but I couldn't stop thinking about tomatoes, guacamole, and black beans. Call me crazy.
This clean bean bowl keeps everything simple. A short list of ingredients, a handful of minutes in the kitchen, and a couple of bowls is all you'll need. Black beans are simmered with a few spices and topped with fresh cherry tomato pico de gallo, lime-splashed smashed avocado, pea shoots, and a zesty cashew cream. Everything comes together in a magical sort of way to make one healthy, filling, and flavorful meal. Serve alongside some tortilla chips and you have this salad + dip combo that can't be beat. Yet another example of why keeping things simple can yield some major benefits.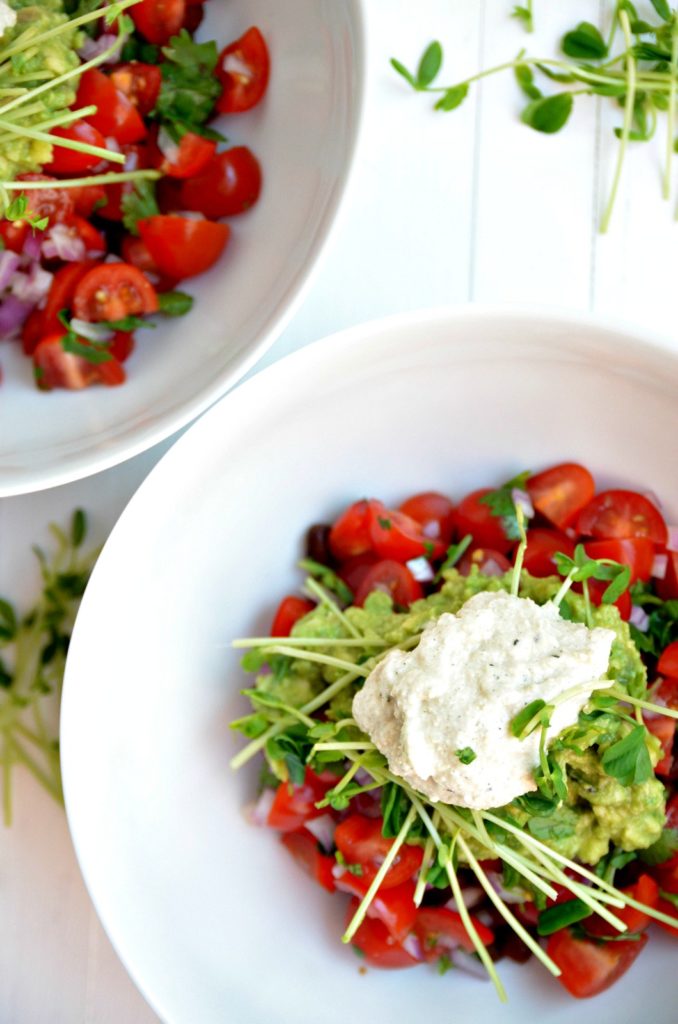 Vegan Clean Bean Bowl
Spiced warm black beans are topped with cherry tomato pico de gallo, a simple guacamole, pea shoots, and a zesty cashew cream.
Ingredients
½ cup raw cashews
warm water
2 tablespoons hemp seeds
1 tablespoon nutritional yeast
¼ cup plain almond milk
2 limes
1 heaping cup grape tomatoes, quartered
¼ small red onion, finely diced
2 tablespoons fresh cilantro, chopped
1 avocado
cayenne pepper
1 can black beans, drained and rinsed
½ teaspoon chili powder
½ teaspoon cumin
½ teaspoon smoked paprika
½ cup pea shoots or micro greens
salt and pepper
tortilla chips (optional)
Instructions
Begin making the cashew cream by soaking the cashews in warm water for 1-2 hours.
After soaking, drain the cashew water. Add cashews, hemp seeds, nutritional yeast, almond milk, juice of 1 lime, and salt/pepper (to taste) to food processor. Process on high for 3-4 minutes or until a cream has formed from the cashew mixture. Add in more almond milk if necessary.
Add the quartered cherry tomatoes, diced red onion, and chopped cilantro to a bowl. Season with salt, to taste, and refrigerate until ready to use.
Halve the avocado and scoop the flesh into a small bowl. Add in the juice from the other lime and smash with a fork. Season with salt and a dash of cayenne pepper.
In a small sauce pan, heat the black beans, chili powder, cumin, and paprika over medium-low heat for 4-5 minutes or until warm.
In two medium-size serving bowls, layer the black beans and top with pico de gallo, guacamole, a handful of pea shoots, and a dollop of cashew cream. Serve alongside tortilla chips and enjoy.