Happiest of Fridays to you! A busy week calls for simple and delicious food, and that's just what these little black bean balls are. Black beans, chia seeds, oat flour, and a whole lot of spices are tossed into a food processor and processed into a thick mixture. Red onion, garlic, cilantro, lime juice, and oats are then folded in, and the mixture is rolled into balls and baked.  These balls are so tasty (release your giggles because there's really no better or more appropriate way to describe this dish), but the avocado-cilantro cream will melt your heart. It's so incredibly flavorful and delicious. It also holds its bright green color for a couple of days thanks to all of the fresh lime juice. I mean, who wants a big smear of brown avocado-cilantro cream? Not I. I love this recipe because it's super simple and also very versatile. You can enjoy the black bean balls dressed simply on a plate, nestled into pita bread with the avocado cream and other veggies, or even tossed on top of a salad to add an extra boost of fiber and protein. The options are limitless and lovely. I hope you all have a beautiful weekend!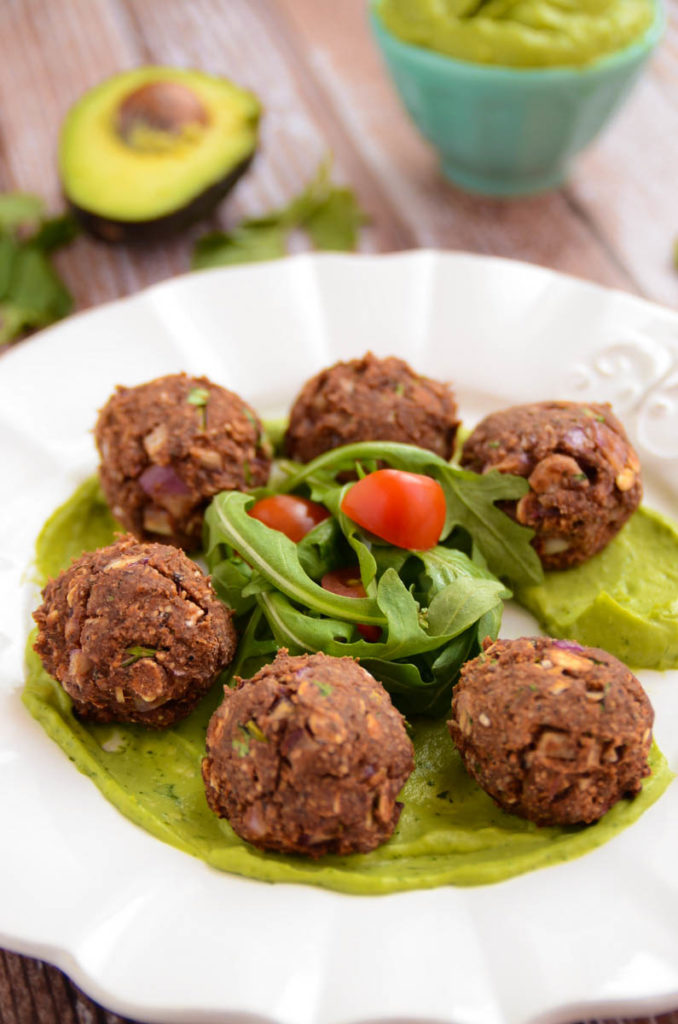 Black Bean Balls + Avocado-Cilantro Cream
Ingredients
1 15-ounce can black beans, drained and rinsed
2 tablespoons chia seeds
1/2 cup + 2 tablespoons water
1 to 1 1/2 cups oat flour*
1 teaspoon chili powder
1 teaspoon coriander
1 teaspoon smoked paprika
1 teaspoon sea salt
dash cayenne pepper
1 garlic clove, finely minced
1/2 red onion, finely diced
1/4 cup chopped cilantro
1/4 cup fresh lime juice
1/2 cup rolled oats
cooking spray
2 avocados
1/2 cup loosely packed cilantro
1/4 cup lime juice
1/2 teaspoon sea salt
Instructions
Preheat oven to 350 degrees Fahrenheit.
Add the black beans, chia seeds, water, 1 1/4 cups oat flour, chili powder, coriander, paprika, salt, and cayenne to a food processor. Process until a thick paste forms. Transfer mixture to a large mixing bowl. Stir in additional 1/4 cup oat flour if needed.
Stir in the garlic, red onion, cilantro, oats, and lime juice.
Line a baking sheet with parchment paper. Spray your hands with cooking spray (so that the mixture doesn't become a sticky mess on your hands) and begin rolling the mixture into balls, 2 tablespoons at a time. Drop each ball on baking sheet and repeat. You may need to re-spray your hands with cooking spray throughout the rolling process. You should have 20 to 25 black bean balls when you're finished.
Bake the black bean balls for 20-25 minutes or until just barely turning golden.
While the black bean balls are cooking, make the avocado-cilantro cream by adding the avocados, cilantro, lime juice, and sea salt to a food processor. Process for 2-3 minutes or until completely smooth. The consistency will be similar to mayonnaise.
Serve the black beans balls over a smear of the avocado cream or dollop it on top.
Notes
* The amount of oat flour you need will depend on whether you're using store-bought or homemade. Store-bought tends to be finer and will soak up more moisture, whereas homemade is a bit coarser and absorbs less moisture. If you're using store-bought, use less flour (1 cup to 1 1/4 cups), if you're using homemade, use more flour (1 1/4 cups to 1 1/2 cups).