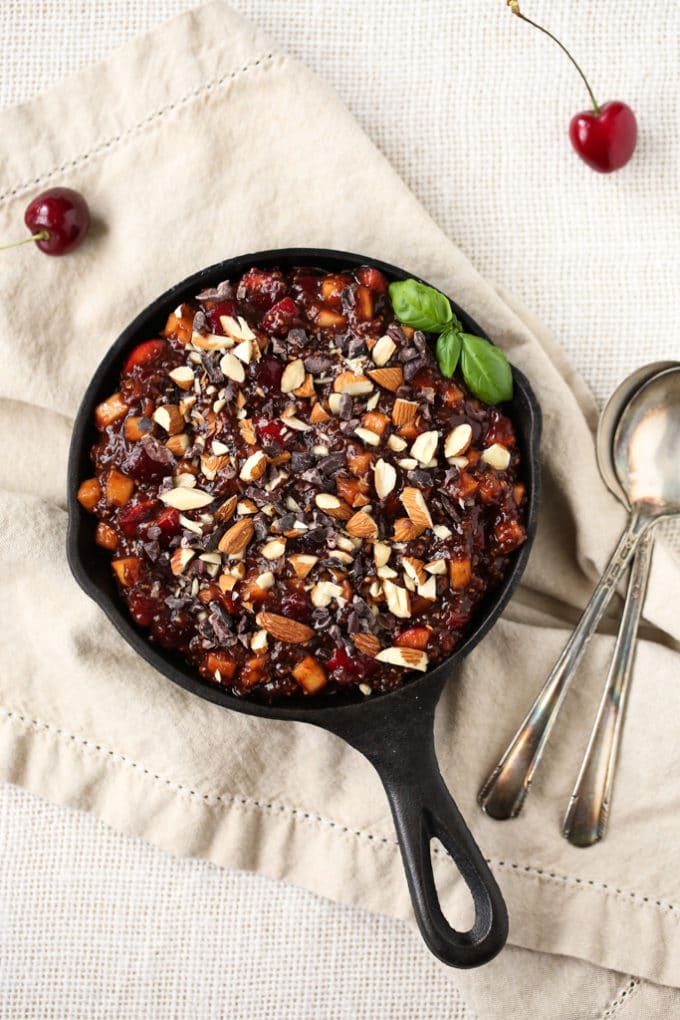 Today is a pretty special day around here. Today, July 8, 2015 marks my 5-year blogging anniversary. FIVE years. I can hardly wrap my head around that number. Over the past 5 years, Blissful Basil has seen...
377 published posts.
3 different blogging platforms -- thank you blog.com, wordpress.com, and wordpress.org for your hospitality.
5 full stylistic makeovers. Remember version 4.0? I so wish I had saved screenshots of versions 1.0, 2.0, and 3.0. Version 2.0 was the Hottest Mess of them all. Capital H, capital M.
Nearly 5,000 thoughtful, kind, and courageous comments.
2 major lifestyle shifts (i.e., from omnivore to pesco-vegetarian/vegetarian -- just 3 weeks into the birth of this blog, I might add -- to vegan).
1 major name change. A big thanks to Dan for 1) keeping it real and telling me (quite bluntly) that "Confessions of a Foodie" was a bit cliché and played out and 2) for thinking of the name Blissful Basil one night back in September of 2010.
The evolution of my food photography skills and cameras from Blackberry camera shots to night-time kitchen shots to what in the H is this to my first time using a DSLR to the depths of my "Blue Period" Exhibit A and Exhibit B (those plates are supposed to be white) to over-edited and overexposed.
An engagement.
Our wedding day.
A honeymoon and a bit more honeymoon (sorry for the slow picture loading -- I didn't know about that whole "optimized for web" photo editing thing back then).
My 27th, 28th, 29th, 30th, and 31st birthdays.
A rant about Chicago's winters and one about Special K and body image. Oh, and another one about how I don't didn't like to bake (another good example of my "blue period").
Two trips to Ireland.
The loss of a furry friend.
A skiing adventure or two.
My near-constant pursuit of releasing my fears, accepting life changes, and stepping outside my comfort zone.
The story of that time I lost my shoe on a job interview.
A cookbook dream come true.
And it all started with this nerdy little post (please don't judge me for the overdone whimsy) written from the comforts of the couch in our first shared city condo. I had no intentions of sharing it or this blog thing I had started with anyone. Ever. It's crazy to think that the seemingly tiny (and terrifying) decision to hit "publish" was actually the first step in an impactful, life-changing path.
What started out as a blog has become so much more: a life journal, a constant companion, and a place to share everything from creativity and life adventures to love and loss. Thank you to those who have read all along, to those who joined along the way, and to those who are reading for the very first time. I get emotional every time I think about all of the beautiful, kind, and enthusiastic people I've interacted with and met because of this blog that I never would have met otherwise. It's your kindness and willingness to share bits and pieces of your life that make this such a special place, and I'm so grateful for each of you.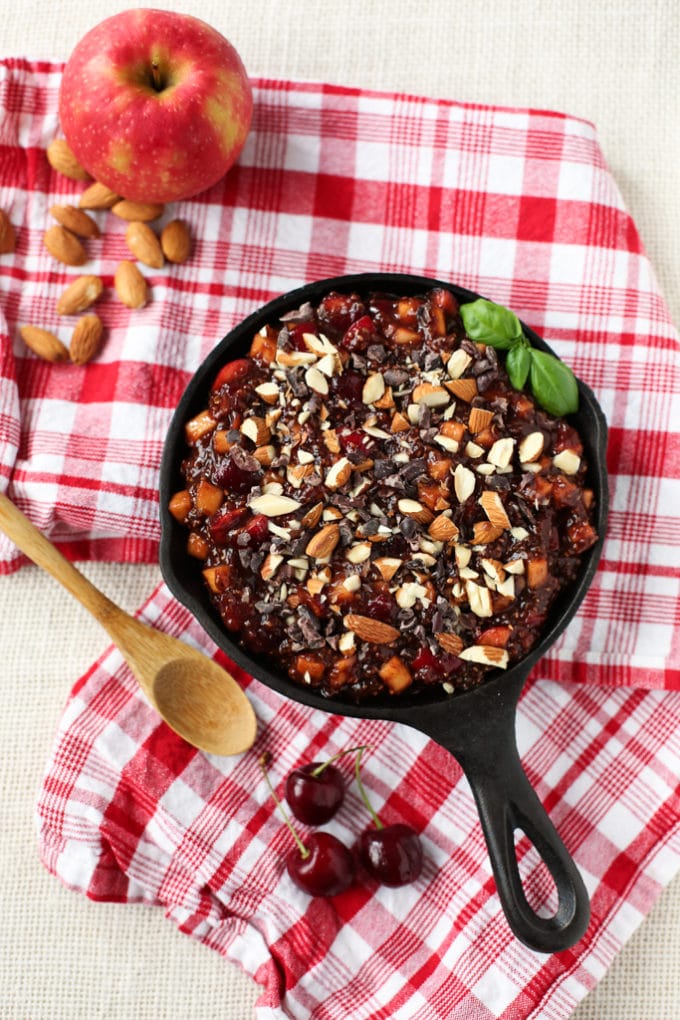 Alright, are you ready for a little celebratory breakfast pie?
This breakfast bowl is a cherry twist on the apple version I posted last fall. That one is a personal favorite as well as a reader favorite, so it only made sense to offer up a summer-kissed version to celebrate.
Upfront and honest note about this breakfast bowl: pitting the cherries takes about 15 minutes if you're doing it by hand but would be a bit swifter with a cherry pitter, so I recommend using one if you can. If you don't have one, don't fret; I pitted these ruby beauties by hand because I don't have one either. BUT your hands will be cleaner and your prep time shorter if you have a pitter. You can also use pitted frozen cherries (just make sure they're thawed first) for this recipe if you can't find fresh cherries or don't want to go through the trouble of pitting.
Once you get past the cherry-pitting, this nutritious breakfast bowl is a breeze to make. You'll add some of the chopped cherries to a bowl along with a finely-diced apple. Then, you'll toss the remaining cherries and a handful of dates into a food processor and blend until you have a smooth, glossy, and sweet cherry sauce. Pour the cherry sauce over the diced cherries and apples, stir in two tablespoons of chia seeds, and refrigerate for 1 hour or more (I like to make this the night before). The chill time allows the chia seeds to work their magic and thicken the sauce.
Then, divide the cherry-apple pie goodness between two bowls or jars and layer on the toppings. For the photos, I used chopped raw almonds and cacao nibs, but I ended up adding a few dried mulberries and a sprinkling of hemp seeds over top prior to devouring.
Cheers to 5 years of blogging, YOU, and cherry-apple pie for breakfast.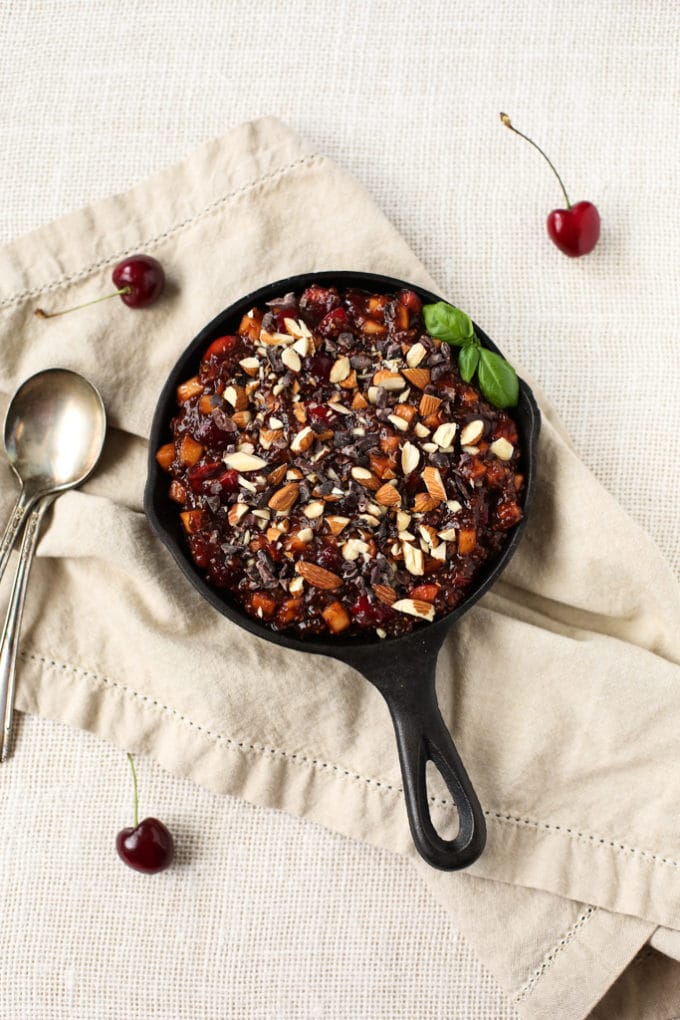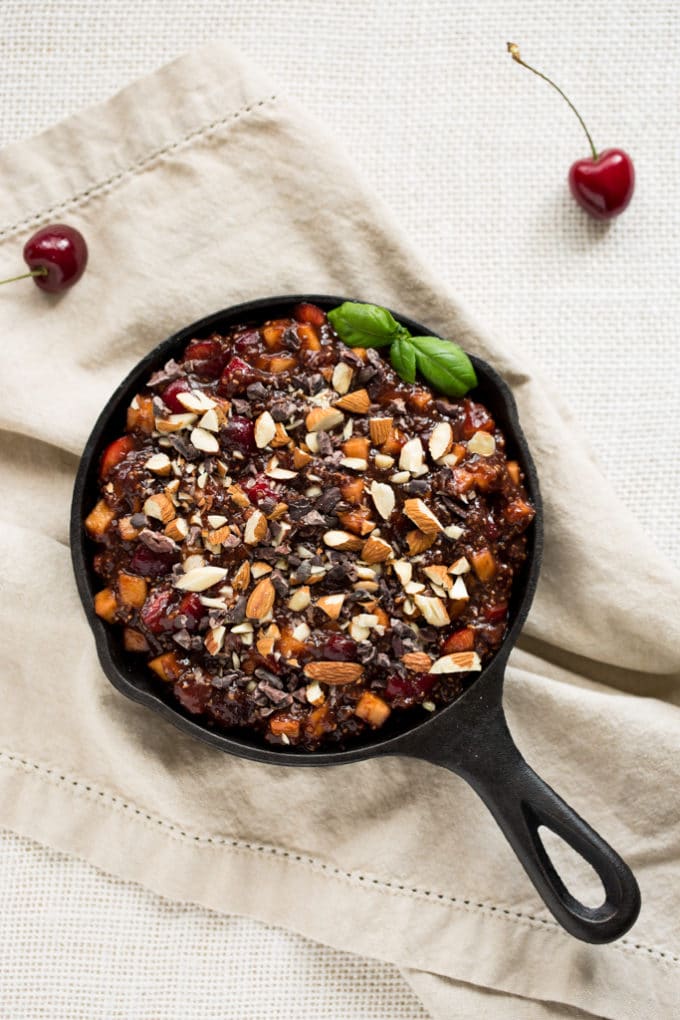 📖 Recipe
Raw Cherry-Apple Pie Breakfast Bowl
Diced sweet cherries and crisp apples are tossed in a naturally-sweetened sauce made from cherries, dates, and chia seeds. The mixture is chilled for a quick hour or more to thicken
Ingredients
3

cups

fresh or thawed frozen sweet cherries, pitted and divided

1

large crisp apple, cored, peeled, and diced

4

dates, pitted

2

tablespoons

chia seeds
Topping Ideas
raw almonds

dried mulberries

hemp seeds

cacao nibs
Instructions
Dice 1 cup of the cherries and add them to a medium airtight container along with the diced apple.

In a high-speed blender, combine the remaining 2 cups of sweet cherries and the dates. Process or blend for 1 to 2 minutes or until smooth, stopping to scrape down the sides as needed. Pour the cherry sauce into the container with the diced cherries and apple, add the chia seeds, and stir to combine.

Refrigerate for at least 1 hour or overnight.

Divide the apple mixture between two bowls and top with raw walnuts, raisins, cranberries, and hemp seeds.

Serve and enjoy.

Refrigerate leftovers.