These morning mango chia pudding cups are made with a base of sweet, ginger-kissed mango purée. They're light, sweet, and refreshing. I recommend topping them with fresh berries, but feel free to get creative. Coconut flakes, nuts and seeds, even a bit of nut butter would all make excellent additions!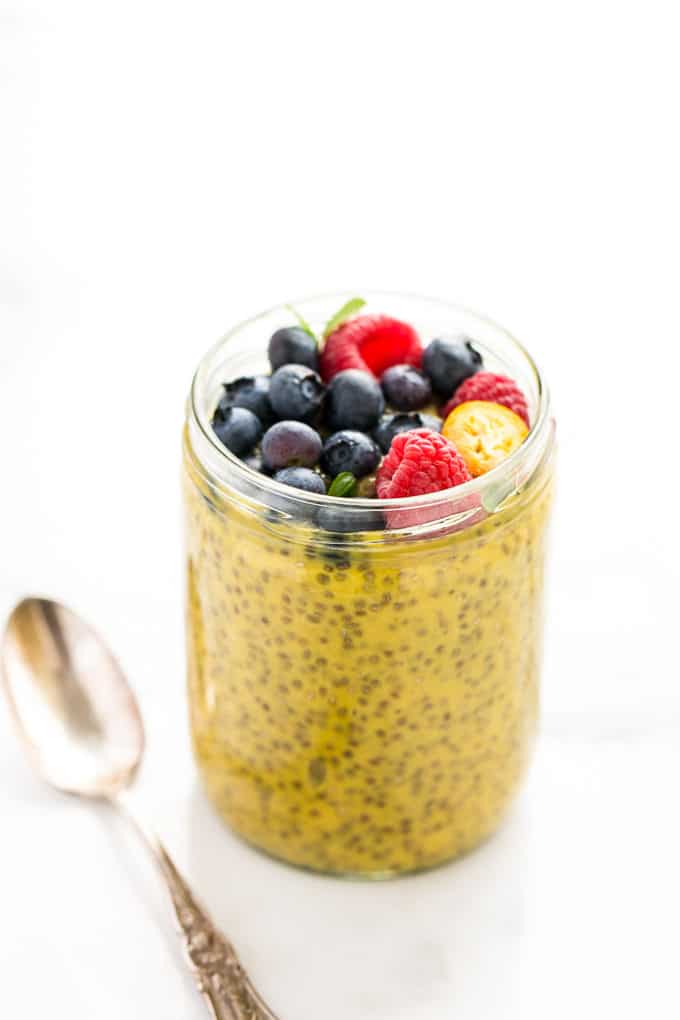 I've been thinking about love a lot lately. Not only because we're on the heels of Valentine's Day -- although that seems like the most obvious reason -- but because too often there seems to be an absence of love at moments when there is a desperate need for it. I promise I'll get to the recipe in a quick minute, but if you're not feeling my vibe (nothing wrong with that), scroll on past the next photo, and you'll be embraced by a chia-flecked sea of puréed mango.
At our fingertips, we have a seemingly limitless supply of efficient, snazzy, and enticing tools to connect with one another, be it through social media, email, blogs, etc. The optimist in me believes that these tools are predominantly used to foster positive interactions, breaking down barriers and making each of us more accessible to one another and the opportunity to build meaningful connections. But with increasing accessibility to one another's lives, there comes increasing responsibility. Responsibility to respect, care for, and support each other to the extent that we would if we were facing each other in person. To be careful with our words. And to be as gentle with the hearts of others as we would be with our own. In a world that is so incredibly starved for love, we've got to stop attempting to fill the void with hate.
To clarify, this has very little to do with experiences that have directly affected me (and I'm grateful for that) and more to do with what I've been observing from a safe distance on social media. And as silly as this is going to sound (and as embarrassed as I am to admit), it was The Bachelor, of all things, that pushed me over the edge. Without going into the nitty-gritty details, here's a quick summary: In last Monday's episode there was a girl on the show who was feeling less than stellar about herself and her fizzling relationship with Ben (the bachelor). So, in an attempt to make herself look better, she made up a few un-truths about another girl's character. Less than savory behavior for sure and the wrong way to mend a wound in one's self-confidence.
BUT as mad, annoyed, disappointed, etc. as I felt while I observed this person's behavior through an edited lens from afar, there was another part of me that felt for her. Not in a pitying way but in an empathic way. Because bad choices stem from bad feelings, and often those bad feelings spring from the discontent we direct inwards. And even though I don't understand why this person did what she did, I don't believe that bad choices define an entire person. If I believed that, then I guess I'd have to classify myself as a "bad" person (as would 99.99% of us).
After all that TV drama unfolded, I looked at this person's Instagram account. I'll admit: just the fact that I was curious enough to look implicates me in the drama as a bystander, and that's not the kind of person I want to be nor was it pure, love-filled behavior on my part. But my goodness was it horrific. The comments people wrote on this person's posts were hate-filled, judgmental, and cruel to the point that I felt physically nauseous after reading only a few.
The whole experience got me thinking about technology, connection, disconnection, love, courage, the list goes on. Social media platforms like Instagram have become a breeding ground for contradictory experiences: from beautiful connections to self-loathing comparison, from inspiration/opportunity to hate-fueled judgment. But we've got to work harder at loving one another. In person and through these crazy tangled social media webs. And I'm saying this to myself as much as I am anyone else.
We have access to millions of strangers and we have an internet façade that squashes our inhibition, sometimes for good and sometimes for bad. It's become easier than ever to unleash our discontentment onto others, dissecting their lives in an effort to escape our own. On the other hand, it's become even more difficult to pause with our discontentment long enough to acknowledge that both its root and its cure resides within us. Knocking down others with our own anger and hate might feel like a shortcut to peace in the moment, but shortcuts in life are nothing more than efficient paths to nowhere. It's the long route that leads to joy, peace, and any place worth traveling. And I'm pretty sure the currency on the long route is love, both for ourselves and for others.
This week, I'm working to pause during moments of frustration and anger (well hello there, Chicago traffic) in order to afford more space, time, and energy for love to persist and to pass that love onto others in small, yet meaningful ways. Because the world needs more love, no matter how big or small. If you want to join in, feel free to reach out. I'd love (seriously, I would) to hear from you.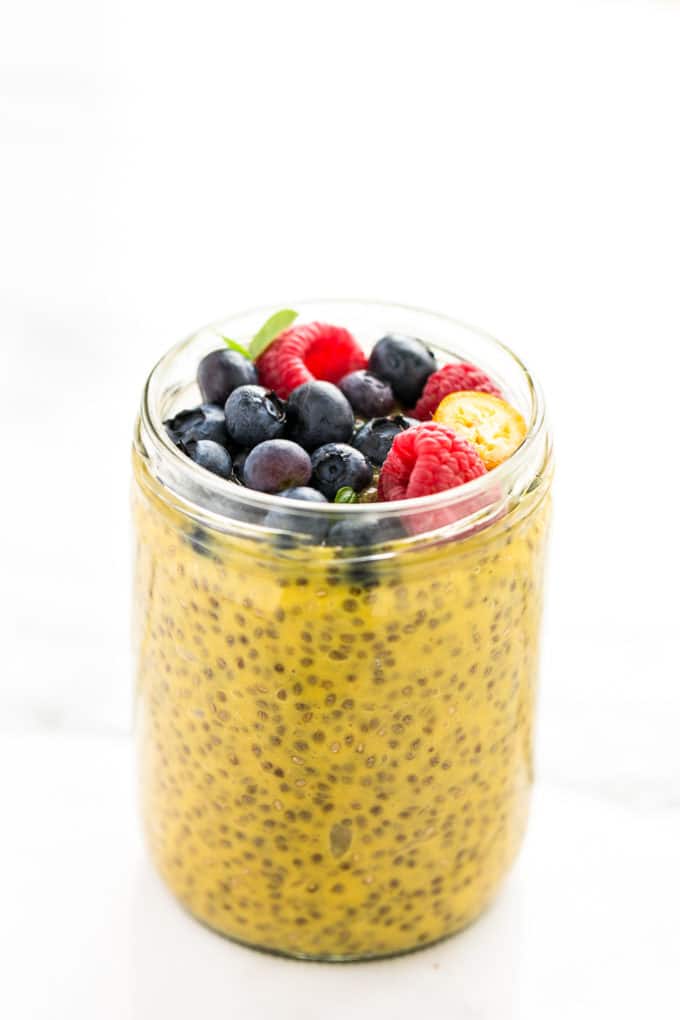 Okay, now as promised: an ocean of vibrant mango chia pudding. And outfitted in berries and kumquats to boot. I hope it was worth the wait!
This chia pudding is an updated twist on this layered variation. Rather than nestling layers of mango purée in between layers of chia pudding, the mango purée becomes the chia pudding. Plus, it's sweetened with medjool dates and warmed up with a bit of fresh ginger.
To make it, you'll gather your ingredients (note: I forgot to include fresh ginger in the photo).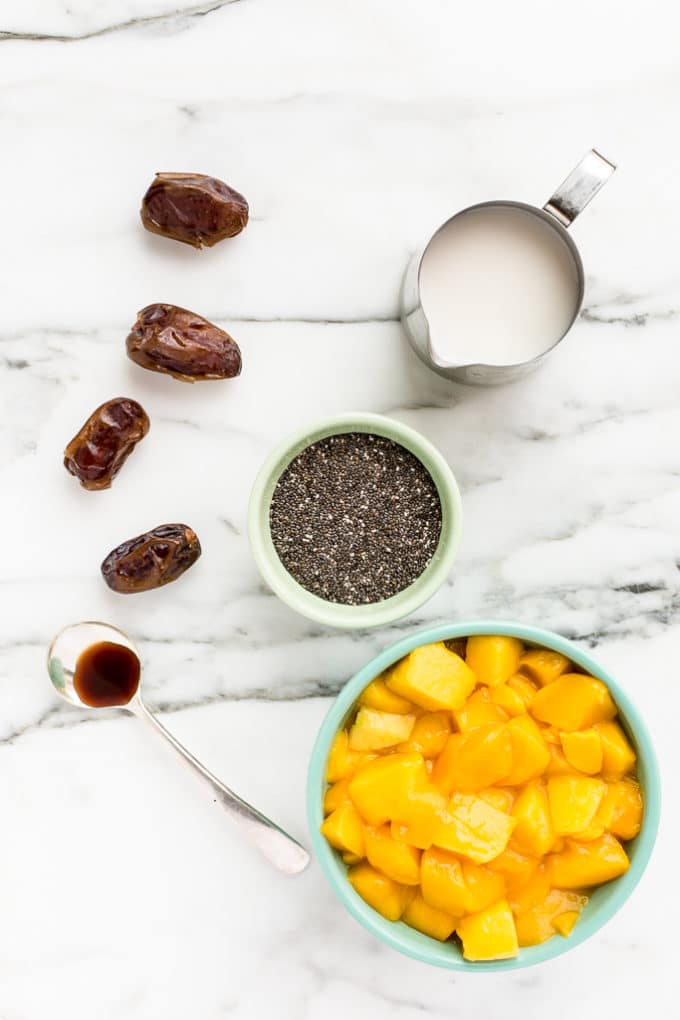 Then, you'll add the mango, unsweetened plant-based milk, dates, ginger, and vanilla to a blender, and blend on high until smooth. The purée will be thick, sweet, and smoothie-like. Pour that goodness into a container, and whisk in the chia seeds. Refrigerate for at least 8 hours or overnight to thicken.
If you're new to chia pudding, here's how this works: chia seeds expand and become almost gelatinous when soaked in liquid. This allows them to thicken liquids, transforming them into delectable puddings. Plus, their gelatinous properties work some serious detoxifying magic within our bodies, binding to toxins that have long inhabited our digestive tract and politely escorting them out.
Once the chia pudding has set, you have the option of whisking in a bit of fresh lime juice. This helps brighten and pop the flavors and livens everything up a bit. Then, divide the chia pudding between cups, jars, bowls, or glasses, and top with fresh blueberries and raspberries. Feel free to add sliced kumquats, fresh mint, or any fruit your heart desires. This is your chia pudding experience; I'm just gently guiding it along the way.
Using puréed mango as the base offers this pudding a silky, almost velvety texture. I love the way the brightness of the mango plays off the warmth of the fresh ginger and sweetness of the vanilla. And with all those fresh berries, what's not to love?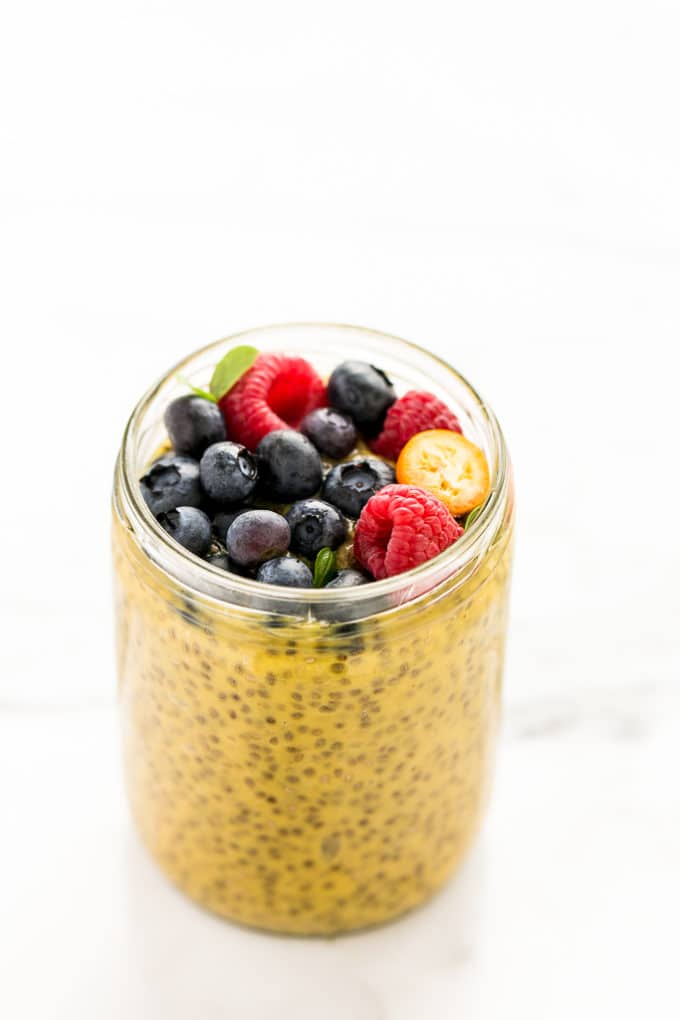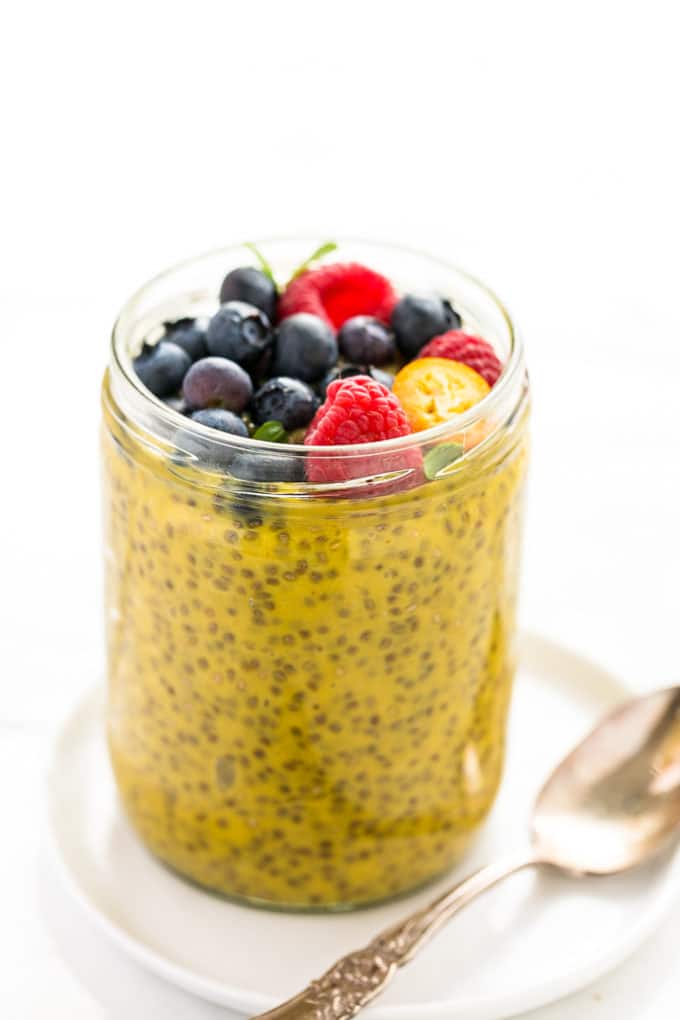 📖 Recipe
Morning Mango Chia Pudding Cups
This chia pudding is made with a base of sweet, ginger-kissed mango purée. It's light, sweet, and refreshing. I recommend topping it with fresh berries, but feel free to get creative. Coconut flakes, nuts and seeds, even a bit of nut butter would all make excellent additions!
Ingredients
Mango Chia Pudding
2 ½

cups

diced mango (fresh or thawed frozen)

1

to 1 ½ cups unsweetened plant-based milk, to taste

2-4

medjool dates, pitted, to taste

2

teaspoons

peeled and minced fresh ginger

1

teaspoon

pure vanilla extract

⅓

cup

chia seeds

1

tablespoon

fresh lime juice (optional, to brighten flavors)
Toppings
Fresh blueberries

Fresh raspberries

Sliced kumquats

(optional)

Fresh mint or basil leaves

(optional)
Instructions
Add the mango, plant-based milk, dates, ginger, and vanilla (if using) to a high-speed blender, and blend on high until smooth and creamy, stopping to scrape down the sides as needed. Pour into an airtight container or jar and whisk in the chia seeds. Refrigerate for at least 8 hours or overnight to thicken.

After refrigerating, add the fresh lime juice (if using), and vigorously whisk the chia pudding to evenly distribute the chia seeds. The lime juice brightens up the flavors and makes the mango flavor pop. If the pudding is too thin, whisk in more chia seeds, 1 tablespoon at a time, to thicken. If the pudding is too thick, whisk in more almond milk, 1 tablespoon at a time, to thin.

Divide between 4 jars or serving glasses. When ready to serve, top with the blueberries, raspberries, sliced kumquats (if using), and mint (if using).