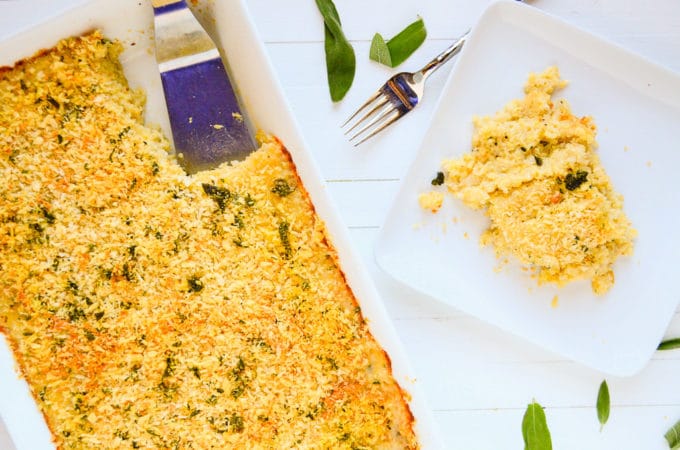 How many of you consider Mac + Cheese to be one of your favorite foods? It's certainly within my top 5 favorites, and I guilt-lessly indulge in moderation on a fairly regular basis.
Speaking of guilt as it relates to food, let's all work on making food and guilt mutually exclusive. In fact, let's all work to feel less guilty, in general, and more self-compassionate, overall. Can we do it? I know we can.
Having a healthy relationship with food and your body means being mindful of the signals your body is sending you and thoughtfully fueling or not fueling in response. By thoughtfully fueling, I mean making sure you balance what you need with what you're craving: fruits, veggies, healthy fats, whole grains, protein and, yes, treats! Be it chocolate, chips, cheese or cake, mindfully indulging will round out a healthy perspective on food. When we deprive ourselves of indulging in moderation and get caught up in black-and-white thinking about food -- this is good, that is bad, I can eat this, I can't eat that -- we end up obsessing about the things on our bad, can't-eat list and turn something that is supposed to be satisfying into something that produces anxiety. This, in turn, can cause us to develop an overly-emotional relationship with food where we are either thinking way too much about it or not thinking about it at all; both of which distort our mind-body connection and put us out of touch with the reality of what our bodies are trying to communicate.
Alright, let's lighten the tone again. Bottom line, food and guilt are mutually exclusive and mac + cheese is awesome.
What's even better than mac + cheese? Quinoa smothered in gruyère, white cheddar, and crispy sage breadcrumbs. Oh. Em. Freakin. Gee. This is a new favorite. You should also know that my ultimate taste tester and likely my #1 fan, Dan, declared it his favorite thing I have ever made. Ever?! These are humbling words coming from the man who has taste buds so sensitive he once detected that I reduced the salt in a recipe by ⅛ of a teaspoon. So, if you don't trust my likely-biased judgment, trust my husband's because he's quite the critic.
This quinoa + cheese holds up nicely and can be easily sliced into squares, yet still manages to be ultimately tender upon first, second, third and, heck, every bite. The sage breadcrumbs add an extra dose of savory and allow the flavors of the cheeses to reach their full potential. This is a mac + cheese dish cozy enough for winter and light enough for spring; the perfect harmony of seasons cuddled up in one pan.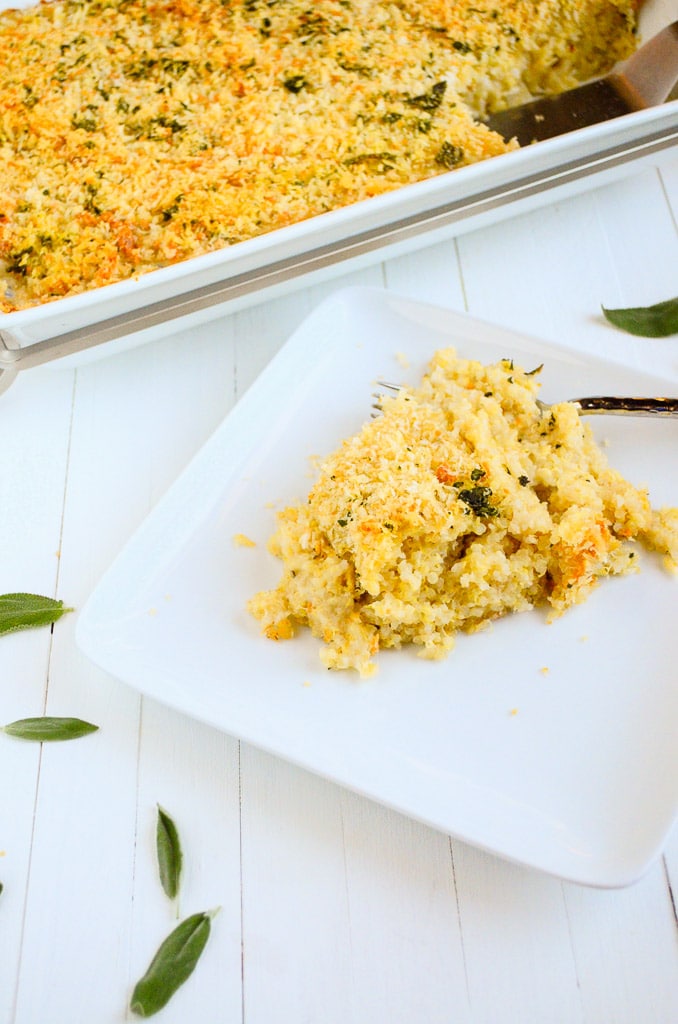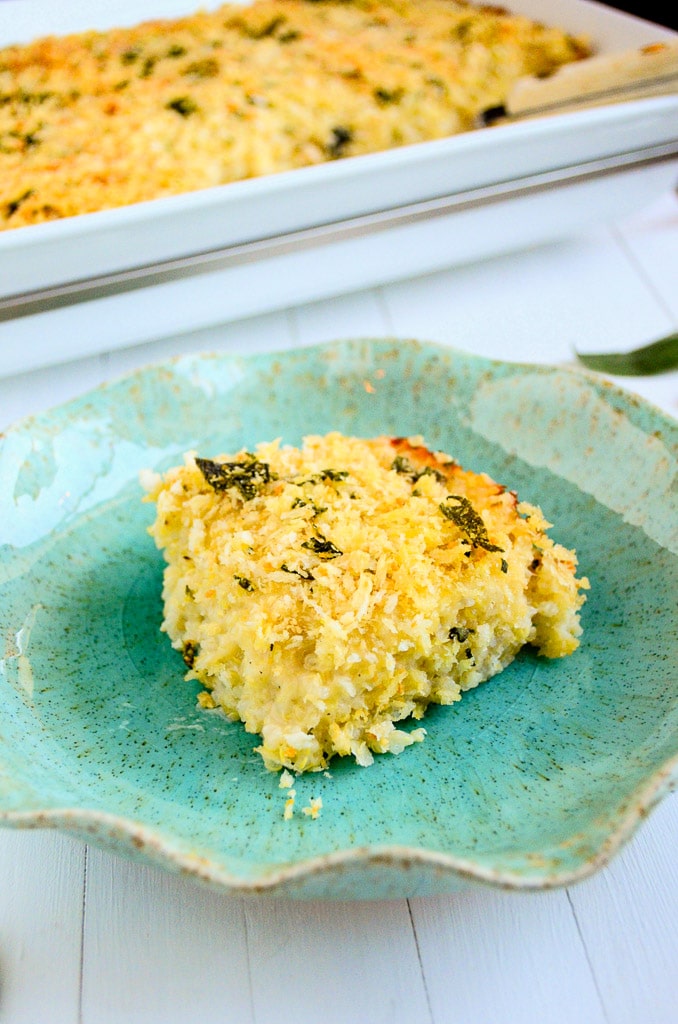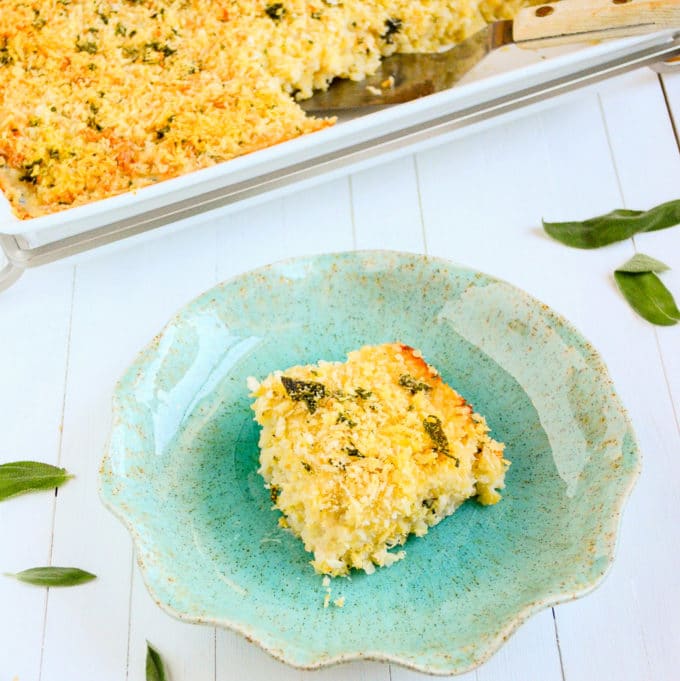 Quinoa Mac + Cheese
Author:
Ashley Melillo | Blissful Basil
Ingredients
For the Quinoa + Cheese:
2 cups dry quinoa, cooked according to package instructions
3 cups plain almond milk
3 tablespoons earth balance or butter
3 tablespoons flour
6 ounces gruyère cheese, grated*
10 ounces part-skim white cheddar cheese, grated*
2 teaspoons salt
black pepper
For the Sage-Breadcrumb Topping
2 tablespoons olive oil
1 cup panko breadcrumbs
⅓ cup parmesan cheese
¼ cup fresh sage, chopped
*See notes for vegan option
Instructions
Heat oven to 375° F.
Heat the milk in a sauce pan over medium high heat to simmer (do not boil).
Heat butter in a large nonstick pot over medium heat until melted. Add in the flour and whisk until smooth. Cook for 2 minutes. Then, slowly add in the hot milk. Remove pot from heat and begin whisking in the grated gruyère and cheddar. Continue to whisk until all cheese is incorporated and you have a thick, creamy sauce.
Fold the quinoa into the cheese sauce and pour mixture into a large, lightly greased baking dish.
To make the breadcrumb topping, heat the olive oil in a small nonstick skillet over medium heat. Add in the sage and cook for 1 minute or until fragrant. Add in the breadcrumbs and cook for another minute or until toasted. Remove from heat, swiftly stir in the parmesan and spread the breadcrumb mixture over the mac + cheese.
Bake for 35 minutes or until breadcrumbs are golden and cheese is bubbling. Let stand 10 minutes and serve. Leftovers can be stored in fridge or frozen.
Notes
*To make vegan, substitute a mixture of meltable vegan cheddar and mozzarella cheeses for the quinoa (e.g., Daiya) and a vegan parmesan cheese for the topping.