Chicago style pizza is most certainly a muse for pizza creators across the world. A thick crust hugs an even thicker layer of gooey cheese, and a healthy slathering of chunky tomato sauce brings balance to a pizza that can otherwise lose its harmony amidst all that richness.
If you ask Chicagoans what their favorite deep dish pizza place is, they will always have an answer for you. Names that often top the list of fan favorites include, but are certainly not limited to, Gino's, Lou Malnati's, Giordano's, Pequod's, The Art of Pizza, Paesano's, Pizzeria Due, etc. Being a Chicago-area native, my deep dish pizza taste buds were formed under the direction of my parents; I was a Gino's girl who sometimes traversed into Lou Malnati's territory. While I've extended my affinity to many of the other names on that list over the last several years, I'm still a Gino's lover at heart.
Over the summer I received not one but two requests from readers asking if I could make a healthier version of the Chicago classic: deep dish pizza. Coincidentally, I had been thinking about doing a Chicago style pizza recipe right around that time, so the reader emails gave me just the inspiration and push I needed to make this one a reality (thank you, readers!).
The secret to making this deep dish pizza light and healthy is 1| the use of cauliflower instead of flour in the crust and 2| the use of lite mozzarella cheese instead of full-fat cheese. I also added spinach to up the nutrients and heart-healthy factor but you could easily add other veggies or veg-friendly pepperoni, sausage, etc. If you're on Pinterest, you've likely seen cauliflower crust pizzas strewn about and pinned by the dozen. I was definitely skeptical at first, but I'm so impressed by how this crust came to life with the right amount of seasonings. This pizza is right on par with my favorite deep dish pizza in terms of flavor but it's so light that I feel energized after eating it rather than sluggish and stuffed.
And for those of you who are wondering, it was rated a 10 by Dan which is crazy news over here at the Melillo household because he's quite the critic. He'll often say something I cook is "AMAZING" or "MMMMMMM! This is awesome!" and then when I ask for a rating he says, "Probably an 8." Put a fork in it, we've reached 10 status.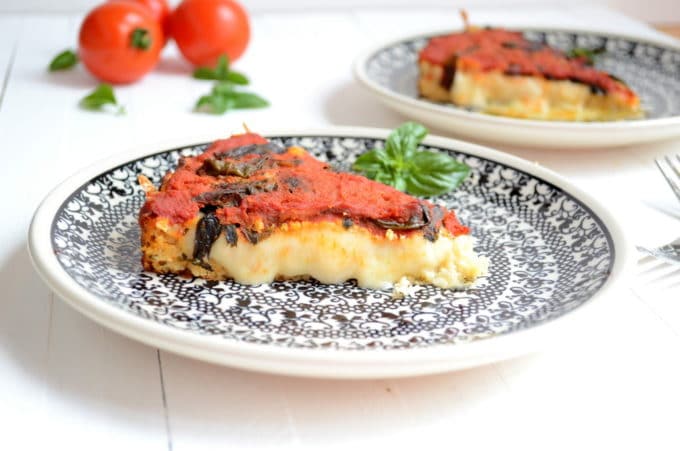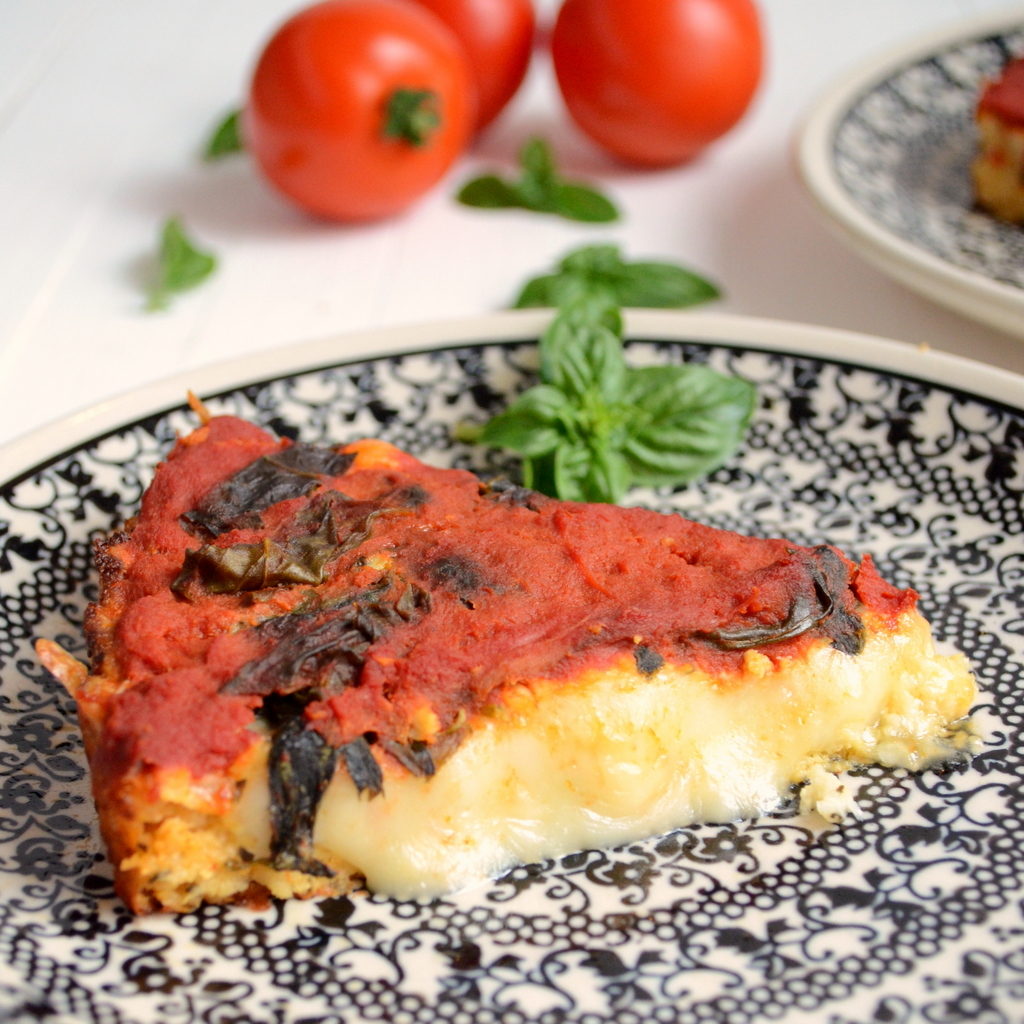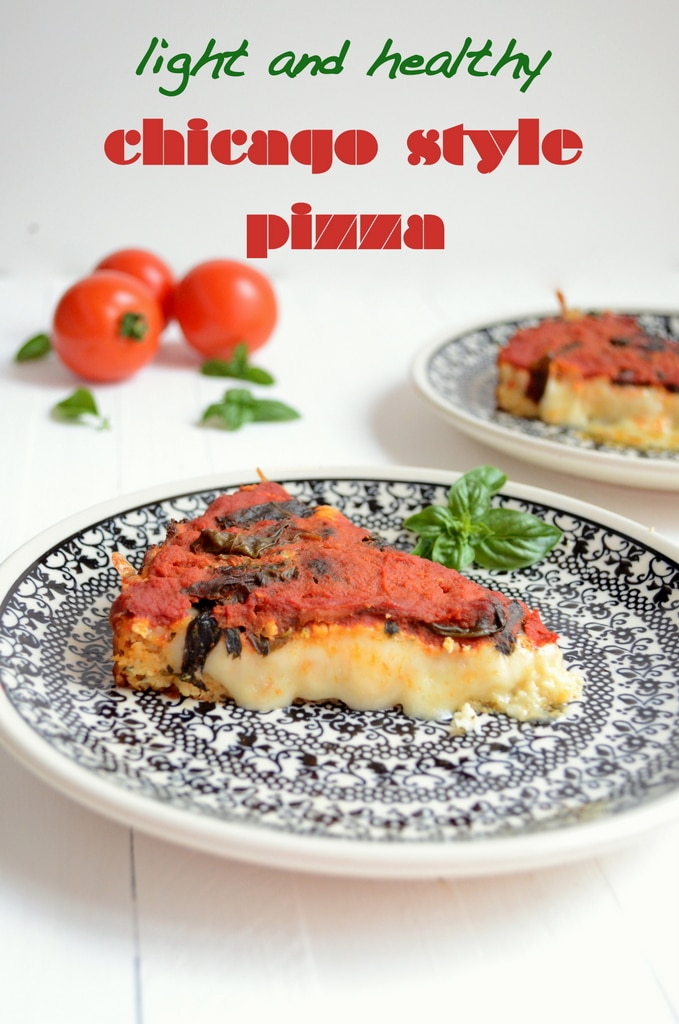 Light + Healthy Chicago Style Pizza with Cauliflower Crust
A Chicago favorite gets a light and healthy twist with the addition of cauliflower crust and lite mozzarella cheese.
Ingredients
1 tablespoon olive oil
1 medium yellow onion, peeled and cut in half
1 32-ounce can San Marzano tomatoes
10-15 basil whole basil leaves
1 small head cauliflower, cleaned, trimmed and cut into florets
3 ½ cups lite mozzarella cheese (I used Trader Joe's brand)
2 eggs, whisked
1 teaspoon dried basil
½ teaspoon garlic powder
⅛ teaspoon crushed red pepper flakes
5 cups baby spinach
salt
Instructions
Preheat oven to 400 degrees.
Pulse the San Marzano tomatoes in a blender or food processor until chopped and chunky.
Heat olive oil in a large pot over medium heat. Add the halved onion to the pot and cook for 2-3 minutes. Pour in the tomato sauce and toss in the basil leaves. Bring to a boil over medium-high heat. Reduce heat and simmer for 25 minutes or until sauce has thickened. Use a slotted spoon to scoop out the yellow onion and basil leaves and discard them.
Rice the cauliflower by adding to a food processor and pulsing 10-15 times. You can also grate the cauliflower florets with a grater (this will just take longer).
Cook the cauliflower in the microwave for 4-5 minutes on high. Let cook and squeeze excess water from the cauliflower by pressing between paper towels.
Add cauliflower to a large bowl. Add in eggs, 1 ½ cups mozzarella cheese, dried basil, garlic powder, and red pepper flakes and stir to combine.
Pour cauliflower batter into a well-greased spring-foam pan (I used a spring-foam tart pan). Use the back of a spoon to press and smooth the crust into the pan, being sure to push the crust up the sides of the pan to form edges.
Bake for 30 minutes or until golden brown and set. Remove from oven.
While the crust bakes, wilt the baby spinach in a pan over medium heat with a little bit of salt.
Top the crust with 2 cups mozzarella cheese, spinach, and sauce (add as much sauce as desired).
Bake for another 15 minutes or until cheese is melted and bubbling.
Let stand 5-10 minutes before slicing.
Slice, serve and enjoy!