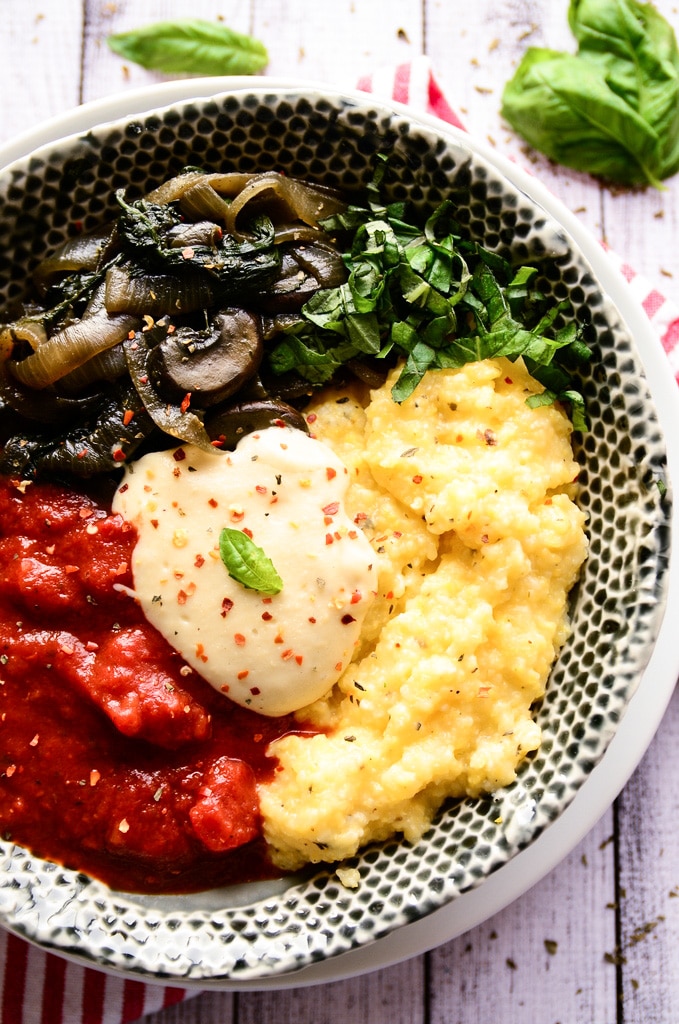 I'm all about comfy, cozy power bowls. They warm the soul and offer a wide range of flavors, colors, and textures that serve as the perfect distraction for those ever-changing cravings that scamper in alongside the cold weather. Pesky little things, aren't they?
The idea behind this power bowl is pretty straight forward: take a delicious meal, parse out each element, give everything a healthy twist, and nestle it all within a snazzy bowl. The tastiest thing I can think of on any given day is usually... PIZZA! So this La Vita è Bella Pizza Power Bowl is a deconstructed, veganized version of everyone's Italian love.
The Crust | My childhood favorite pizza was deep dish from Gino's East (to my fellow Chicagoans, Lou's was always a close second). A thick layer of gooey mozzarella was nestled on top of a cornmeal crust and slathered with a simple tomato sauce. Something about that cornmeal crust got me every time. So the "crust" in this bowl is creamy polenta with garlic, oregano, basil, and olive oil.
The Toppings | I've always been partial to loads of veggies liberally strewn about a cheese-laden slice of 'za. My go-to choices are mushrooms and spinach, so the "toppings" in this bowl are sautéed mushrooms, spinach, and yellow onion (for an added flavor kick).
The Sauce | I love lots and lots of sauce on both pizza and pasta, and it's probably because I have what some might call "an obsession" with tomatoes. Obsessive? Nah. That's amore. The sauce in this bowl requires just three simple steps: 1. open 2. dump 3. heat. You'll simply add one can of pizza sauce and one can of diced tomatoes to a sauce pan and heat the mixture.
The Cheese | I like to save the best for last. I initially set out to create a cold, mozzarella-ish cheese but ran into a lucky streak in the kitchen last weekend and ended up creating a warm, gooey, stretchy vegan mozzarella cheese. Seriously, it stretches. Check it out...
To make the cheese, you'll add cashews, water, white wine vinegar, nutritional yeast, arrowroot powder, garlic, and sea salt to a blender. You'll blend it on high until smooth, pour it into a pan, heat over medium, and whisk together for about five minutes until you have a thick, cheesy mixture. A dollop of this dreamy mozzarella along with a sprinkle of basil pulls the entire pizza bowl together like one big, happy, Italian family.
La vita è bella e la pizza è deliziosa.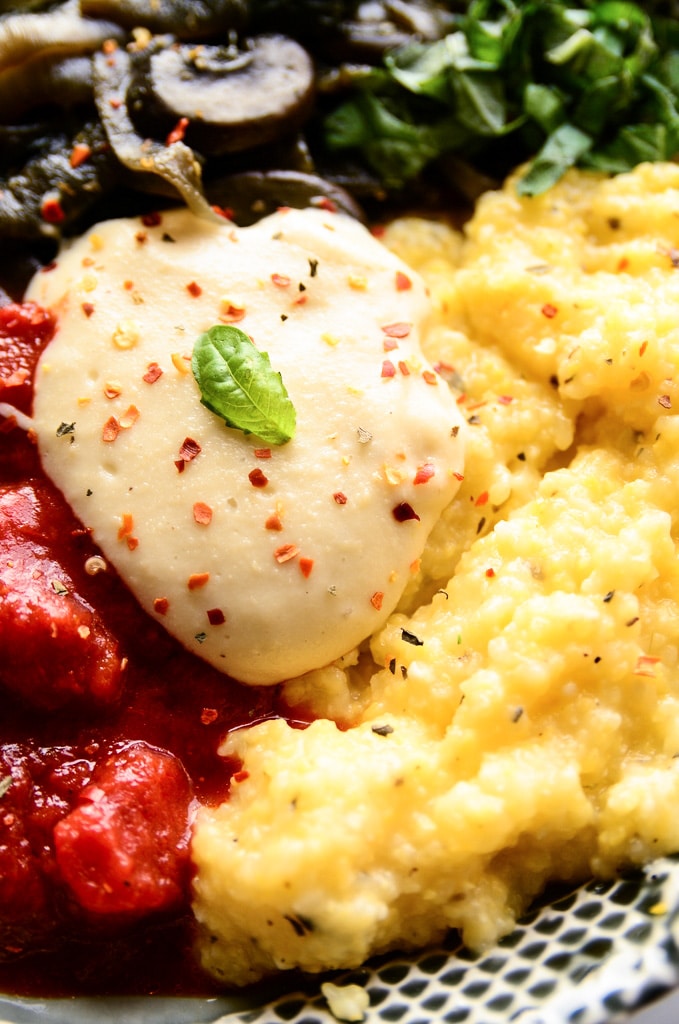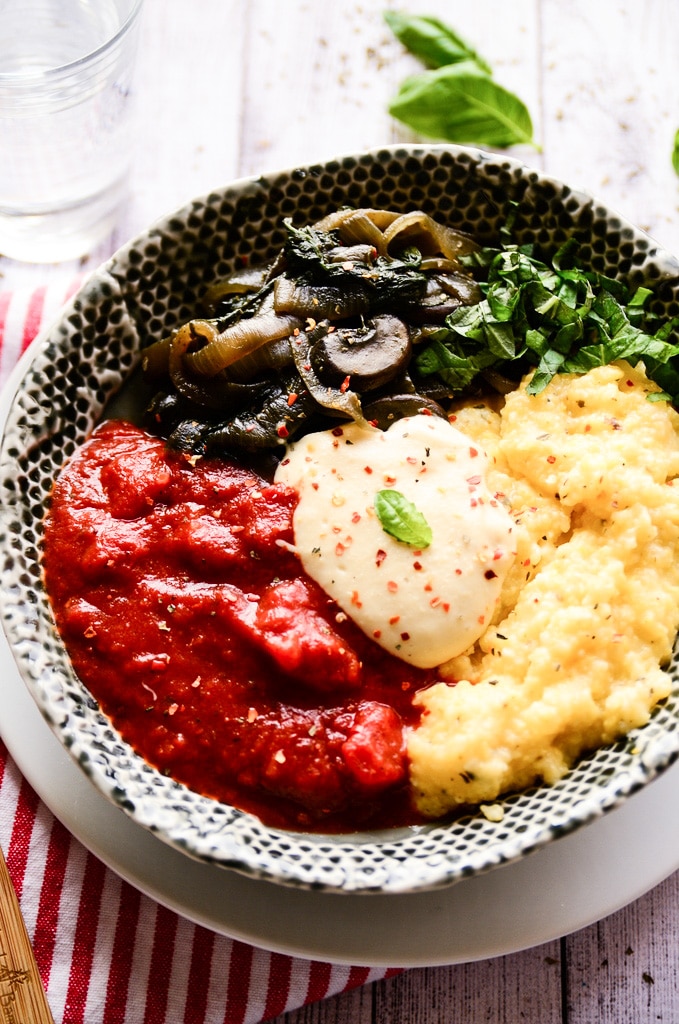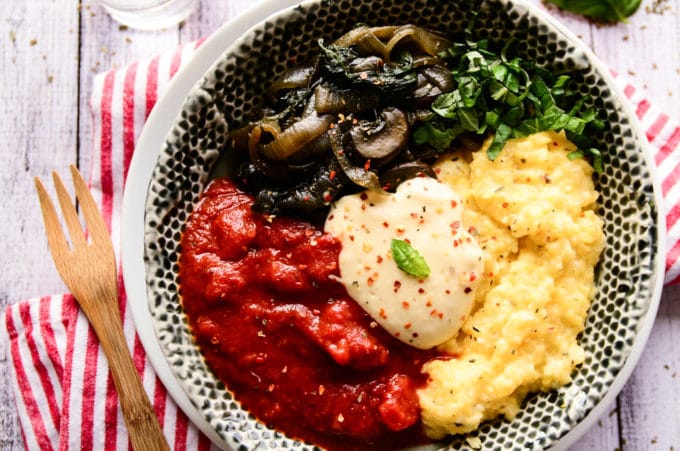 📖 Recipe
La Vita è Bella Pizza Power Bowl
Creamy polenta, tangy marinara sauce, sautéed spinach and mushrooms, and gooey cashew mozzarella are nestled into the confines of one bowl in this deconstructed, plant-powered twist on classic deep dish pizza!
Ingredients
For the Polenta
3 ½

cups

water

½

teaspoon

sea salt

1

cup

polenta

2

cloves

garlic, minced

1

tablespoon

extra-virgin olive oil

½

teaspoon

dried oregano

¼

teaspoon

dried basil

Sea salt, to taste (I use ½ teaspoon)
For the Veggie Mixture
1

tablespoon

extra-virgin olive oil

4

cups

baby spinach

10

ounces

baby bella (i.e., Cremini) mushrooms, washed and sliced

1

yellow onion, peeled and sliced into rings

Sea salt, to taste

Freshly ground black pepper, to taste
For the Sauce
1 15-

ounce

can pizza sauce*

1 15-

ounce

can diced tomatoes with Italian seasoning
For the Vegan Mozzarella
½

cup

raw cashews

⅔

cup

water

1

tablespoon

white wine vinegar

1

tablespoon

nutritional yeast

1

tablespoon

arrowroot powder

1

garlic clove

½ - ¾

teaspoon

sea salt or to taste
Garnish
Fresh basil leaves, chopped

Chili flakes, to taste
Instructions
To Make the Polenta
Add the water and sea salt to a medium sauce pan and bring to a boil. Slowly add in the polenta, whisking continuously. Once the polenta is added, continue to whisk for 1-2 minutes to ensure that it is smooth and free from clumps. Cook for 20-25 minutes or until tender and creamy, whisking every few minutes to prevent clumping.

Once the polenta is done cooking, stir in the garlic, olive oil, dried oregano, dried basil, and sea salt.

Set aside until ready to assemble.
To Make the Veggie Mixture
While the polenta is cooking, add 1 olive oil to a large skillet over medium heat.

Add in the spinach, mushrooms, and onion. Cook for 15-18 minutes or until the veggies are tender. Season with sea salt and black pepper, to taste.
To Make the Sauce
Add the pizza sauce and diced tomatoes to a medium sauce pan and heat over low until hot.
To Make the Vegan Mozzarella
Add the cashews, water, white wine vinegar, nutritional yeast, arrowroot powder, garlic, and sea salt to a high-powered blender** and blend on high for 2-3 minutes or until completely smooth.

Pour the mixture into a small sauce pan. Heat over medium and whisk continuously until it becomes thick and stretchy (approximately 5 minutes).

Remove from heat and let cool slightly.
To Assemble the Bowls
Divide the polenta, veggies, and sauce between 4 bowls. Drop a dollop of vegan mozzarella in the center, and garnish with fresh basil and chili flakes.

Refrigerate leftovers.
Notes
*Tip: check your pizza sauce label to make sure there isn't added and unnecessary sugar.
**If you don't have a high-powered blender, simply soak the cashews in warm water for an hour or two before blending.