Remember that 5-minute pumpkin spice caramel from the other day? Well, it joined forces with this recipe to create these jumbo pumpkin spice caramel cups (vegan, gf).
I was so eager to eat one of these cups that I rushed the freeze/set time a bit, opting to skip the chill between filling the cups with caramel and topping them with the final layer of chocolate. The result = the above slightly messy cups oozing pumpkin caramel from their melty chocolate sides.
If you want to keep your cups neat and tidy, make sure you squeeze in the chill time that I sped past without flinching. However, if you're okay with messy cups, then go on and throw that chill time to the wind.
There's something kind of charming and appropriately spooky about these slightly sloppy cups anyway. For the sake of my nagging perfectionism, let's just pretend I intentionally made them spooky for Halloween season.
If you've made the Jumbo PB Caramel Cups referred to earlier in this post, then you know the drill when it comes to creating these delectable, multi-bite treats. However, if you haven't, then be sure to scroll back up and click the link for a helpful handful of step-by-step photos.
The basic breakdown...
1| Make homemade chocolate or melt down some quality dark chocolate with a pat of coconut oil to thin it.
2| Pour chocolate into cupcake liners. Twist and turn pan to coat sides. Chill in freezer.
3| Add spoonfuls of 5-Minute Pumpkin Spice Caramel to each chocolate cup. Chill in freezer or be wild and carefree and skip this step altogether.
4| Top with chocolate. Chill in freezer one last time.
5| Enjoy.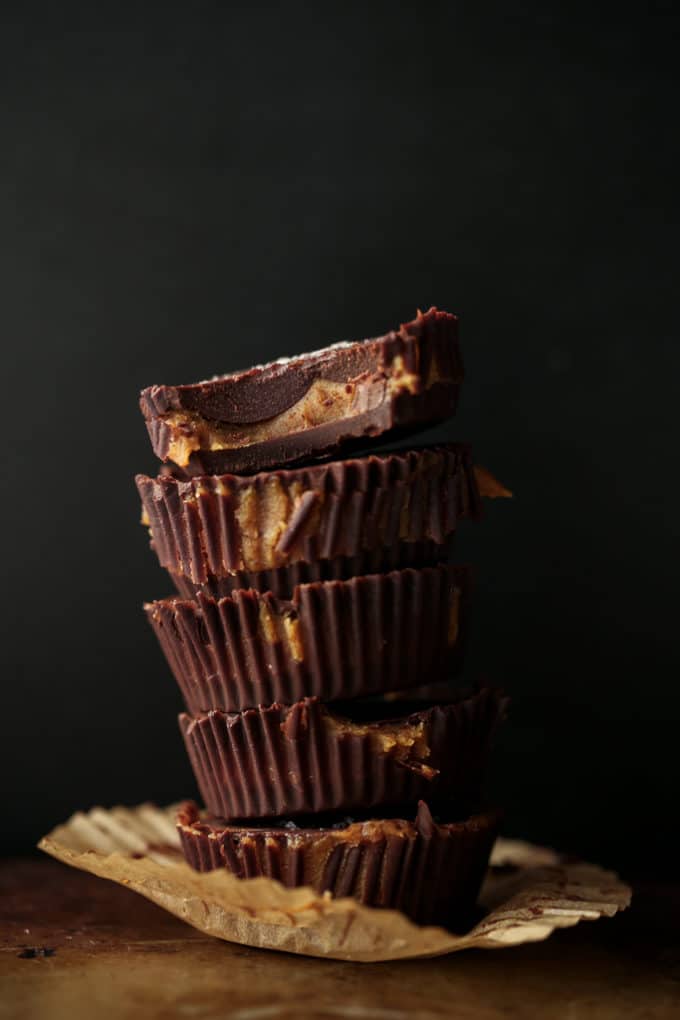 📖 Recipe
Jumbo Pumpkin Spice Caramel Cups (vegan, gf)
Rich and ultra-thick layers of homemade chocolate envelop gooey pumpkin spiced caramel sauce. These jumbo pumpkin spice caramel cups are easy to make and intensely satisfying to a fall-themed sweet tooth.
Ingredients
Homemade Dark Chocolate*
2.8

ounces

cacao butter (approximately ½ cup discs or small chunks)

½

cup

raw cacao powder

¼

cup

pure maple syrup
Filling
½

batch Pumpkin Spice Caramel, cooled slightly
Garnish
large-flake sea salt

(optional)
Other Equipment
5

parchment cupcake liners
Instructions
Make the dark chocolate by melting the cacao butter in a double-boiler or bain marie over medium heat. Once it's melted, remove from the heat and whisk in the cacao powder and maple syrup until smooth.

Line a muffin tin with 5 cupcake liners. Pour 1 tablespoon of the dark chocolate into the bottom of each muffin liner and carefully rotate the pan around and around to coat the sides of the muffin liners with the chocolate. You want the chocolate to go up about ½ and inch on all sides of each liner. Place pan in freezer for 10 minutes to set.

Drop 1 tablespoon of the pumpkin spice caramel into the center of the chocolate cups and carefully spread out to the sides of each cup. If you want to keep the cups neat and tidy, return the pan to the freezer for 10 minutes to set before moving on to the next step.

Top each layer of caramel with a heaping tablespoon of the chocolate, using up all of the chocolate. If needed, drop the pan on a hard surface a few times to smooth out the chocolate.

If desired, garnish with large-flake sea salt.

Return to freezer for 10 minutes to set. Store in refrigerator.
Notes
*If you don't have cacao butter to make the homemade chocolate, you can simply melt down 1 cup dark chocolate with 1 to 3 teaspoons coconut oil for the chocolate layer.