This vegan buffalo cauliflower salad is everything a salad should be: veggie-packed with a wide range of flavors + textures and generously doused in drizzles of cool cashew ranch.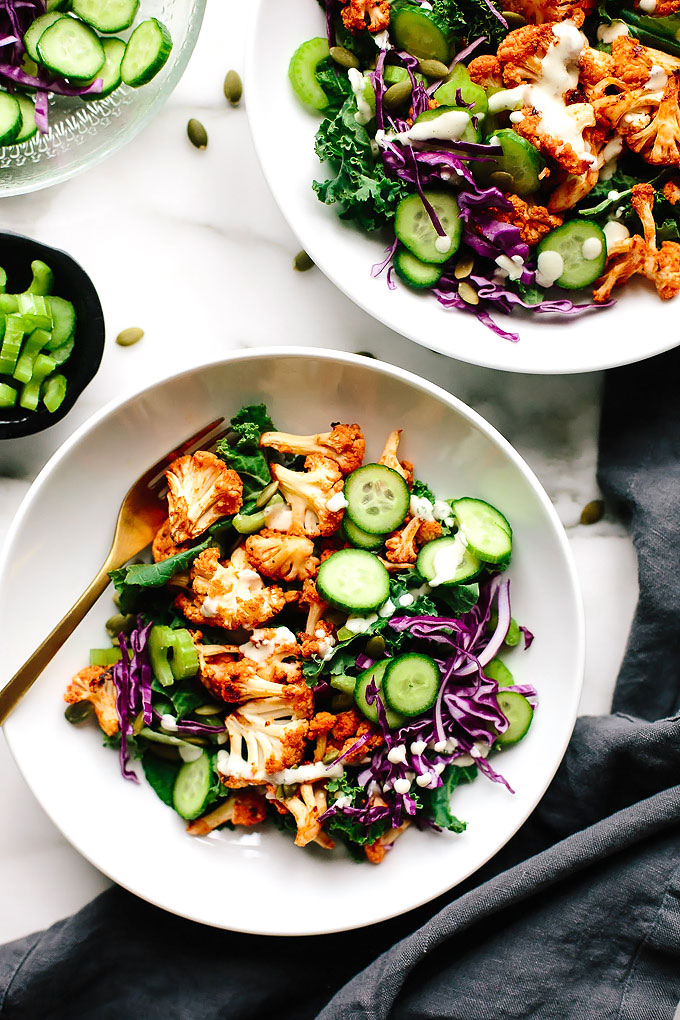 Our big move from city to suburbs is upon us.
As we prepare for the movers' arrival on Friday, we're both scrambling to get everything in order and attempting to peacefully soak up our last week in the beautiful condo we've called home for six years.
Moving is (almost) always bittersweet, isn't it? The anticipation of forward movement and expansion into roomier spaces is exciting and inviting. And yet, there's that part of us that wonders if maybe this is enough. Just as it is.
As I look around our place, the eyes that once saw cramped spaces and minor flaws now see spaciousness and perfection.
And while I am completely, whole-heartedly at peace with (and thrilled about) our decision to make this move, I'd be lying if I didn't say I'm going to miss this place.
Here, in this home, is where...
We celebrated our first, second, third, fourth, fifth, and SIXTH wedding anniversaries.
I wrote my first cookbook.
Dan started his (now) blooming company, Odeza.
I made the shift from vegetarian to vegan.
We welcomed our sweet baby girl, Sloane, into the world.
Some big, wave-making milestones. Of course, there was plenty of boring and even straight-up bleh stuff mixed in there, too.
The walls that surrounded us during sunny, celebratory times also saw the depths of my postpartum anxiety and depression.
So much so that I wasn't sure I'd be able to return to this space after living in Milwaukee. I feared the darkness would find me again here.
It didn't, and I'm very grateful to have rounded out our experience here on a brighter, lighter note. (As I write this, my anxiety reminds me: "Be careful!! There's still time for things to unravel!" Always a glass-half-full kinda gal, she is.)
For a moment there, hindsight had shaded all of my memories here in blue when really it was only a tiny fraction of them that truly held that hue.
Funny how our minds can do that, isn't it? An interesting psychology deep-dive for another day. You know me, I'd be happy to geek-out on that. ☺️
For now, though, let's tuck into this salad...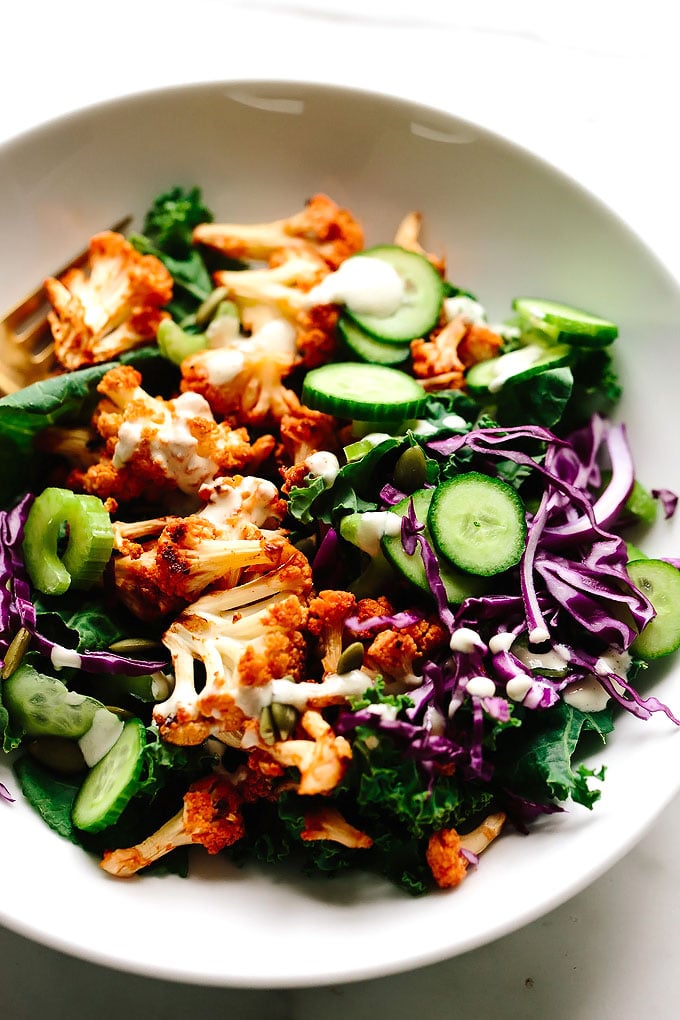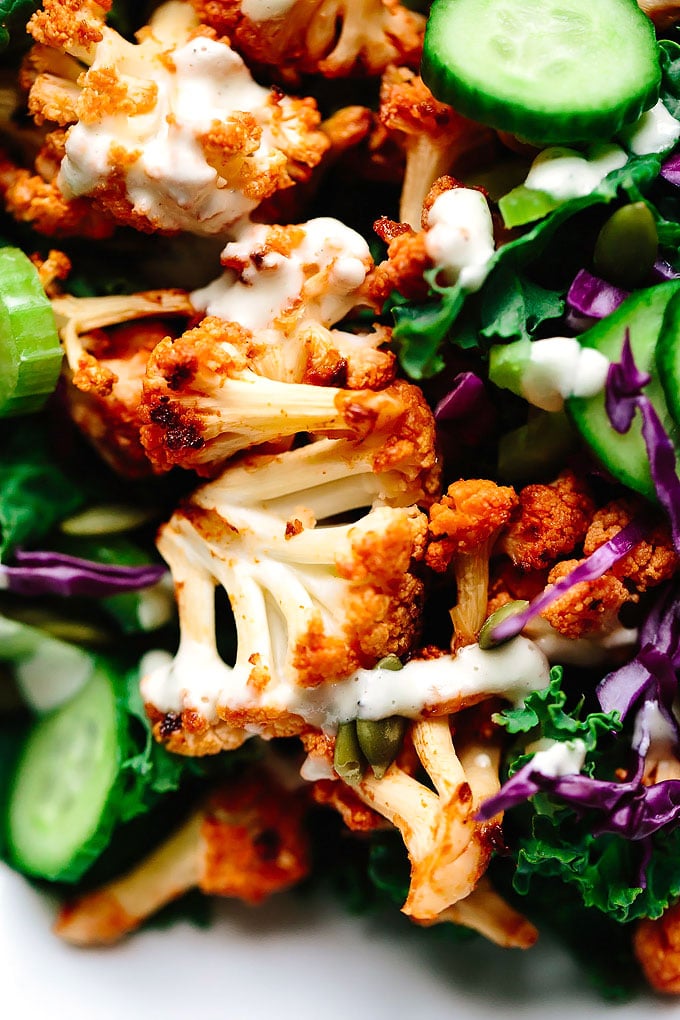 Nourishing greens topped with crunchy red cabbage, refreshing cucumbers, crisp celery, and heaps of roasted buffalo cauliflower.
Of course, no salad would be complete without very generous drizzles of ranch dressing. And in this particular instance, we have what I like to call Cool Cashew Ranch Dressing. Because its creaminess cools in the face of all that fiery buffalo sauce.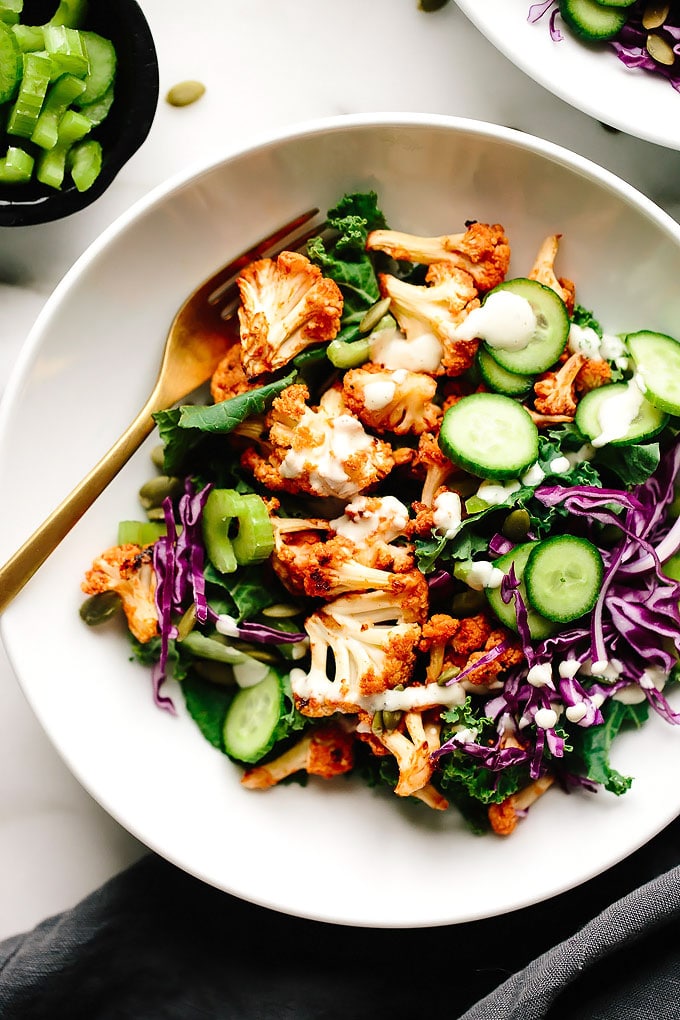 Few things make me happier for lunch these days.
This is a salad that satisfies, fuels, and delights. A "triple threat", if you will.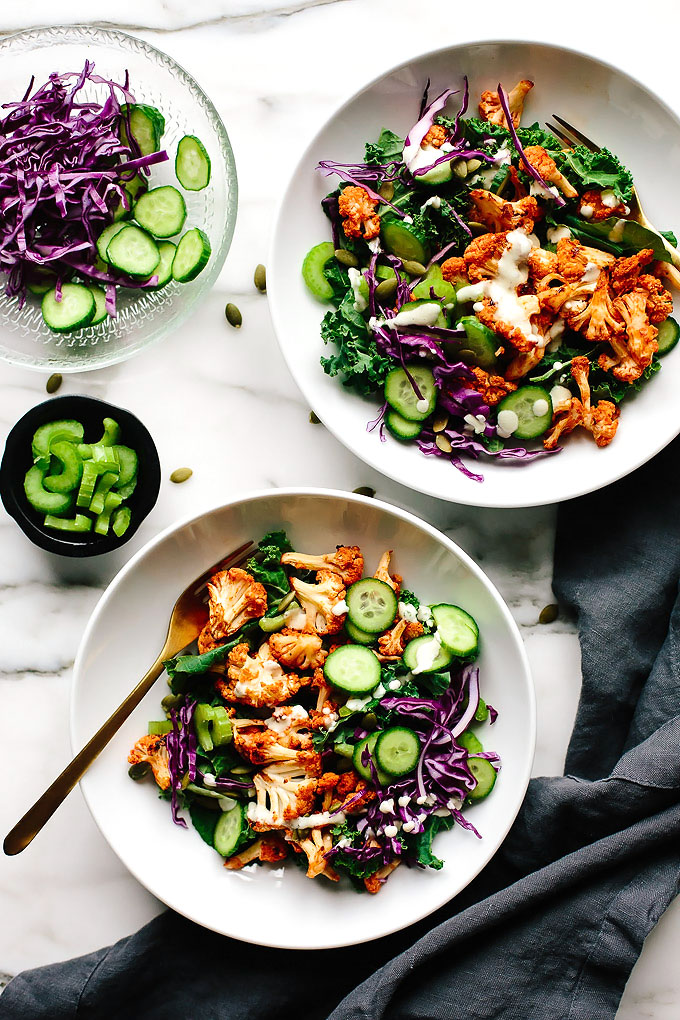 📖 Recipe
Buffalo Cauliflower Salad
This vegan buffalo cauliflower salad is everything a salad should be: veggie-packed with a wide range of flavors + textures and generously doused in drizzles of cool cashew ranch.
Ingredients
1

medium-large head cauliflower, trimmed and cut into 1-inch florets

¼ to ½

cup

vegan buffalo sauce (e.g., Franks Red Hot), to taste

Red cabbage, shredded, to taste

Celery, washed, trimmed, and thinly sliced

Mini cucumbers, thinly sliced

Baby kale, to taste

Pepitas, to taste
Cool Cashew Ranch Dressing
½

cup

raw cashews**

½

cup

filtered water

2

scallions, ends trimmed and cut in half

1 to 2

cloves

garlic, smashed and peeled

1

tablespoon

apple cider vinegar or white wine vinegar

½

teaspoon

onion powder

½

teaspoon

sea salt or to taste

Freshly-ground black pepper, to taste
Instructions
Preheat the oven to 425F.

Add the cauliflower florets to a large baking sheet. Drizzle with the buffalo sauce, and toss to coat.

Roast for 25 to 30 minutes, tossing halfway through, or until tender and beginning to turn golden brown.

Meanwhile, prepare the vegetables.

Make the dressing: Add all the dressing ingredients to a high-speed blender, and blend on high until completely smooth and creamy. Refrigerate until ready to assemble.

Assemble the salads: In roomy bowls, layer the kale with cabbage, celery, cucumber, and pepitas. Top with the buffalo cauliflower and drizzle generously with the dressing.

Serve immediately.

Notes
*The number of servings will depend on the amount of kale and veggies you use.
**No nuts? No problem. Substitute shelled hemp seeds or raw pepitas for the cashews to keep this salad nut-free!