The idea for these spicy vegan sunflower-lentil falafel with smoky tomato aioli popped into my mind two weekends ago. After taking several weekends in a row completely off work, I woke up that Sunday with a rush of inspiration to get a head start on the week.
I planned my schedule for the upcoming week, created a grocery list, dove headfirst into a whirlwind recipe brainstorming session, and merrily replied to comments. It felt breezy, effortless, and so darn enjoyable.
Isn't that the best? When tasks we deem "work" unexpectedly take on the vibe of weekend-appropriate fun and feel like a natural extension of who we are? At the very least, a head start smoothes out the edges on that impending case of the Mondays.
Over the last few years, taking the weekends off work became a rare occurrence for me. What started out as an inspired, I-can't-wait-to-get-into-the-kitchen habit a few years ago morphed into a I-must-work-weekends-if-I'm-ever-going-to-finish-this-book routine morphed into a weekend-hustle-or-bust mentality.
As book work settled down and I transitioned into this year of leave from my position as a psychologist, that old habit failed to fall away. I tried to relax, but if you've ever tried to relax, then you know that trying to relax isn't exactly relaxing. It's usually shrouded in guilt and tinged with shame.
Just when I'd finally shut my eyes in hopes of a nap (serenaded by the interstellar hummings of the latest cosmically charged documentary), those icky ego ramblings would flare up. Did you work hard enough to earn this? So-and-so's still grinding, why aren't you? Shouldn't you be interacting on social media? Shouldn't you be replying to all those lovely comments people left you? Shouldn't you be doing anything else but relaxing?
Ugh.
So I'd yank myself off the couch and effort my way through whatever work my internal dictator insisted needed to get done right that very moment.
Eventually, I realized that powering through the weekends was no longer serving anyone. Not me, not Dan, not my family, not my friends, and not you.
Come Monday, instead of feeling refreshed and reinvigorated for the week, my inspiration tank was empty and my patience low. My sass, however, was always at an all-time high. Steer clear: Bitchful, I mean, Blissful Basil comin' through.
Slowly but surely, I've learned how to relax again. What a weird thing to say. Yet this problem seems to be one that many of us face. With increasing technology, comes increasing pressure to be present. Not within each moment, but within social media, email inboxes, the comments sections, etc.
It's become difficult to truly disconnect when we're all so… well, connected.
I wouldn't say I'm a totally carefree, easy-breezy weekender once again, but I'm getting there—renegotiating that delicate balance between work and play by tapping into the soft-spoken wisdom of intuition. Most weekends it says, let's play. But once in a while it says, let's play work. And so I do.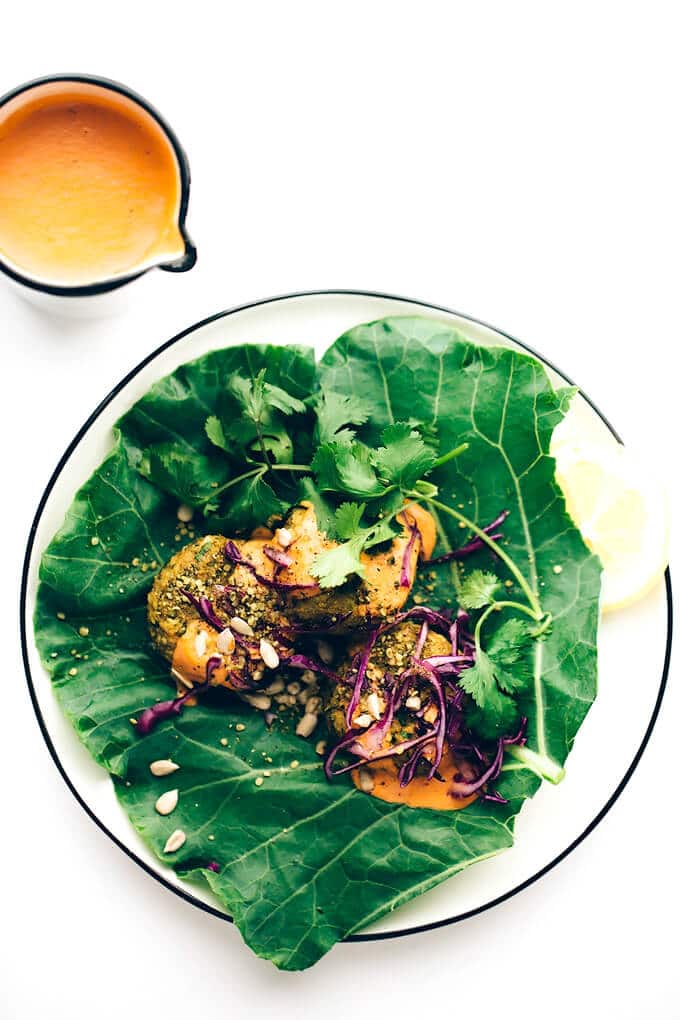 These spicy vegan sunflower-lentil falafel are brimming with plant-based protein. Savory, satisfying, and nourishing, they can be enjoyed on their own or tucked into collard/romaine leaves, pita bread, or your wrap of choice.
I like to top them with a sprinkling of shredded purple cabbage, cilantro, and a generous drizzle of smoky tomato aioli, but feel free to dress them as you please.
As written, the recipe yields falafel with a swift kick of heat, but you can certainly tame their fiery spirit if you're sensitive to spice or craving a walk on the mild side.
To make them, you'll start by simmering one cup of green lentils until tender.
While the lentils simmer, you'll add half cup of raw sunflower seeds to a food processor and process until ground into a coarse flour.
Then, add the cooked lentils to the food processor along with lots of fresh parsley, cilantro, garlic, a bit of chipotle pepper, squeeze of fresh lemon juice, ground coriander and cumin, sea salt, and a pinch of cayenne pepper.
Pulse several times to thoroughly mix, chop, and mash like so…
Then, scoop out about two tablespoons of the falafel dough, gently form into a patty, and place on a lined baking tray.
Repeat with the remaining mixture, forming about 18 patties total.
Bake the patties for about 20 minutes, or until their exteriors are deep golden and their tops begin to crackle.
While the patties bake or cool, you'll get to work on the smoky tomato aioli.
To a blender, add raw cashews, filtered water, fire-roasted tomatoes, chipotle pepper, garlic, apple cider vinegar, smoked paprika, and sea salt. Then, blend on high until super smooth and saucy.
Once the falafel patties have cooled a bit, tuck them into collard or romaine leaves, pita pockets, a sprouted wrap—whichever falafel vessel you're craving—and top with shredded purple cabbage, cilantro, and a drizzle of that smoky tomato aioli.
Serve warm with lemon wedges for spritzing, and enjoy.
Spicy Vegan Sunflower-Lentil Falafel with Smoky Tomato Aioli
These baked vegan falafel pack a kick of heat and lots of plant-based protein. They're made with a base of greens lentils and ground sunflower seeds and are both grain-free and gluten-free. Enjoy them all on their own or tuck them into wraps, top with veggies, and generously drizzle with smoky tomato aioli.
Ingredients
Spicy Sunflower-Lentil Falafel
1

cup

dried green lentils, rinsed and picked through

3

cups

water

1/2

cup

raw sunflower seeds

1/2

cup

parsley leaves, stemmed

1/4

cup

cilantro leaves, stemmed

3

cloves

garlic, peeled and roughly chopped

1

tablespoon

chopped chipotle pepper in adobo sauce

1

tablespoon

fresh lemon juice

1

teaspoon

ground coriander

1

teaspoon

ground cumin

1 1/4

teaspoon

sea salt or to taste

1/8 to 1/4

teaspoon

cayenne pepper, more or less to taste
Smoky Tomato Aioli
1/2

cup

raw cashews or shelled hemp seeds

1/2

cup

filtered water, plus more if needed

1/4

cup

diced fire-roasted tomatoes (from a can)

1

tablespoon

finely diced chipotle pepper in adobo sauce, more or less to taste

1

clove

garlic, smashed and peeled

1/2

tablespoon

apple cider vinegar

1/2

teaspoon

smoked paprika

3/4

teaspoon

sea salt or to taste
For Serving
Destemmed collard leaves, large romaine leaves, pita pockets, or wrap of choice

Shredded cabbage

Cilantro leaves

Lemon wedges
Instructions
For the Spicy Sunflower-Lentil Falafel
Preheat oven to 350F and line a large baking pan with parchment paper.

In a medium saucepan, combine the lentils and water, and bring to a boil. Reduce heat and simmer for 20 to 25 minutes, or until tender but not yet mushy. Strain off excess water and set aside.

In a food processor, process the sunflower seeds for one minute, or until ground into a coarse flour. Add the cooked lentils and all remaining falafel ingredients. Pulse 10 to 15 times to coarsely chop and mix. You want everything to be well-incorporated but be careful not to over process or you'll end up with hummus.

Scoop out a scant 2 tablespoons of the falafel dough (it will be quite damp as opposed to sticky), gently form into small patties (about 3/4-inch thick), place on the lined baking tray, and repeat. You should have approximately 18 falafel patties.

Bake for 18 to 22 minutes, or until the exteriors are rich golden and the tops begin to crackle (no need to flip). They'll continue to firm as they cool. Let the patties cool slightly before moving or serving.
For the Smoky Tomato Aioli
While the patties cook, add all the aioli ingredients to a high-speed blender, and blend on high until smooth.

Transfer to an airtight jar or container and refrigerate until serving.
To Serve
Tuck the falafel into pita pockets, collard or romaine leaves, or wrap of choice. Alternatively, serve on their own. Drizzle with the aioli and top as desired. Serve with lemon wedges for spritzing.

Refrigerate leftovers in separate airtight containers for up to 4 days.