These breakfast-friendly, grab-n-go vegan power bowls are served two ways: sweet + savory. The sweet variation includes coconut yogurt, strawberry-raspberry chia jam, 10-minute pistachio granola, juicy blood oranges, potassium-rich banana, and a drizzle of maple syrup to pull it all together. The savory version includes a protein-packed "parmesan" quinoa porridge, roasted salt-n-pepper cauliflower, garlicky greens, and a creamy cashew hollandaise sauce.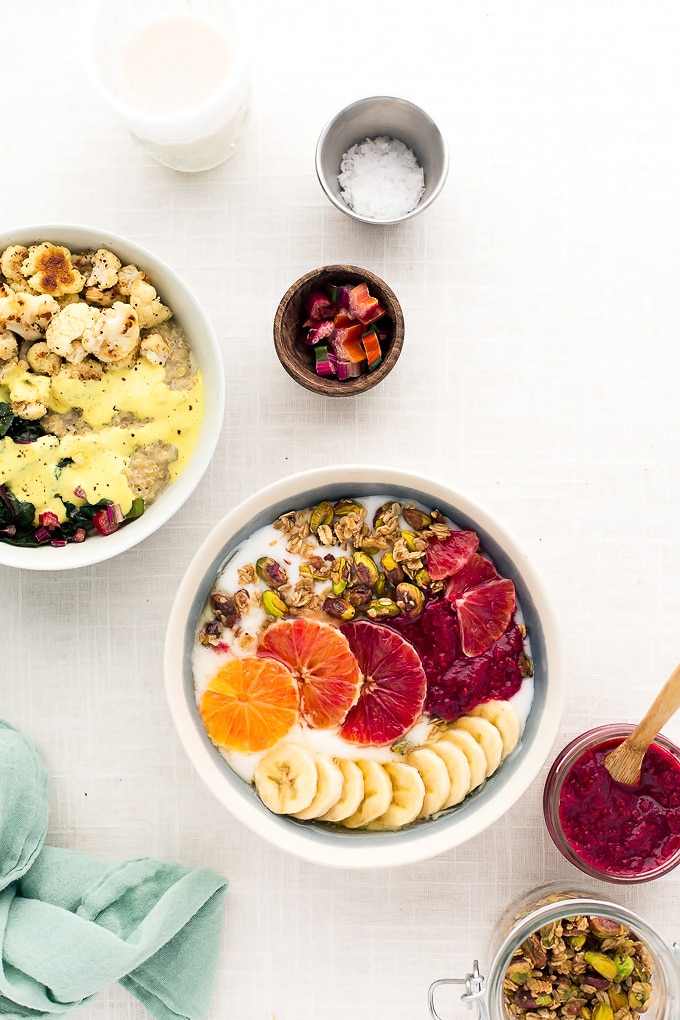 If you've been following along with Blissful Basil over the years, then you're quite familiar with this whole
"power bowl" thing.
There's been the Grab-N-Go Sweet Potato, Cranberry & Quinoa Power Bowl; the Green Pea Patty, Roasted Radish & Lemony Hummus Bowl; the Comforting & Cozy Fall Power Bowl; the Green Goddess Revitalization Bowl; the Roasted BBQ Vegetable Bowl; the Curried Sweet Potato Bowl; and many, many more.
I love power bowls. So much, in fact, that there's an entire chapter dedicated to them in my cookbook.
Power bowls—sometimes referred to as "rainbow bowls"—are meals made up of several small energizing dishes and/or ingredients. These chosen elements are then nestled into the confines of one roomy bowl.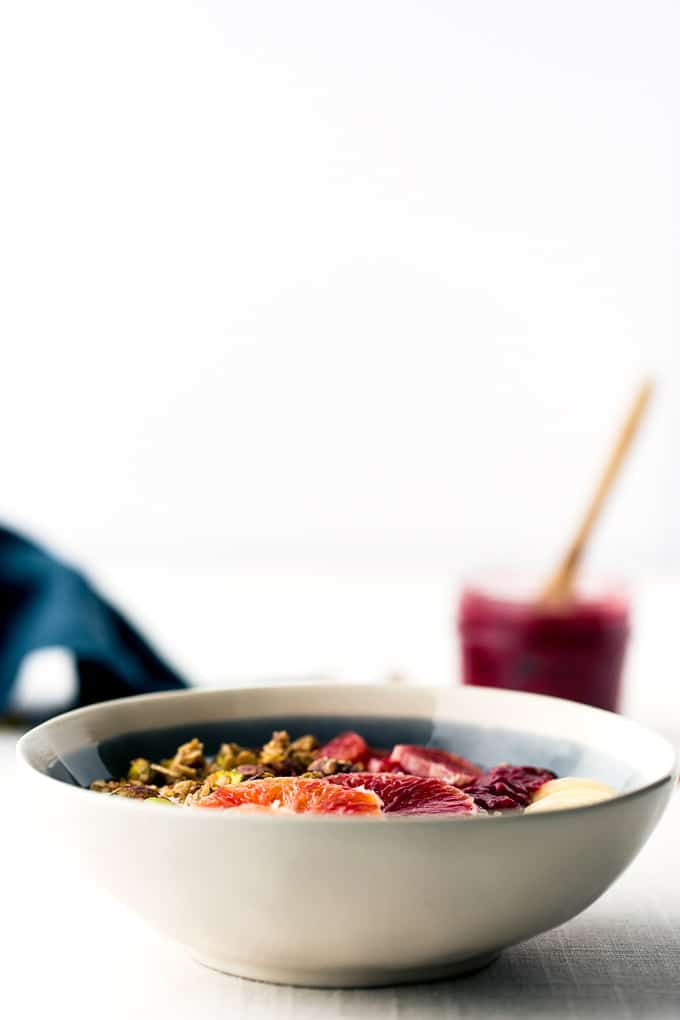 In a way, it's kind of like a salad whose components are kept separate. Typically, there's also a unifying element such as a jam, a compote, a sauce, or a mash (e.g., avocado mash, hummus, etc.) that serves as the common thread, weaving together seemingly unrelated elements.
To give you an idea of the types of elements that go into these bowl-bound meals, think:
An array of colorful fruits, raw or roasted veggies, tasty salads or slaws, flavor-packed sauces, sweet berry compotes and super-seeded chia jams, warming curries and stews, fluffy grains, creamy plant-based yogurts, crunchy granola, fresh herbs, garlicky mashed avocado, spicy salsa, smoky hummus, crackers, falafel patties, etc.
The options are truly endless though. No veggie left unturned, no craving left unsatiated. Mix and match and pair to your heart's content, creating an energizing, power-packed dish that nourishes your body just as much as it delights your senses.
Perhaps the best part of all is that most power bowl components can be prepped // prepared ahead of time (e.g., Sunday evening), stored separately, and then tossed together in a jar or transportable container before heading out the door throughout the week. Satisfaction meets convenience.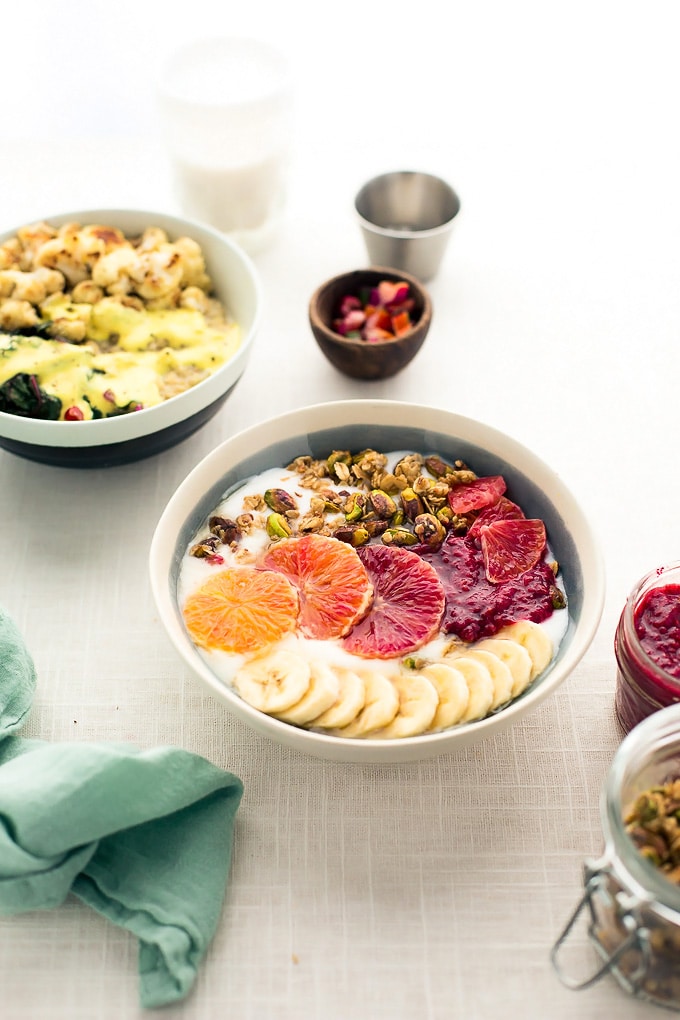 Now that we've established a few general guidelines, let's talk specifics. This particular power-packed duo includes two grab-n-go recipes.
If you're feeling sweet, dive into this coconut yogurt, pistachio granola, strawberry-raspberry chia jam, blood orange, banana, and maple syrup abyss...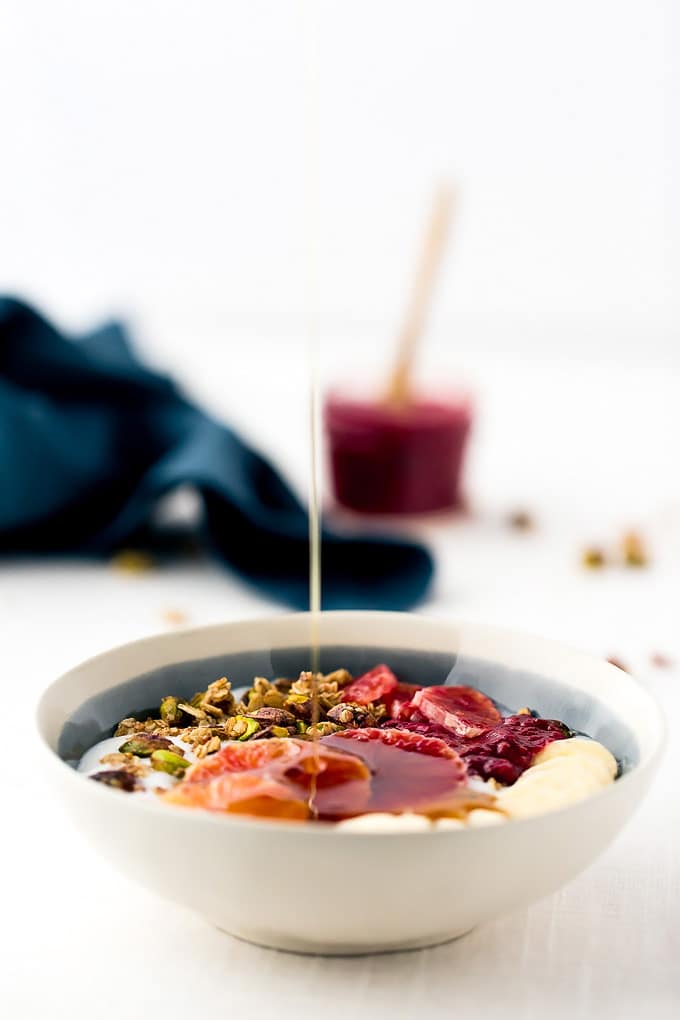 But perhaps you're feeling savory today.
If that's the case, then lean into this warmer, salt-kissed version with parmesan quinoa porridge, salt-n-pepper cauliflower, garlicky greens, and vegan cashew hollandaise...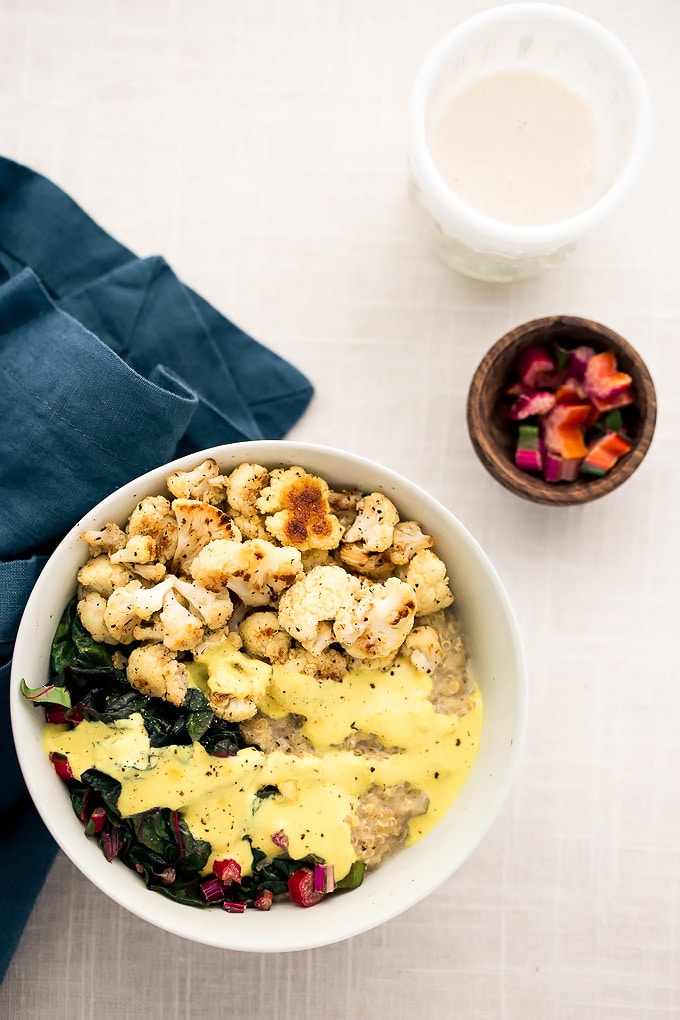 The elements of both bowls are designed to be prepared ahead of time and then assembled before heading out the door.
Then, just before serving, you'll quickly reheat and add a finishing touch or two.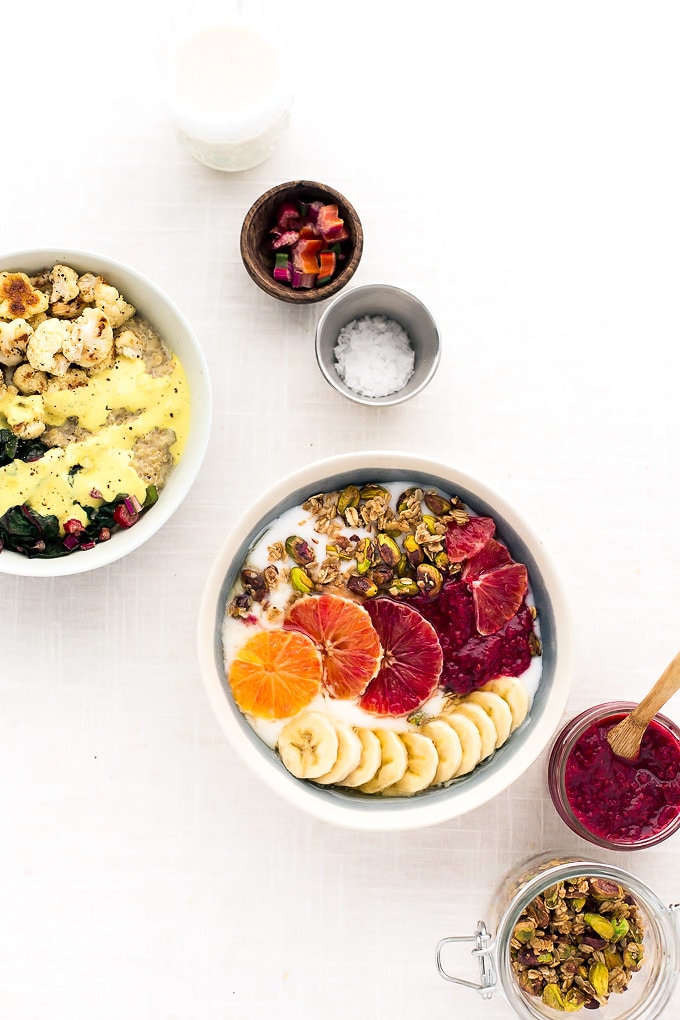 📖 Recipe
📖 Recipe
📖 Recipe