This shredded rainbow slaw with sweet tamari-sesame dressing is a recipe I've been tinkering with for the last two months, and I'm thrilled to finally be sharing it here on the blog.
What started out as an intense veggie craving one balmy, bachelor-fueled Monday night in February quickly morphed into a vegetable shredding frenzy…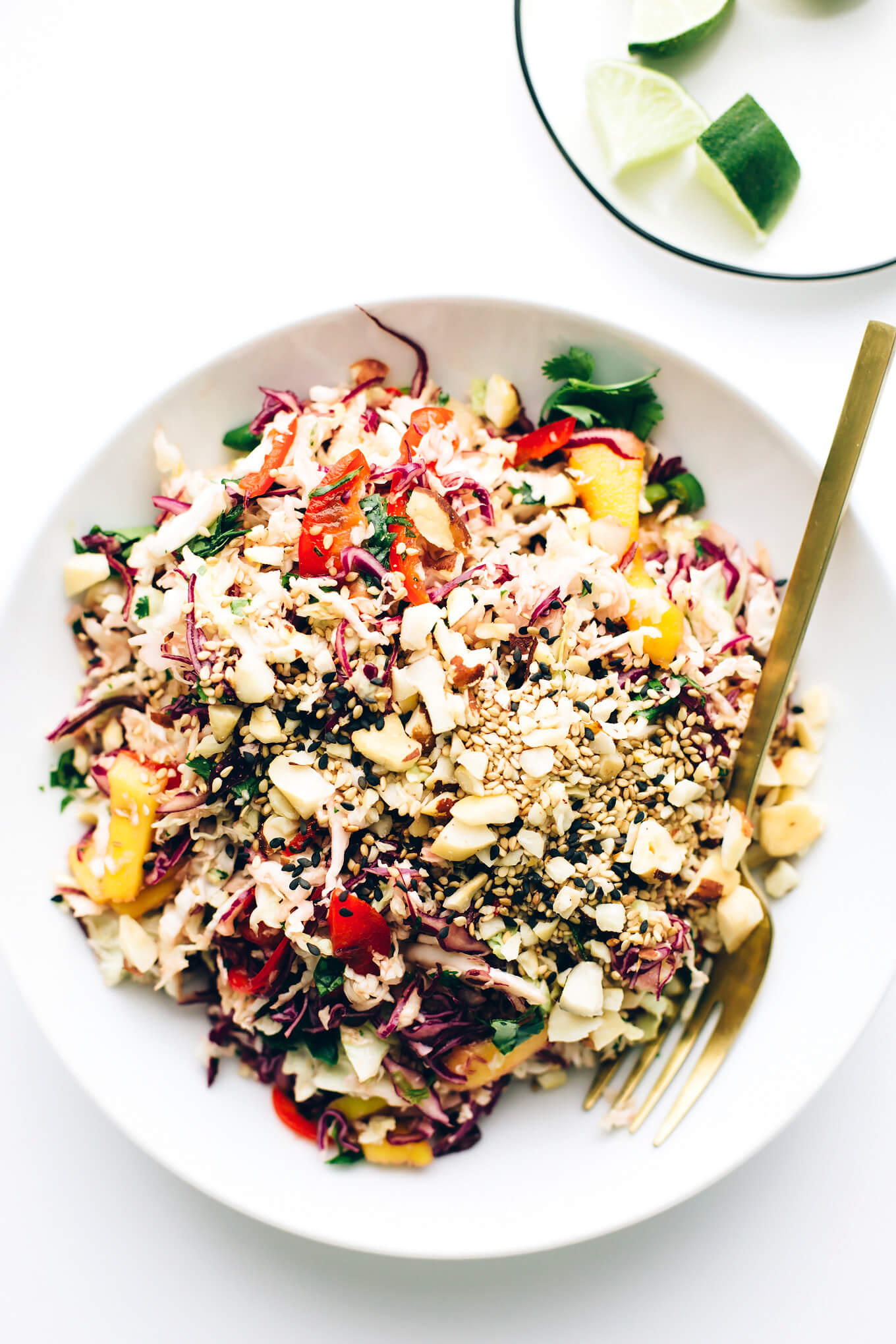 After toying with the types of cabbage used, as well as the method used to slice the vegetables and the ratio of sweet-to-salty ingredients in the dressing, this final favorite version came to be.
And let me warn you: it's one of those salads that's best enjoyed by yourself or surrounded by nonjudgmental loved ones, because it's likely to induce a frenetic fork-to-salad-to-mouth-repeat motion.
You know the type? The kind that communicates to any and all bystanders: This salad is so good that I can't stop, won't stop, will never stop. What's that? The shredded veggies have gone airborne because of the speed of my consumption? Child's play. Watch this. [dumps entire salad into mouth]
Even my occasionally roughage-averse husband joins in on the frantic fork-to-mouth repetitions with this slaw.
All those crispy, crunchy veggies. All those toasted seeds. All that sweet and tangy tamari-sesame dressing. Who could get enough? Not I, not I.
To make this shredded rainbow slaw with sweet tamari-sesame dressing, you'll start by shredding the cabbages.
After testing the recipe with various types of cabbage (and then testing some more), the two cabbages that reigned supreme were savoy cabbage and purple cabbage.
Savoy cabbage looks a lot like traditional green cabbage, only its leaves are richly textured with ripples and ridges…
Although traditional green cabbage will work in an absolute pinch, it doesn't hold up nearly as well as savoy cabbage in this slaw. Why? Because all that lovely texturing allows the dressing to cling to the savoy cabbage, infusing it with flavor.
Once you've washed and dried your cabbages, slice them into manageable wedges. Then, use a mandolin to very, very carefully shredded the cabbage (seriously, be careful, working with a mandolin requires extra care and precaution). Add the shredded cabbage to a large serving bowl.
Then, get to work on slicing and dicing the remaining salad ingredients…
Julienne a red bell pepper.
Thinly slice a bunch of scallions.
Cut a peeled mango into matchsticks.
Finely chop a large handful of cilantro leaves.
Add everything to the serving bowl.
Then, pan-toast finely chopped brazil nuts and hulled sesame seeds until golden.
While the seeds cool, prepare the sweet tamari-sesame dressing by whisking together pure maple syrup, rice vinegar, reduced-sodium tamari, and a bit of toasted sesame oil. Taste the dressing and adjust the flavors according to your preferences, adding more maple syrup, vinegar, tamari, or sesame oil, to taste.
Once all of the slaw elements are prepared, pour the dressing over the veggies and toss to coat.
Just before serving, sprinkle with the toasted nuts and seeds.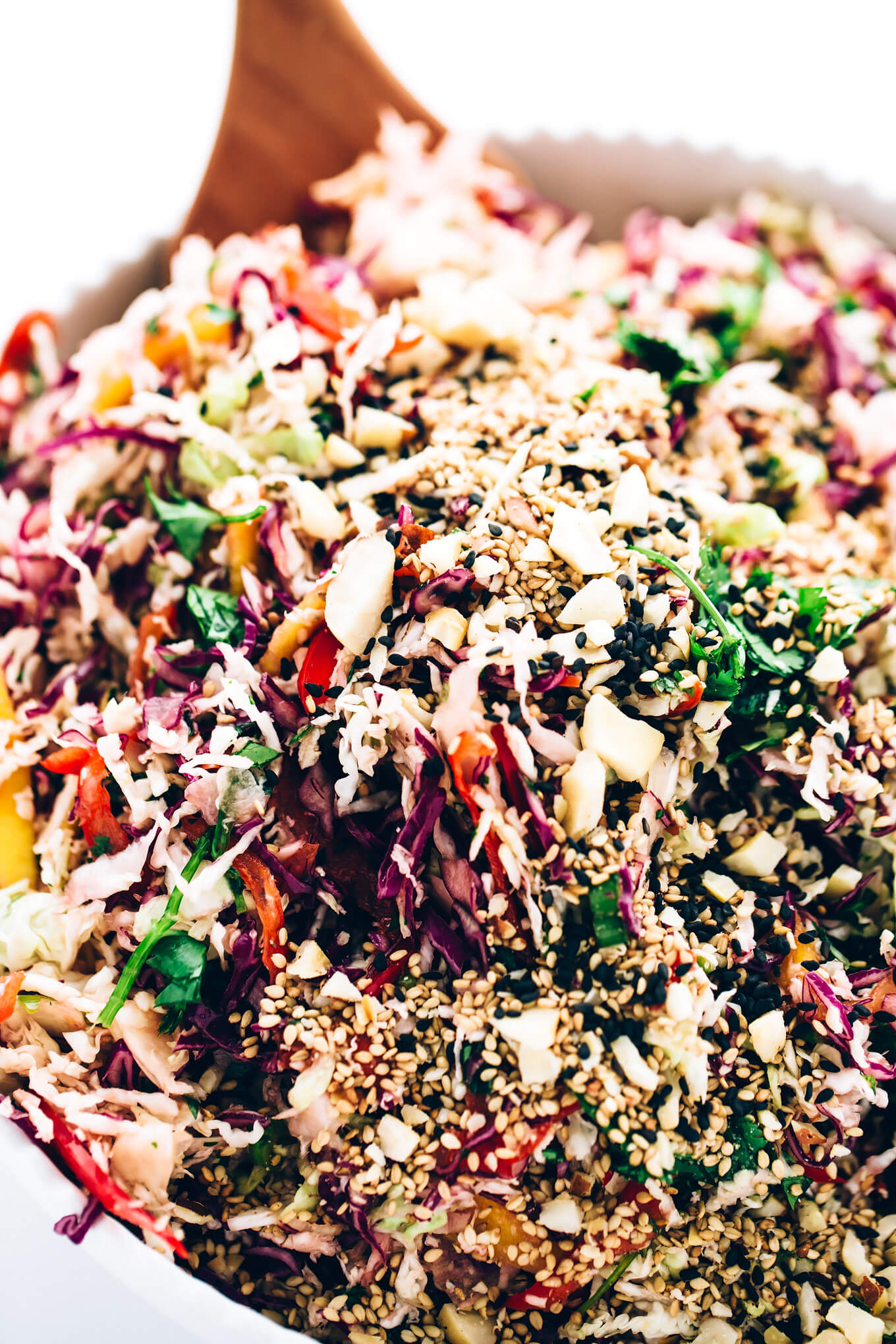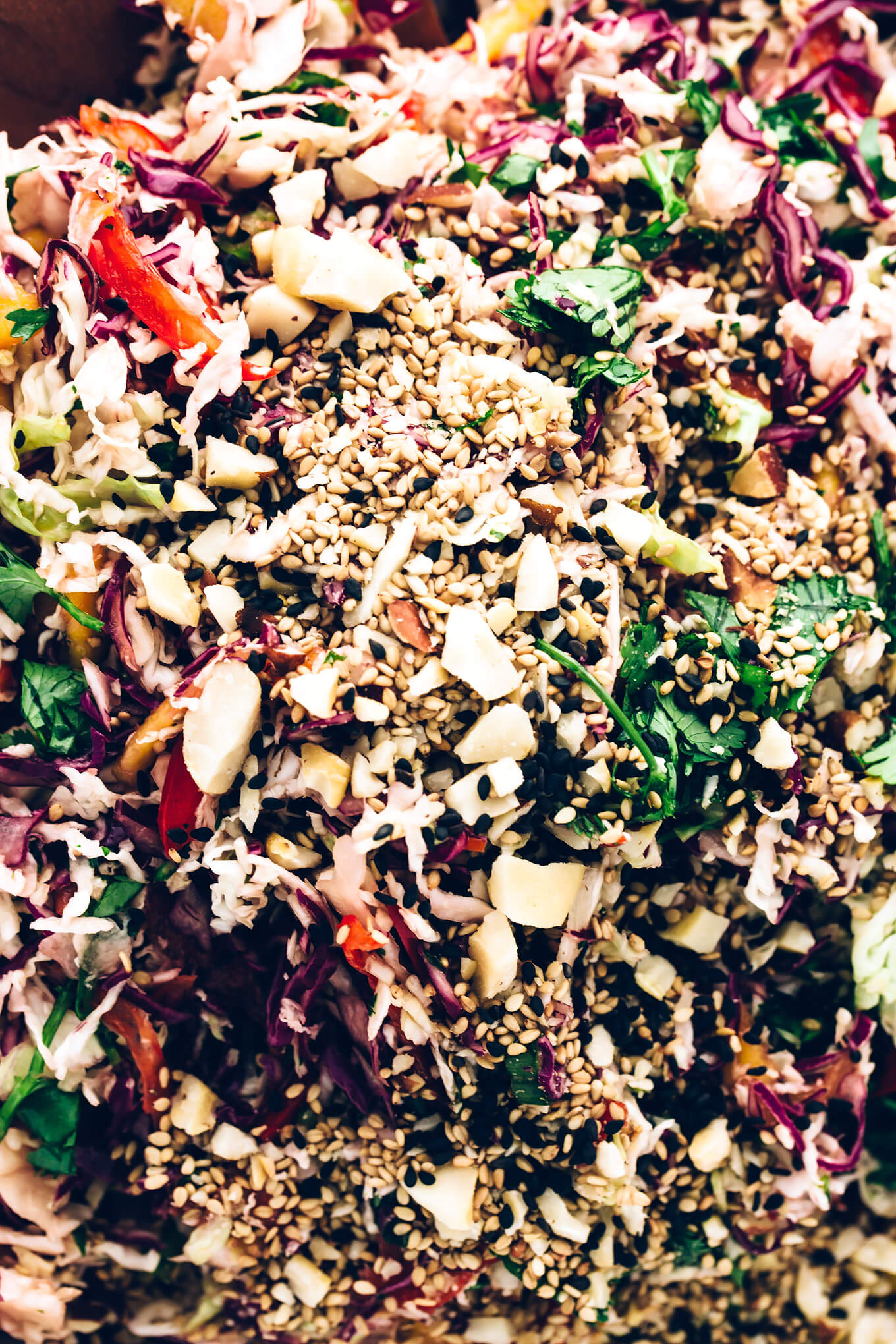 Shredded Rainbow Slaw with Sweet Tamari-Sesame Dressing
This slaw is home to oodles of crispy, crunchy veggies. Think shredded cabbages, julienned red bell pepper, thinly sliced scallions, silky mango, and minced cilantro. Everything gets tossed together with a delightful sweet and tangy tamari-sesame dressing and topped with toasted brazil nuts and sesame seeds. The result is a slaw that's as addictive as it is nutritious.
Servings
4
large salads or 8 side salads
Ingredients
1

large head savoy cabbage, flimsy outer leaves removed

1/2

medium head purple cabbage

1

red bell pepper, cored and julienned

1

bunch scallions (6–8), ends trimmed and very thinly sliced

1

firm-ripe mango, peeled and cut into matchsticks

Extra-large handful fresh cilantro, stemmed and minced (more or less to taste)

1/3

cup

raw brazil nuts, finely chopped

1/4

cup

hulled sesame seeds

1/4

cup

pure maple syrup

1/4

cup

rice vinegar

2

tablespoons

reduced-sodium tamari

1

tablespoon

toasted sesame oil

Lime wedges, for servings

(optional)
Instructions
Use a mandolin to finely shred the savoy cabbage and purple cabbage (always be extra careful when working with a mandolin—no need to rush). I like to slice off wedges of cabbage and then shred each wedge (easier to handle this way).

Add the shredded cabbages to a large salad bowl. Top with the red bell pepper, scallions, mango, and cilantro.

Add the chopped brazil nuts and sesame seeds to a large skillet. Turn the heat on low and toast for 2 minutes, or until light golden brown and fragrant, stirring frequently to prevent burning. Remove from the heat and let cool.

Meanwhile, prepare the dressing. Vigorously whisk together the maple syrup, rice vinegar, tamari, and sesame oil. Taste and adjust according to preferences (e.g., add more tamari to make it saltier, more vinegar to make it tangier, more maple syrup to make it sweeter, etc.).

Pour the dressing over the slaw and thoroughly toss to coat.

Serve the salad garnished with the toasted nuts and seeds. If desired, spritz with lime.

This salad is best enjoyed fresh but leftovers can be refrigerated for up to two days (maybe 3 if a touch of salad sogginess doesn't both you).