Life teaches us to value the simple things.
The moments that prove to be our most cherished tend to be those that were formed out of the convergence of seemingly ordinary bits and pieces. A walk on a blue-skied day that ends with an unexpected view, a warmhearted, laughter-splashed conversation with a friend, or a vibrant, fresh meal with good company; it's the little moments that touch our hearts in the biggest of ways throughout our lives. No frills or fanciness needed; less really can be more when we open our minds to the moment upon us.
The same seems to hold true for recipes, too. It's the simple ones that nab our attention and have us repeating our every move in the kitchen in hopes of recreating the feeling of that first magical bite.
And you know what else?
There's just something about peanut butter. Time and time again it steals the show in desserts, life, and even in blogs. In October of 2013, I shared this gluten-free, vegan peanut butter cookie recipe, and within a few months it became clear I wasn't alone in my utter adoration for these simple cookies. And then in August of 2014, it was this 3-ingredient peanut butter fudge that garnered oohs, ahhs, and praise. Those two peanut butter recipes hold the #1 and #2 spots for most-viewed recipes on the blog, and they're also the two recipes I most frequently return to when I'm craving something sweet. And thus it appears that we're all on the same page: simple + peanut butter = magic.
These no-bake peanut butter + buckwheat cookies offer an even simpler approach than their popular baked predecessor. The ingredient list is shortened too, making these a double-threat on the simplicity front, and the addition of buckwheat makes them a grain-free, nutrient-packed treat. Although there is no substitute for freshly-baked peanut butter cookies, this no-bake version reignites the competition.
To make these salt-flecked peanut butter cookies, you'll process raw buckwheat groats into a flour. Then, add pitted medjool dates, natural peanut butter, coconut oil, and pure vanilla extract to a food processor. Pulse several times and process until a crumbly, stick-together mixture forms. Then, roll the mixture into balls, use a fork to flatten and create a crosshatch pattern, sprinkle with large-flake sea salt, and freeze for 20 minutes to set.
And then…
Set the stage for good memories to be made and get after those pb cookies.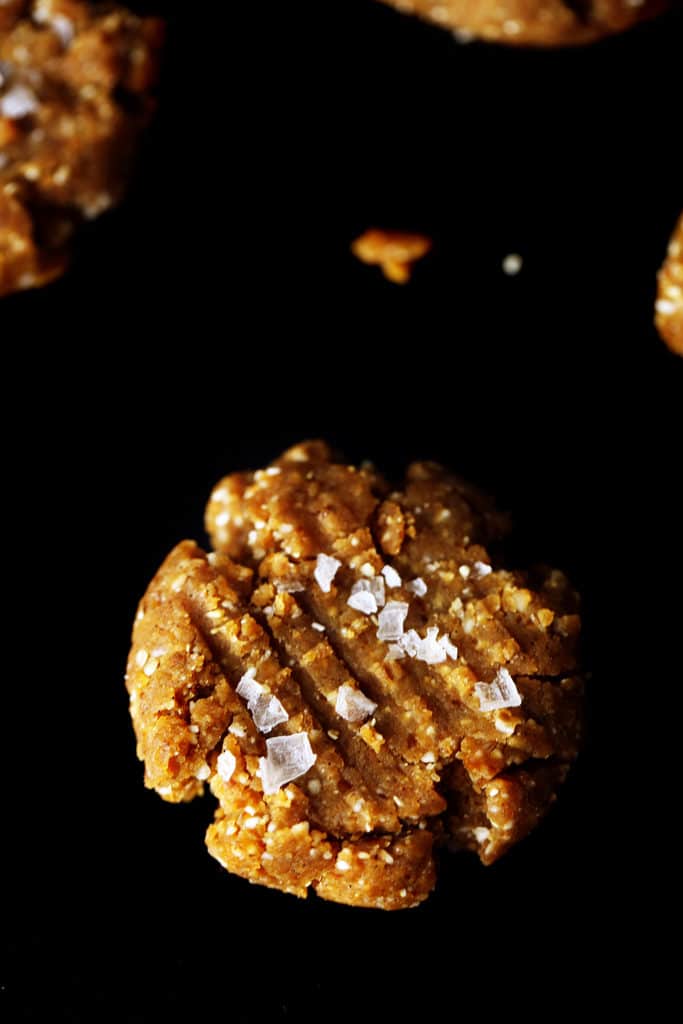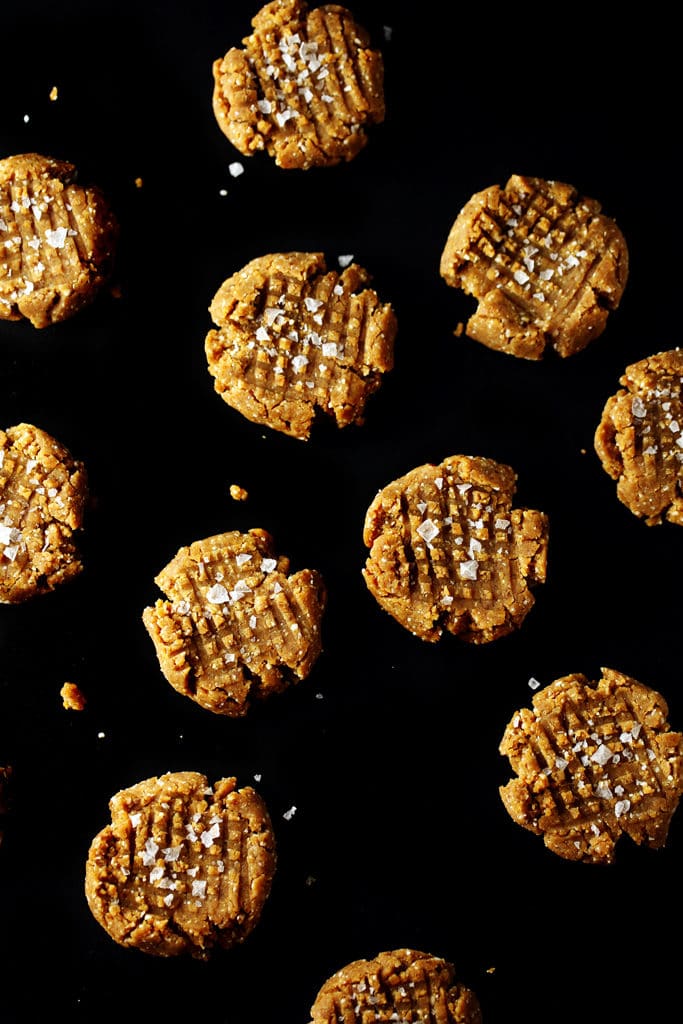 No-Bake Peanut Butter Cookies
Ingredients
3/4 cup raw buckwheat groats
1 cup pitted and packed medjool dates
1/2 cup natural peanut butter
1 tablespoon coconut oil
1 vanilla bean, seeds scraped or 2 teaspoons pure vanilla extract
large flake sea salt for garnishing, optional
Instructions
Add the buckwheat groats to a food processor and process for 3-4 minutes or until a fine flour forms. It's okay if the flour isn't perfectly fine -- larger pieces will add more texture to your cookies.
Add the dates, peanut butter, vanilla bean seeds, and coconut oil to the food processor. Pulse several times and then process for 2-3 minutes. If the dough is too dry and crumbly, add in 1 tablespoon of water and process to incorporate.
Roll the mixture into 14 balls and drop onto a cookie sheet lined with parchment paper. Using a fork, press the balls into cookies while making a crisscross pattern. Sprinkle the cookies with large grain sea salt, such as Maldon
Place the cookie sheet in the freezer for 20-30 minutes to set the cookies.
You can store the cookies in either the freezer or refrigerator. The freezer will add a snap when biting in and the refrigerator will keep the cookies firm but tender.
Notes
*If you're using unsalted peanut butter, add 1/8 teaspoon fine-grain sea salt when you add the dates, peanut butter, coconut oil, and vanilla.