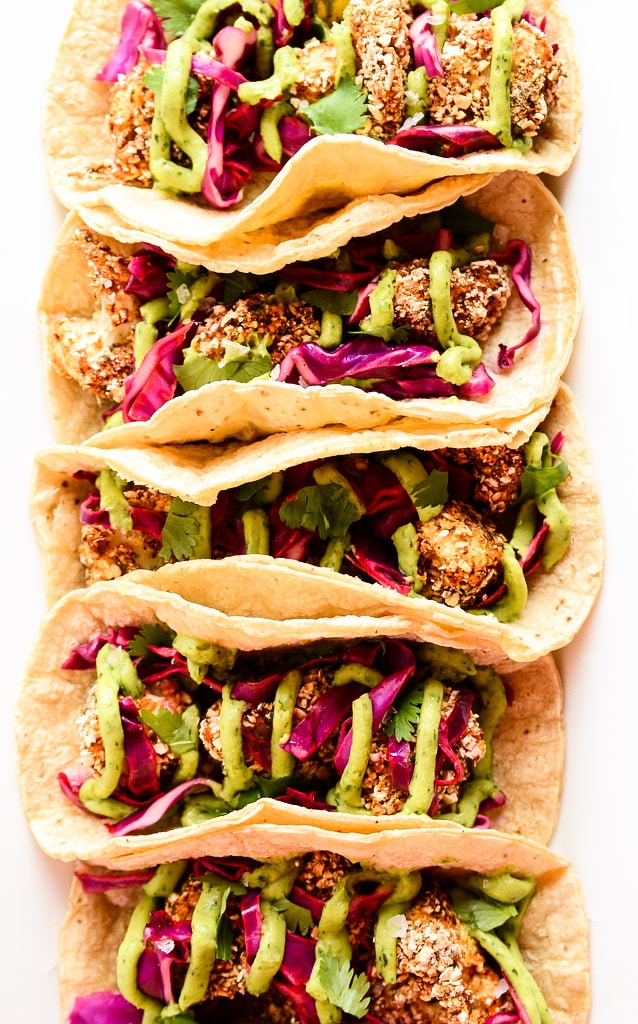 Crunchy.
Tangy.
Crispy.
Creamy.
Citrusy.
Vibrant.
Delicious.
These tacos are speaking my food love language, and I just can't quit them.
Tacos are, without even the slightest twinge of doubt, on my list of favorite summer foods. I love their simplicity and the vast array of tasty toppings that get nestled within bites of warm tortilla. Add a spritz of fresh lime juice and… oh. em. gee. I'm done. Death by taco bliss.
Since becoming vegetarian (almost four years ago to the date) and then vegan, my go-to tacos have always been grilled portobellos sliced up and topped with pico de gallo, cilantro, guacamole, and a splash of fresh lime juice. They're easy to throw together and are almost fool-proof, although I once neglected a portobello I was roasting in the oven and it caught on fire. Hence, I say almost fool proof.
While that portobello taco combination is good, the one thing that drives me crazy is how soggy the corn tortillas get from the portobellos and the total absence of crunch within each bite. This is the reason that my go-to portobello recipe has never been shared on the blog; no one wants a soggy, fall-apart taco… except me when no one's watching. Shh. Don't tell.
I've been wanting to create a vegan + gluten-free recipe for crispy tacos for quite some time, and that time ended up being this past Monday. There were actually five other posts waiting in line before this one, but I made the executive decision to hand this recipe a cut-in-blog-post-line ticket, because I'm that excited about these heavenly little handhelds.
Bite-size cauliflower florets are coated in an almond milk and brown rice flour batter, tossed in a mixture of coarsely ground oats + spices, and baked in the oven until they're golden, crunchy, and packed with flavor. While the outside of the cauliflower crisps up, the inside becomes tender and moist <– note: this word makes me slightly uncomfortable but there's really no better way to describe the texture. Then, the cauliflower bites are nestled in warm corn tortillas, topped with a tangy purple cabbage slaw, and drizzled with avocado cream. The final touch is a splash of fresh lime juice, and then it's time to bite, savor, and repeat.
These tacos are the perfect balance of crunchy, tender, and juicy, and they are packed to their corn-tortilla confines with flavor. I love them a lot, and I hope you do too.
Today's Sound Bite is When I'm Alone by Lissie. I fell in love with this song last fall, and it happened to come on while I was working on this recipe. Something about the energizing tone and fun syncopation in the lyrics makes it impossible not to sing along and put a foot tap and/or head sway to good use. I'm a fan of shameless dancing, singing, and all-around fun in the kitchen, so I hope this one infuses the same behaviors into your kitchen.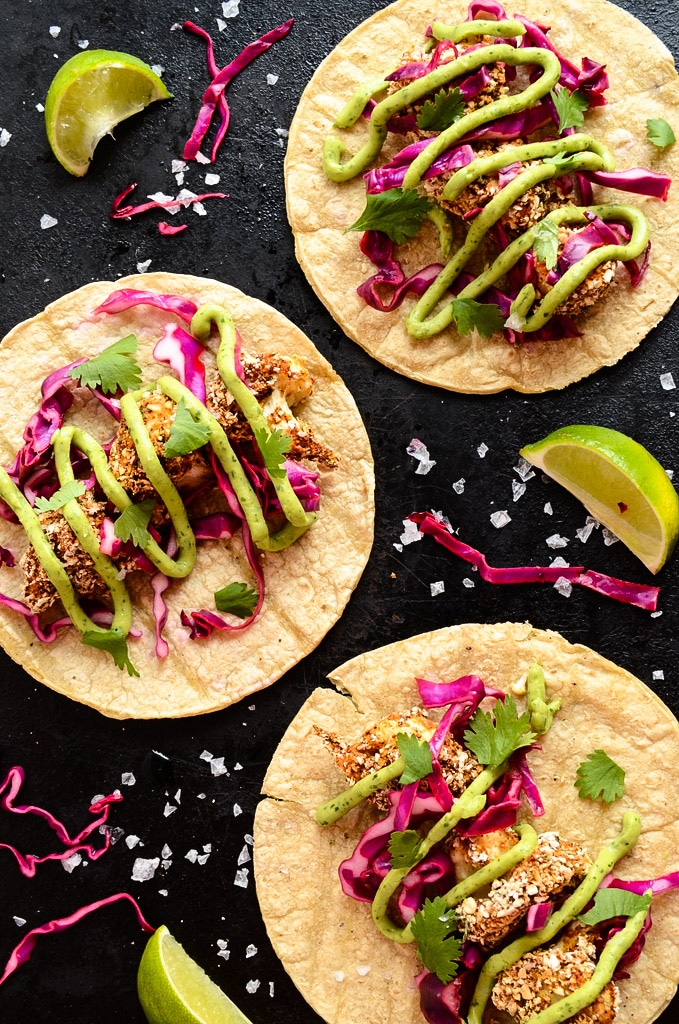 Crispy Cauliflower Tacos with Slaw & Avocado Cream
Author:
Ashley Melillo | Blissful Basil
Recipe type:
Tacos, Entree, Main
Ingredients
For the Crispy Cauliflower
1 small head of cauliflower or 1/2 a large head of cauliflower, cut into bite-size florets
1 cup gluten-free rolled oats
2 tablespoons chopped fresh cilantro
2 teaspoons chili powder
1 teaspoon smoked paprika
1/2 teaspoon cumin
1/4 teaspoon garlic powder
1/4 teaspoon ground turmeric (optional)
1/8 teaspoon cayenne pepper
1 teaspoon fine grain sea salt
1 1/4 cup plain, unsweetened almond milk
3/4 cup brown rice flour
1 tablespoon fresh lime juice
For the Cabbage Slaw
2 cups thinly sliced purple cabbage
1/4 cup fresh lime juice
1 tablespoon apple cider vinegar
1/2 tablespoon agave nectar or other liquid sweetener
1/4 teaspoon fine grain sea salt
For the Avocado Cream
1 avocado
1/4 cup cilantro leaves
2 tablespoons fresh lime juice
1/4 teaspoon fine grain sea salt
For Serving
12 small soft corn tortillas
lime wedges
cilantro leaves
Instructions
To Make the Crispy Cauliflower
Preheat oven to 400 degrees Fahrenheit.
Add the rolled oats to a food processor. Pulse 75-80 times or until a coarse meal forms. You don't want the oats to be a fine flour, but rather a texture similar to panko bread crumbs. Transfer the oats to a large, shallow bowl or dish. Add in the cilantro, chili powder, paprika, cumin, garlic powder, turmeric, cayenne pepper, and sea salt. Gently mix to incorporate spices.
Add the almond milk, brown rice flour, and lime juice to a large bowl and whisk until smooth.
Place about a handful of cauliflower florets into the almond milk batter, toss to coat, shake off excess batter, and transfer to the oat and spice mixture. Toss the pieces until coated and transfer to a large baking sheet lined with parchment paper. Repeat with the remainder of the cauliflower.
Bake the cauliflower for 25-30 minutes or until crispy and golden, tossing halfway through baking.
Remove from oven and let cool slightly.
To Make the Cabbage Slaw
While the cauliflower is baking, make the cabbage slaw by adding the purple cabbage, lime juice, apple cider vinegar, agave nectar, and salt to a small bowl. Toss to coat and let rest, stirring occasionally.
To Make the Avocado Cream
Add the flesh of the avocado, lime juice, cilantro leaves, and salt to a food processor. Process for 3-4 minutes or until smooth and resembling a texture similar to mayo. You can either dollop the tacos with the cream or transfer it to a ziploc bag, snip off a corner, and pipe the cream across the tacos.
To Assemble the Tacos
Heat each corn tortilla in a small skillet over medium heat for 20-30 seconds on each side. Fill with 3-4 pieces of the cauliflower, top with a small handful of cabbage slaw, and drizzle with avocado cream. Garnish with cilantro leaves and serve with lime wedges.*
Refrigerate leftovers.
Notes
*I strongly recommend spritzing each taco with a splash of fresh lime juice. It helps pull all of the flavors together and adds brightness.