This 7-ingredient vegan un-chicken salad is unbelievably reminiscent of the real thing. Most vegan chicken salads use a base solely derived from mashed chickpeas. Although this version relies on the trusty beans as well, its base gets a helping hand from an unexpected veggie ingredient: artichokes. When pulsed in a food processor, artichoke hearts take on a flaky texture that both looks and feels a whole lot like shredded or flaked chicken. Although this vegan un-chicken salad can be made with a strictly artichoke base (i.e., sans beans), I quite like the texture and protein-boost that the combination of artichokes and chickpeas provides.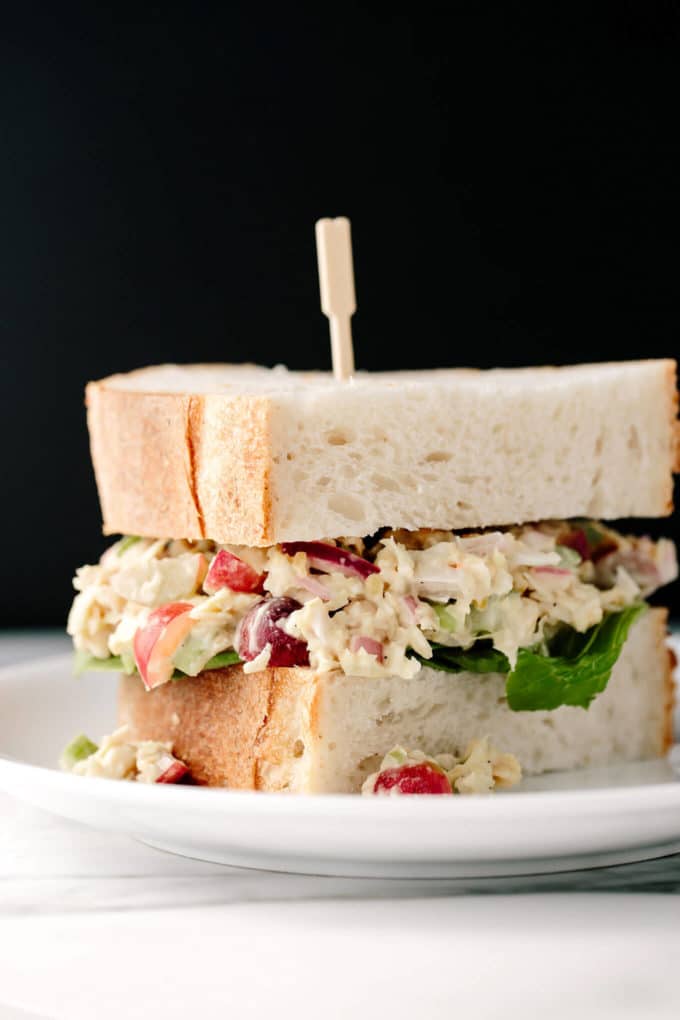 If there's one thing I've learned in seven years of blogging, it's that trying to predict what people will love and creating recipes from a people-pleasing perspective often results in rather fruitless outcomes. Not to mention that it's a draining, laborious process to create from that sort of headspace.
However, when recipes are created from pure inspiration and love for the process, magical things can happen. Not all the time, of course, but some of the time, indeed.
Take, for instance, this recipe for vegan mediterranean un-tuna salad I shared over the summer.
That recipe was created purely as a way to scratch my own itch, and the making of it was inspired by an intense craving and insatiable curiosity. A curiosity that questioned, "What would happen if I substituted tuna with flaked artichoke hearts?" Apparently, my curiosity is very precise with its questioning.
From that initial question, sprang a slew of other questions that ultimately led to the final recipe—a recipe that's since taken hold as one of my all-time favorites and has garnered the interest of many of you, as well.
I'm rambling a bit here, but I suppose my point is simply to say that as a food blogger, it can be hard to honor your own heart and not get swept up in the trends. It can be difficult to resist the urge to reach for the recipes with "viral potential", especially with all the competition out there these days.
When I started blogging in 2010, there was of course "competition" but nothing like it is now.
Back then, I didn't concern myself with practical things like SEO and google analytics. Why? Because I didn't care. I wrote and created and wrote again for the pure joy of the process. And I wrote fearlessly, because there were so few eyes watching.
Now, all these years later, I've realized there are certain practical things—like SEO and analytics—that I have to care about simply to stay afloat amidst a sea of so many talented people. But there are other things I'm just not willing to compromise on. Things like trading in recipes that are inspired by pure love + joy for those that are merely attempting to grab a competitive edge in the numbers game.
Other things I'm not willing to compromise on (for the most part)? Adding nutrition information to recipes. Do you know it actually hurts SEO (search engine optimization) not to include this information in my recipes?
As you might recall from a post I shared several months back, both my heart and my psychologically oriented mind fundamentally disagree with the numbers obsession when it comes to nutrition. And so I refuse to budge on that front, despite being advised that I need to "get over it" for the sake of the site's SEO.
But, as the saying goes, "If you don't stand for something, you'll fall for anything."
And so, when it comes to what I share here with you, I choose to take a strong stance on certain things to protect both the love I have for this process as well as to maintain alignment with my core values.
This doesn't always make everyone happy, and I've certainly received my fair share of online side eyes and criticism from those I'd consider to be passersby on this site. But you really, truly can't please everyone if you choose to share your real self with the world. And by limiting ourselves to creating only those things that are most likely to please others, we stifle our impact, and that's a far greater loss than irking a select few.
One of my all-time favorite quotes sums this idea up perfectly:
"Don't ask yourself what the world needs. Ask yourself what makes you come alive and then go do that. Because what the world needs is people who have come alive." —Howard Thurman
More of that, please.
Okay, now that I've thoroughly irritated all those who came here strictly for the recipe (don't fault you one bit for that, by the way—I've even surprised myself with the lengthiness of the above musings), let's chat about this vegan un-chicken salad...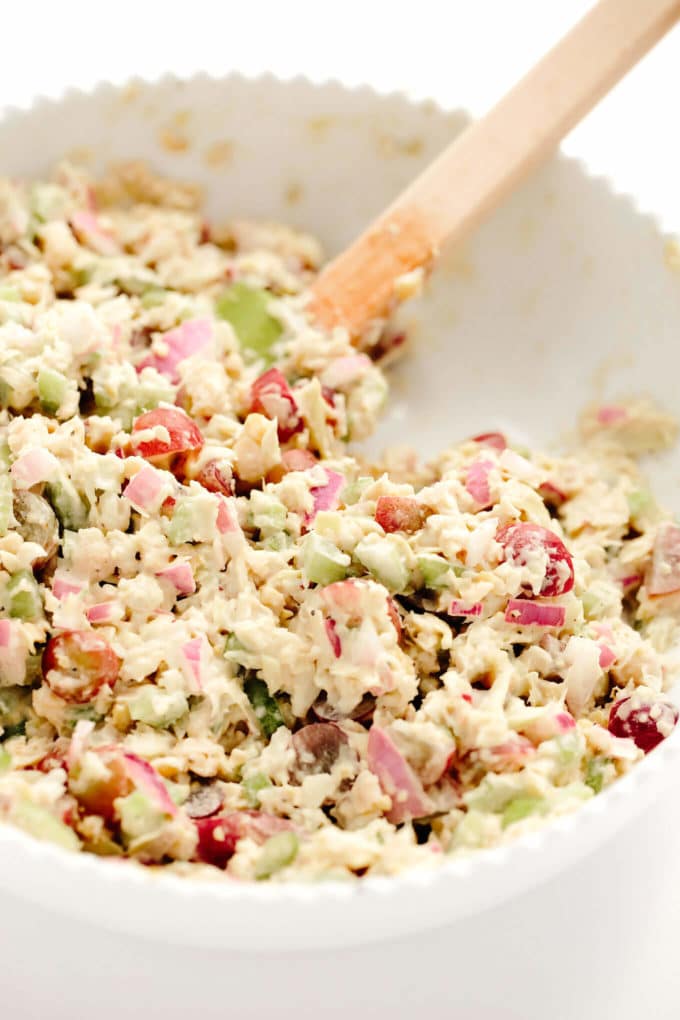 Much like the mediterranean un-tuna salad I mentioned above, this un-chicken salad starts off with a base of flaked artichoke hearts and flaked chickpeas.
If you want to simplify this recipe to the max (it's already super simple), you can opt for all flaked chickpeas or all flaked artichoke hearts, but I quite like the combination of the two.
The artichoke hearts add a lovely brininess and texture, while the chickpeas up the protein.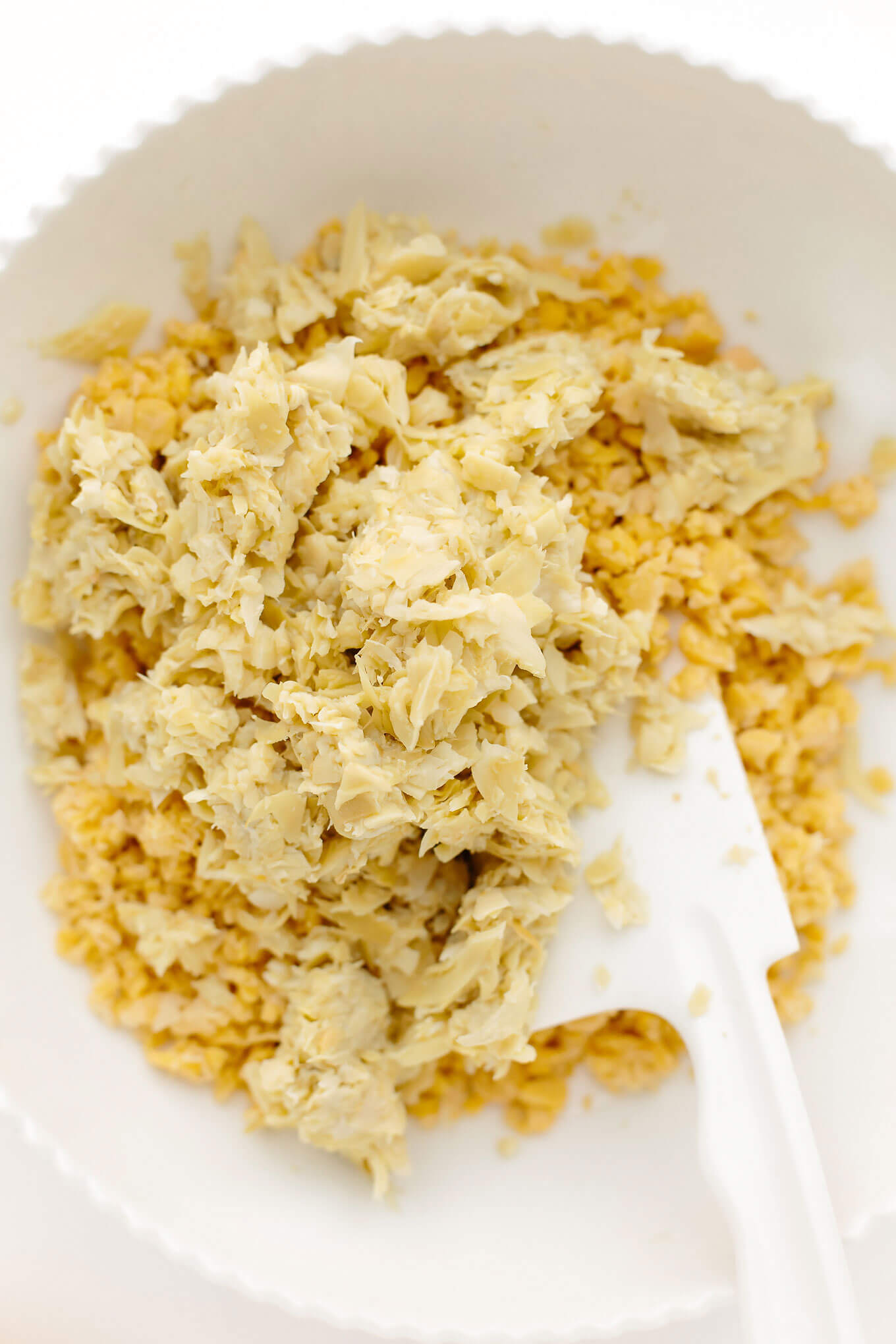 Once you've flaked your chickpeas and artichokes in a food processor, add the remaining ingredients:
» Diced red onion
» Diced celery
» Halved or quartered red grapes
» A bit of vegan mayonnaise
» A splash of lemon juice
» Sea salt + black pepper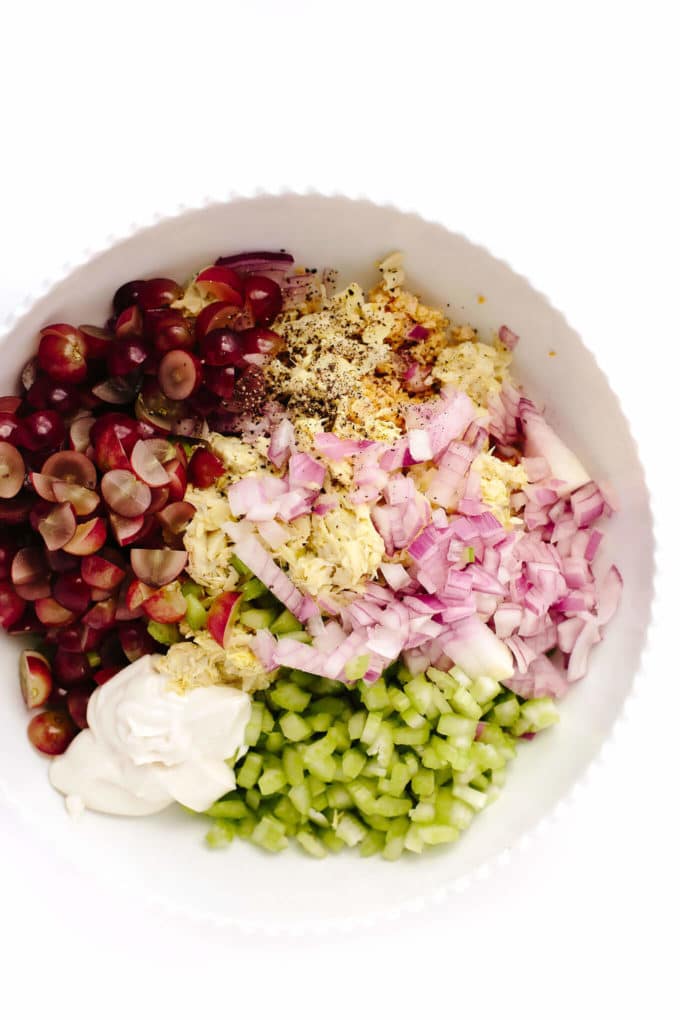 Then, give it all a good stir like so...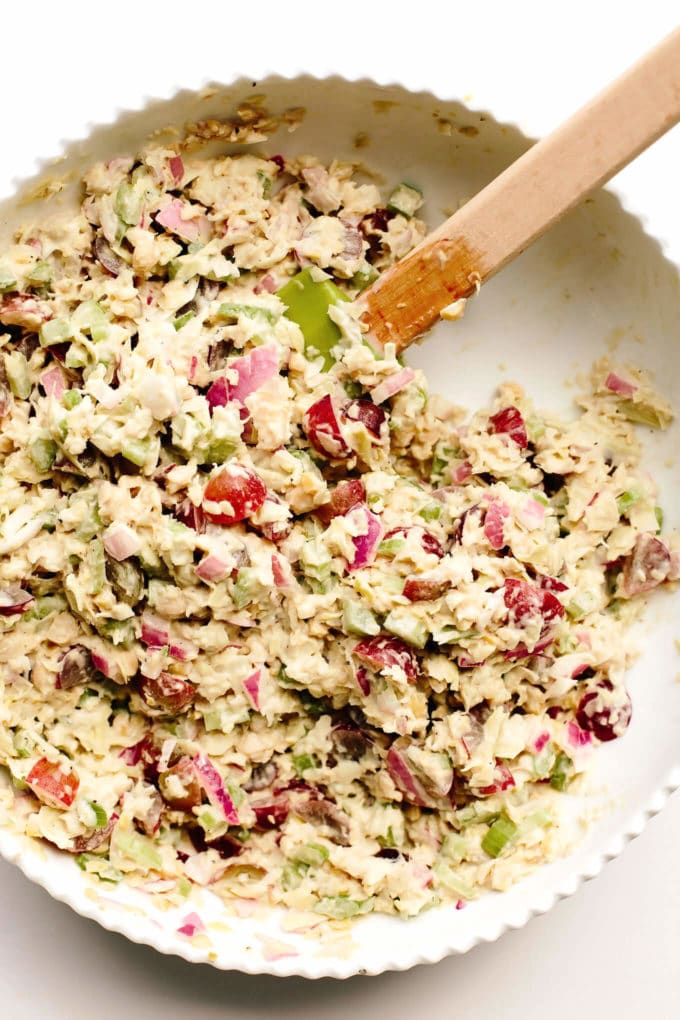 This vegan un-chicken salad is delicious all on its own, but for a heartier meal I recommend tucking it in between thick slices of whole-grain bread or sourdough.
Alternatively, serve it up with crackers or in romaine lettuce boats with sliced tomatoes.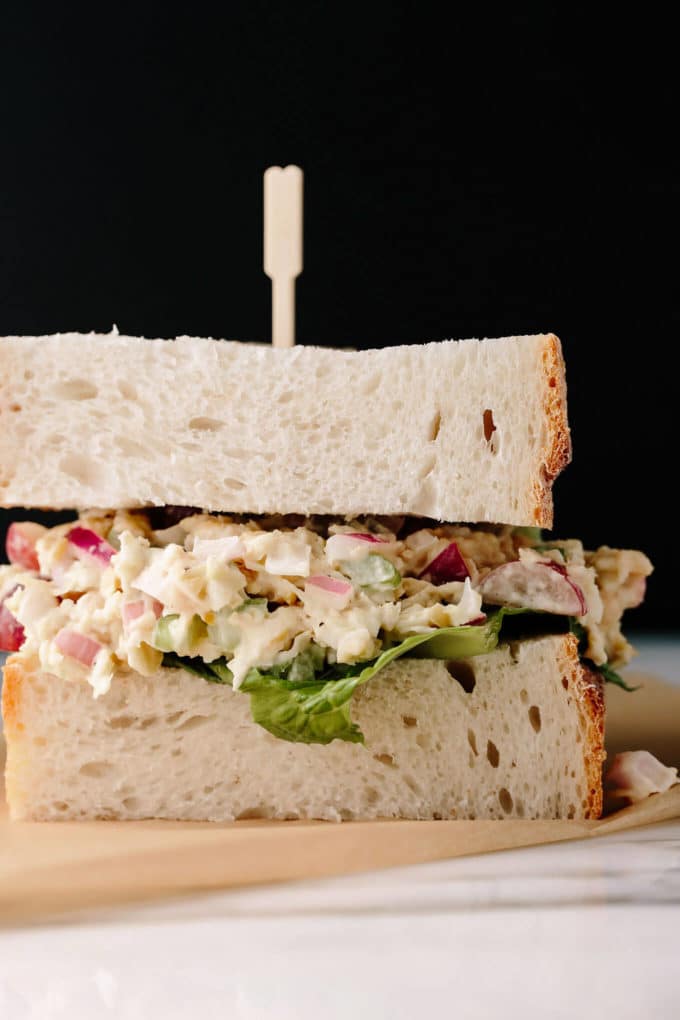 📖 Recipe
Vegan Un-Chicken Salad
Ingredients
1 (15-ounce)

can

garbanzo beans, drained and rinsed

1 (14-ounce)

can

quartered artichoke hearts, drained

½

small red onion, finely diced (about ½ cup)

2 to 3

stalks celery, trimmed and diced, to taste

1

cup

red seedless grapes, halved or quartered (depending on size)

¼

cup

plus 3 tablespoons vegan mayonnaise (e.g., Just Mayo or Fabannaise) or to taste

Juice of ½ to 1 lemon, to taste (about 1 to 2 tablespoons fresh lemon juice)

Sea salt and freshly ground black pepper
Instructions
Add the garbanzo beans to a food processor and pulse 5 to 10 times, or until they're chopped and take on a flaky texture. Do not over-process. Transfer to a large serving bowl.

Next, add the artichoke hearts to the food processor. Pulse about 10 times, or until they're chopped and take on a flaky texture. Carefully gather the chopped artichokes within your hands or within a piece of cheesecloth, and press the excess water from them. They don't need to be completely dry, but you want to release any excess liquid to ensure a more "meat-like" texture. Add to the bowl with the garbanzo beans.

Stir in the red onion, celery, grapes, vegan mayonnaise, and lemon juice.

Season to taste with sea salt (I usually add a ½ teaspoon) and black pepper.

Serve on its own, tucked into pita bread, or on top of sandwich bread, baguette slices, crackers, cucumber slices, etc.

Cover and refrigerate leftovers for up to 2 days.