These vegan sweet potato fries with cilantro & hemp seed aioli have a dash of summer flare and are incredibly addictive. They're the perfect match for a summer burger but can also be enjoyed all on their own as a healthy snack.
Have I ever told you the story about the time I went on an interview and lost a shoe?
It was February of 2010, and I was searching for a school psychology internship position. During your internship year, you're expected to secure a full-time placement at a school, and I knew with 100% certainty that I wanted my internship to be in a high school. Sassy teenagers are my favorite.
I reached out to several high schools and was lucky enough to secure five interviews in one week's time. The schools I was interviewing with were strewn across the suburbs, and I lived in the city without access to a car. Thankfully Chicago has plenty of transportation options, so I planned to take the train and then walk to my interviews.
The interview I was most excited about took place on a Tuesday and as luck would have it, Chicago dropped about 8 inches of snow between midnight and 8am that day. My interview was at 9:30, and I had to take the L train to a Metra train and then walk ¾ of a mile to make it to my interview. Knowing that my snazzy new interview shoes weren't made for walking as much as they were for sitting and looking professional, I opted to commute in a pair of boots and stow the heels in my bag.
I somehow managed to make it to the interview early, and my interviewer noted how impressed he was that I made it to the interview at all given how much snow had fallen. Yes! One point for promptness in a snowstorm!
I spoke with the lead psychologist for quite some time and then made my way around to the other three psychologists' offices. If there could be internship love at first interview, this was it. I was absolutely smitten. The psychologists were brilliant and witty. The kids were friendly. The building was welcoming. This was my dream internship.
Somewhere in between the conversation and my excitement, I completely lost track of time. I was startled to see that it was 11:10 by the time I finished the interview, because I needed to make an 11:20 train if I was going to make it back to the city in time for class. So, after saying my goodbyes at 11:11am, I switched back into my boots, snugly tucked my professional heels away in my bag, gracefully walked out the door, and started sprinting the moment my feet hit sidewalk in front of the school.
Guess what. I made it to the train station with one minute to spare. A successful interview and an efficient sprint? I was feeling fan-freaking-tastic.
And as I reached into my bag to pull out my return train ticket, I noticed something: I had one professional heel. Not two. Certainly not three. I had one.
I immediately dug around in hopes that it might have found its way to the bottom of my bag, even checking the way-too-small-to-contain-a-shoe side pocket. I was desperate. These were new shoes, I had four more interviews, and I was a broke grad student.
In this moment of frantic, single-shoe chaos, I did the only thing my anxiety-prone, 26-year-old soul could think of: I called my mom.
Me: Mom! The interview was great but I almost missed the train, so I ran all the way back to the train station in the snow. Yes, I ran! I made it but I must have dropped one of my new heels when I was running! No, I don't know where it is. What if one of the psychologists finds it and thinks I'm crazy?! The train is coming! Do I get on it or run back to try and find it??
Mom: I'm so sorry you lost your new shoe! Get on the train though or you'll be stuck there in the cold and miss your class. No one's going to find your shoe and if they find it they'll have no idea who it belongs to, so don't worry. Just get on the train. I love you!
Me: Thanks, mom! You're the best. I'll let you know when I hear back about the interview. Bye!
And just like that I hopped on the train, worries set aside and my post-interview excitement renewed. 45 minutes later I was back in Lincoln Park and walking up the steps to my apartment to change out of my suit before heading to class when my phone started ringing...
Ring. Ring. Ring.
Me: Hello?
My Interviewer: Hi Ashley. This is Kevin from HPHS. How are you?
Me: I'm great. Just made it back through all that snow.
Kevin: I have the strangest question for you.
Me: .......................(silence)
Kevin: By any chance... did you lose a shoe?
Me: (nervous laughter) ..................yes, actually, I did.
Kevin: (lots of laughter) Okay, well just so you know, we have it here. One of the maintenance people found it on top of a snow bank right in front of the school. You can come pick it up whenever you get a chance. Also, I know you can't officially give a definitive "yes" until the March 15th deadline, but we'd love to have you intern here next year.
Me: I guess you could say I'm a shoe in, huh?
Dan lovingly refers to this as my Cinderella interview story. Not only was I running late, but I left a shoe behind. Some things are just meant to be because I ended up accepting a year-long internship position at that very school, and it was one of the most amazing learning experiences of my life thus far. Sometimes you have to keep your foot or shoe in the door, be it intentionally or by a gracious act of serendipity.
What did that long story have to do with sweet potato fries? Nothing at all, but I've been meaning to share it with you all for quite some time now and was reminded after spotting that good ol' pair of heels in my closet a few days ago.
Now onto more delicious things than shoes: sweet potato fries.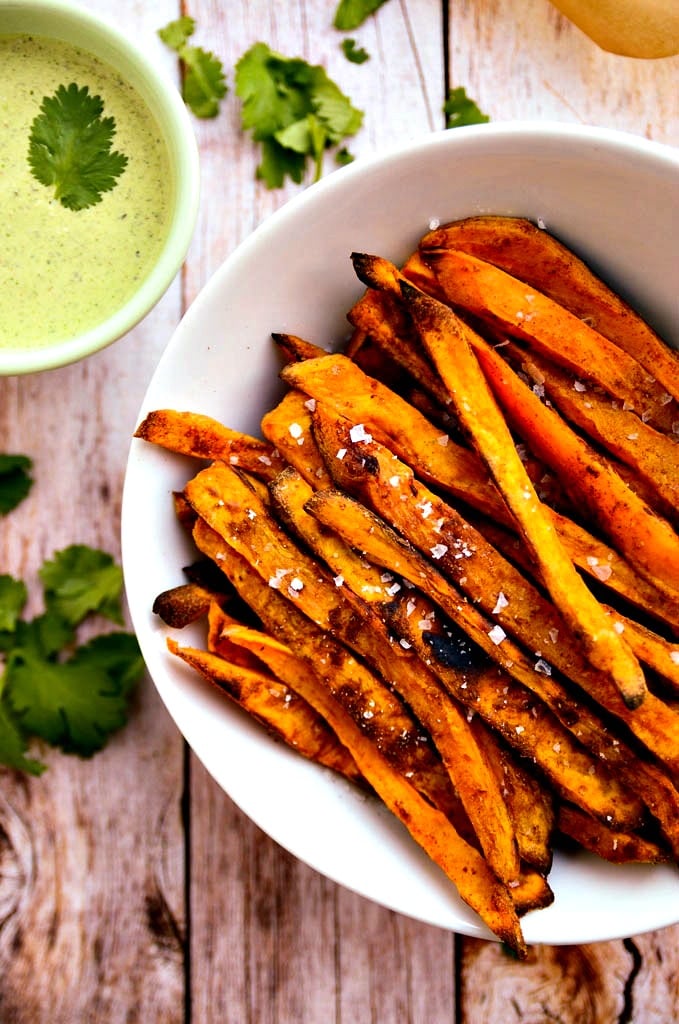 Sweet potatoes are coated in coconut oil, cinnamon, coriander, and salt and baked to tender perfection.
As they bake, some fries develop a crispy bite and others become tender and delectable, which is exactly the way I like my fries.
Rather than being made from vegan mayo, the aioli is created by combining hemp seeds, hemp oil, almond milk, cilantro, lime juice, garlic, and white wine vinegar. The result is a light green, garlicky, and savory superfood sauce that balances the sweetness from the fries.
These fries have a dash of summer flare and are so incredibly addictive. They're the perfect match for a summer burger or a healthy snack to be enjoyed all on their own.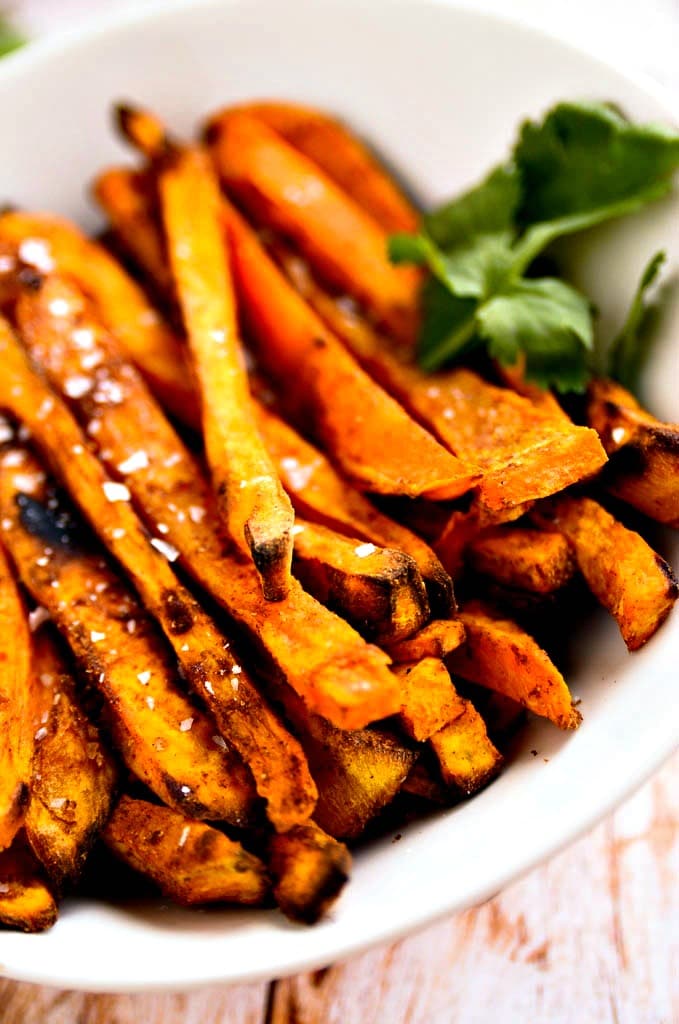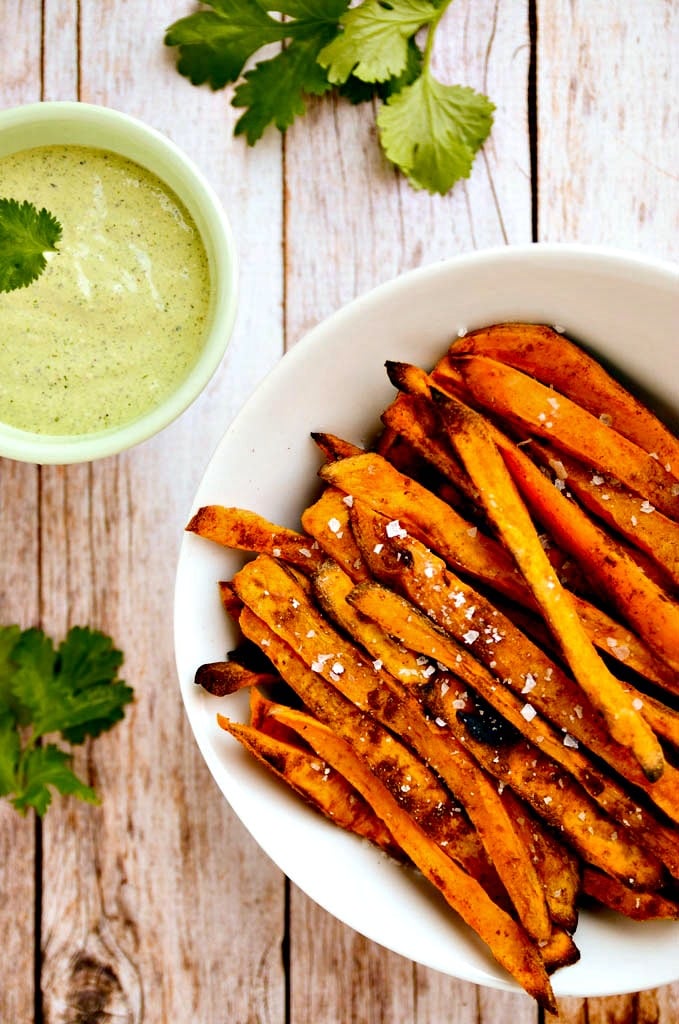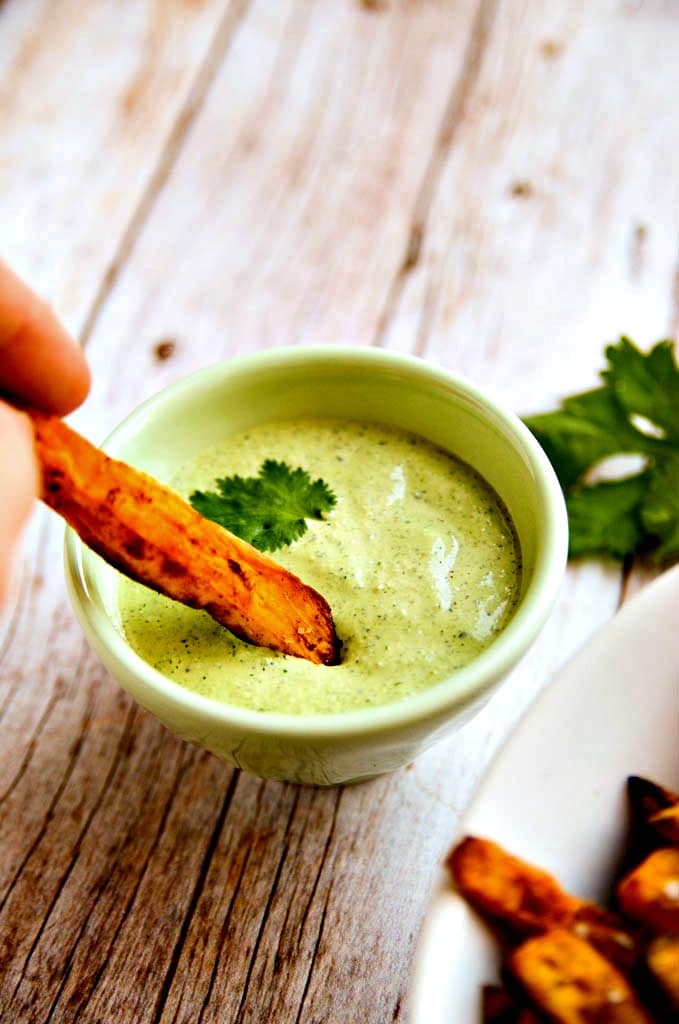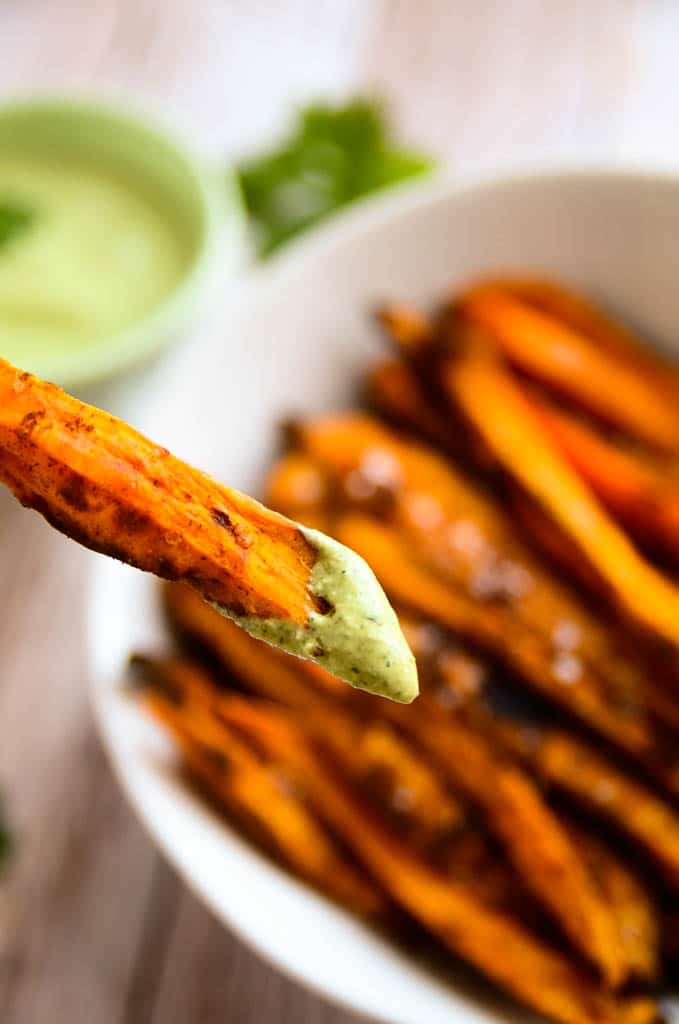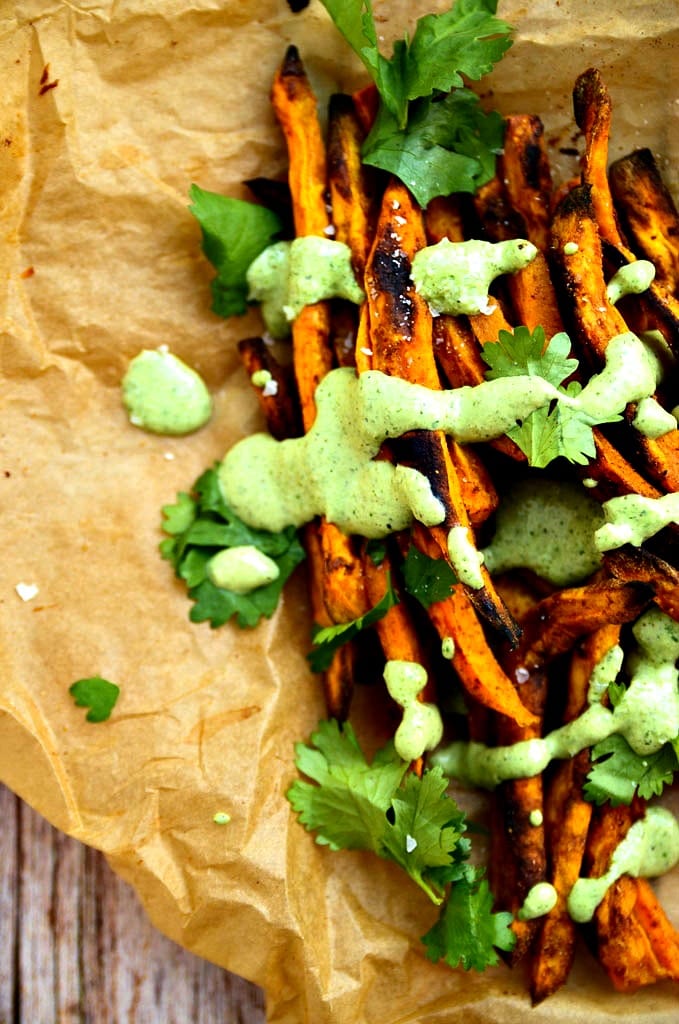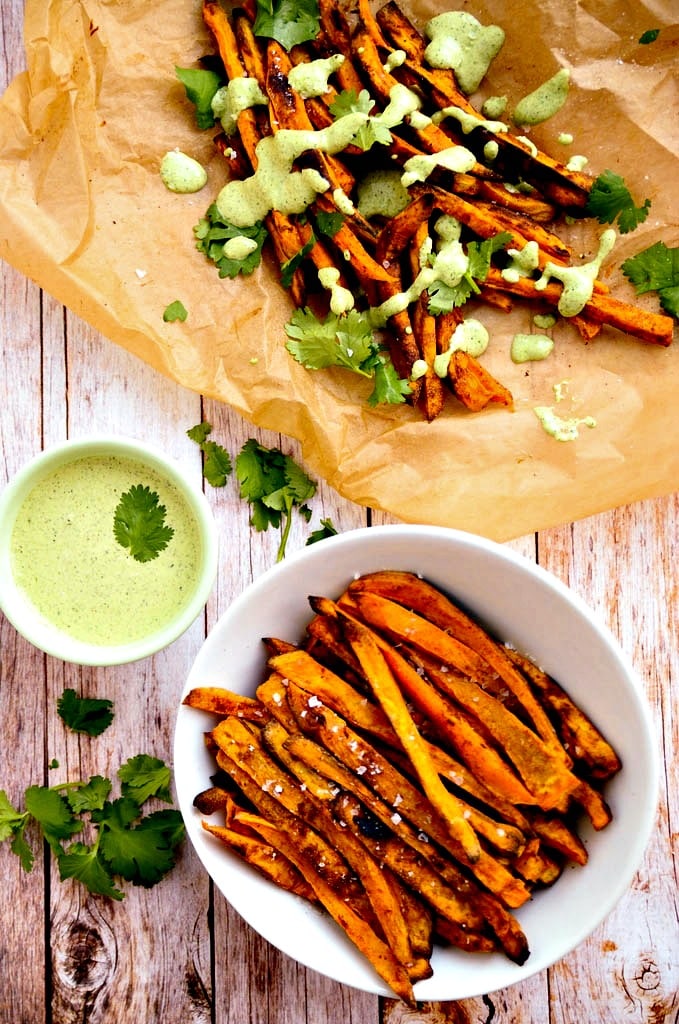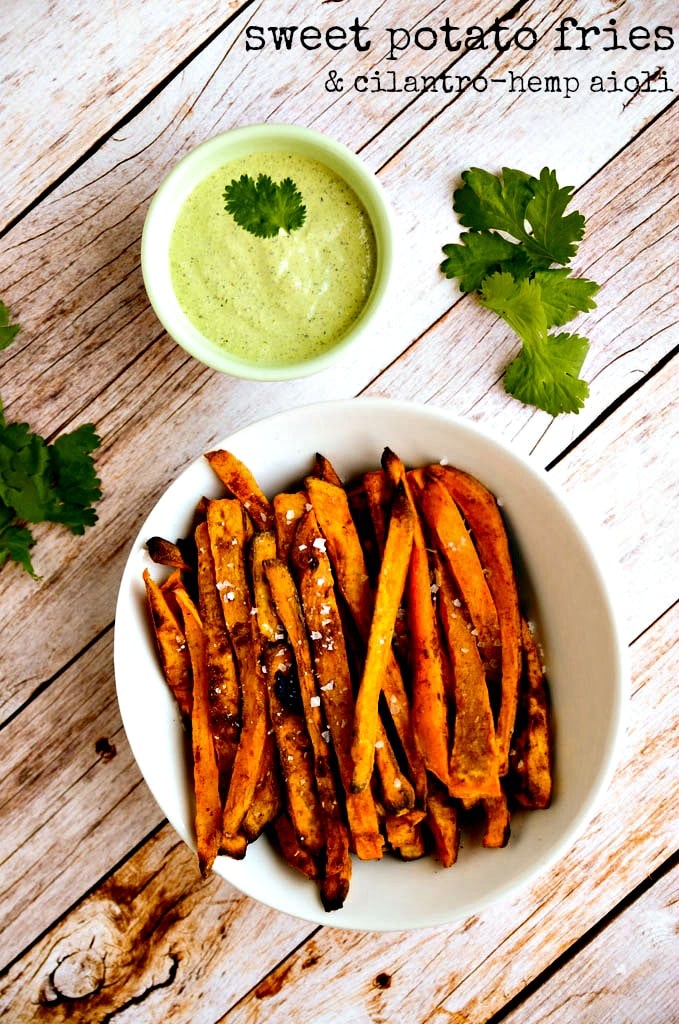 📖 Recipe
Sweet Potato Fries with Cilantro & Hemp Seed Aioli | Vegan & Gluten-Free
These vegan sweet potato fries with cilantro & hemp seed aioli have a dash of summer flare and are incredibly addictive. They're the perfect match for a summer burger but can also be enjoyed all on their own as a healthy snack.
Ingredients
2

large sweet potatoes, peeled and cut into desired fry shape

2

tablespoons

coconut oil

1

teaspoon

ground coriander

1

teaspoon

ground cinnamon

½

teaspoon

sea salt

¼

cup

plain, unsweetened almond milk

1

tablespoon

hemp oil or olive oil

½

cup

shelled hemp seeds

1

clove

garlic

¼

cup

chopped fresh cilantro

1

tablespoon

fresh lime juice

2

teaspoons

white wine vinegar

¼

teaspoon

sea salt or to taste

Optional garnish: cilantro leaves + maldon sea salt
Instructions
Preheat oven to 425 degrees Fahrenheit.

Line two large baking sheets with parchment paper.

Add the cut sweet potatoes to a large bowl. Melt the coconut oil and pour over the sweet potatoes. Toss to coat. Sprinkle the coriander, cinnamon, and ½ teaspoon sea salt over top and toss to evenly coat.

Divide the sweet potatoes between the two baking pans and evenly disperse. Bake for 25-30 minutes, turning the fries over at the halfway point.

As the fries bake, make the cilantro-hemp aioli by adding the hemp seeds, almond milk, hemp or olive oil, garlic, cilantro, lime juice, white wine vinegar, and sea salt to a blender. Blend on high for 1-2 minutes or until smooth. Taste and add more sea salt if desired. Pour into a bowl.

When the fries are done baking, let them cool on the parchment paper to crisp up a bit. They will not become completely crispy but they are absolutely delicious nonetheless.

Transfer the fries to a large bowl or plate and serve alongside the cilantro-hemp aioli.