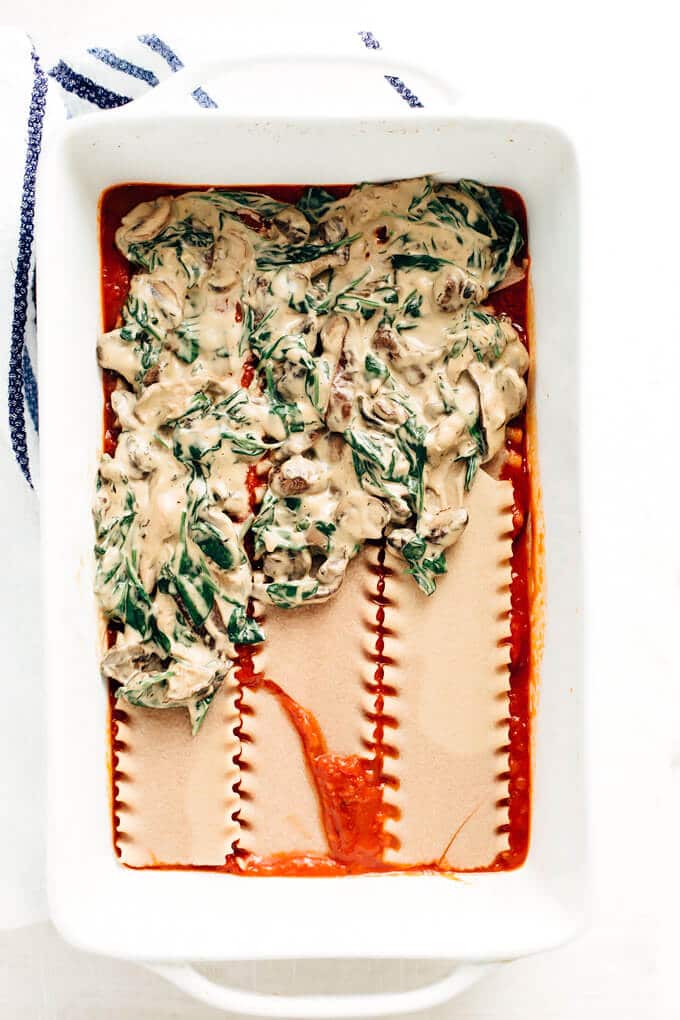 If there's one thing life's taught me up to this point, it's to look for the sparkly glimmers of serendipity tucked away in unexpected places.  The person you didn't expect to meet at the event you weren't sure you wanted to attend, the book you didn't expect to stumble upon at the bookstore you were dragged in to by a friend, the great opportunities you said 'yes' to when they still seemed like crappy ideas you wanted to say 'no' to, etc.
Sometimes, when we open ourselves up to the unexpected, we're greeted by people, places, and moments that are far more fabulous than our minds ever could have fathomed.
A few summers ago, I signed myself up for a food blogger conference in hopes of learning more about food photography and maybe meeting a friendly face or two. But as the conference date drew nearer, I began to think of all the reasons I shouldn't attend. All the work I needed to do, places I needed to be, errands I had to run, etc. These incrementally mounting to-do's piled up in my mind and left me questioning why in the world I had signed up for this conference in the first place.
A few days out from the conference, I decided to play it by ear. If I woke up the morning of the conference and felt compelled to go, I'd go. However, if I woke up and wasn't feeling it, I'd skip it. Low and behold, I woke up that Friday and decided, without question, that I wanted to go. Strange given how uncertain I'd been just a day or two earlier.
I arrived at the conference, coffee in hand, and began chatting with the lovely people around me. There was a wide range of experience and wisdom in the crowd, but there wasn't another plant-based, vegan, or vegetarian food blogger to be found. Not a major issue, but I was a tiny bit bummed, because if I was the lone veg-focused blogger in the audience, the hope I'd held out that one of panelists might be in the same niche was probably wishful thinking.
But as the first group of panelists filed in and introduced themselves, my attention was drawn to a sparkly, serendipitous glimmer. She was effortlessly chic, honest, and real, with a plant-powerful message that cut straight to the heart.

Photo by Nicole Franzen
As any diligent note-taker would do, I scribbled down her name, the contact deets she offered up, and a few observations to help jog my future self's memory, "Jessica Murnane. Awesome vibe, One Part Plant, plant-based nutrition certificate. Witty. Super cool. Real, honest, genuine, accessible."
A few months later and by way of another blogger's recommendation, I started listening to Jessica's inspiring One Part Podcast. If you haven't listened to it yet, do yourself a favor and start listening now.
The following spring, while toying with the idea of pursuing a Plant-Based Nutrition Certificate, I reached out to Jessica to get her thoughts on the program. She generously offered up her insights in a way that was real, encouraging, and witty, too.
About a year later, I reached out to see if she'd consider writing an endorsement for my cookbook. Anyone who knows me knows that asking for favors makes me uncomfortable. I never want to imposition people or put them in a place where they feel obligated. Plus, I knew Jessica was in the midst of finishing her own cookbook at the time. Yet, without hesitation, she enthusiastically offered up her praise and support for the book.
Then, when I asked her to be part of the blog tour for my cookbook, she responded with a fun-loving, "DUH."
But far more than her willingness to dole out these awesome votes of support, what I most love about Jessica is that she makes no excuses for who she is. No matter the topic, she embraces and speaks her truth proudly, radiating whole-hearted sincerity and compassion in a way that so few people do. Most simply put: Jessica's a gem and a real beauty of a person inside and out.
And on top of all that, girl knows how to cook.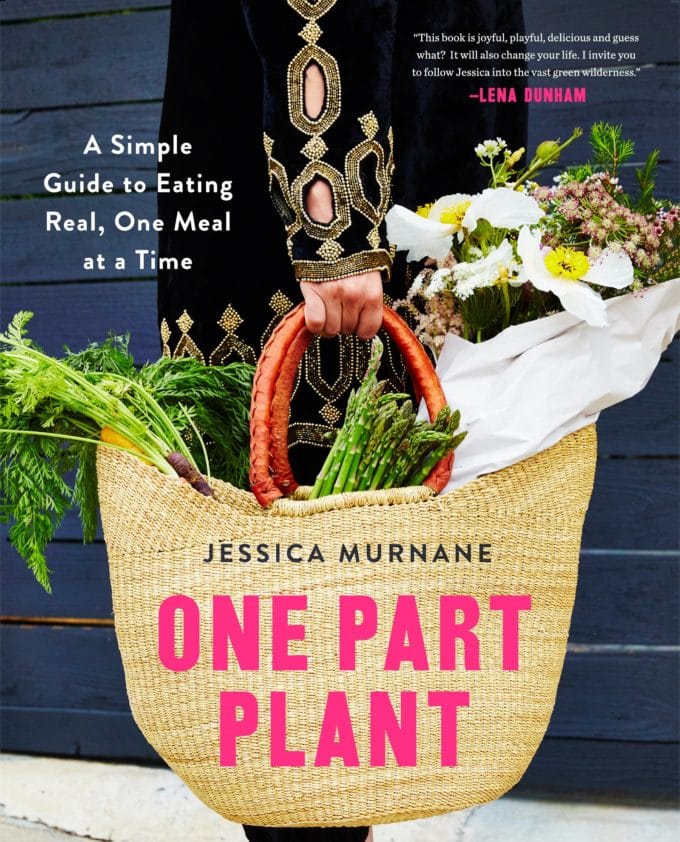 Cover photo by Nicole Franzen
Her debut cookbook, One Part Plant, lives its subtitle in the truest of ways; it's a simple guide to eating real, one meal at a time.
The cookbook opens with a letter to the reader written by Lena Dunham—yes, the Lena Dunham—that states, "Seriously, you don't know what's about to hit you—this book is joyful, playful, delicious, and guess what? It will also change your life." True, true, true, and true.
In the pages that follow, Jessica describes how a hard-fought health battle ultimately led her, the once veggie-averse, to a life of plantiful abundance.
Just five years ago, at the age of thirty-three, Jessica was headed for a hysterectomy. She was diagnosed with Stage 4 endometriosis and the pain was so severe that she couldn't get out of bed most mornings. Despite doing everything she could to get better—multiple surgeries, conventional painkillers as well as the not-so-conventional ones, fancy yoga, un-fancy yoga, and even therapy—nothing was working.
Having run out of solutions, her doctors advised her to undergo a hysterectomy, and seeing no other escape from the pain, she agreed.
However, not long after she decided to move forward with the surgery and by some awesome twist of fate, she received an email from a friend. The email contained a link to a website that explained how a plant-based diet could help alleviate some of the pain and symptoms of endometriosis.
Jessica admits to being pretty skeptical about the idea at first:
I mean, if the right nutrition could help me, why hadn't my doctors told me this? And then I read what I had to eat. No candy? No cheese? No fun? I had zero faith that the diet would work, and whatever-is-less-than-zero faith that I could actually stick to whatever this plant-based thing was.
Yet despite her initial reservations, she gave it a whirl, and to her complete and total surprise, it really did work.
Within weeks, my pain began to fade. After a month, my eyes seemed to open a little wider, and I had more energy. Within three months, I was a completely different person. After six months, my husband said I had 'my sparkle back.' I conquered the insomnia that had plagued me for a dozen years. I finally got a handle on my depression. I felt the best I'd ever felt—and told my doctors I didn't need that hysterectomy after all.
I'm sure you can see where this is going, but One Part Plant is so much more than a delicious plant-based cookbook.
It's a story of how real food transformed Jessica's life from the inside out. And it's one of those special, serendipitous glimmers that's destined to offer an unexpected ray of hope to the curious mind that happens upon it.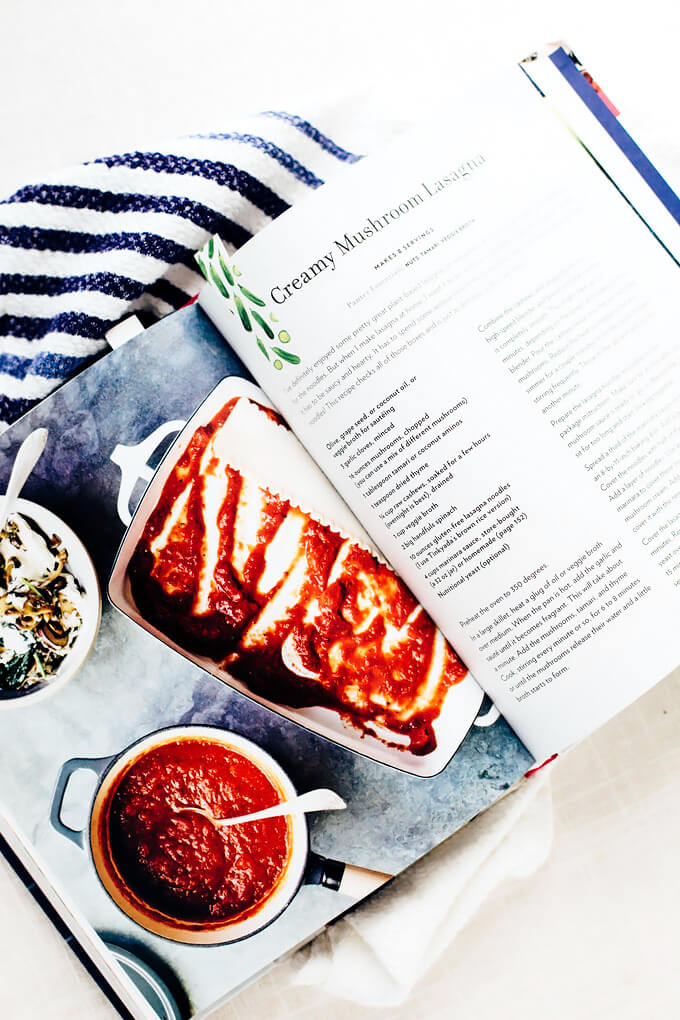 If you still need more convincing to hop over here and grab a copy for yourself (and everyone you know), then make this creamy mushroom lasagna and get back to me.
It's the best lasagna I've ever eaten, plant-based or otherwise, and I don't offer up lasagna compliments easily.
It's also incredibly easy to make. Nothing fussy or funky about the methods or ingredients. Just pure, plant-powered goodness delivered in creamy, saucy layers. As Dan so perfectly put it after devouring his second slice the other night: "DAMN."
Please make it and if you love it (you will), be sure to thank Jessica by picking up a copy of One Part Plant.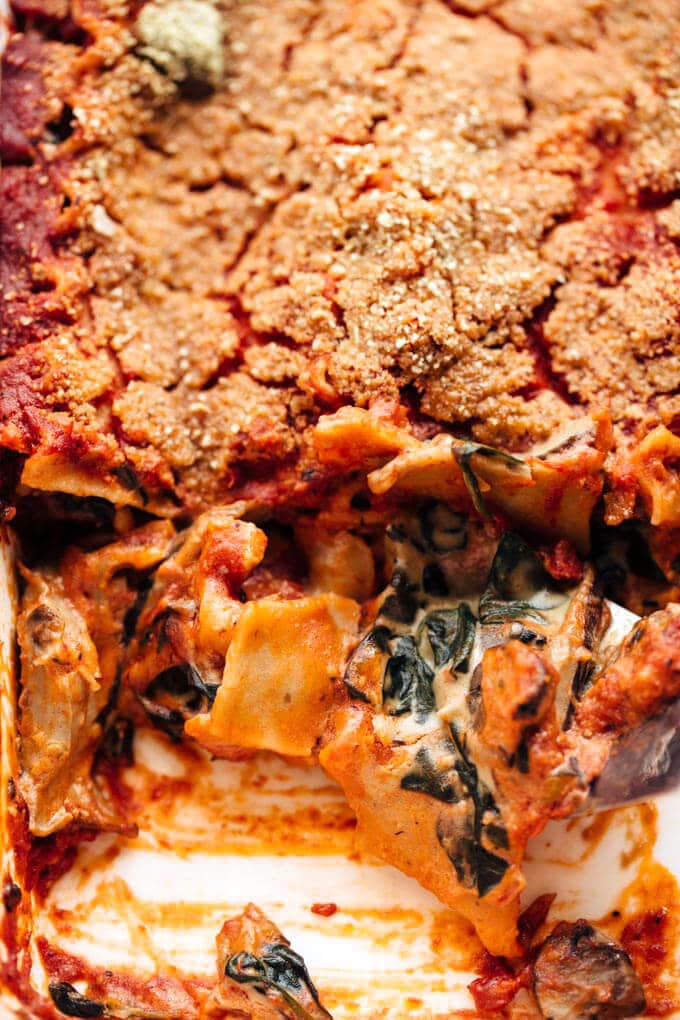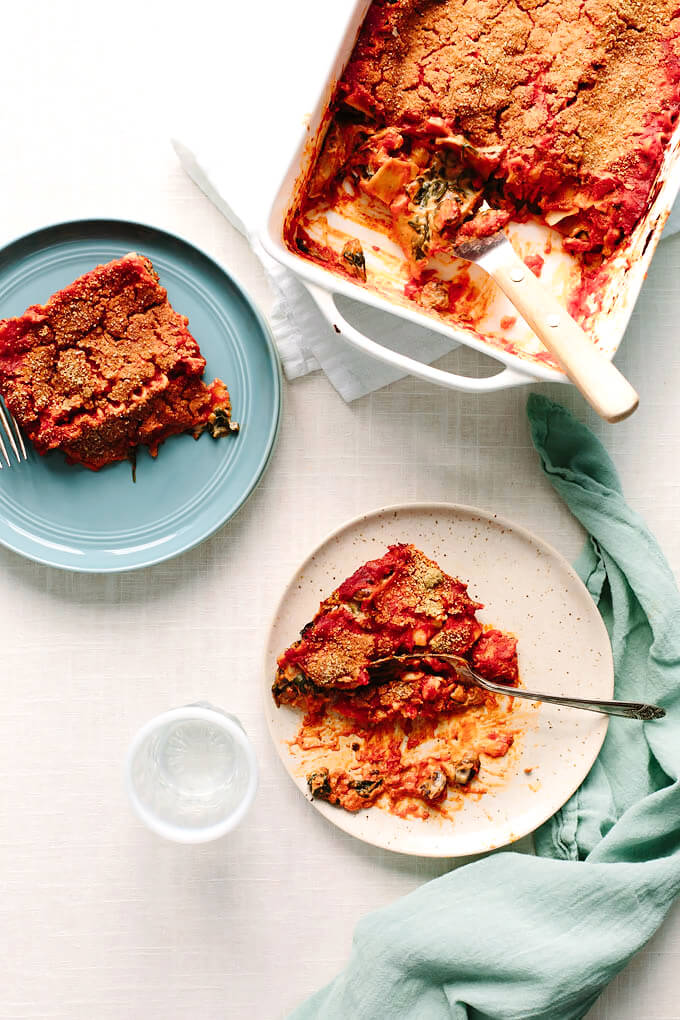 📖 Recipe
CREAMY MUSHROOM LASAGNA
"I've definitely enjoyed some pretty great plant-based lasagnas at restaurants where the chef swaps in vegetables for the noodles. But when I make lasagna at home, I want it to be as close as possible to the kind I grew up with. It has to be saucy and hearty. It has to spend some serious time in the oven. And, most important, it has to have noodles! This recipe checks all o fthose boxes and is just as delicious as the 'real thing.'" —Jessica Murnane
Ingredients
Olive, grape seed, or coconut oil, or veggie broth for sautéing

3

cloves

garlic, minced

16

ounces

mushrooms, chopped

(you can use a mix of different mushrooms)

1

tablespoon

tamari or coconut aminos

1

teaspoon

dried thyme

¾

cup

raw cashews, soaked for a few hours (overnight is best), drained

1

cup

veggie broth

2

big handfuls

spinach

10

ounces

gluten-free lasagna noodles (I use Tinkyada's brown rice version)

4

cups

marinara sauce, store-bought (a 32 oz jar) or homemade

Nutritional yeast

(optional)
Instructions
In a large skillet, heat a glug of oil or veggie broth over medium. When the pan is hot, add the garlic and sauté until it becomes fragrant. This will take about a minute. Add the mushrooms, tamari, and thyme. Cook, stirring every minute or so, for 6 to 8 minutes or until the mushrooms release their water and a little broth starts to form.

Combine the cashews and veggie broth in a high-speed blender and blend until the mixture is completely smooth. This might take up to 5 minutes, depending on the speed and power of your blender. Pour the cashew sauce into the pan with the mushrooms. Reduce the heat to medium-low and simmer for a couple minutes to let the sauce thicken, stirring frequently. Throw in the spinach and stir for another minute.

Prepare the lasagna noodles according to the package instructions. Make sure to do this after your mushroom sauce is ready to go, so the noodles don't sit for too long and start sticking together.

Spread a third of the marinara sauce on the bottom of an 8-by-11-inch baking dish. Add a layer of noodles. Cover the noodles with half of the mushroom cream. Add a layer of noodles. Use another third of the marinara to cover these noodles. Add the remaining mushroom cream. Add the last layer of noodles and cover it with the remaining marinara sauce.

Cover the lasagna with aluminum foil and bake for 30 minutes. Remove the foil, add a sprinkle of nutritional yeast over the top, if you like, and bake for another 15 minutes. Let the lasagna rest for 5 minutes before serving.