This coconut, pistachio + blueberry bark is a four-ingredient wonder. It's sweet but not too sweet with a rich hint of coconut!
Somewhere in the midst of the low-fat trends of the late 90's, the coconut ended up on many people's do-not-eat-it's-naughty list. Thankfully, the coconut's reputation has been graced with a complete 180° shift in recent years, and it seems that the world is currently caught up in a coco-nutty love affair.
Ironically, coconuts are now embraced and appreciated for the very reason they were once shunned: their saturated fat content. The particular type of saturated fat that is found in abundance within the meat of coconuts is Medium Chain Triglycerides (MCTs). This type of fat tends to move directly to the liver where it is converted to ketones. Ketones have been shown to be an exceptional fuel for our brains because they allow neurons to flourish, enhance memory, and promote cognitive efficiency. Who doesn't want their neurons to thrive and flourish?
Beyond making our neurons happier and healthier, coconuts also taste pretty delicious. I'm a total lover of coconut butter in particular, which is essentially puréed coconut meat. This "butter" can be melted, spread, and cooled into a variety of shapes, sizes, and forms, which makes it the perfect plant-based replacement for white chocolate.
For this recipe, melted coconut butter is sweetened with maple syrup, spread into a thin layer, and topped with pistachios and dried blueberries. The result is a bark with the perfect balance of sweetness, crunch, and coconut richness. I'm warning you, this stuff is addictive but in such a good way. Forget the lime, it's time to put the pistachios + the blueberries in the coconut and eat it all up.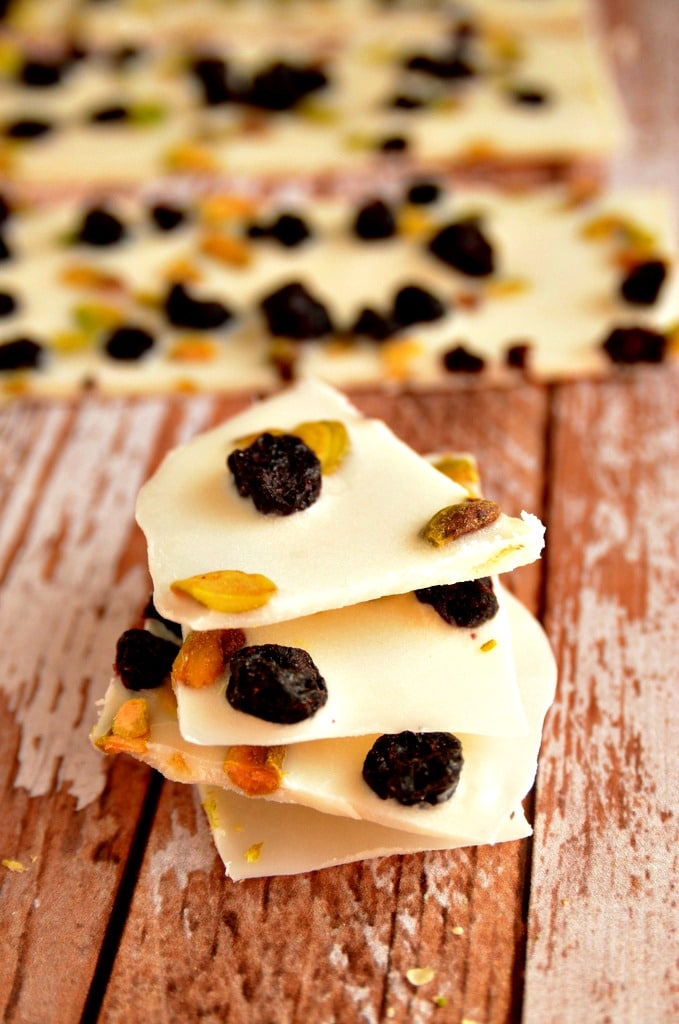 Coconut, Pistachio + Blueberry Bark
A layer of coconut butter is sweetened with maple syrup and dotted with pistachios and dried blueberries. This sweet treat is full of healthy fat, nutrients, and amazing flavor.
Ingredients
1

cup

coconut butter (note: this is different than coconut oil)

1

tablespoon

pure maple syrup

¼ - ⅓

cup

pistachios

½

cup

dried blueberries
Instructions
Melt coconut butter in a double boiler, stirring constantly until smooth. Whisk in maple syrup.

Prepare a baking sheet by lining it with a sheet of parchment paper.

Pour the melted coconut butter over baking sheet and spread into a ¼-inch layer.

Sprinkle with pistachios and dried blueberries.

Pop in freezer for 15 minutes to set.

Using a very sharp knife, cut into pieces.

Store in freezer. (note: because of the maple syrup, this bark will absolutely melt after sitting at room temperature for an extended period of time. Be sure to enjoy directly from the freezer).