Soup in the summertime?!! I must be crazy. But not completely, I promise you. Because after a bit of steamy simmer time, this silky bisque is chilled to sunshine-appropriate perfection.
Although this bisque is easy to make and boasts a short list of ingredients, something about it feels special. It has an ultra-smooth texture thanks to the help of a sieve (or fine-mesh colander), and the crisp bite + acidity of pickled radishes and jalapeños play off the creaminess of the bisque.
And can we chat about that golden hue for a second? Bright, sunshiny, and warm. Shield your eyes…
To make this flavorful, not-so-fussy, yet seemingly-fancy soup, you'll start by sautéing an onion in a small amount of olive oil in a dutch oven or large stock pot. While the onion gets all hot and sweaty, you'll coolly cut the kernels off of 4 ears of fresh sweet corn.
Corn Cutting Tip | I like to stand each ear of corn up in a large bowl (One at a time, of course. I'm not that talented.), and use a knife to carefully cut down the length of each ear. Once I've made my way around each ear, I go back and repeat to pull some of the juices and sweet corn I might have missed the first time around.
Once you've collected a small mountain of sweet corn kernels, go ahead and add them to the dutch oven and continue to sauté until the corn is beginning to waft a sweet, caramelized scent. Then, add in two cups of chopped cauliflower florets (these little guys add creaminess once the soup is blended), a generous splash of water, and a cup or plant milk. Bring everything to a boil, reduce the heat, cover, and simmer for 15 minutes or until the cauliflower florets are fall-apart tender.
Turn off the heat (phew). Then, add in another cup of plant milk and a bit of ground turmeric (optional for color) before using an immersion blender to blend… and blend a bit more until the soup is as creamy and smooth as possible.
Once it's as smooth as you can get it, place a large sieve or fine-mesh colander over a mixing bowl, and pour the soup through it. You'll want to gently encourage the soup to pass through with the back of a large wooden spoon. I'm always surprised by how much pulp sticks around despite my best blending efforts. Once the soup has strained through, you'll add a splash of fresh lime juice and generous pinch of sea salt. Then, pop it in the refrigerator to chill for 4 hours or until cool.
While the soup is chilling, you'll make the quick pickled radishes and jalapeños by whisking together vinegar, turbinado sugar, and sea salt in an airtight jar. Then, add in 1 thinly-sliced jalapeño and a few sliced radishes, give it a good shake, and refrigerate until the soup is ready to serve.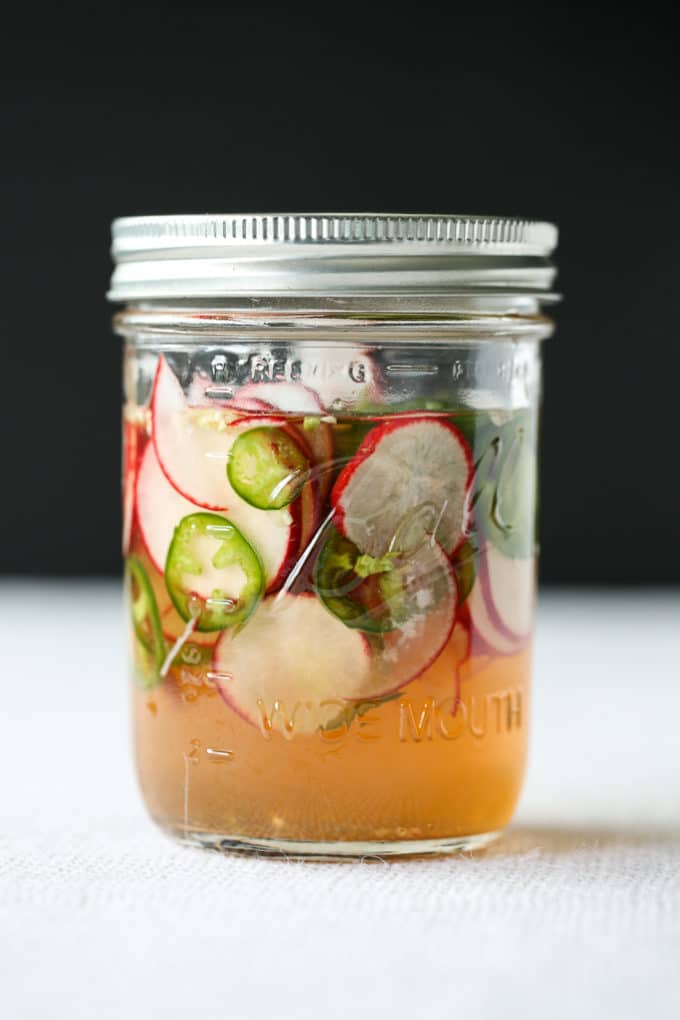 Once the soup has chilled (out), ladle it into bowls, top with the pickled veggies, and add additional garnishes (e.g., a drizzle of olive oil, sprinkle of smoked paprika, fresh cilantro).
The corn lends so much sweetness and flavor that the soup is brought to life with minimal seasonings (i.e., splash of lime juice and a bit of sea salt). The pickled veggies complement the sweetness and silkiness of the soup and create an addictive quality that encourages rapid fire spoon-to-mouth motions. If you're anything like me, I suggest arming your freshly-pressed summer whites with an extra-large napkin or two.
And for your listening pleasure, here's an easy-listening tune with a deep and catchy beat by Paul Kalkbrenner that'll have you dancing around your kitchen while making this dreamy summer soup. I'm not always sure what he's saying, but I can't stop listening.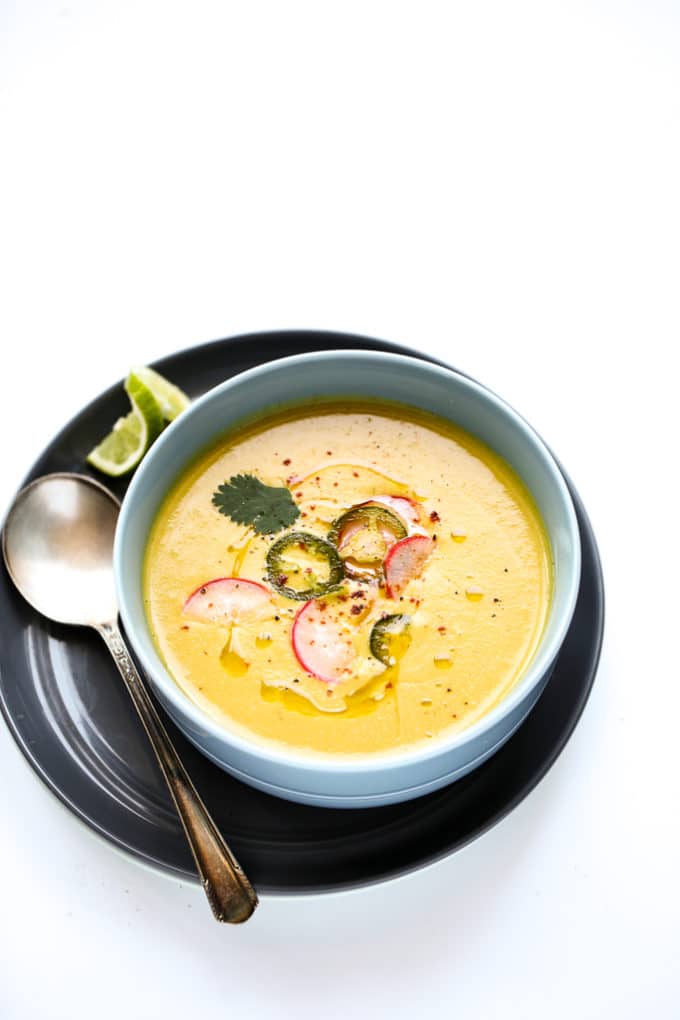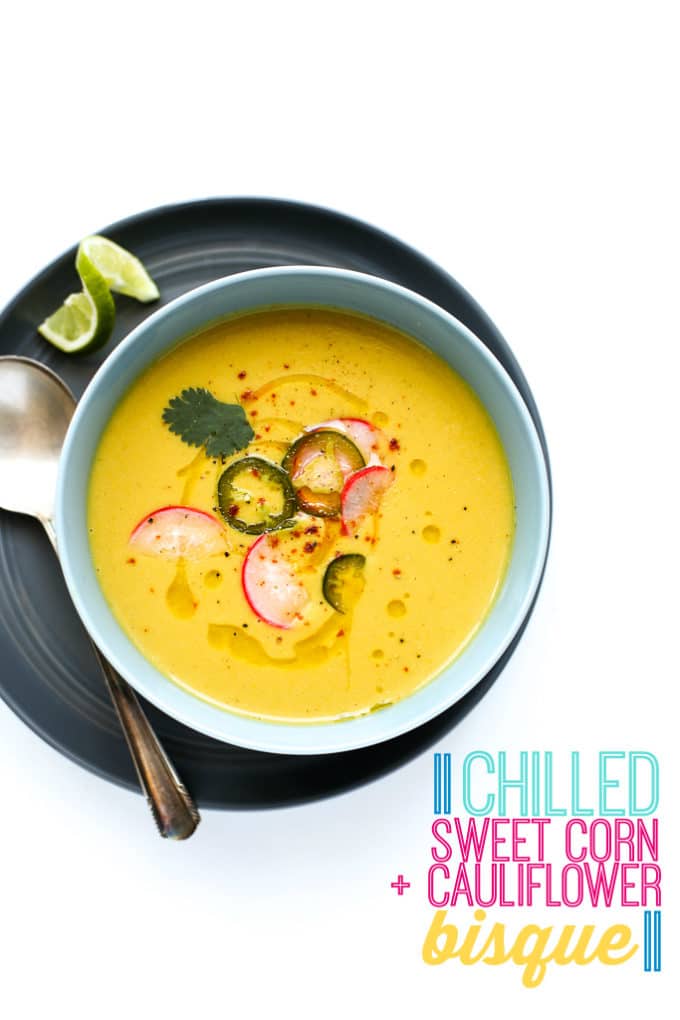 Chilled Vegan Sweet Corn & Cauliflower Bisque with Quick Pickled Veggies
Author:
Ashley Melillo | Blissful Basil
Ingredients
Chilled Sweet Corn + Cauliflower Bisque
1 tablespoon cold-pressed olive oil
1 medium yellow onion, peeled and finely-diced
4 ears fresh sweet corn, shucked, kernels cut away, and juices reserved
2 cups small cauliflower florets
2 cups filtered water
2 cups unsweetened plant milk, divided
1/4 teaspoon ground turmeric (optional, for color)
2 tablespoons fresh lime juice
1/2 to 1 teaspoon fine sea salt or to taste (see notes)
Quick Pickled Veggies
1 cup apple cider vinegar or white vinegar
1 tablespoon turbinado or sucanat sugar
1/2 teaspoon sea salt
3 small radishes, thinly sliced
1 medium jalapeno, thinly sliced
Additional Toppings and Garnishes
fresh cilantro leaves
smoked paprika
drizzle of cold-pressed olive oil
lime wedges
Instructions
Chilled Sweet Corn + Cauliflower Bisque
In a dutch oven or large stock pot, heat the olive oil over medium. Add the onion and saute for 6 to 8 minutes or until tender and translucent, stirring occasionally. Then, add the fresh sweet corn kernels and any juice that was released while slicing the ears of corn to the pot with the onion. Saute for another 8 to 10 minutes or until the corn is tender and beginning to waft a caramelized scent, stirring occasionally. Add the cauliflower to the pot along with the water and 1 cup of the plant milk, bring to a boil, reduce heat, cover, and simmer for 15 minutes or until the cauliflower is fall-apart tender.
Add in the remaining 1 cup of plant milk and the ground turmeric (is using) and use an immersion blender to blend the soup for 6 minutes or until as silky smooth as possible, being careful to avoid splashing the hot soup. This takes some muscle and a bit of time, so a little patience goes a long way here.
Once the soup is as smooth as the immersion blender will get it, place a large mesh sieve or tightly-woven colander over a large glass mixing bowl. Very carefully and slowly pour the soup through the sieve or colander and use the back of a spoon to move the soup through while catching un-blended pulp from the onion, corn, and cauliflower. Discard the pulp or save it for composting, savory oats, etc. You can skip this step if you find it to be too fussy, but it really takes the soup up a notch in terms of texture, look, and even taste.
Once you have run all the soup through the sieve or colander, you can transfer it back to a clean pot or keep it in the mixing bowl. Either way, add the lime juice and sea salt to the soup and whisk until incorporated. Taste and adjust seasonings, adding more lime juice and/or salt if desired. Cover the bowl and carefully transfer to a refrigerator and chill for at least 4 hours.
Quick Pickled Veggies
In a large airtight jar, vigorously whisk together the vinegar, sugar, and sea salt until the salt and sugar have dissolved. Then, add the jalapenos and radishes, cover, shake, and refrigerate while the soup is cooking and chilling.
To Assemble
Once the soup has chilled, whisk vigorously and add additional plant milk and seasonings if needed to achieve desired texture and flavor. Divide between bowls and top with the pickled veggies, cilantro leaves, smoked paprika, and a drizzle of olive oil, if desired. Garnish with lime wedges to spritz over top of the soup.
Notes
*I recommend starting with a 1/2 teaspoon of sea salt and tasting before adding more. If you like a softer, sweeter soup use less salt as the corn naturally offers up plenty of sweetness. I added about 3/4 teaspoon to hit that sweet and savory spot right in the middle.
**The total time is only for active kitchen time and does not include the 4 hours of chill time.