I tend to go through phases with my breakfast choices. One month I'm all about the smoothies and the next it's oats for days. Can you guess which phase I'm in now?
Oats! I'm all about the oats at the moment; however, warm oats in the hot summer aren't very appealing, so I'm currently on a cool, overnight oats kick.
If you've never had overnight oats before, where have you been??? Just kidding. But really, where have you been? You're missing out on convenience and awesomeness and flavorful goodness, and I'm not okay with you missing out on any of those things.
Time for you to jump on the overnight oats bandwagon, my friend.
Overnight oats are oats that have been soaked overnight until they're tender and puffed-up with whatever flavors you choose to infuse them with. In this case, oats are combined with almond milk, vanilla extract, chia seeds, cinnamon, maple syrup, and cocoa nibs. While this particular combination of overnight oats is perfectly tasty on its own, the real kicker in this recipe is the raw cherry chia jam. Making it is as simple as tossing a bunch of fresh cherries (pit them first or your blender will never forgive you) and pure maple syrup into a blender, blending on high, and then stirring in chia seeds. The chia seeds become gelatinized overnight and thicken the blended cherry mixture to yield a jam-like consistency by morning.
Then, you'll layer oats and cherry chia jam and garnish everything with fresh cherries and chopped almonds, if you so choose.
What's next?
The best part, of course: enjoyment.
Since you can make everything the night before and simply layer in the morning, this breakfast is great to prepare on Sundays and enjoy for breakfast throughout the week. It makes 3 large servings or 4 smaller servings, so it can get you through a good portion of your weekday mornings. Plus, it's incredibly energizing and filling thanks to the protein in the oats and chia seeds, so it's the perfect fuel for those extra-busy days.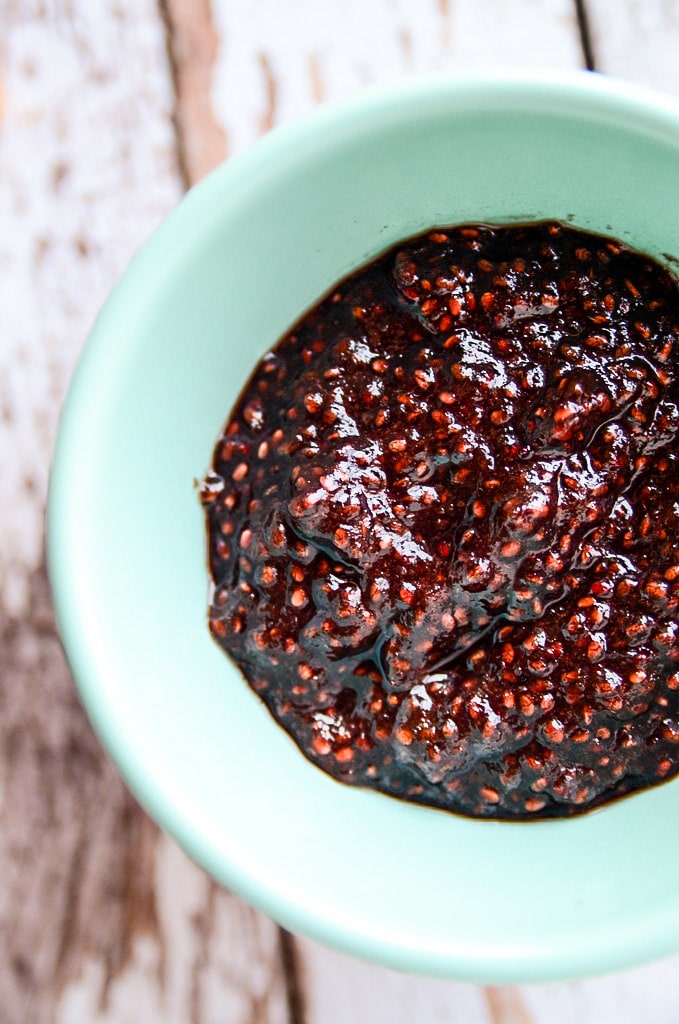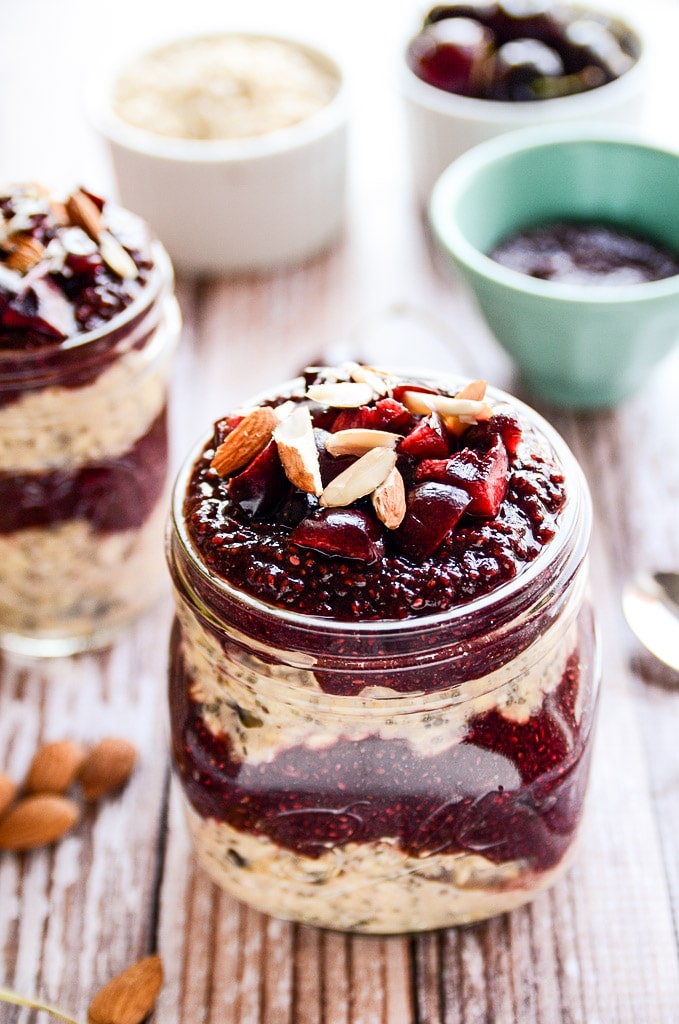 Cherry Chia Jam Overnight Oats
Author:
Ashley Melillo | Blissful Basil
Recipe type:
Breakfast, Snack, Oatmeal
Ingredients
1 cup gluten-free rolled oats
1 1/2 cups unsweetened almond milk or nut milk of choice
2 tablespoons chia seeds
2 tablespoons pure maple syrup
2 teaspoons pure vanilla extract
1/2 teaspoon ground cinnamon
optional: 2 tablespoons cocoa nibs
1 recipe Raw Cherry Chia Jam (see below)
garnishes: chopped cherries, chopped almonds
Instructions
Add the rolled oats, almond milk, chia seeds, maple syrup, vanilla extract, cinnamon, and cocoa nibs to an airtight container. Gently whisk and refrigerate overnight or for at least 8 hours.
In 3 or 4 small serving jars, layer the oats and cherry chia jam. Garnish with chopped cherries and almonds, if desired. Serve immediately or refrigerate for later.
Notes
This recipe makes 3 larger servings or 4 smaller servings. I like to make the oats and cherry chia jam on Sunday and then enjoy this dish for breakfast on over the next few days. You can easily cut this recipe in half if you want just enough to serve two.
Raw Cherry Chia Jam
Author:
Ashley Melillo | Blissful Basil
Recipe type:
Jam, Breakfast
Ingredients
2 cups fresh sweet cherries, pitted and de-stemmed
1 tablespoon pure maple syrup or more, to taste
3 tablespoons chia seeds
Instructions
Add the fresh cherries and maple syrup to a high-powered blender. Blend on high for 1-2 minutes or until completely smooth. Pour into an airtight container and stir in the chia seeds. Cover and refrigerate overnight or for at least 4 hours.