This coconut oatmeal + raw strawberry-chia jam is comforting, nourishing, and a delight to eat. Oats are simmered in cinnamon-spiced coconut milk and topped with raw strawberry jam.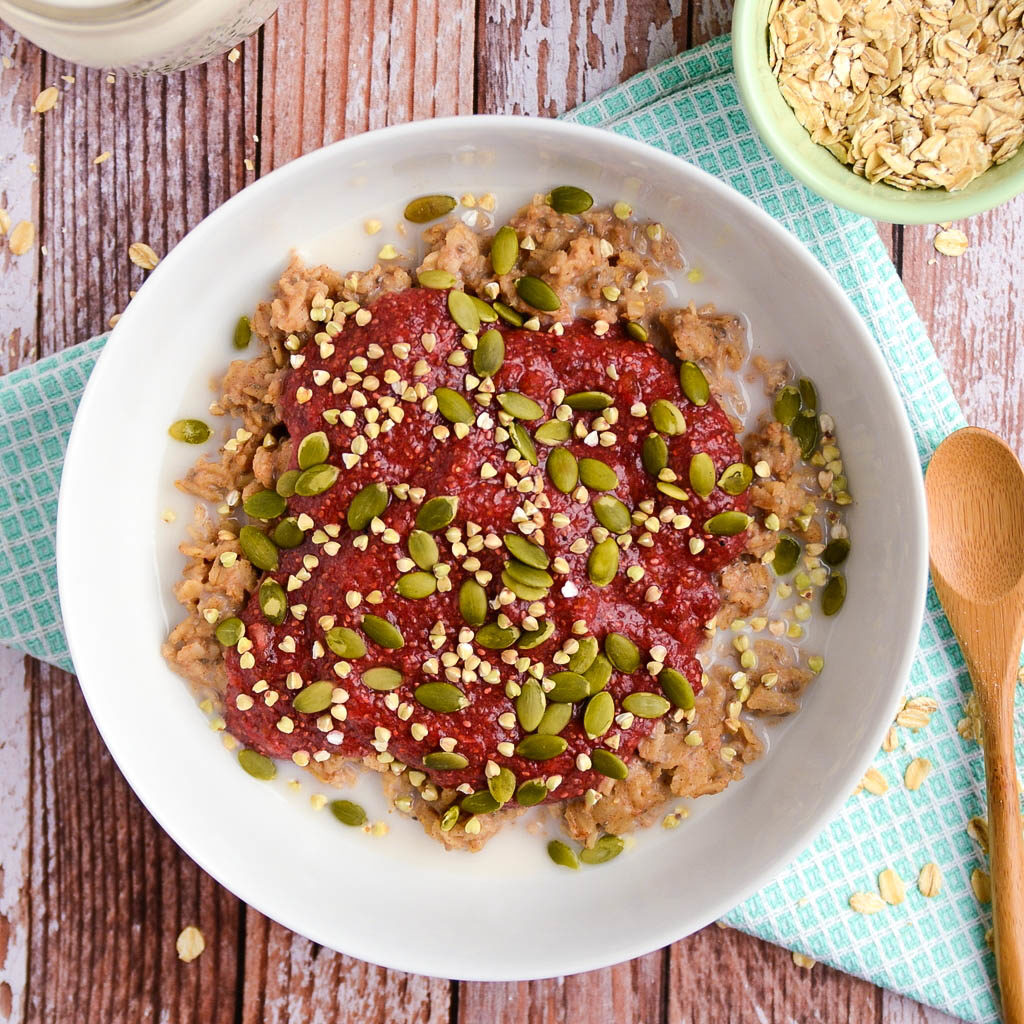 What makes you happy? Something about turning 30 has caused this question to flutter around in my mind on a daily basis.
The older we get, the more clear it becomes that the things that lead to contentment and happiness are the things for which we have to work hard. Material possessions and other quick-fix creators of "happiness" might offer a momentary boost in our mood, but at the end of the day, those things lack the power needed to create long-term, sustainable happiness.
This principle even applies to the types of food we consume. Foods that taste incredibly delicious but offer little nutritional value (e.g., soda, sugary candy, etc.) will undoubtedly enhance our mood in the moment when we're enjoying them due to their tendency to spike dopamine and serotonin levels, but when their effects wear off and our serotonin levels plummet, we're left moody, irritable, and deprived of energy.
Those of us prone to seasonal changes in mood (my hand is raised) are especially susceptible to cravings for foods that offer fleeting serotonin boosts and subsequent crashes. Don't get me wrong, I'm a believer in thoughtfully enjoying these quick-fix, serotonin-boosting foods in moderation, but they don't have the nutrient power needed to support a healthy, balanced, energized, and happy mind on their own.
Supporting our personal-best healthy + happy minds requires taking a look at many aspects of our lifestyle, one of them being what we eat.
When we consistently eat a variety of whole, unprocessed foods that are rich with micro and macro nutrients, we allow our bodies and minds to flourish.
And there are plenty of foods that increase serotonin in a way that is balanced and crash-free. Thiamine, or Vitamin B1, is renowned for being one of the most important vitamins in serotonin function. Thus, by consistently incorporating thiamine-rich foods into our diet, we're increasing serotonin production and ultimately providing ourselves with the opportunity to be happier.
Who doesn't want an opportunity to be happier?! So, although we might not feel an immediate rush of serotonin while enjoying our morning buckwheat-garnished oatmeal (fun fact: oats + buckwheat have gold-medal status for their thiamine content), if we continue to enjoy nutrient-rich foods on a regular basis, we're setting ourselves up to reap the benefits over the long-term. The amazing thing is that the foods that fuel our minds and our happiness are also incredibly delicious!
Take this oatmeal for example...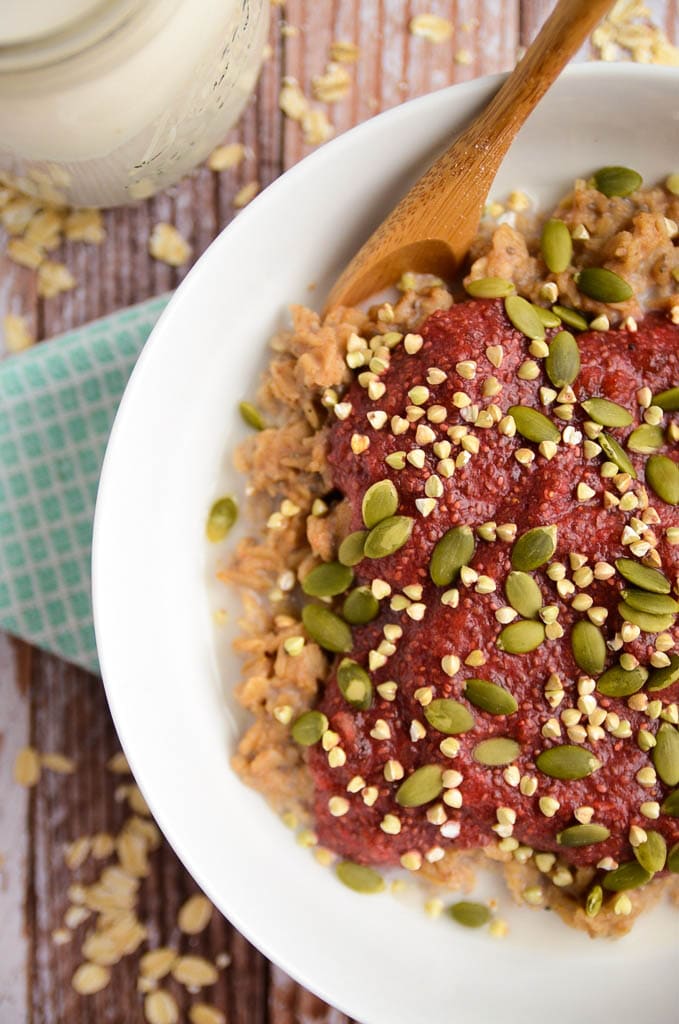 This cinnamon coconut oatmeal is so delicious that its deliciousness alone probably provides a serotonin boost. It might even cause you to skip around your kitchen. Just me?
Seriously though, this oatmeal will knock your happiness socks right off of your feet.
Rolled oats are simmered in a mixture of vanilla coconut milk, cinnamon, and cardamom. Chia seeds, coconut butter, and maple syrup are then stirred in after cooking to enhance the oats' luxuriousness. Luxury car? Pshh. I'm talking luxury oatmeal.
The oatmeal is then topped with a simple raw strawberry-chia jam made with strawberries, dates, and chia seeds.
The entire bowl of oats is then garnished with pepitas and buckwheat groats (I'll talk more about buckwheat groats in a post later this week, but know that they're a superfood full of good-for-you things, shaped like precious little hearts, and you can find them in the bulk section at Whole Foods).
If you've read this far, you deserve an award. No more reading, time to get your thiamine on.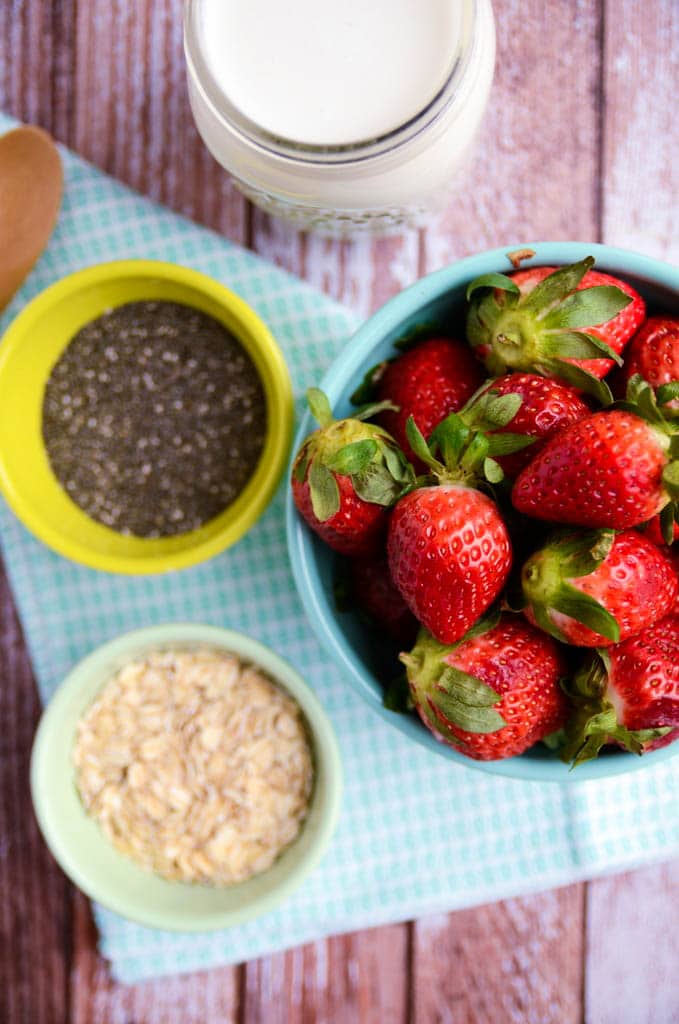 📖 Recipe
Coconut Oatmeal + Raw Strawberry-Chia Jam
Rolled oats are simmered to perfection in a delicious mixture of coconut milk, cinnamon, and cardamom and topped with a raw strawberry-chia jam. This breakfast is packed with healthy goodness and nutrients.
Ingredients
1

cup

sweetened vanilla coconut milk (from carton, not a can)

½

teaspoon

cinnamon

⅛

teaspoon

cardamom

½

cup

rolled oats

2

tablespoons

chia seeds,

½

tablespoon

coconut butter or coconut oil

½

tablespoon

pure maple syrup or to taste

1

cup

fresh strawberries, hulled

2–3

pitted Medjool dates

optional toppings: buckwheat groats, pepitas, almond butter
Instructions
Add the coconut milk, cinnamon, and cardamom to a medium sauce pan and whisk together.

Bring the coconut milk mixture to a boil, add in the oats, reduce the heat to low and simmer for 10-15 minutes, stirring occasionally.

Turn off the heat and stir in ½ tablespoon chia seeds, coconut butter, and maple syrup.

While the oats are cooking, make the raw strawberry-chia jam by adding the strawberries and dates to a blender and blending on high for 1-2 minutes or until smooth. Transfer the jam mixture to a bowl, stir in 1 ½ tablespoons chia seeds and let the mixture rest for 10 minutes to thicken.

Pour the oatmeal into a bowl, spread the jam over the top, and top with extra toppings if desired.

Note: if you prefer overnight oats, simply add the coconut milk, cinnamon, cardamom, oats, ½ tablespoon chia seeds, maple syrup, and coconut butter to a bowl and refrigerate overnight. Then, top with strawberry-chia jam, pepitas, and buckwheat groats.
*http://nutritionwonderland.com/2009/06/understanding-bodies-serotonin-connection-between-food-and-mood/