These energizing maca, almond butter & cacao overnight oats make a creamy, satisfying, energizing, chocolaty, and nutty grab-n-go breakfast.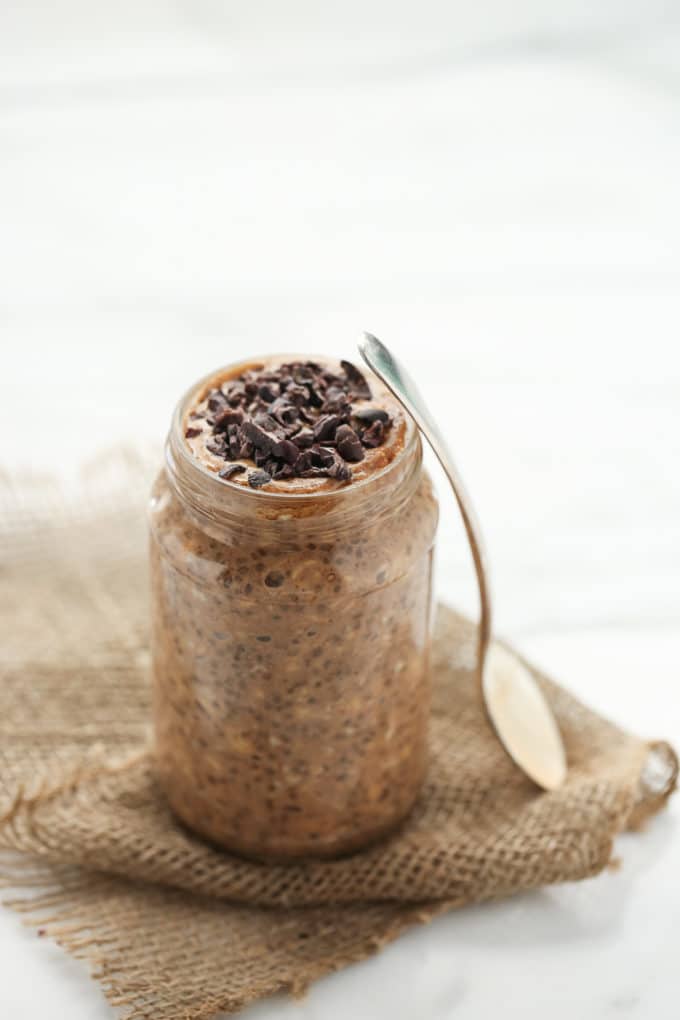 I've mentioned this before, but I tend to go through phases with breakfast foods. I'll become obsessed with one breakfast item, remix it a variety of ways, and crave it day after day. These phases usually last anywhere from a few weeks to a couple months before I (momentarily) tire of something and move on to the next phase.
Now that I'm sitting here analyzing myself, I feel pretty confident that I could break the phases down into 5 broad breakfast categories: avocado toast, overnight oats, chia pudding, smoothies, and granola/granola bars. I tend to linger in smoothies and avocado toast the most, but the other phases are fierce when they strike.
Take overnight oats for example. After neglecting this genius breakfast phase for months and months, I tossed together this combination the other week and cannot. get. enough. It's been the perfect back-to-work breakfast treat because...
1| It's served cold and the school I work at has several microclimates contained within its walls during the summer months. The same room/hallway/stairwell can go from hot and steamy to arctic within one day, and a tour of the school necessitates a variety of layers that can quickly be added or stripped away. Fortunately, my office has a fairly predictable progression of climates throughout the day. 7am-10:00am: hot/sticky to warm/steamy, 10am-10:03am: comfortable normalcy, 10:03am-3:30pm (and beyond): arctic to deep freeze. So although the afternoon climate welcomes hot stew and earmuffs, the morning climate is best addressed with a cool and energizing breakfast.
2| It can be prepared the night before and then quickly scooped into jars and topped before heading out the door.
3| The maca and cacao offer a natural boost of energy. Read more about maca here.
To make these nourishing oats, you'll whisk together a bit of plant-based milk, rolled oats, almond butter, maca powder, cacao powder, pure maple syrup, chia seeds, and vanilla. Pop the mixture in the refrigerator to chill overnight. Divide it between two jars in the morning, throw on some toppings (if you'd like), and head out the door. That's it.
I recommend topping the oats with a bit more almond butter, cacao nibs, and maybe even a sprinkle of coconut flakes. It's an altogether magical combination and one that makes waking up at 5:30am a bit more palatable.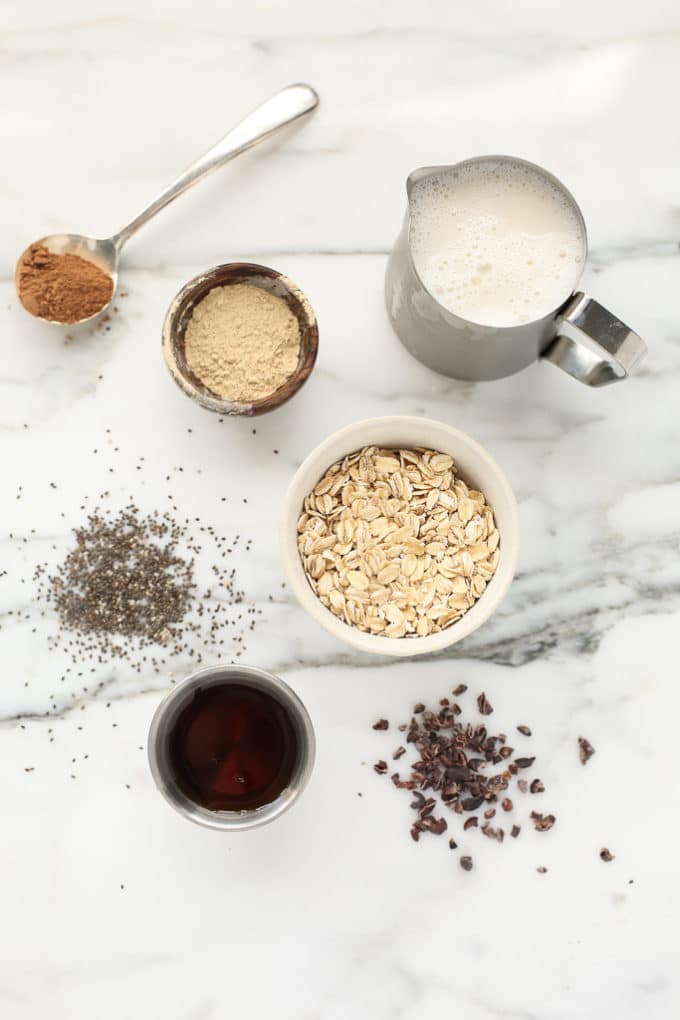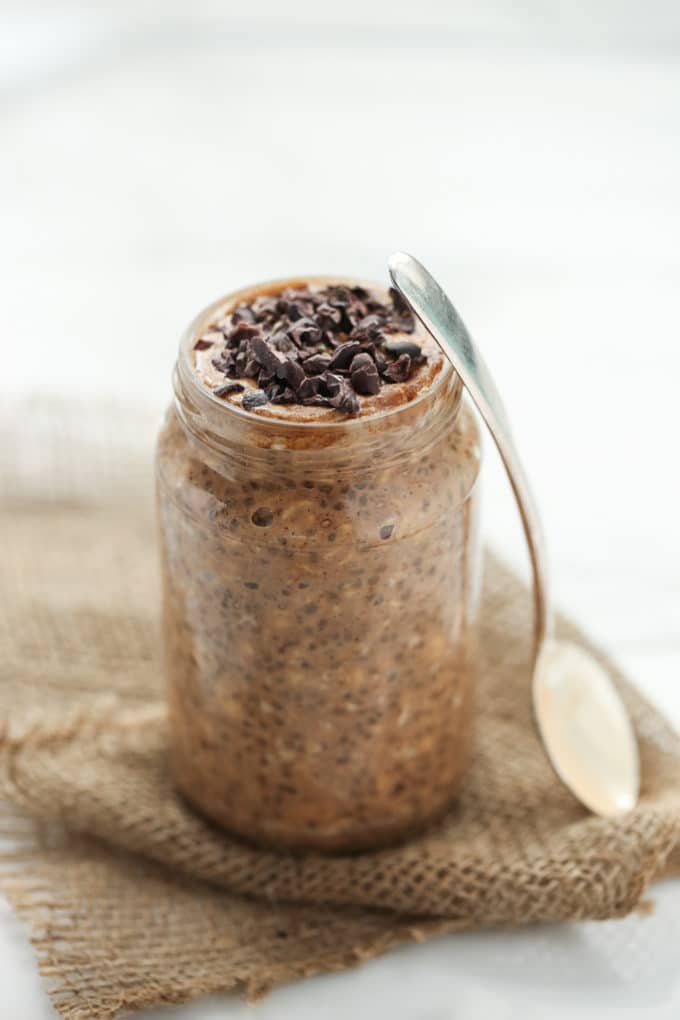 📖 Recipe
Energizing Maca, Almond Butter & Cacao Overnight Oats
Creamy overnight oats get an energizing, mood-balancing boost thanks to cacao and maca. This is the ideal grab-n-go breakfast when you're in need of something as rich and satisfying as it is nourishing.
Ingredients
Maca, Almond Butter & Cacao Overnight Oats
1½

cups

unsweetened almond milk or plant milk of choice

1

cup

gluten-free rolled oats

2

tablespoons

chia seeds

2

tablespoons

pure maple syrup

2

tablespoons

almond butter

1

tablespoon

maca powder

1

tablespoon

cacao powder

2

teaspoons

pure vanilla extract
Optional Toppings
almond butter

cacao nibs

coconut flakes
Instructions
Combine the rolled oats, almond milk, chia seeds, maple syrup, almond butter, maca powder, cacao powder, and vanilla extract in an airtight container. Vigorously whisk until combined. Refrigerate for at least 8 hours or overnight.

Divide between two small jars or glasses, add toppings, and serve.

Refrigerate leftovers.