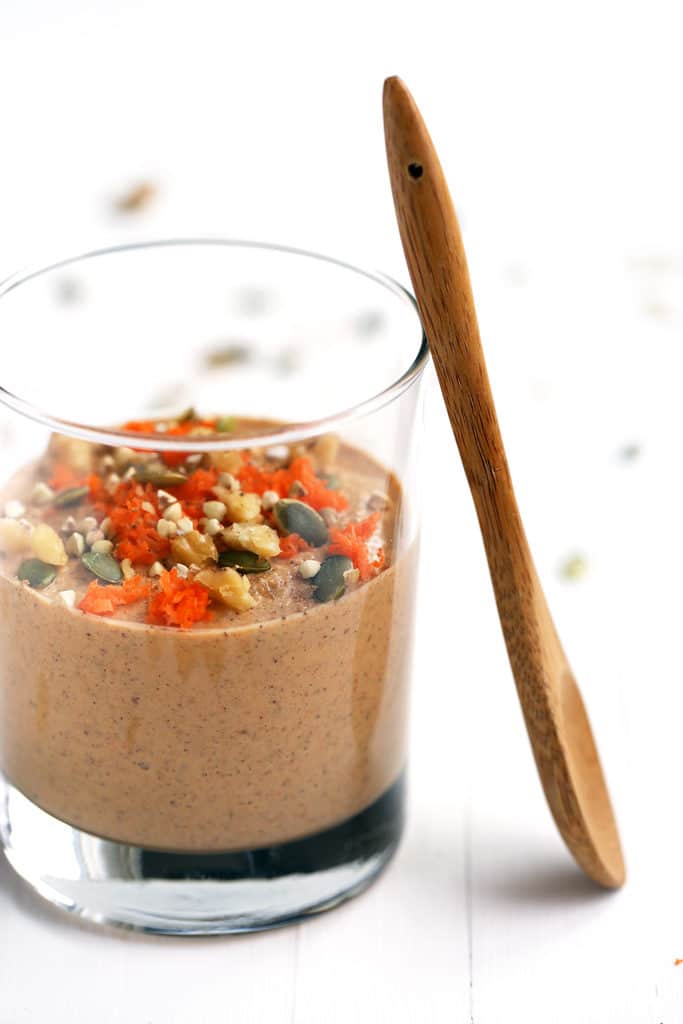 Carrot cake conjures up a faint, hazy memory from childhood. We were in a restaurant. Extended family was there too. I was offered a piece of carrot cake, and I promptly turned it down. Carrots? Cake? My childhood brain failed to imagine a delicious outcome with the word carrot juxtaposed with cake.
But when I caught a glimpse of this confusing cake slathered with thick, white icing, curiosity took hold. I remember tasting my mom's, being pleasantly surprised, and then the memory fades away. But I suppose the rest is history, because I've never again doubted the power of this aptly named dessert.
Although this recipe doesn't showcase the classic form, it houses all of the things we love about carrot cake: warming spices, creaminess, subtle orange hue, and just the right amount of nuttiness.
If you've never heard of buckwheat, fret not. Here's what you need to know about this not-so-aptly named ingredient:
Despite its misleading name, buckwheat does not contain wheat. In fact, it's not even a grain. It's a fruit seed related to rhubarb and sorrel, which means that those avoiding gluten and/or grains can welcome this superfood into their lives without worry.
Raw buckwheat groats are pale green and white and have a heart-like shape to them. They're inexpensive, especially when purchased in bulk, making them an affordable addition to a well-balanced diet. Be careful not to confuse raw buckwheat groats with Kasha. Kasha is a roasted form of buckwheat that tends to have a potent earthy flavor, whereas raw buckwheat has a mild, less detectable flavor. Buckwheat can be ground into a flour to use in baked goods, soaked and blended for porridge, soaked and cooked whole, or sprinkled onto smoothies. It's a versatile little seed, and I've used it in peanut butter eggs, on top of oatmeal, in raw almond butter cookies, and blended into another raw rhubarb porridge.
Buckwheat contains a rich supply of flavanoids and is the most effective cholesterol-lowering food studied, to date. Plus it's packed with calcium, iron, vitamin e, and vitamin b. A superfood, indeed.
To make this carrot cake porridge, you'll start by soaking the buckwheat groats in water and a splash of apple cider vinegar. You'll want to soak them for at least 8 hours or overnight to breakdown the starches and make them easier to digest. After soaking, strain off the water and give the groats a thorough rinse to get rid of any gelatinous residue that accumulated during the soaking process.
Add the rinsed buckwheat to a blender along with grated carrot, almond milk (or other plant milk), dates (to sweeten), raw walnuts, coconut butter, vanilla, cinnamon, ginger, and nutmeg. Blend for about 1-2 minutes or until it has reached the texture that you prefer. I tend to blend until creamy and smooth, but you can simply pulse if you prefer a thicker, coarser porridge.
Divide the mixture between glasses, jars, or bowls, and layer on the toppings. Scoop, sweetly savor, and repeat.
📖 Recipe
Raw Carrot Cake Buckwheat Porridge
Nutrient-rich buckwheat groats are soaked overnight and blended with warming spices, walnuts, coconut butter, dates, and grated carrot to yield a raw porridge that tastes like a spicy-sweet piece of carrot cake.
Ingredients
1

cup

raw buckwheat groats

2-3

cups

water

1

teaspoon

apple cider vinegar

1

cup

grated carrot (approximately 1 medium-large carrot)

¾

cup

almond milk or other plant-based milk

4-6

pitted medjool dates or to taste

2

tablespoons

raw walnuts

1

tablespoon

coconut butter*

1

teaspoon

pure vanilla extract

1 ¼

teaspoon

ground cinnamon

¾

teaspoon

ground ginger

⅛

ground nutmeg
Topping Ideas
grated carrot

pepitas

walnuts

hemp seeds

drizzle of almond butter
Instructions
Pour the buckwheat groats into an airtight container and add 2-3 cups water or as much as needed to completely cover the groats. Stir in the apple cider vinegar, and cover. Soak for at least 8 hours or overnight.

Once the buckwheat groats have soaked and softened, strain off the water and rinse thoroughly, making sure to rinse off any gelatinous material that accumulated during soaking.

Transfer the groats to a high-powered blender along with the grated carrot, almond milk, dates, raw walnuts, coconut butter, vanilla, cinnamon, ginger, and nutmeg. Blend for approximately 1 minute or to desired smoothness.

Pour into 3-4 glasses, and add toppings.
Notes
*I highly recommend using coconut butter and not substituting or omitting as it adds a creamy texture and tones down the chalkiness of the buckwheat groats.
I like to make a batch of this on Sunday and refrigerate the servings in airtight jars to enjoy for breakfast throughout the week.
*Source: World's Healthiest Foods