These vegan and gluten-free peanut butter maca granola clusters are nutty, crisp, and energizing.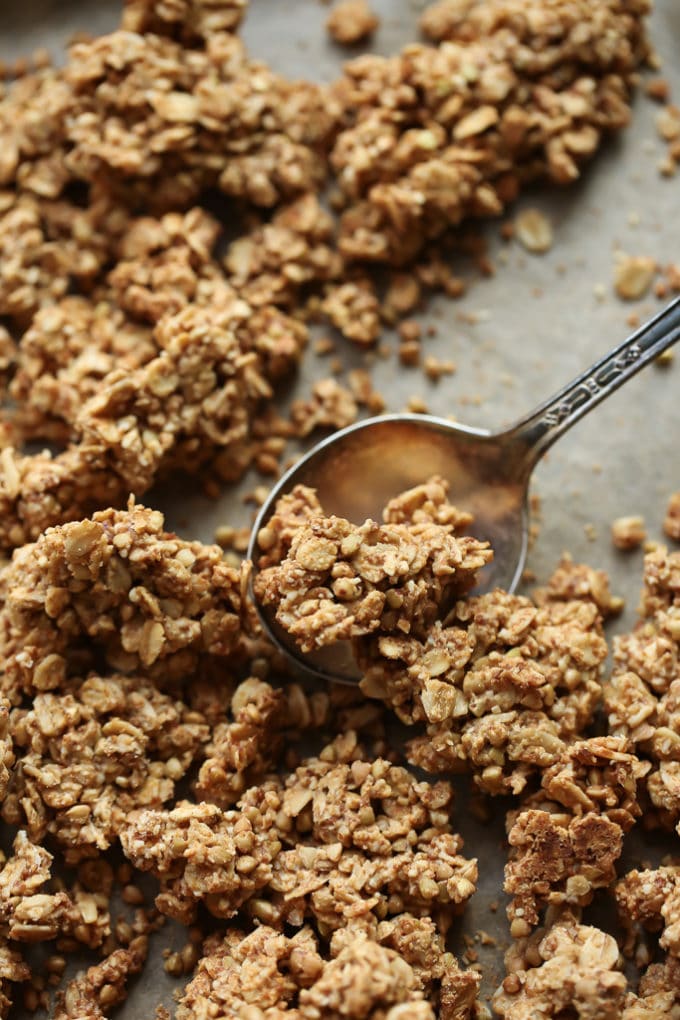 I don't think it's a secret that I have a bit of an obsession with maca powder. I once enjoyed this smoothie for breakfast every. single. weekday. for 2 months straight. About a year after that particularly lengthy tango with maca, this smoothie stole my heart and ultimately paved the way to this granola recipe.
If maca is new to you, here is a brief rundown of what you should know...
1| It has a nutty, malt-like flavor. Speaking of that, be sure to checkout this chocolate malt superfood smoothie.
2| It's derived from what many refer to as an adaptogenic root because of its balancing effects on the endocrine system.
3| It provides a natural, smooth, and caffeine-free energy boost. This is because it tends to give our adrenal glands a little love, thereby regulating energy production throughout the body.
4| It's rich in B vitamins, calcium, iron, potassium, magnesium, and zinc.
5| It helps balance mood and hormones.
I think that about covers the bare essentials* of maca. Let's get to these granola clusters, shall we?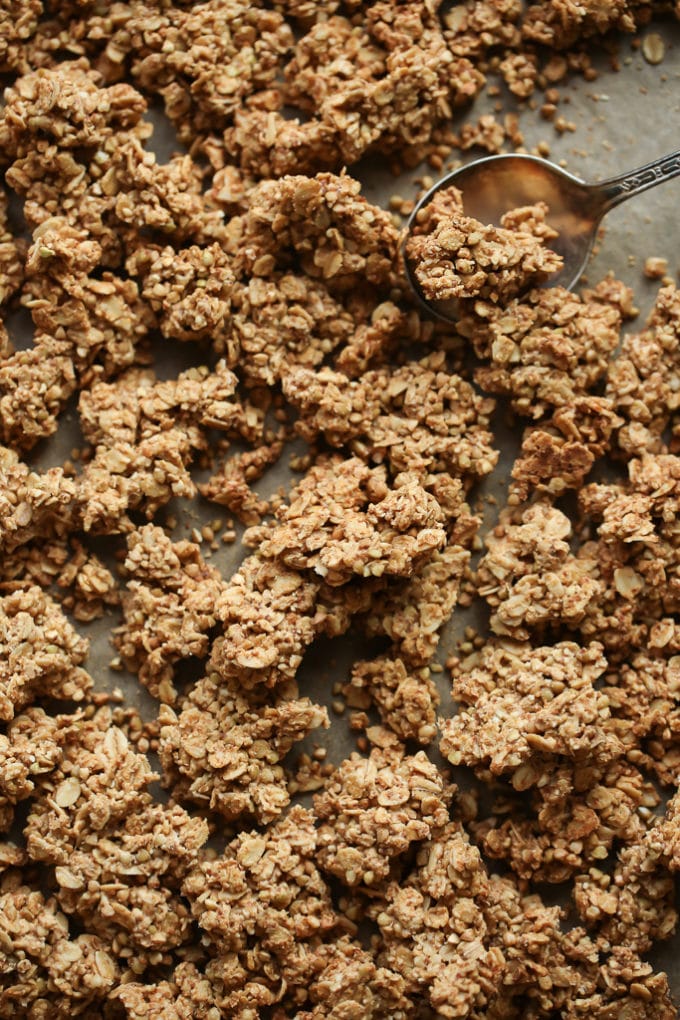 Peanut buttery and maca infused perfection.
The key to creating clusters is to process part of the oats and ½ a cup of peanuts into a coarse flour/meal, which helps bind everything together as the granola bakes. You'll disperse that oat-peanut "flour" throughout a big bowl of more oats, buckwheat groats, coconut sugar, and maca powder. Then, you'll whisk together peanut butter, pure maple syrup, coconut oil, vanilla, and a bit of sea salt until you have a luxurious and glossy coating. Pour it over the dry ingredients and get stirring. The stirring requires a bit of muscle and patience, but I promise it's worth it and your biceps will thank you later.
Spread the mixture out over a lined baking tray, bake for 15 minutes, rotate, and bake for another 22 to 26 minutes. Then, the painful part: let the granola cool completely (45 minutes to 1 hour) before you touch it. If you start messing with it while it's still warm, it will promptly punish you by crumbling itself into "ordinary" granola. "Ordinary" as in amazing tasting but small, little pieces. Small pieces are fine but hunky clusters are where it's at. So, collect your patience prior to making this recipe and leave that freshly baked (and fragile) granola alone.
Once it's cool, break it into clusters big and/or small. I went with medium size clusters for the photos, but I certainly could have gone bigger. And sometimes bigger is better. Wild granola references on a Wednesday. Must be all that maca.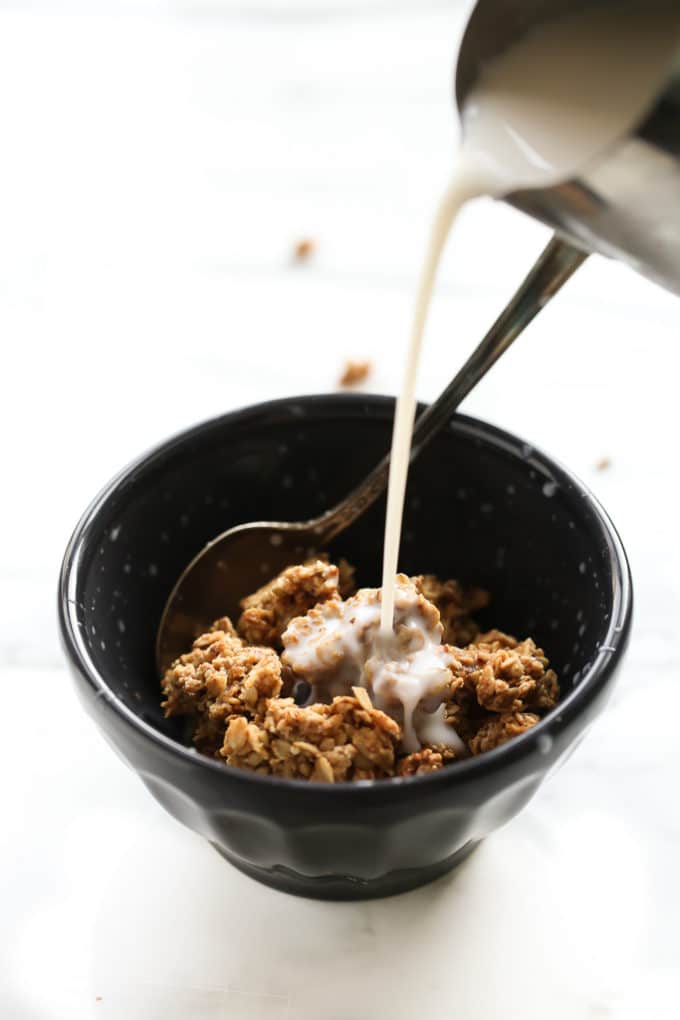 📖 Recipe
Peanut Butter Maca Granola Clusters (vegan, gf)
Crisp, peanut buttery granola clusters baked to golden perfection. A generous sprinkling of maca powder lends an energizing, mood-balancing boost to these granola clusters. They make the perfect grab-n-go snack but can also be paired with ice cold almond milk or a scoop of vanilla coconut yogurt.
Servings
12
⅓-cup servings
Ingredients
Dry Ingredients
2 ⅓

cups

rolled oats, divided

½

cup

raw peanuts

¾

cup

raw buckwheat groats

¼

cup

coconut sugar

1

to 2 tablespoons maca powder
Wet Ingredients
⅓

cup

natural creamy unsalted peanut butter

¼

cup

pure maple syrup

¼

cup

virgin coconut oil, melted

2

teaspoons

pure vanilla extract

¼

teaspoon

fine-grain sea salt
Instructions
Preheat oven to 275F and line a large baking tray with parchment paper.Add ⅓ cup of the rolled oats and the peanuts to a food processor and process for 1 minute or until the texture resembles a meal or coarse flour. This meal is the key to creating clusters as it binds everything together. Transfer the peanut-oat meal to a large mixing bowl and add the remaining 2 cups of rolled oats, buckwheat groats, coconut sugar, and maca powder.

In a small mixing bowl, whisk together the wet ingredients until smooth and glossy. Pour over the dry ingredients and get stirring. At first it will seem like there isn't enough to coat the granola, but I promise there is plenty! It just requires a bit of muscle and a few minutes of stirring, so be patient with it. Once every bit of the granola is evenly-coated, turn it out onto the lined baking tray and use the back of a spoon or spatula to spread it out into a ¾-inch-thick layer across the pan.

Bake for 15 minutes, rotate the pan, and bake another 22 to 26 minutes. The granola is ready* when it's wafting a toasted scent, the top is a very light golden-brown, and it feels firm but not yet crisp to the touch. Once the granola is ready, remove the pan from the oven and place it on an oven-safe cooling rack. Placing the pan on a cooling rack allows air to circulate beneath and around it to efficiently cool and crisp the granola.

Allow the granola to cool completely on the pan until it's not even the slightest bit warm to the touch. If you start moving it around or try to break it into clusters while it's still warm, it will crumble into regular granola. I recommend a minimum 45 minutes of cool time at room temperature, but try to hold out for 1 hour if you can. Once the granola is completely cool, break it into pieces of desired size and store in large airtight glass jars to maintain its crunch.

Enjoy the clusters on their own or serve them over coconut yogurt with fresh berries or with a generous splash of cold almond milk. Perfection!
Notes
*Note: Granola is tricky because it doesn't become crisp and crunchy until it's had a chance to cool, so rely on look and scent more than touch or you'll end up with burnt granola clusters.
*It's always a good idea to check with your doctor before introducing new foods, superfoods, vitamins, supplements, etc. (e.g., maca) into your diet.