One of the most common substitution questions I get asked is, "Can I substitute coconut flour for x flour?" The answer is always and forever a NO of epically firm, unwavering proportions. Why? Because in my nearly seven years of blogging experience, nothing is a more ferocious destroyer of delicious things than coconut flour. It's not you, it's coconut flour.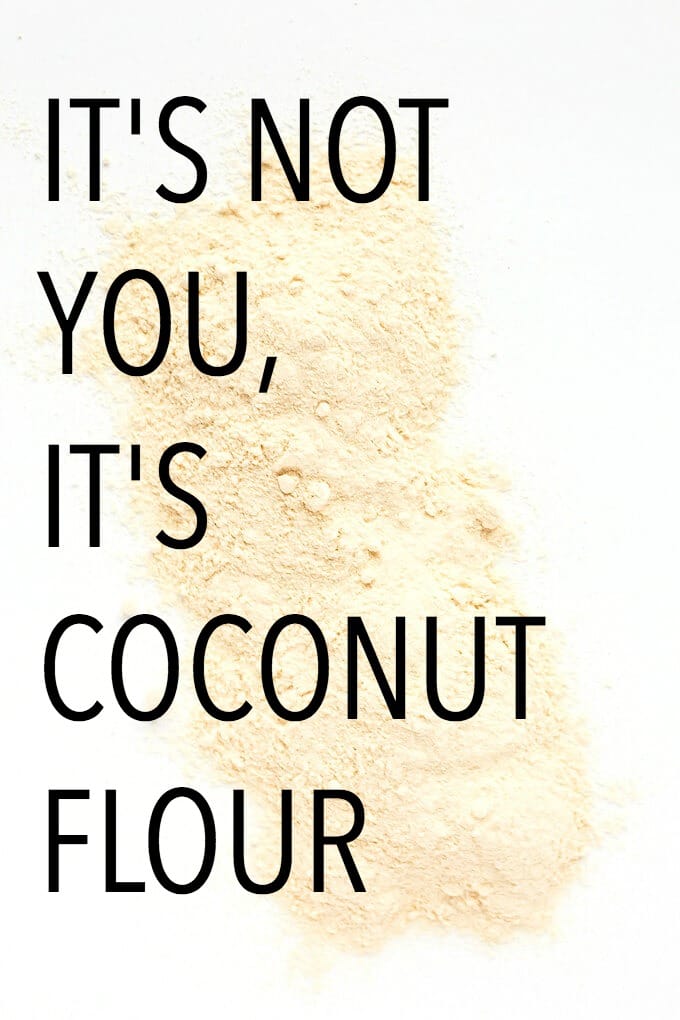 If I had a penny for every time a kind soul commented or emailed with something along the lines of...
I tried this recipe with coconut flour instead of x flour, and it turned out terribly dry and crumbly. Any ideas what could have gone wrong?
...I'd have a big ol' bucketful of pennies.
Coconut flour. It was the coconut flour that went wrong.
Heck, if I had a penny for every time coconut flour single-handedly destroyed my own baking attempts, I'd have at least 30 cents.
I once tried to make gluten-free pasta by mixing together flax eggs, olive oil, water, and you guessed it, coconut flour. Took about a gallon of water and two glasses of red wine to erase that mistake from my mouth.
I've received so many questions and comments like the one above, that I started adding notes to recipes in an effort to preemptively deter any unassuming coconut-flour owners from making the swap.
But the questions continued to pop up and the dismayed coconut-flour-fail comments continued to pour in, so it's time to give crazy ol' coconut flour a fun-loving (but slightly serious) roast post.
Why? Because coconut flour fails happen. (And sometimes phallically arranged coconut flour pancake fails happen, too.)
Sure, coconut flour has a time and a place and a purpose. But its time is not every day, its place is not in every baked good, and its purpose is most definitely not a 1-to-1 substitute for any other flour.
In fact, coconut flour is a better 1-to-1 substitute for a sponge than it is for a flour. It's so highly absorbent that it will suck the life (and liquid) out of baked goods unless it's used incredibly sparingly, in conjunction with other flours, or alongside considerably more oil/butter/eggs/liquid than typical flours.
Enough's enough, coconut flour. You've destroyed too many delicious things without remorse. It's about time you owned up to your unsavory truth.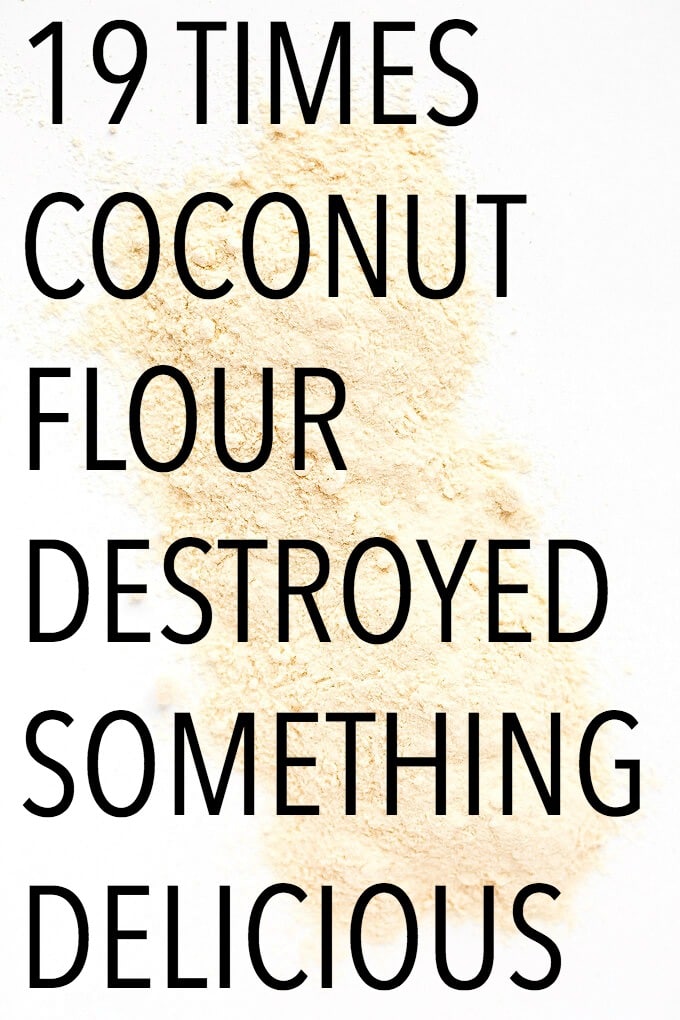 A quick Google search for "'I used coconut flour' dry crumbly," turned up not one but 19 instances of coconut flour destruction within the first few pages alone:
1. The problem is definitely the flour.
This is exactly what happened to me. I added almond milk, applesauce and coconut oil. It still looks horrible. I stuck it in the oven but it's not looking good. I'm wondering if the problem is the flour..I used coconut flour instead of almond. —Comment on Zucchini Bread recipe
2. Nothing missing, but something disastrous is present.
I made this recipe & the batter was very crumbly so when baked was almost like a streusel—fell apart. What is missing in the recipe? I used coconut flour – would that have been the problem? —Comment on Blueberry Muffin recipe
3. Girl, it's not you or the directions, it's the coconut flour.
I followed all the directions exactly, except I used coconut flour instead of almond (my husband doesn't like almonds). The "batter" was completely dry. I had to add a lot of applesauce, and coconut milk…. Did I do something wrong? —Comment on Paleo Pumpkin Muffins recipe
4. You're a real gloss-stealer, coconut flour.
Hi I just made this and found it very crumbly and dry. I used coconut flour rather that spelt—would that make a difference? I also ended up adding more butter & coconut oil and also water & still couldn't get it glossy. —Comment on Chocolate Coconut Slice recipe
5. Coconut flour + coconut oil does not a coconut butter make.
I'm sure I did something wrong, but mine were horribly dry. I didn't have any coconut butter, so I used coconut flour and coconut oil. —Comment on GF Chocolate Chip Cookie recipe
6. Coconut flour happened.
Oh my, they came out very crumbly, what could've happened? The only ingredient I changed was peanut flour, I used coconut flour because that's what I had in the pantry… could it have made them dry? They taste great but aren't holding up! Help! —Comment on Peanut Butter Oatmeal Cookies recipe
7. Coconut flour did you and your clean kitchen wrong.
I'm not sure what I did wrong. I used coconut flour in place of almond floor but it was too crumbly to 'roll in to a ball'. I tried adding more liquid but still couldn't cut pre-baking because of the consistency. It turned a nice golden brown in the oven but basically fell apart and were so dry on their own. In the end we crumbled it over plain greek yogurt and it tasted great but not at all like a scone. Made a mess of my kitchen – crumbs everywhere!! —Comment on Paleo Blueberry Scone recipe
8. Fruit cake has a bad enough rap on its own, but thanks to coconut flour it's now "...just a dry powder with fruit and nuts in it."
It seemed to me that something is missing. After I put all the ingredients together it was just a dry powder with fruit and nuts in it. It needed a lot more oil, more eggs and some water to become something I could work with. I used coconut flour instead of almond flour because that's al I had. Would that be the reason? I am baking it now, I hope it will be as good as everyone says. —Comment on Paleo Fruit Cake recipe
9. Nope, this desert-like paleo pizookie is not right at all.
Uh, I'm making this now. I used coconut flour, cause had it already. It's so dry, and completely crumbly…is this right? —Comment on Paleo Pizookie recipe
10. This failed apple crisp sounds a lot like my first twisted tango with coconut flour. At least we can both laugh about it now.
I wish I would have read the comments first! I used coconut flour thinking I'd kick the 'healthy' up another notch…and it turned out SO sandy and dry! I've just started experimenting with it, and did not realize how absorbent it is! Now I know lol. —Comment on Vegan Apple Crisp recipe
11. It was definitely the lack of almond flour (Read: it was the coconut flour).
I made these for breakfast – dinner tonight and I'm not sure what went wrong but it was bad news. I used coconut flour entirely and added banana and cinnamon. What is the purpose of the almond flour? That was the only difference and they stuck to my non stick coconut oiled pan and never really cooked. Stayed mushy. Must've been the lack of almond flour but what a bummer. —Comment on Paleo Pancakes recipe
12. Sounds like it's time to file those "treats" away in the garbage can.
I've just cooked these as a treat for my Husband. I used coconut flour as it's all I had could this be why they have turned out very dry. I'm sure it's something I've done wrong, but I'm so disappointed any ideas? —Comment on Blueberry Muffin recipe
13. Self-corrected coconut flour fail.
I just made these and the dough was really dry—which is confusing me because all of the other comments refer to how wet the dough was! I don't know what I did wrong—I did substitute white sugar for the cane juice—maybe that's what it was? The cookies taste good but they're basically big bunches of crumbs (but still tasty). UPDATE: I just realized what I did—I used coconut flour when I ran out of almond flour—I just looked it up and found out that you should use much less coconut flour as it sucks up all the moisture—problem solved! —Comment on Almond Flour Snickerdoodles recipe
14. Yep, it was the flour.
I used coconut flour and they didn't rise or bind at all. Big mess and tons of wasted ingredients. Do you think it was the flour? —Comment on Jumbo Raspberry Chocolate Chip Muffins recipe
I tried to make these, but mine were so dry! I am not sure what I did wrong. I used coconut flour. Do you think that matters? —Comment on Grain-Free Raspberry Chocolate Chip Muffins
16. Crumbly coconut flour cookie hand rolls. Yum.
Was tasty but [mine] did not look like ur pic. It came out very crumbly and I'm not sure why. I used Coconut flour would that had been the cause? Should have not made a difference. I added more maple syrup and apple sauce but still did not hold together like it looks in ur pic. I had to actually hand roll it in order to hold it together. Do u have any suggestions because was very tasty just attempting to get the consistency correct. —Comment on Oat Cookies recipe
17. A kind warning to others:
DO NOT SUBSTITUTE COCONUT FLOUR FOR MILLET FLOUR.

So I tried this recipe. The only thing I substituted was I used coconut flour instead of millet flour. The dough was SOOOO crumbly. I could barely roll it out. It just crumbled into a million pieces. I tried adding water again and again, but it remained crumbly. I'm baking it anyway and it looks nice, but I know when I cut into it it's going to fall apart. Oh well…will try again another time. —Comment on Perfect Gluten-Free Vegan Pie Crust recipe
18. Insanity is coconut flour.
"Insanity is doing the same thing and expecting different results, and for some insane reason I keep trying to act like coconut flour can easily replace other flours. It doesn't work. At all." Complete with fail photo 1 (paleo bread destroyed by coconut flour) and fail photo 2 (coconut flour "tortillas"). —Blog post on self-admitted coconut flour fails
19. And my favorite: "Play-doh textured hockey pucks."
Wish I had found the comment about subbing in coconut flour needing more liquid.  I just made them following the recipe except I used coconut flour. They turned out like play-doh textured hockey pucks. Off to the store to buy almond flour to try again. —Comment on The Ultimate Paleo Sandwich Rolls recipe
I hope you enjoyed reading this light-hearted and random post as much as I enjoyed putting it together. Here's to more delicious treats and fewer coconut flour fails! 
♥