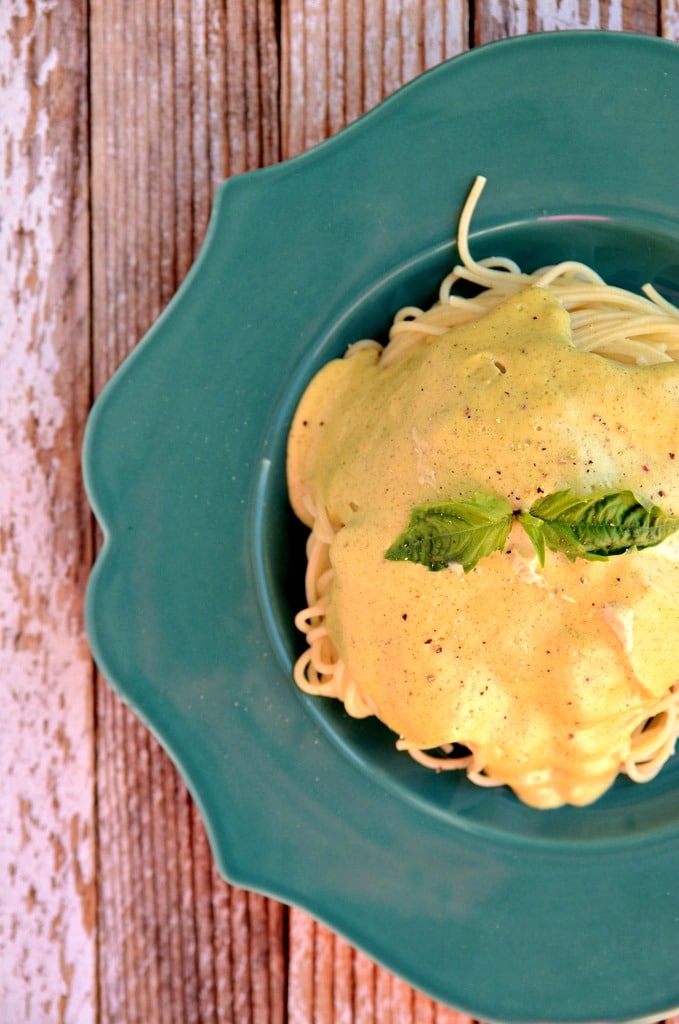 First up on today's agenda: some nitty, gritty blog details.
You may have noticed that the tagline for Blissful Basil has switched from "Confessions of a Vegetarian Foodie" to "Finding Happiness Through Wholesome Foods" and that all of the recipes posted over the last five months have been vegan. Although subtle, these changes signify a shift in the direction that this blog is taking now and in the future. Although I am not 100% vegan, nearly everything that I cook at home is 100% vegan so it only makes sense that I blog about 100% vegan recipes, right? Although I had been toying with the idea of transitioning to veganism for the past year or so (for animal and environmental reasons), it was the juice cleanse I did in early October that really shed some light on how much better my body feels and functions without dairy. Since that time, I've put in the extra effort to consume many more plant-based meals that focus on whole and fresh foods, which leads me to my next point...
Blissful Basil was originally the name that we came up with for this blog because it was a bit catchy and alliterative. However, in the same way that I've grown and matured (or at least I hope I have) over the last 3 ½ years since beginning to blog, Blissful Basil's meaning has also grown. At first it was just a cute name that jived with my love for Italian food, but now it represents the idea that it's really, truly possible to find happiness (i.e., bliss) through the consumption of whole, fresh, unprocessed foods (i.e., basil). Clearly, there are many, many variables that contribute to a sense of contentment and happiness, but there is absolutely truth to the notion "you are what you eat" in regard to the way that food affects our physical, mental, and emotional states. This is a long-winded way to explain a few minor changes, but I felt like you all deserved a bit of an explanation as to why you've been seeing so much of the v-e-g-a-n word lately.
To sum it all up, expect many more plant-based recipes with a strong focus on wholesome foods and the amazing ways in which they can positively affect mood, energy, mental clarity, and overall well-being. Anyone else super excited or is it just me?!
Alright, now onto the important stuff: food!
This vegan hemp seed alfredo sauce will make you write a bad check. Hemp seeds, raw cashews, and almond milk are blended with a magical array of flavors and spices, and the result is nearly unbelievable. It's incredibly thick, silky smooth, and tastes even better than dairy-based alfredo sauce. This sauce is the bees knees, and it's so addictive slathered over pasta, veggies, even a spoon. One word: alfredofreakingmazing.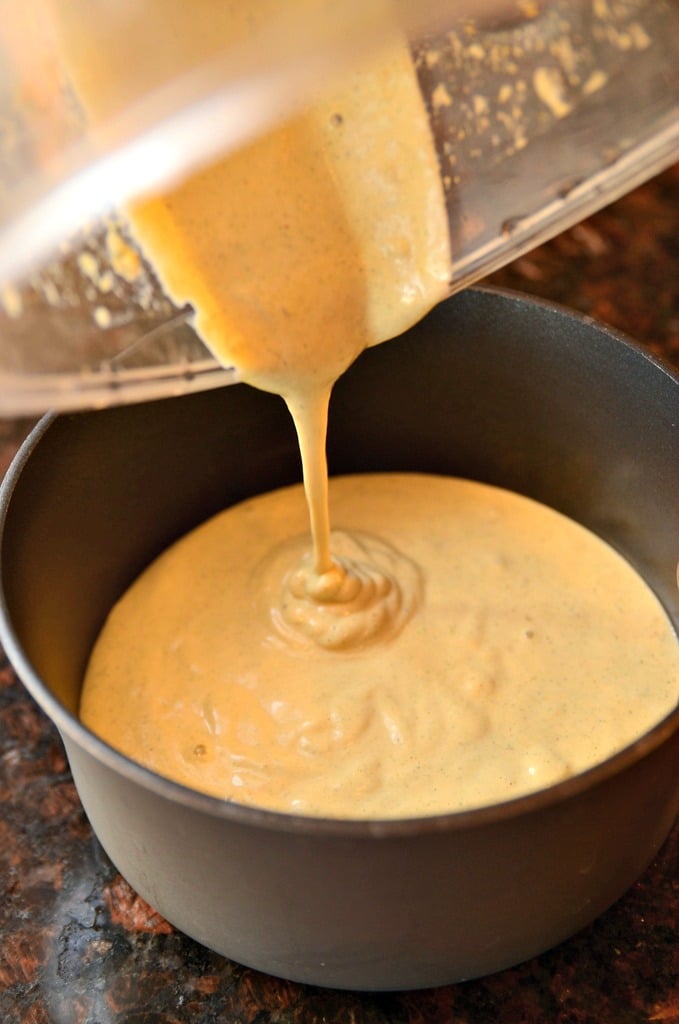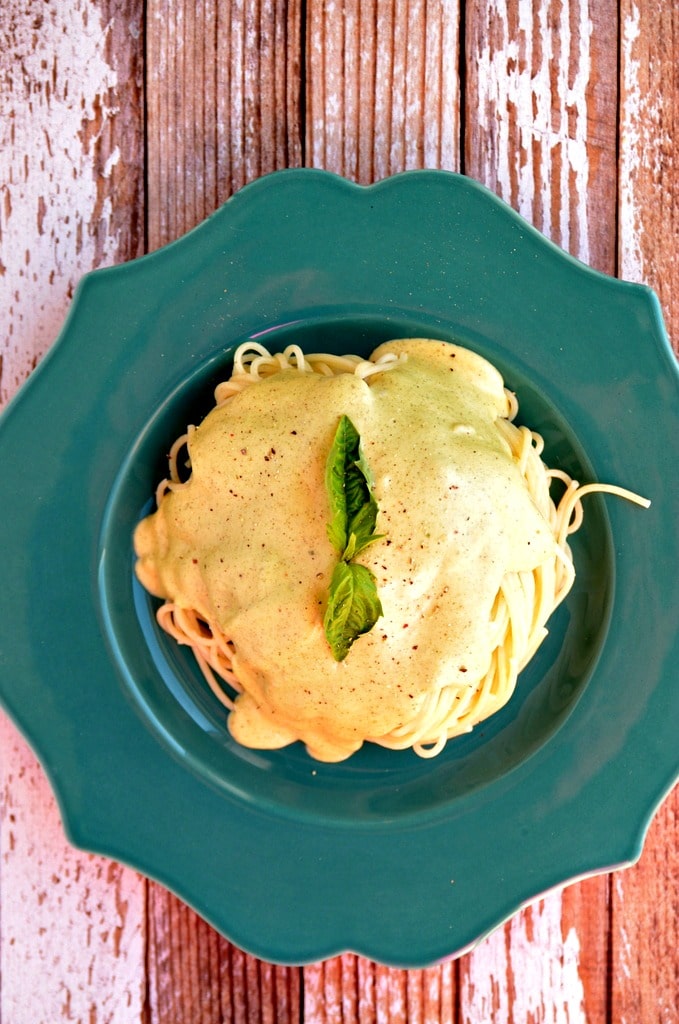 📖 Recipe
Vegan Hemp Seed Alfredo Sauce
Hemp seeds and cashews are blended with an array of flavors and spices to create the best ever vegan alfredo sauce. This sauce is thick, super creamy, and exploding with flavor. This is definitely one that you can "trick" your non-vegan friends and family members into eating!
Ingredients
½

cup

raw cashews*

½

cup

shelled hemp seeds

½

cup

plain unsweetened almond milk*

¼

cup

nutritional yeast

1

tablespoon

fresh lemon juice

2

cloves

garlic, smashed and peeled

½-1

teaspoon

sea salt (I recommend using a full teaspoon if you are not going to salt your pasta!)

Freshly ground black pepper, to taste

Small pinch of nutmeg (optional)
Instructions
Soak the cashews in warm water for at least 30 minutes to soften. Drain before using.

Add all ingredients to a high-powered blend and blend on high for 2 minutes or until super creamy and smooth.

Serve over your favorite pasta or veggies.

Refrigerate leftovers.
Notes
*To make this sauce nut-free, omit the raw cashews and use 1 cup shelled hemp seeds and nut-free plant-based milk.